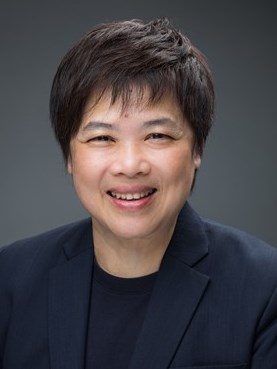 Asia Pacific Overview
The momentum in visitor arrivals has been lost due to the impact of the COVID-19 pandemic. January 2020 kick off with robust visitor arrivals before registering an average decrease of approximately 35% and 65% across the region (Australia, Indonesia, Japan, Malaysia, Maldives, Myanmar, New Zealand, Philippines, Singapore and Vietnam) in February and March, respectively. Similarly, the COVID-19 outbreak had cast a shadow over the hotel performance in Asia Pacific. Hotel occupancy decreased by an average of 9% and 27% in February and March, respectively. Average Daily Rate (ADR) decreased by an average of 7% and 10%, translating to an average decrease of 19% and 55% in February and March for Revenue Per Available Room (RevPAR), respectively.

In March, all the ten countries experienced a decline in occupancy rate, ADR and RevPAR within the range of approximately 20% to 35%, 6% to 17%, and 40% to 60%, respectively.
Some of the common measures to stem the spread of COVID-19 includes barring foreign visitors, 14-days quarantine, avoiding non-essential travel plans, enforcing social distancing, working from home, banning mass gatherings and events, and temporary closure of attractions, community facilities, entertainment venues, schools and places of worship.
To assist frontline health workers, affected businesses and employees, governments announced stimulus packages and various incentives such as providing credit facility, handing out cash grants, lowering of interest rates, wage subsidies, offering tax breaks, and supporting SMEs and hard-hit sectors.
While the pandemic is anticipated to prolong, hotels should start to draw up plans in preparation for a recovery. In the meanwhile, it is the perfect time to relook into operational strategies, cost-saving initiatives, refurbishment, marketing distribution channels, staff training and technology upgrade.
Global Measures
Globally, many countries have allocated or pledged record amount of economic relief package to cushion the impact caused by COVID-19. The following highlights some of the key initiatives:
China's central bank has cut the rate on reverse repurchase agreements by 20 basis points, the largest in nearly five years to relieve the economic pressure. The People's Bank of China had also injected
RMB50 billion yuan
into the money markets. Other forms of economic relief include relaxing penalties on bad debts, cutting interest rates, reducing taxes, allowing borrowers to skip interest payments for as long as six months, and pledging to adopt more "proactive" fiscal policies.
South Korea has pledged
KRW96.7 trillion
(USD80 billion) in economic stimulus, where KRW29.1 trillion will be granted as loans to small- and medium-sized companies, KRW20 trillion will be used to buy corporate bonds and commercial paper of companies facing a credit crunch, the Financial Services Commission announced a KRW10.7 trillion facility set up to stabilise stock markets. It will also commence a bond buying facility in April that will be funded by 84 institutions, including the Bank of Korea, commercial banks and insurers. The transport ministry, financial regulator and state-run Korea Development Bank has also announced that they would extend up to KRW300 billion of liquidity to domestic budget carriers to provide relief.
Thailand has announced an
THB411 billion
(USD12.7 billion) stimulus package in the form of soft loans, a fund, and tax benefits for those affected by the outbreak. The soft loan will amount to THB150 billion. There will also be relaxed debt repayments and lower interest rates for businesses, while the central bank has also asked banks to help debtors, withholding taxes for businesses to be reduced. Support for utilities costs, and higher tax benefits from some long-term fund investments were also announced. The government will set up a THB20 billion fund to help firms or workers affected by the coronavirus outbreak.
The United Kingdom has announced a stimulus package standing at
£350 billion
which include £330bn in state-backed loans for all businesses through the banking system with the help of the Bank of England, £20bn in other aid, a business rates holiday, and grants for retailers and pubs. Help for airlines is also being considered. Smaller businesses would be able to access cash grants of between £10,000 to £25,000 to see them through the crisis.
The United States of America (USA) has approved three stimulus packages worth
USD2.5 trillion
, which comes in the form of loans, tax breaks and direct payments for major corporations and individual taxpayers.
Australia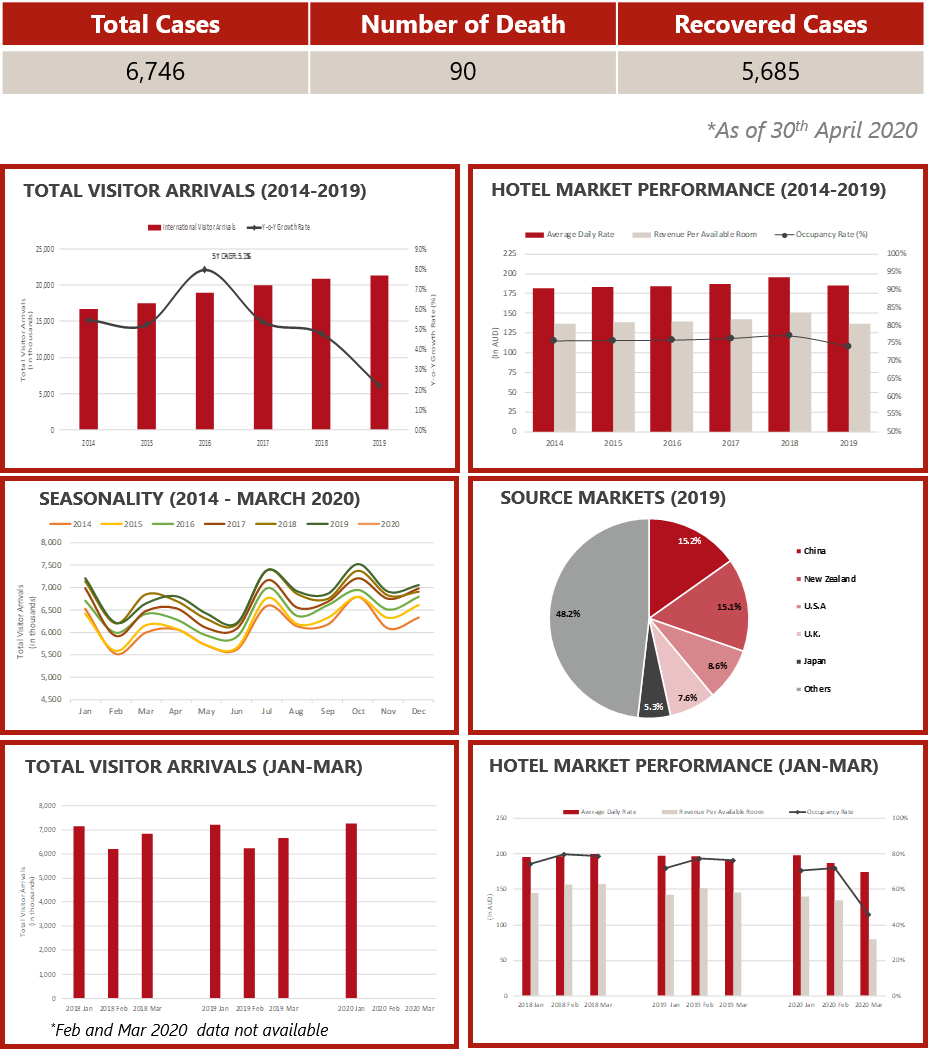 Source: Australia Government, Department of Infrastructure, Transport, Regional Development and Communication, HVS Research
Australia began restricting China arrivals on 1 February, Iran arrivals on 1 March, South Korean arrivals on 5 March and Italy arrivals on 11 March. Thereafter, the government started enforcing social distancing measures such as limiting the number of people per outdoor gathering, closing pubs and clubs, and limiting restaurants to take-away services only. On 18 March, Australian citizens are strongly encouraged to defer all travel plans abroad. Shortly, on 20 March, all non-Australian citizens and residents are denied entry into Australia. On 23 March, Australia has declared a one-month lockdown. On 16 April, Australia has announced a four-week extension for the lockdown period.

Source: Australia Government, Department of Infrastructure, Transport, Regional Development and Communication, HVS Research
Key Government Initiatives and Measures
AUD80 Billion Loan Relief Package: Up to AUD80 billion is allocated to offer business loan relief, this includes deferring loan repayments for small businesses for six months at a cost of AUD8 billion. Other stimulus includes quantitative easing and a three-year funding facility for at least AUD90 billion to the country's banks at a fixed rate of 0.25%.
AUD130 Billion Job Keeper Payment: AUD130 billion is allocated to provide replacement wages to up to six million people who may lose their jobs otherwise due to the Covid-19 outbreak. The scheme will benefit almost half the workforce and will provide people with AUD1,500 per fortnight, or about 70% of the average wage.
Cash Flow Support for SMEs and Non-Profit Organisations: Temporary cash flow support will be provided to small and medium businesses (SMEs) and non-profitable organisations that employ staff during the economic downturn associated with COVID-19. The government will provide tax-free cash flow boosts of between AUD20,000 and AUD100,000 to eligible businesses, delivered through credits in the activity statement system.
Indonesia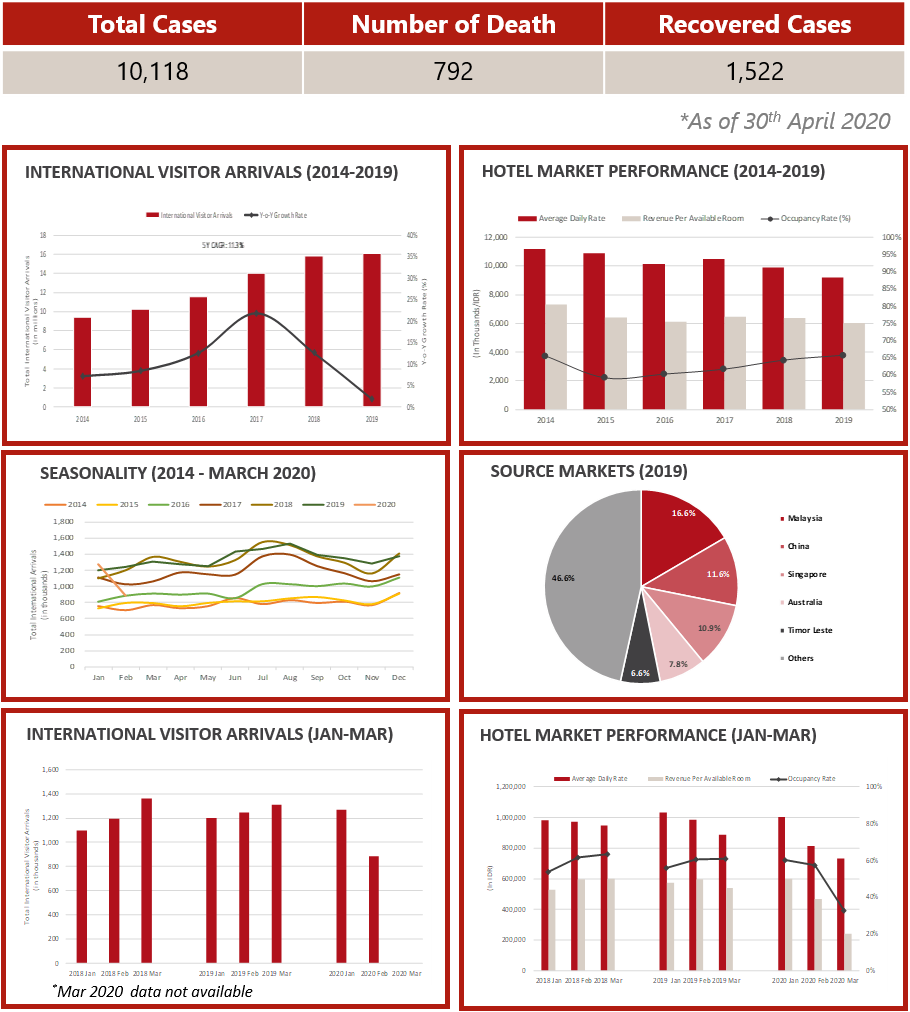 Source: Badan Pusat Statistik (BPS), Statistic Indonesia, HVS Research

Indonesia has implemented a travel ban on China, and bar visitors with recent travel history to China on 5 February. On 8 March, Indonesia has banned entry and transit of visitors with recent travel history to affected regions in Iran, Italy and South Korea. Subsequently on 20 March, Spain, France, Germany, and the United Kingdom were added onto the list. In addition, Indonesia has declared a two-weeks state of emergency in Jakarta, Yogyakarta, West Java, East Java, Banten, West and East Kalimantan till 2 April. On 31 March, Indonesia announced temporary ban to all foreign visitors. On 10 April, Jakarta announced wide-scale social restrictions till 24 April, however, this has since been extended till 22 May. From 24 April to 1 June, Indonesia has suspended all passenger flights.


Source: Badan Pusat Statistik (BPS), Statistic Indonesia, HVS Research
Key Government Initiatives and Measures
IDR22.92 Trillion Emergency Fiscal Stimulus Package: IDR22.92 trillion is allocated to protect Indonesia's economy which includes tax breaks.
IDR298.5 Billion Tourism Budget: IDR298.5 billion is allocated to stabilise Indonesia's economy and aid tourism businesses through the economic slowdown. This includes IDR98.5 billion incentive for airlines and tour operators, aimed to encourage special discounts for foreign tourists, IDR103 billion for tourism promotional activities, IDR25 billion to improve tourist attractions, and IDR72 billion to be invested on influencers.
IDR860 Billion Aviation Relief Package: IDR860 billion is allocated to provide relief to the aviation sector. IDR443 billion will be granted to airlines, in the form of a 30% discount for 25% of the total available seats per flight to 10 tourist destinations such as Yogyakarta, Manado, Bali, Mandalika, Labuan Bajo, Bangka Belitung, and Batam. Other support measures include aviation fuel discounts and reduced aircraft passenger services fees.
IDR3.3 Trillion Tax Relief: IDR3.3 trillion is allocated to 33 district and city governments in the ten tourist destinations in return for waiving hotel and restaurant taxes for the next six months.
Japan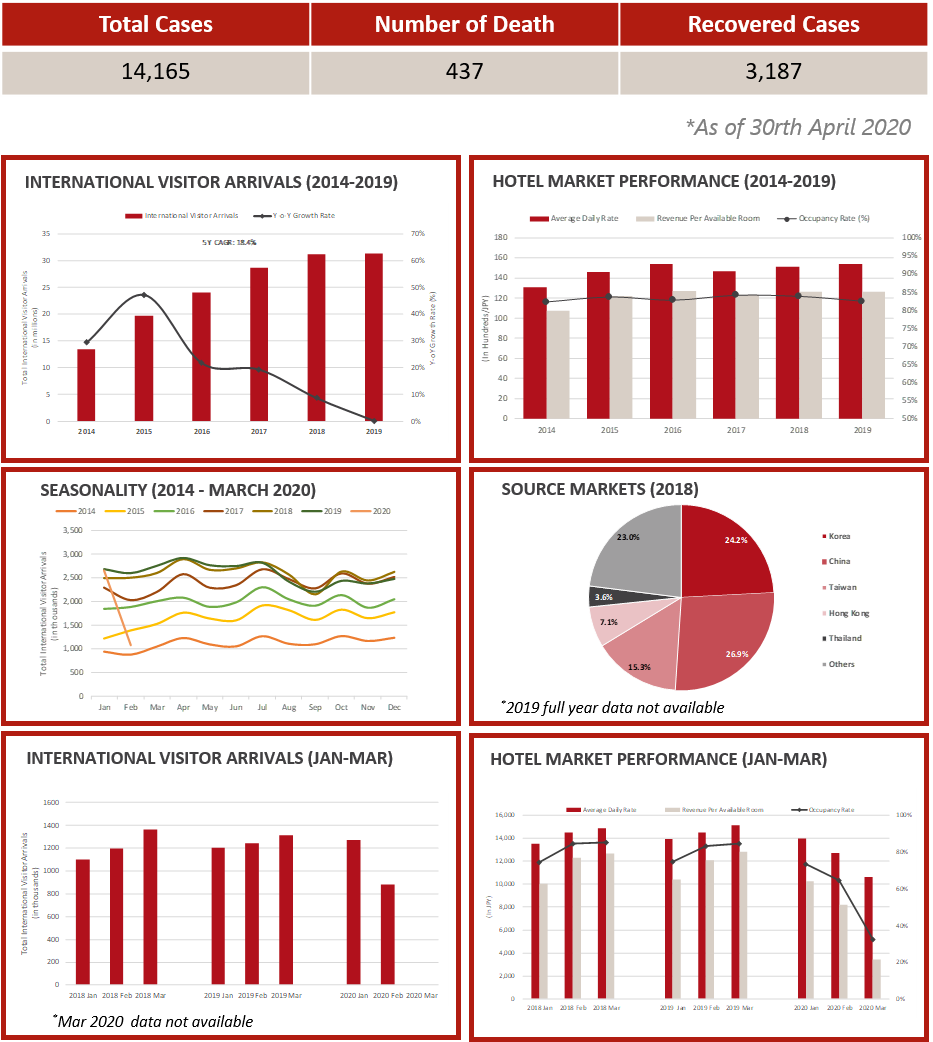 Source: Japan National Tourism Organization (JNTO), HVS Research

Japan has announced its first confirmed COVID-19 case in on 16 January. On 1 February, Japan banned the entry of visitors from Hubei, China, and shortly on 4 February, the nation was plagued with the Diamond Princess Cruise outbreak. On 13 February, Japan banned entry of visitors from Zhejiang, China. On 27 February, Japan banned visitors from Daegu City/Cheongdo County in North Gyeongsang Province. By 3 April, Japan has banned visitors from the United States, China, most of Europe, Australia, Britain, South Korea and many Southeast Asia countries. On 7 April, Japan declared state of emergency in Tokyo, Chiba, Kanagawa, Saitama in the Greater Tokyo region, and Osaka and Hyogo prefectures in the Kansai region and Fukuoka on Kyushu island.

Measures to curb virus spread were implemented, including urging firms to allow employees to work from home and temporary closure of attractions across Japan, from museums and galleries to theme parks and tourist attractions.

Source: Japan National Tourism Organization (JNTO), HVS Research
Key Government Initiatives and Measures
JPY108 Trillion Stimulus Package: JPY108 trillion is allocated to provide economic relief to Japan. This includes JPY80 trillion to protect jobs and save small and medium-sized businesses. Employment subsidies will be expanded to help firms pay salaries and interests, and avoid job cuts. Government-backed lending institutions will offer interest-free loans, and handouts of up to JPY2 million will be available for applicable small and medium-sized businesses. JPY2.5 trillion will be allocated to assist medical institutions and research and development efforts. Cash handouts of JPY300,000 will also be available to low income families. Financial incentives worth an estimated JPY15.7 trillion will be set aside to attract manufacturing activities back to Japan.Lastly, JPY8.5 trillion will be set aside to boost tourism, transport and the restaurant and entertainment sectors after the coronavirus is contained. This includes marketing campaigns and offering of coupons and discounts.
Malaysia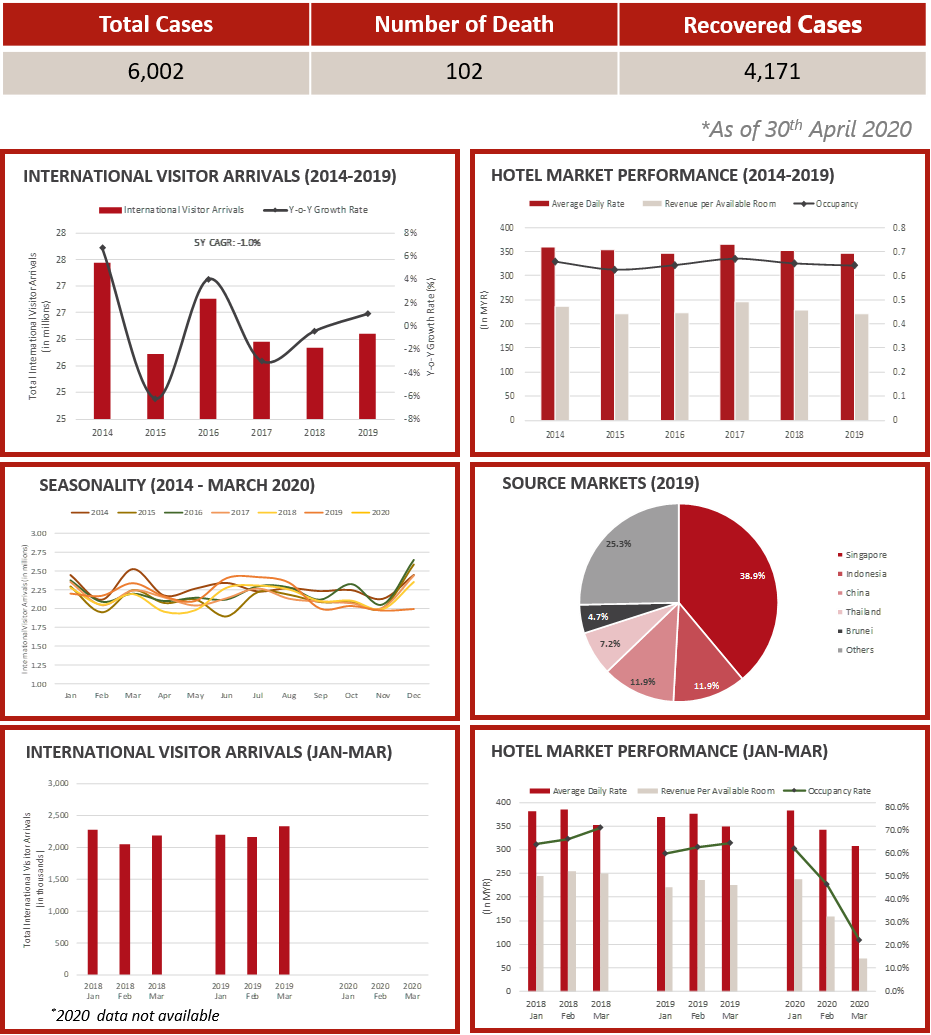 Source: Tourism Malaysia, HVS Research

On 7 February, Malaysia expanded a ban on visitors from China to include Zhejiang and Jiangsu provinces in addition to Hubei province. On 16 March, the government implemented a movement control order to restrict movement nationwide. All Malaysians was barred from travelling abroad and there was also a ban on all foreign visitors.

At the same time, an order was issued to ban mass gatherings, including religious, sports, social and cultural events. All houses of worship, businesses, schools, universities are to close, except supermarkets, markets, mini markets and convenience stores. All government and private premises will be closed except those in essential services. On 25 March, the coronavirus lockdown was extended by two weeks to 28 April from the initial cutoff point. Subsequently, on 23 April, the government announced to extend its one-month lockdown by another two weeks to 12 May. However, there have been early signs of COVID-19 restrictions being eased in Malaysia. The government plans to monitor the situation for up to four weeks before proposing to reopen the social and educational sectors.


Source: Tourism Malaysia, HVS Research
Key Government Initiatives and Measures
RM230 Billion Economic Stimulus Package: This package is in addition to the RM20 billion package announced on 27 February. RM128 billion will be allocated to improve the welfare of Malaysians through one-off cash payments to households and individuals. Other benefits include discounts on utility bills, deferments of rental payment for public housing, reduction of the minimum Employees Provident Fund's contribution. RM100 billion is allocated to support affected businesses through cash flow relief including exemption from contributions to the mandatory Human Resources Development Fund for six months, wage subsidies for three months, increase existing funds in providing financial assistance to SMEs and loan guarantees to larger firms for working capital financing. Bank Negara Malaysia will provide a special relief facility worth RM2 billion.
Maldives
Source: Ministry of Tourism Maldives , HVS Research

On 7 March, Maldives recorded the first positive COVID-19 cases on Kuredu Island Resort, and the patients were moved to an isolation center in Farukolhufushi island. On 8 March, two more cases were confirmed on Sandies Bathala Maldives. Maldives imposed an entry and transit ban on visitors and crew with travel history to Italy. Shortly, on 9 March, two more cases were confirmed on Kuredu Island Resort. On 10 March, Maldives announced that passengers and crew with travel history to Bangladesh will not be allowed entry to the country, until 24 March.

The Maldives government has declared a state of public health emergency on 12 March after recording a total of eight confirmed COVID-19 cases. In the following days, the government took precautions including quarantining several resorts, closing public spaces, disinfecting public transport, postponing the re-opening of schools, halting tourist excursions, and banning guesthouses from checking-in foreigners in Greater Male.

On 21 March, the Maldives government had placed temporary travel bans on individuals arriving from COVID-19 affected countries including China, Iran, Italy, Bangladesh, Spain, Malaysia, Britain, the United States, Sri Lanka, parts of South Korea, France and Germany. The government further implemented strict measures by halting the issuance of visas on-arrival starting from 27 March.

On 15 April, Maldives declared a lockdown in in Male, Hulhmale, Villingili, Thilafushi, and Gulhifalhu, which has since been extended to 1 May.

Source: Ministry of Tourism Maldives , HVS Research
Key Government Initiatives and Measures
MVR2.5 Billion Finance Package: The government has declared a MVR2.5 billion package to provide financial support for the businesses experiencing economic loss as a result of COVID-19. The Bank of Maldives has announced a USD2 million short-term financing facility for the tourism industry.
Myanmar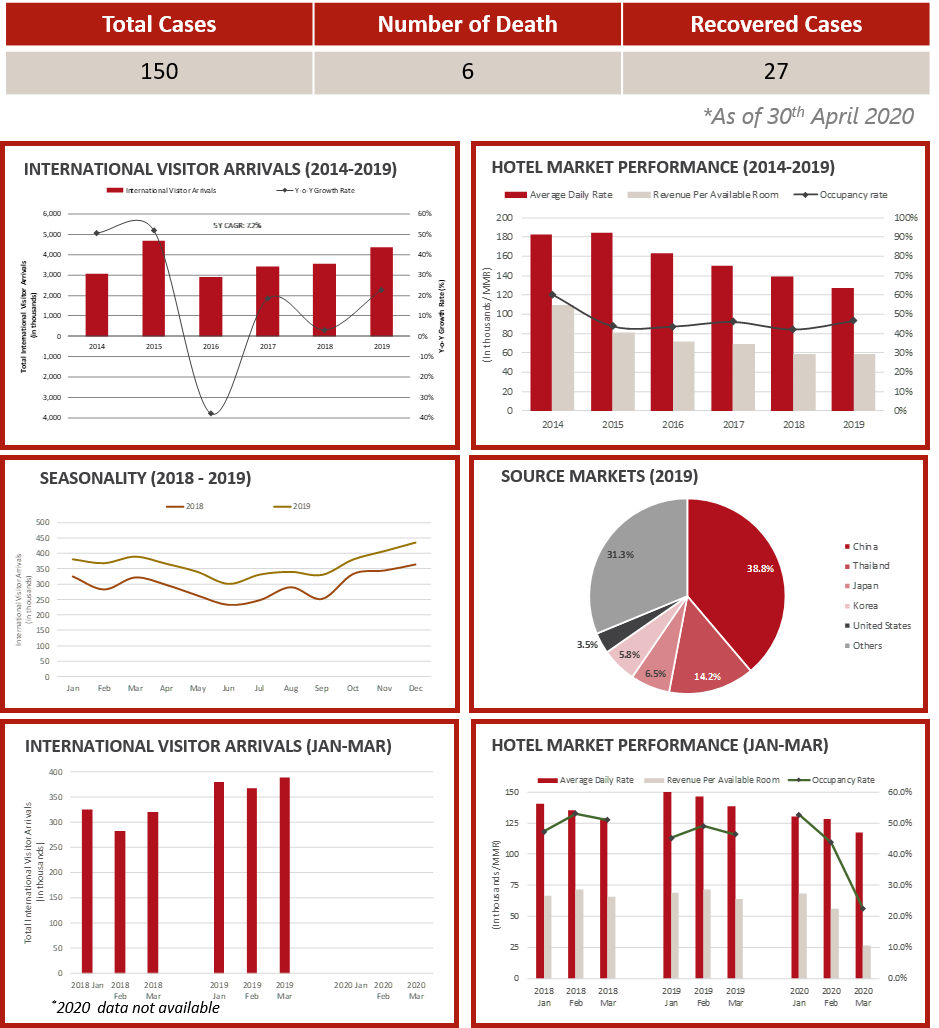 Source: Myanmar Ministry of Hotels & Tourism, HVS Research

On 29 February, Myanmar suspended visas-on-arrival for Chinese travellers. On 25 March, all Myanmar nationals and foreigners travelling to the country are required to present laboratory evidence of absence of COVID-19 infection and spend 14 days in a quarantine facility. This is subsequently revised on 29 March with a temporary suspension of all types of visas for all foreign nationals till 30 April.

Measures implemented includes banning public gatherings, cancelling the Thingyan traditional New Year water festival, banning festive activities, encouraging people to stay home, shutting down public transportation networks, cinemas, as well as hotels and guesthouses. On 17 April, Yangon region government imposed 10pm to 4am curfew for all 45 Yangon Townships, which has been extended for another two months until 18 June. Subsequently, on 18 April, seven townships with the highest number of COVID-19 cases including South Okkalapa, Pabedan, Bahan, Mayangone, Insein, Shwe Pyi Thar and Hlaing Tharyar, were imposed with lockdown measures.

Source: Myanmar Ministry of Hotels & Tourism, HVS Research
Key Government Initiatives and Measures
Comprehensive Economic Stimulus Plan: Comprises of seven goals, ten strategies, 36 action plans and 76 actions that cover a range of emergency fiscal and monetary measures. K100 billion fund will be increased to K200-500 billion to assist garment manufacturing, hotel and tourism sectors, as well as local small and medium-sized enterprises. The interest rate on the loans will be 1% with a loan period of one year. Eased deadlines for tax payments, and tax exemptions for affected Myanmar-owned businesses. One-year exemption on license fees for hotel and tour businesses.
The Ministry of Labour, Immigration, and Population announced deferments of payment of social security contributions for employers and employees from 15 days to three months after the end of each month.
From April 2020, investors who wish to apply for permission to invest in Myanmar will enjoy a 50% discount on application fees.

New Zealand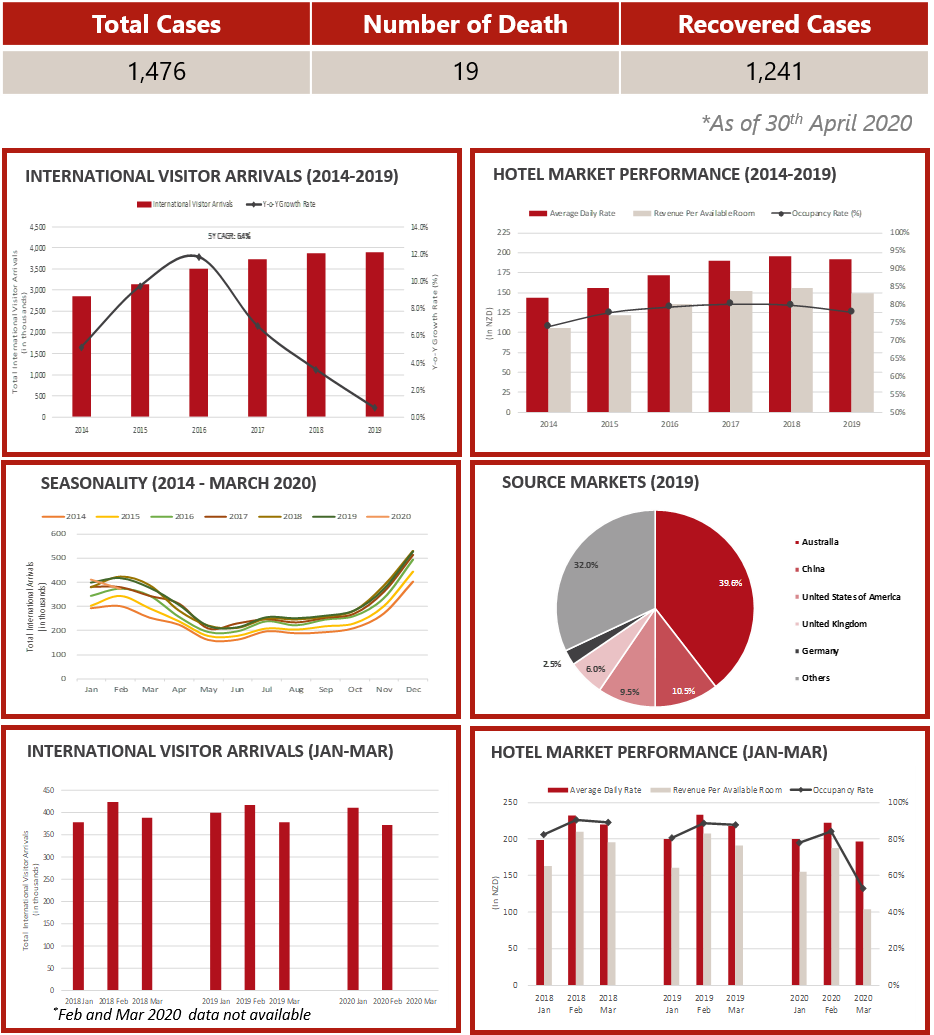 Source: New Zealand Government, HVS Research

On 3 February, New Zealand has placed entry restrictions for visitors with recent travel history to China. Those who can enter the country must self-isolate for 14 days. The first COVID-19 case in New Zealand was reported on 28 February. On 14 March, all visitors must self-isolate for 14 days, except those arriving from the Pacific. Cruise ships are banned from the country. Strict border measures for people travelling from New Zealand to the Pacific are put in place, including health assessment requirements. On 19 March, all foreign visitors were denied entry into New Zealand. On 26 March, New Zealand entered a four-weeks lockdown. On 20 April, New Zealand extends the lockdown till 27 April.

New Zealand has taken some measures to curb the virus spread, and it include cancelling of all indoor gatherings with more than 100 people from 19 March, the Auckland Council has closed the pools, libraries, galleries and other community facilities for 14 days from 20 March, and schools and other educational facilities across New Zealand were closed from 24 March. All non-essential businesses excluding essential businesses like supermarkets, pharmacies and medical clinics were closed. Travel will be severely limited and healthcare services will be re-prioritised. On 27 April, New Zealand has eased its social distancing measures.

Source: New Zealand Government, HVS Research
Key Government Initiatives and Measures
NZD12 Billion Stimulus Package: NZD12 billion allocated includes NZD8 billion for wage and income support, NZD2.8 billion in business tax changes to free up cash flow, NZD500 million boost for health services, and an initial NZD600 million support package for the aviation sector would be followed up with separate measures for Air New Zealand
Philippines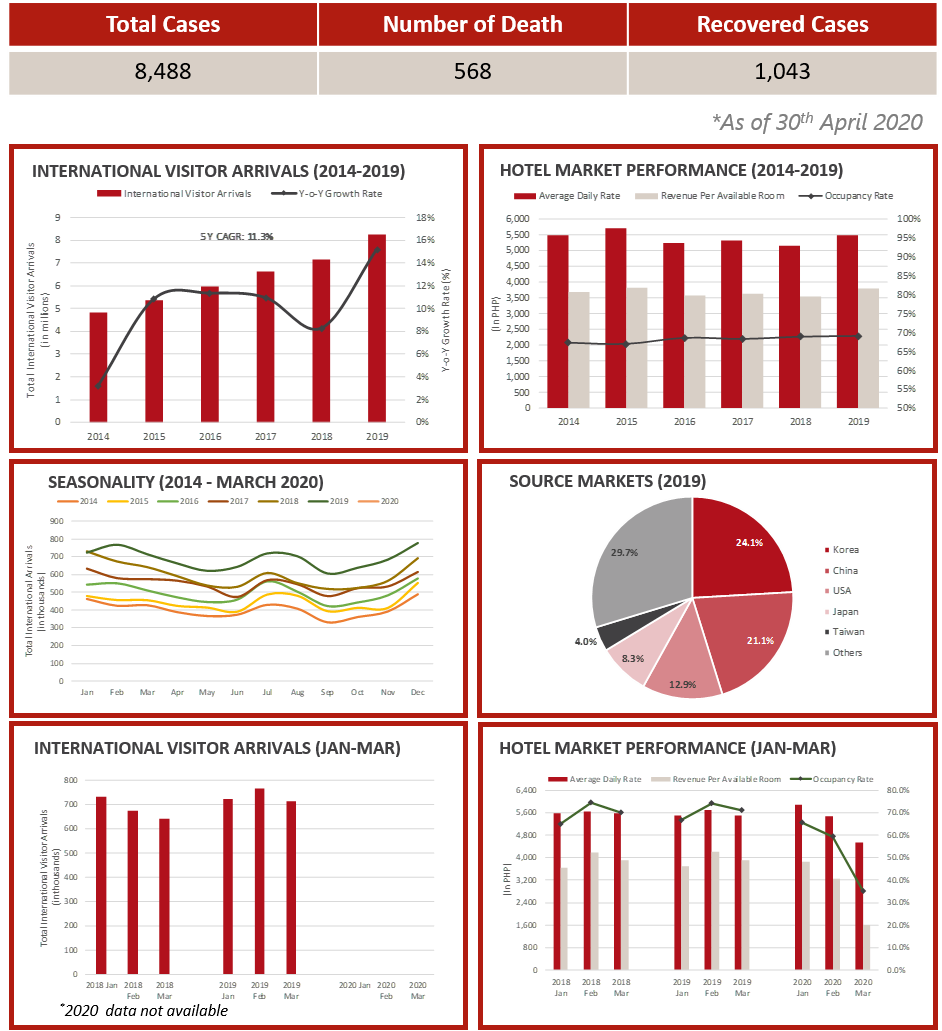 Source: Philippines Department of Tourism, HVS Research

On 3 February, temporary travel ban was placed for all travellers coming from China. This is followed by an entry ban for foreign visitors who come from countries with local transmissions of the virus on 12 March. On 22 March, the government issued temporary travel ban on foreigners of all nationalities entering the Philippines.

On 15 and 17 March, the metro Manila and Luzon were placed under community quarantine, respectively. This includes one-month of school, malls and establishment closures, exempting shops offering essential services like groceries, banks and pharmacies. Public transportation has been suspended. On 7 April, the government extended the Luzon lockdown by half a month to 30 April. Subsequently, on 24 April, the government has announced that lockdown in Metro Manila, Central Luzon, Calabarzon, and several provinces and islands in Luzon will be extended until 15 May.

Source: Philippines Department of Tourism, HVS Research
Key Government Initiatives and Measures
PHP27.1 Billion Initial Spending Plan: PHP3.1 billion to better equip Department of Health in containing the spread of COVID-19. PHP14 billion is allocated to support the tourism industry. Provide economic relief and recovery efforts for infected people as well as affected businesses. This includes wage subsidy, unemployment benefits, loans with zero interest to farmers, support micro-businesses and courses for displaced workers to acquire new skills.
PHP275 Billion: PHP200 billion will be in the form of between PHP5,000 to 8,000 cash grants for 18 million low-income households that lost their source of income due to COVID-19.
Singapore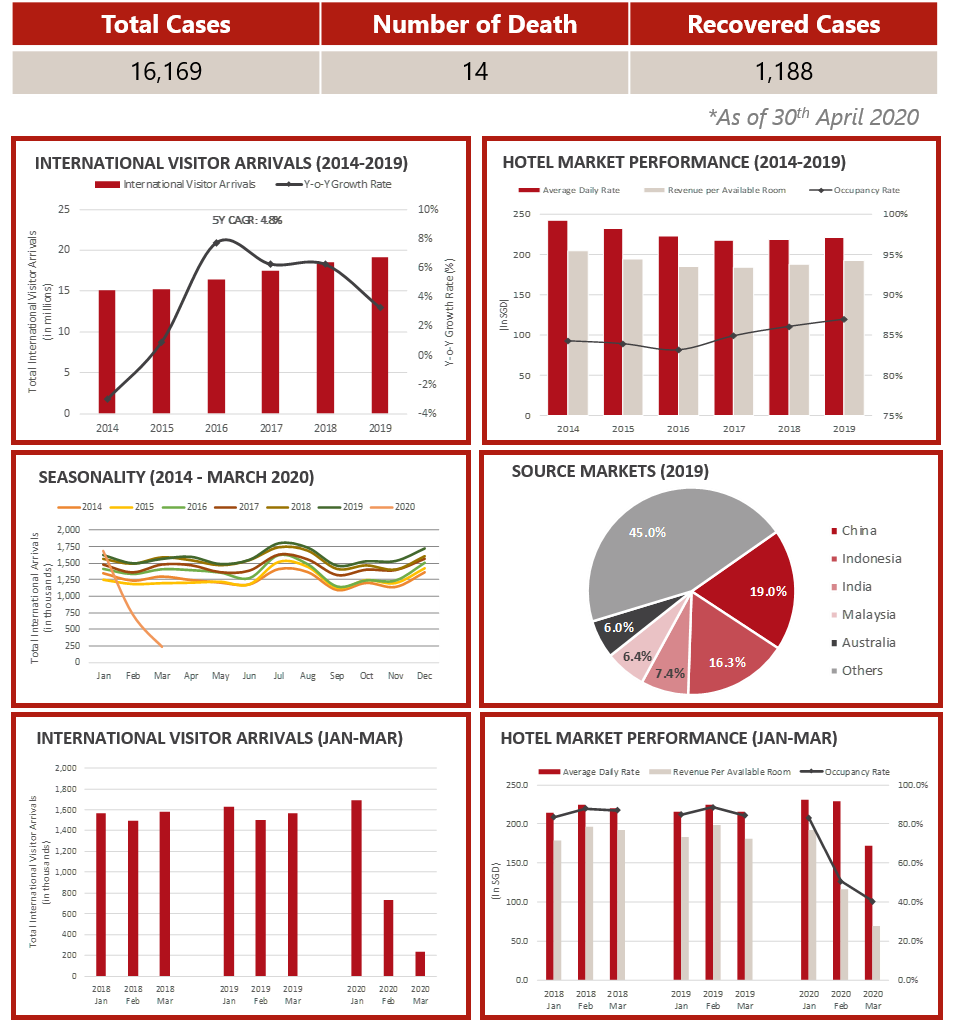 Source: Singapore Tourism Board, HVS Research

On 31 January, Singapore bar visitors of any nationality with recent travel history to mainland China. From 23 March, all short-term visitors from any countries were not allowed entry or to transit through Singapore. Singapore has also ceased port calls for all cruise vessels. In addition, an MCO implemented by Singapore's closest neighbour, Malaysia, to ban all Malaysians travelling abroad kicked in on 18 March.

Due to its initial success in containing the virus, Singapore had been able to take a less draconian approach. However, as local cases spike, the government introduced circuit breaker measures between 7 April to 4 May, which have been extended to 1 June. Measures include one-metre social distancing, closure of workplace premises except for essential services, full home-based learning for schools, closure of recreation venues, attractions and places of worship.

Source: Singapore Tourism Board, HVS Research
Key Government Initiatives and Measures
SGD83.6 Billion Budget for 2020: SGD4 billion allocated to assist workers and companies amid COVID-19, and deferring the goods and services tax (GST) hike until after 2021.
SGD48 Billion Resilience Budget: A property tax rebate of up to 100% for non-residential properties, rental waivers, deferment of income tax payment for three months, SGD48 million for self-employed persons (SEP) training support scheme, co-fund wage costs for up to 8,000 traineeships in 2020, flexibility on fees and loans, more funding for community, cash grant of SGD800 a month for three months for low- to middle-income citizens who became unemployed due to COVID-19 and SGD90 million for tourism recovery.
SGD5.1 Billion Solidarity Budget, SGD3.8 billion for Extension: SGD600 solidarity payment to all Singaporeans aged 21 and above in 2020, 75% wage support in April and May 2020 (differentiated by sector for remaining months), and three quarterly payouts of SGD3,000 each for eligible SEPs.
Vietnam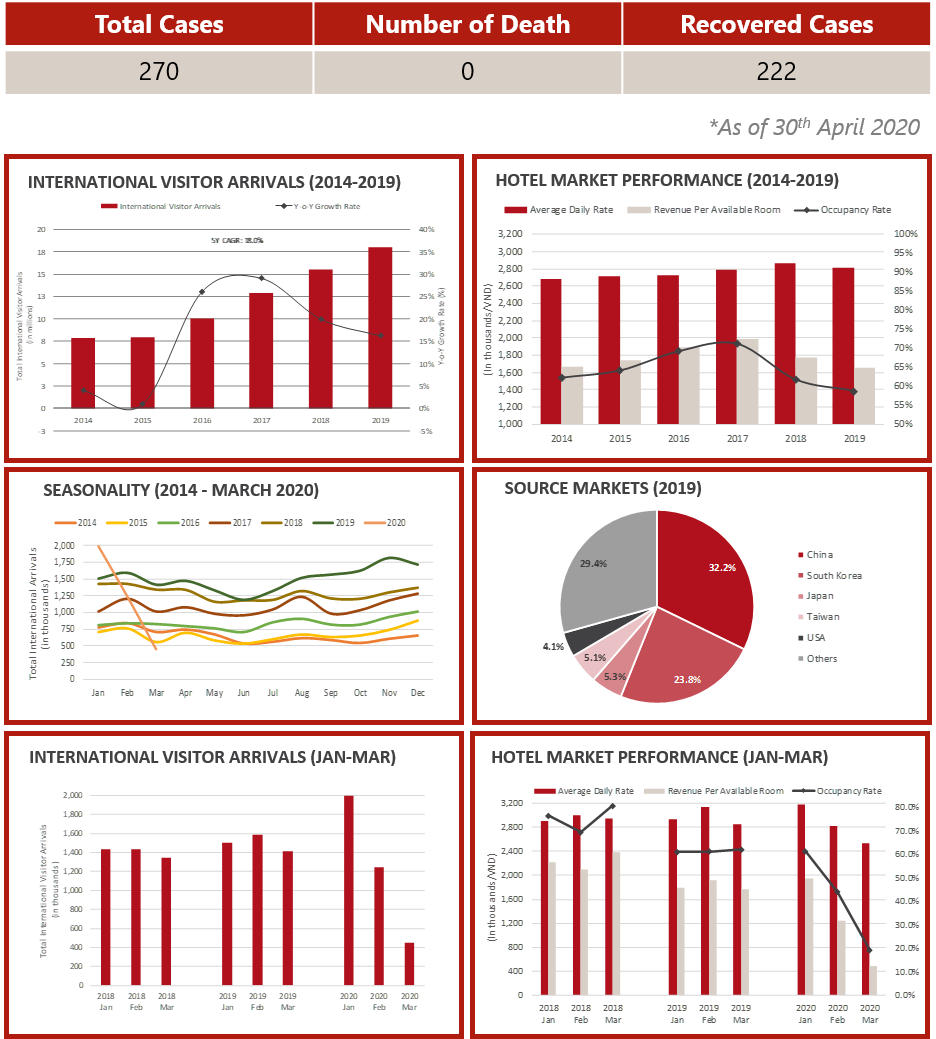 Source: Vietnam National Administration of Tourism, HVS Research

On 1 February, Vietnam halts all flights to and from mainland China and stop issuing visas for foreign visitors with travel history to China in the past two weeks. This is followed by a suspended entry for all foreign nationals on 22 March. All passenger flights to Vietnam on all airlines are also suspended from 1 to 15 April.

Apart from temporarily isolating several locations that are deemed high-risk or visited by travellers with confirmed cases of the virus, tourism sites across the country are also setting aside closure days to disinfect their premises. Until 15 April, Ha Long Bay, Bai Tu Long Bay, Cat Ba Island, Ho Chi Minh City, Ninh Binh, Ly Son Island, Cham Islands, Phong Nha, Perfume Pagoda, Hue Citadel, My Son Sanctuary, and Con Dao will not be receiving any new visitors. A number of festivals and events in Vietnam have also been cancelled or postponed to avoid public gatherings. Other key actions by the government includes the temporary closure of public schools across 63 provinces, designation of four hospitals to handle potential cases, set up of 30 testing centres and 45 quick response medical teams to assist hospitals nationwide. On 20 April, the country gradually ease COVID-19 control measures as cases plateau.

Source: Vietnam National Administration of Tourism, HVS Research
Key Government Initiatives and Measures
VND27 Trillion: Tax breaks, delaying tax payments by five months, a reduction in land lease fee and acceleration of state spending on infrastructure projects.
From February, the central bank, State Bank of Vietnam (SVB), has already cut interest rates along with commercial banks in the country. In addition, Vietnam commercial banks pledged to offer VND 285 trillion preferential credit package to affected businesses.
On 10 April, the government approved VND62 trillion financial support package for poor people and businesses affected by the Covid-19 pandemic, over three months until June.