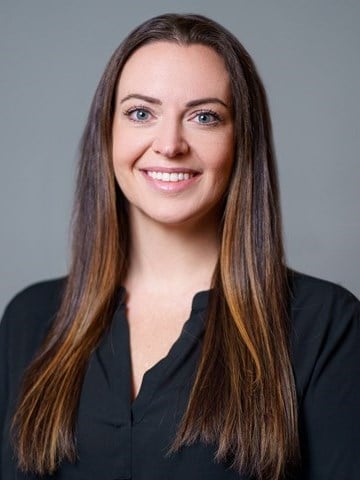 Introduction
Spread across northern North Carolina and southeastern Virginia, the economy of the metropolitan area known as Hampton Roads revolves around the federal government, the military, the aerospace industry, and the transportation and healthcare sectors. Hampton Roads also comprises the channel linking the James, Elizabeth, and Nansemond Rivers with the Chesapeake Bay, creating one of the world's largest natural harbors.

The harbor has been the conduit for the development of the Hampton Roads region for nearly four centuries, and the port, famously ice-free throughout the year, continues to fuel its economic growth. The following report looks at economic forces in Hampton Roads, specifically within the cities of Norfolk and Virginia Beach, and how they have influenced hotel performance trends in recent years.
Hotel Market Performance
Overview of Historical Occupancy and Rate Trends
The following charts illustrate trends in forecasted hotel occupancy, average rate, and RevPAR for Hampton Roads area hotels, including Norfolk and Virginia Beach hotels, from 2015 to 2017.
RevPAR Growth Driven by Gains in Occupancy and Average Rate
Hampton Roads Occupancy Grew through 2014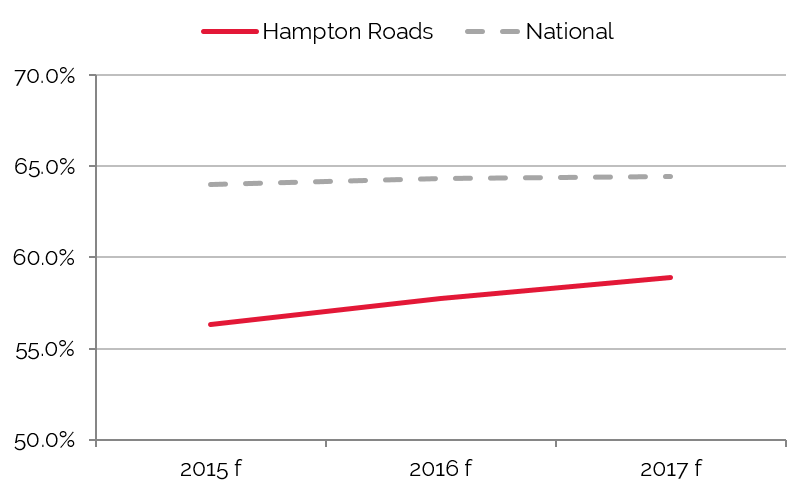 Nation Outpaces Rate Growth in Hampton Roads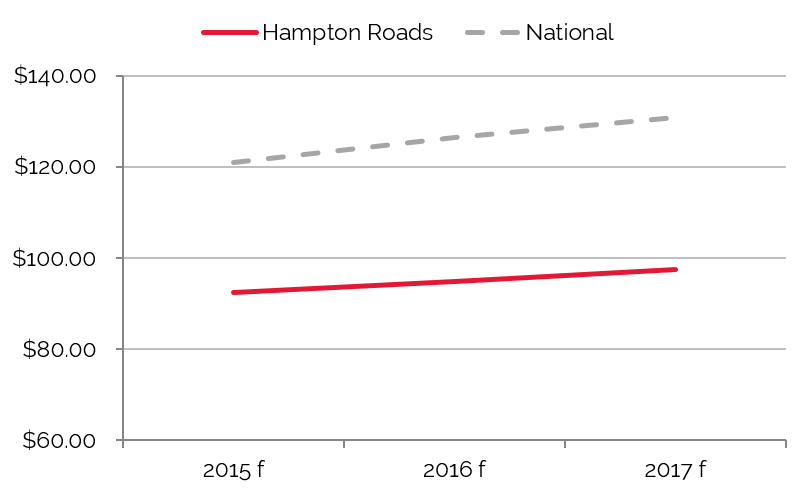 Hampton Roads RevPAR Lags Nation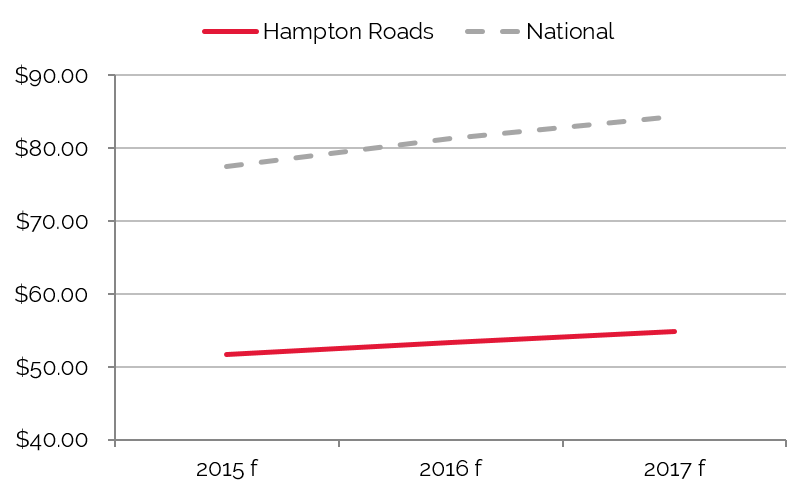 Norfolk & VA Beach Occupancy Made Gains in 2014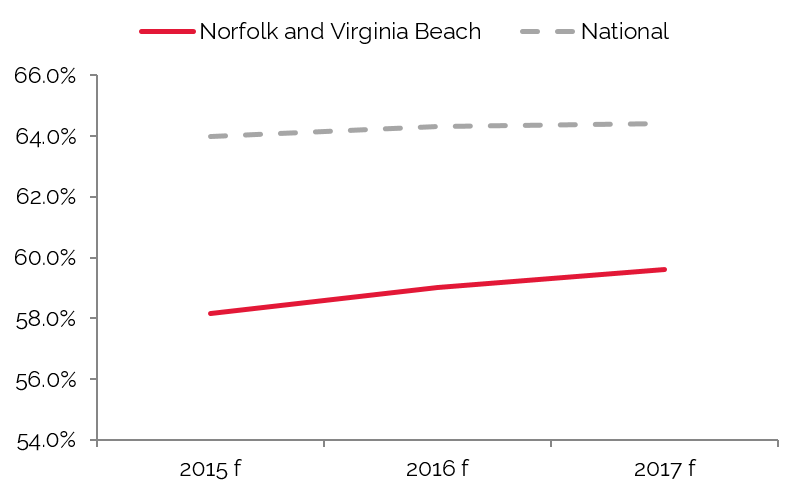 Nation Outpaces Rate Growth in Norfolk & VA Beach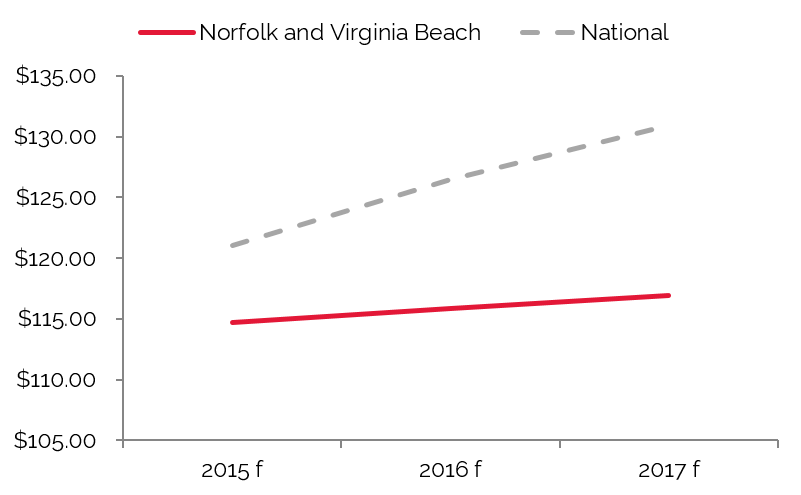 Norfolk & VA Beach RevPAR Slightly Below Nation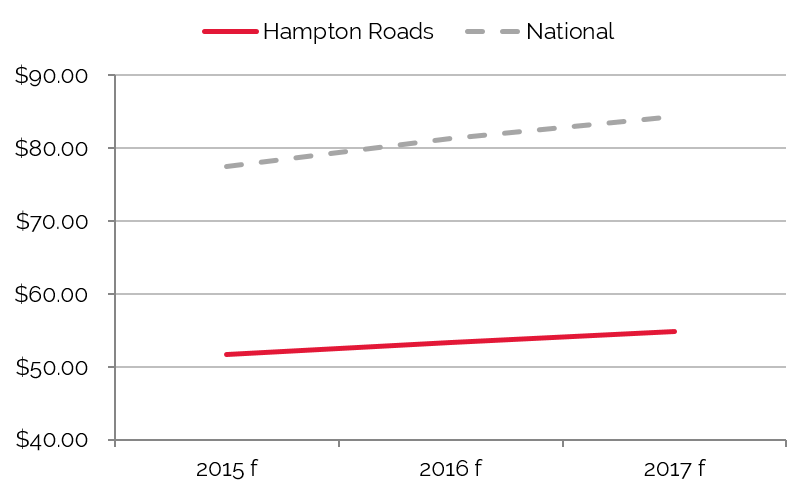 The Hampton Roads MSA experienced a significant drop in RevPAR in 2008 and 2009, influenced primarily by the recession. The drop in average rate, which was less significant, highlights the area's reliance on military sources of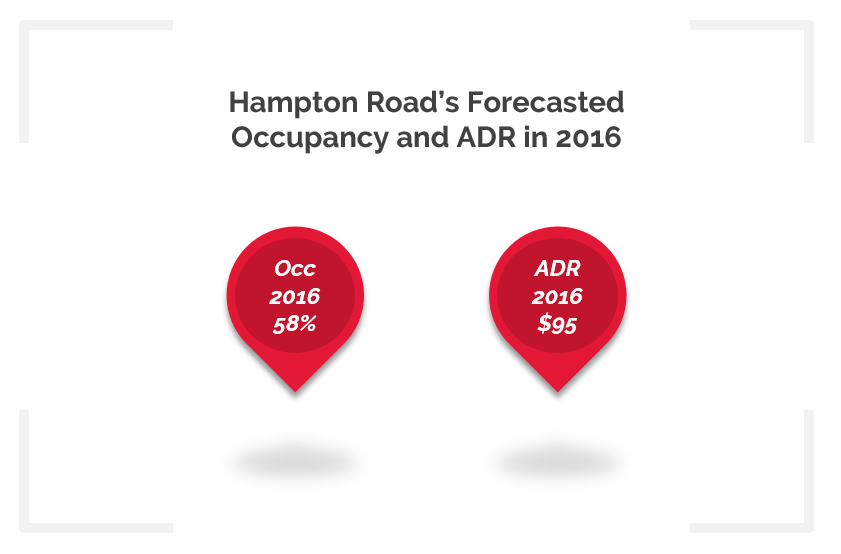 demand, whose per-diem rates fall below the rack rate otherwise commanded by market hotels. Norfolk and Virginia Beach fared better throughout the recession given continued Department of Defense spending, but experienced declines in occupancy from 2008 through 2010; average rate decreases were minimal and only lasted during the recessionary year of 2009.
Demand and occupancy have fluctuated in these two cities over the last decade and a half. Apart from 2009, when average rate declined, overall rate in Norfolk and Virginia Beach has shown growth every year since 2001. However, local hoteliers report that in submarkets such as Williamsburg and Suffolk, the average rate rebound has not been as pronounced.
Reliance on the government and military was also one of the primary reasons for a RevPAR drop in overall market area as well as Norfolk and Virginia Beach in 2013. Following the rebound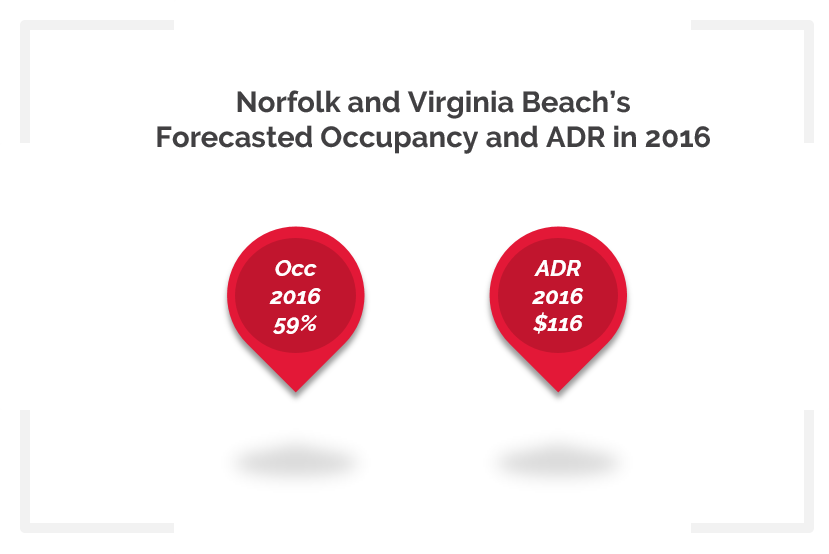 in 2011 and 2012, occupancy decrease in 2013 can be largely attributed to the government sequestration that took effect in March 2013. RevPAR rebounded strongly in 2014 and through July 2015, attributed to a combination of occupancy and average rate gains. Local economy and midscale hoteliers have expressed concern over the impending arrival of new supply. Many worry that average rate growth will cease as area hotels cut rates in efforts to sustain occupancy. However, the opening of a conference center hotel in Norfolk and the pending approval of a sports and entertainment arena in Virginia Beach could produce sufficient hotel demand within the market to absorb the incoming supply. Well-positioned hoteliers therefore could have the potential to realize healthy gains in the near term.
The dynamics of the market have changed over the past ten years. The Norfolk and Virginia Beach markets have consistently outperformed the overall Hampton Roads hotel market, which is expected given the strong demand drivers of the more urbanized areas. Moreover, from 2004 to 2010, Norfolk and Virginia Beach outperformed Hampton Roads hotels by an average in occupancy and in average rate. From 2010 through 2015, this trend shifted slightly, with Norfolk and Virginia Beach hotels had higher occupancy and average rate versus the overall market.
Norfolk and Virginia Beach Demand Should Continue to Surpass Supply through 2017
Source: HVS
Existing Supply Breakdown by Brand and Scale
Lodging supply across Hampton Roads spans approximately 360 hotels, ranging from economy to luxury and comprising nearly 40,000 rooms. Economy hotels account for roughly 33% of the total room supply, while the luxury segment is represented by only nine properties, accounting for 1,848 rooms. Of these total MSA figures, 92 hotels and roughly 13,000 rooms are in Norfolk and Virginia Beach, where economy hotels make up 19% of total rooms supply,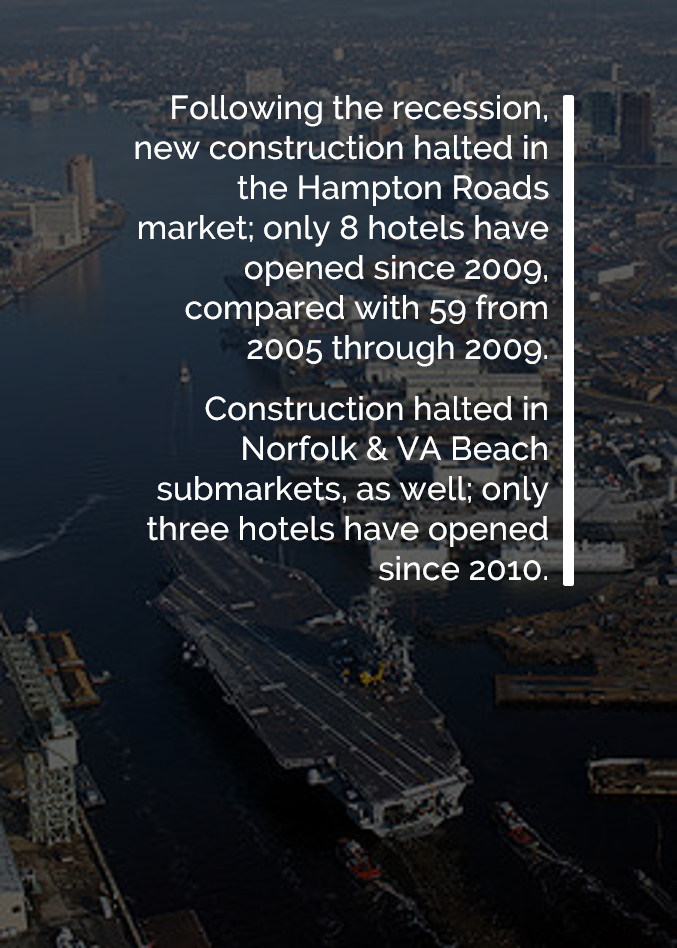 with upper-midscale and upscale hotels accounting for the highest percentage of total rooms. This supply segmentation is consistent with demand sources in the overall Hampton Roads market, which include government and military agencies that operate on a per-diem basis and heavily influence the types of construction and tiers of hotels in Hampton Roads.
Minor growth in the market throughout the recent past has meant little change in supply in recent years. The region, along with the nation, experienced significant increases in supply from 2007 to 2009, and following a supply drought after the recent recession, a limited number of new hotels are under development in Hampton Roads. There have been several brand changes or conversions; the latest openings include the Hilton Garden Inn Virginia Beach Oceanfront, which opened in May 2014, and the Value Place Virginia Beach, which opened in March 2015.
Other changes include the rebranding of the former Williamsburg Hotel & Conference Center to the DoubleTree by Hilton Williamsburg in June 2013, and the rebranding of the Hilton Norfolk Airport to the DoubleTree Norfolk Airport in April 2014. The Holiday Inn Patriot Williamsburg hotel is anticipated to finish a major renovation and convert to a Sheraton in the near term. Management representatives reported that this conversion would be beneficial to their bottom line given their existing facility and the abundance of InterContinental Hotels Group supply in the Williamsburg market. Lastly, the Holiday Inn Norfolk Airport was rumored to convert to a Courtyard or be sold at auction; however, these plans have not been confirmed. New hotel development projects underway in the area include a 23-story Hilton Hotel and Conference Center in Downtown Norfolk, which is under construction and slated to open in 2017, and a 104-key Hampton Inn near Route 58 in Suffolk.
Economy Rooms Represent Largest Portion in Hampton Roads,
while Upper-Midscale Leads the Nation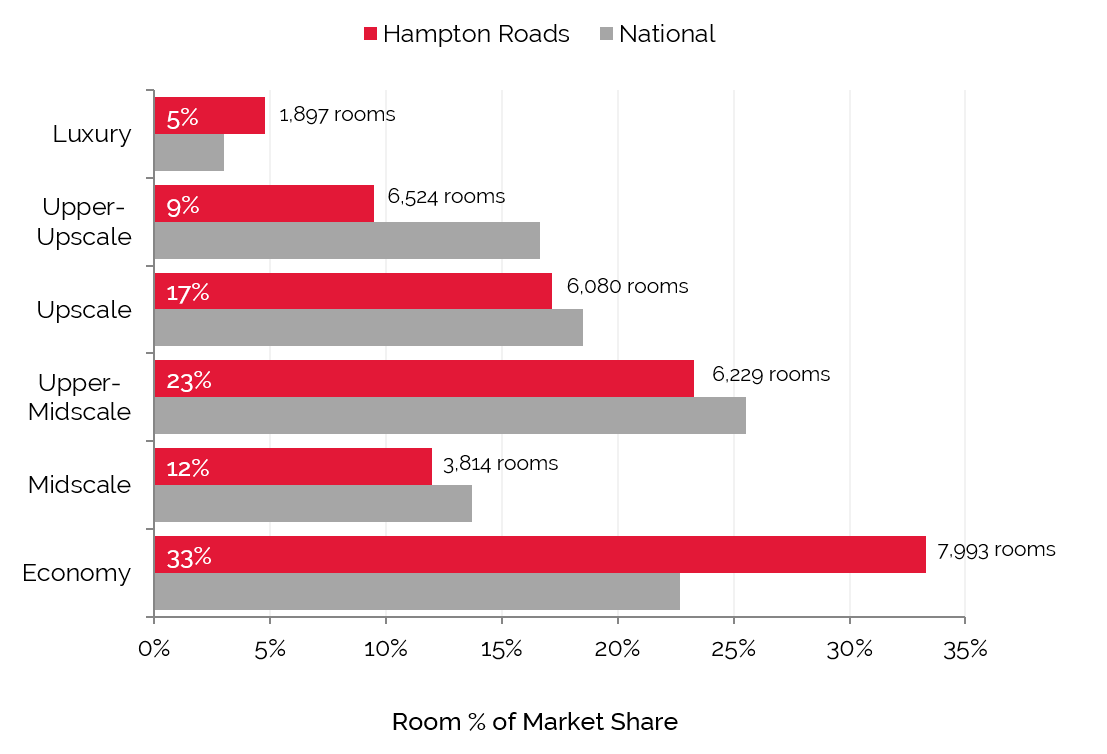 Source: STR
Largest Portion of Rooms in Norfolk and Virginia Beach Classified
as Upper-Midscale, Similar to the Nation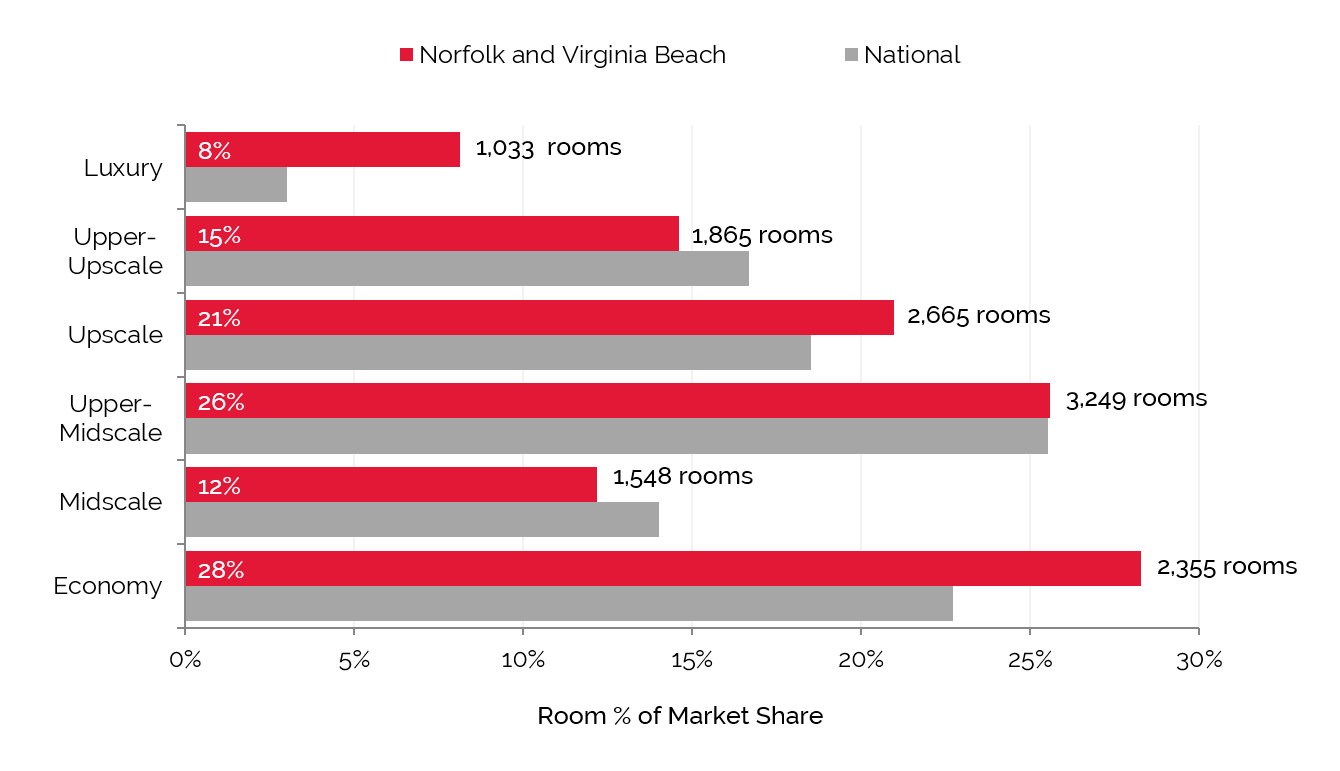 Source: STR
New Supply Pipeline
Hotels belonging to the midscale and upscale classes are expected to dominate the new supply pipeline through 2017, driven by the needs of existing and expanding commercial and leisure demand generators in Norfolk and Virginia Beach, specifically. This is especially apparent in the downtown cores of each city, which tend to generate a wealth of higher-rated clientele. Developers are taking advantage of the higher rates these hotels command.
The table below reflects an increase of approximately 1,500 rooms, plus several to-be-determined properties in the planning stages with undetermined room counts, in addition to the existing supply of 38,725 rooms in the MSA. This represents an approximate supply increase of 3.8%.
The proposed Hyatt House and Hyatt Place projects are planned to replace two recently demolished hotels built in the 1960s. The 19-story hotels will have a parking garage where retail space is expected to be included. Also anticipated for Virginia Beach is the redevelopment and restoration of the Cavalier Hotel, which sold in 2013. The hotel, which was recently accepted to the National Register of Historic Places, will be restored, reopening in 2016 as an 85-room Marriott Autograph Collection hotel. Furthermore, the Cavalier Oceanfront hotel is currently being demolished and a Marriott hotel, slated to open in 2017, will take its place.
The Main, a mixed-use entertainment, meeting, dining, and hotel venue, is expected to open in 2017; it will include the 300-room Hilton Norfolk at The Main and the 50,000-square-foot The Exchange conference center. The Norfolk Premium Outlets and the Waterside Live! Development projects are also underway, which should continue to bolster Norfolk as a retail and entertainment destination; these development projects are scheduled to open in the spring of 2017.
Majority of New Hotels are Expected in the Cities of Norfolk and Virginia Beach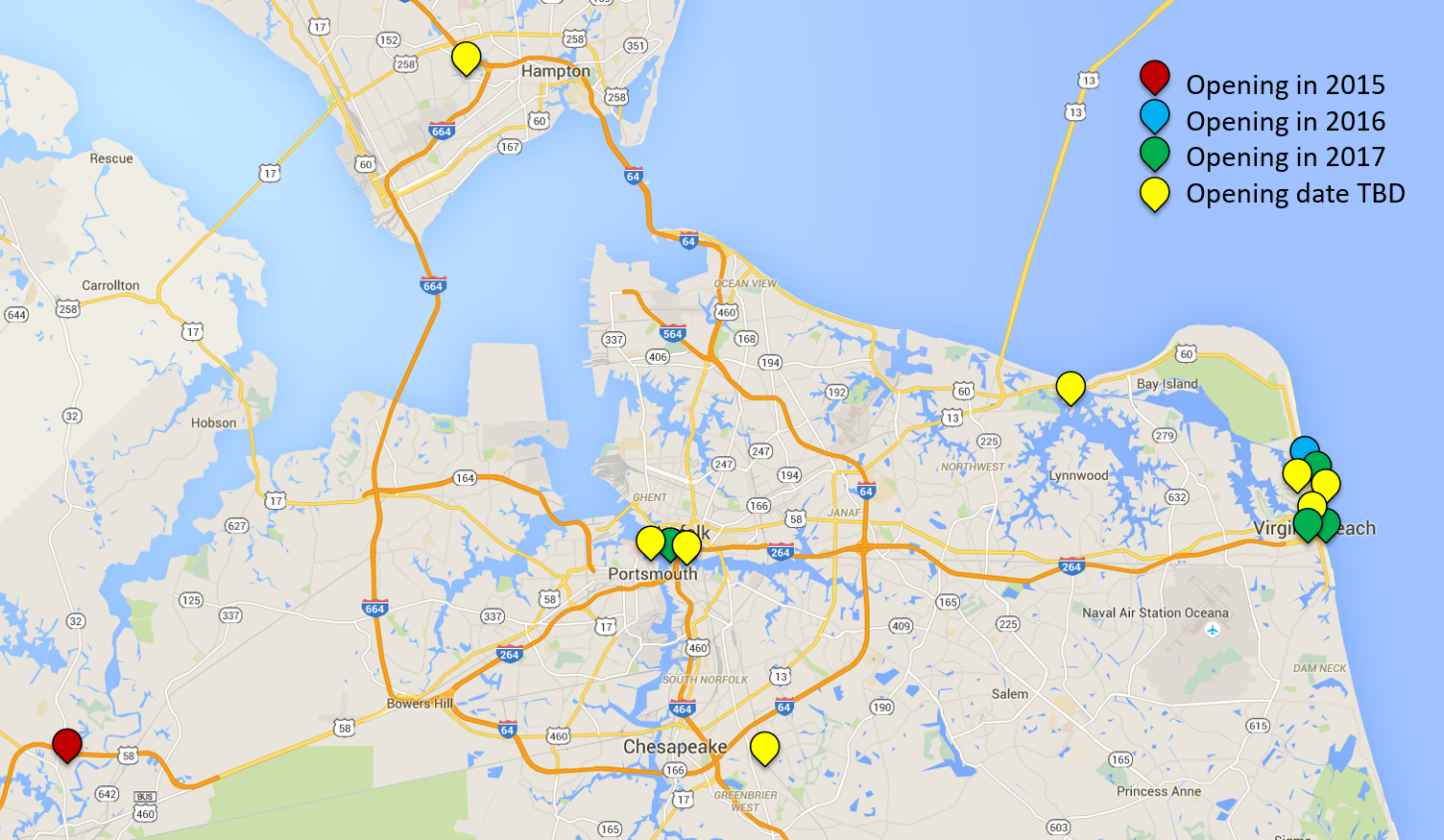 Of the property classes and room counts that have been determined, the following chart illustrates the class breakdown of the new supply.
Hampton Roads Midscale Hotel Room Inventory set to Increase More Than 65%*†

Source: HVS, STR, and BuildCentral, Inc.
* Only includes properties with room counts and class designations
† Only the lowest value in the rooms range is considered
Lodging Room Supply Expected to Increase 2015–2017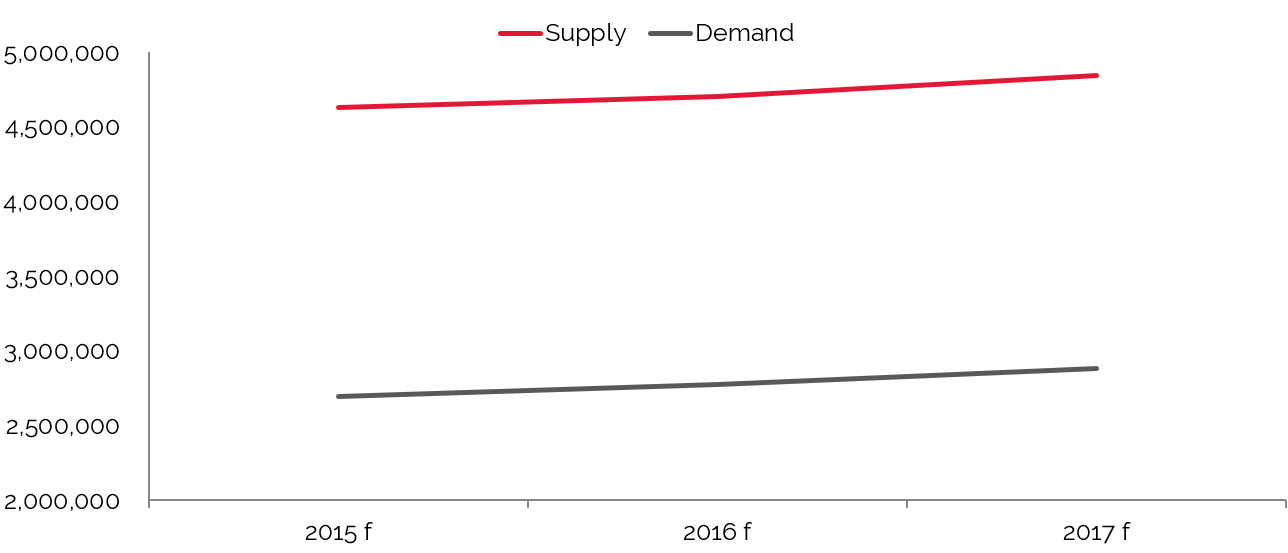 Source: HVS
Hotel Value Trends
The annual Hotel Valuation Index (HVI) compiles data derived from over 4,500 hotel appraisal assignments each year, providing for analysis of performance and forecasts for hotel markets nationwide. The HVI also provides insight into hotel values.
In 2014, Hampton Roads ranked 64 among the 65 major U.S. cities in hotel value growth; hotel values in the market declined by 7%, registering well under the average U.S. growth of 13%. However, given the end of government sequestration and the continued rebound of the local economy, Hampton Roads hotel values are anticipated to rebound rather significantly in 2015 and 2016. Largely driven by performance increases in Norfolk and Virginia Beach, values are expected to rise 22% in 2015, with 39% growth between 2015 and 2018.
The following chart illustrates the trajectory of hotel values in Hampton Roads from 2006 through 2018.
Hampton Roads Hotel Values Expected to Surge in 2015
Ratings are comparable to 65 major U.S. cities evaluated in the HVS HVI.
Source: HVS & STR
Recent Hotel Transactions
The following table details confirmed hotel transactions in the overall Hampton Roads area since 2013.
Hotel Transaction Activity Peaked
in 2013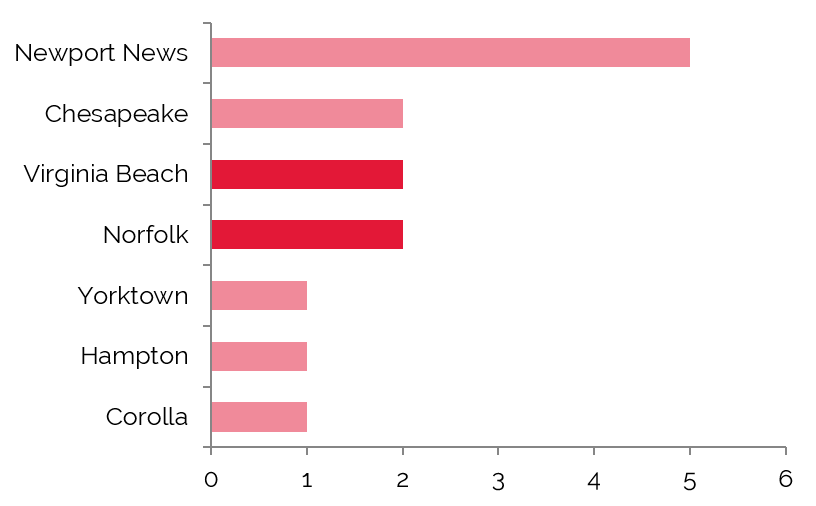 Average Price per Room Increased Significantly in 2013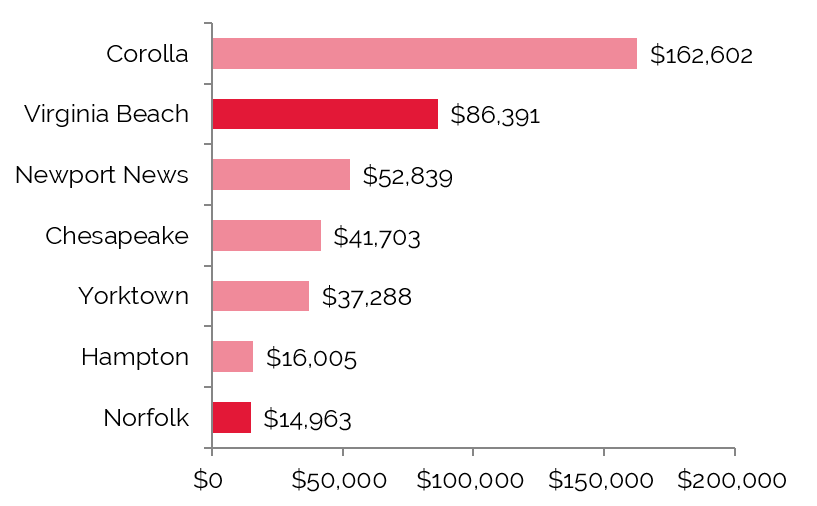 Source: HVS
Hotel transaction activity in Hampton Roads was particularly strong in the middle of the last decade, with significant increases in price per room and total rooms sold from 2004 to 2008. The 2008/09 recession, however, brought hotel transactions to a near halt in 2009/10. The hotel real estate market has since begun to recover, and the total number of hotels sold between 2011 and 2014 exceeded that of any four-year period over the last decade; average price per room also rose significantly in 2012 and 2013. On the whole, the upward trend in net operating income is allowing hotels in Hampton Roads to realize higher values. The two most recent high-price-per-room sales were the Grand Ocean Hotel in Virginia Beach, which sold for roughly $85,000 per room in January 2015, and the historic, oceanfront Cavalier Hotel in Virginia Beach, which sold in 2013. The 2014 average price per room in the market fell slightly because of the lack of a significantly higher-priced sale.
The former Norfolk Plaza hotel, which changed names to the Wyndham Garden Norfolk in December 2014, was put up for auction in March 2015 at a starting bid of $2 million. The city tax assessor had reported the value of the property at $7.3 million. Though reportedly sold at auction, the sale of the hotel could not be confirmed. The 58-room Tazewell Hotel also reportedly sold at auction in April 2013 for $3.3 million, anticipated to be converted to condominiums. Notably, many new apartment and housing projects are coming to fruition in the Norfolk area; market participants have shown concern about the amount of new housing, and some report that the market may be on the verge of a bubble.
Interest among investors, especially in markets such as Downtown Norfolk, where land is scarce, will help with downward pressure on capitalization rates. The expected growth in this market, coupled with the strengthening economy and growing private-sector demand, supports a positive outlook for the area's hotel industry overall, with values set to rise through 2018.
Across the nation, according to Real Capital Analytics (RCA), the lowest-priced confirmed hotel sale for the preceding three years was the Hotel Seagate in the Toledo, Ohio CBD at $2,830 per key. The next two lowest sales occurred in Chicago and Atlanta. The highest-priced confirmed sale, at $1.85 million per key, was the purchase of the Park Hyatt Hotel in the Manhattan Midtown West neighborhood. The next runner up was the Hollywood St. Louis in Missouri at $1.22 million.
Number of Major U.S. Sales ($10M and above)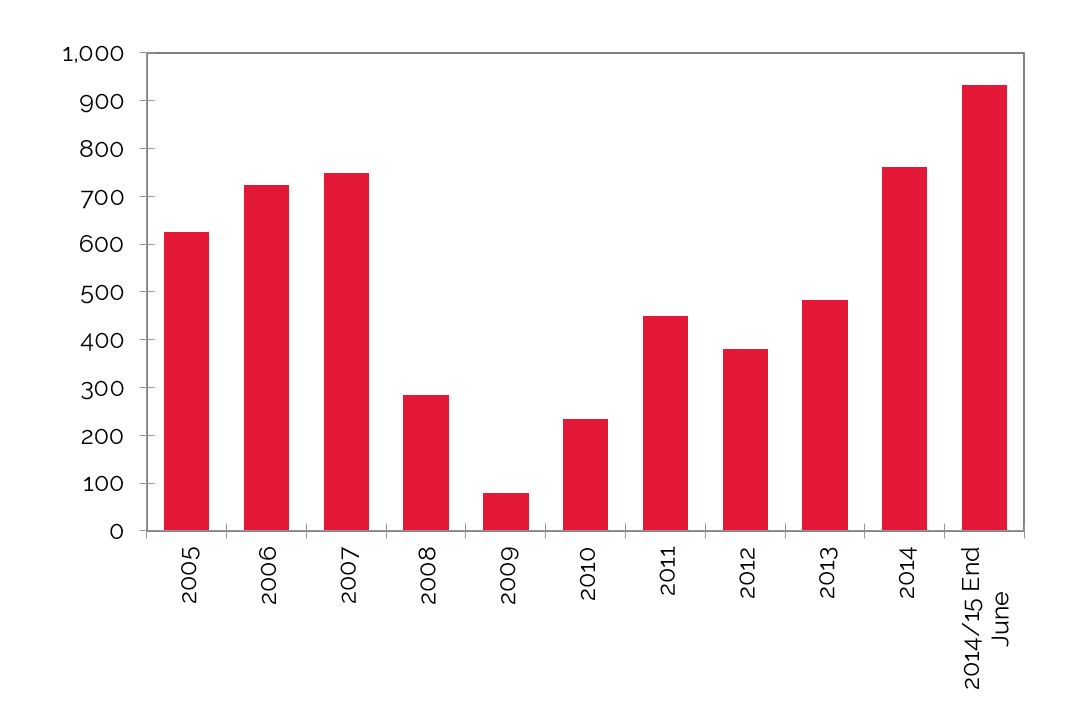 Average Price per Key in the U.S.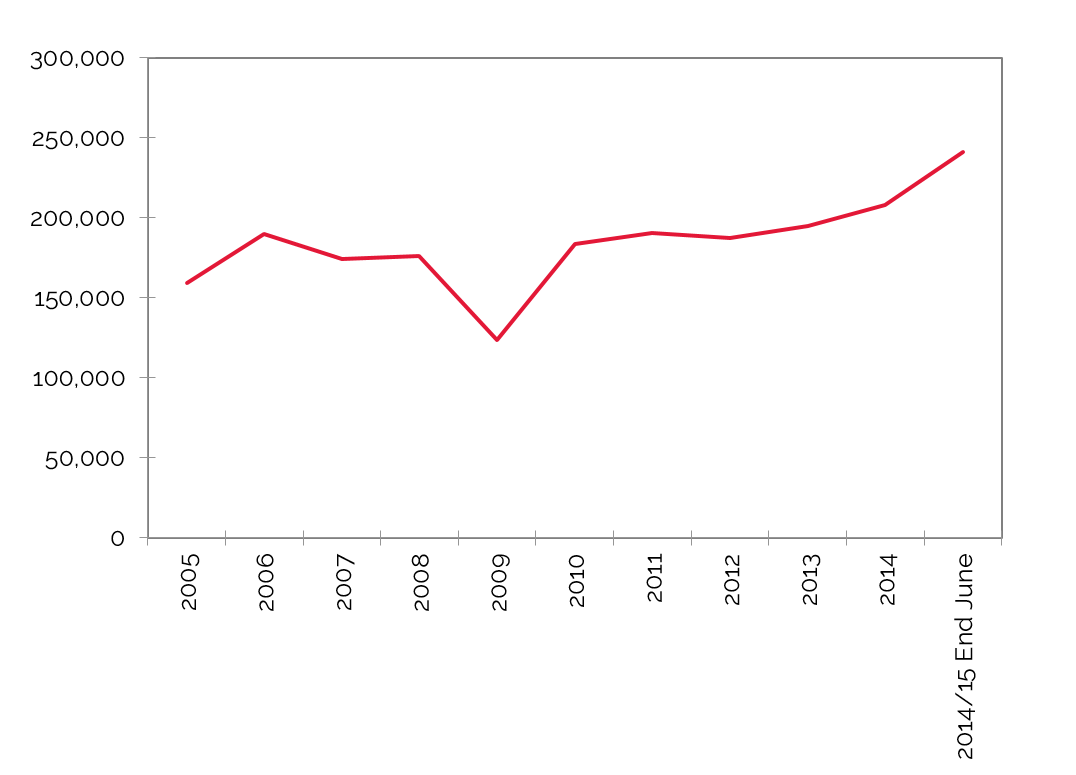 Source: RCA
Key Economic Indicators
Economic and Demographic Review
The U.S. population has grown at an average annual compounded rate of 1.0% from 2010 through 2014, and that rate is forecast to continue into 2020. At 0.9%, growth in the Hampton Roads MSA is on pace with the nation; the state of Virginia is slightly ahead at 1.4%. This trend is similar to the level of growth that each area experienced from 2000 to 2010 and from 2010 to 2014.
The average annual compounded growth rate of per-capita personal income for the MSA between 2010 and 2014 was 1.3%, slightly above the national average of 1.2%. Anticipated growth into 2020 for the MSA is 1.4%, versus 1.3% for the nation.
The national wealth index for the nation trended flat from 2000 to 2014 and is anticipated to remain flat into 2020. The Hampton Roads MSA and the state of Virginia are expected to experience a slight increase of 0.01% over the next five years.
Food and beverage sales in the MSA grew at an annual compounded rate of 2.0%, with $2.481 billion in 2010 and $2.685 billion in 2014. Through 2020, the pace of growth is expected to slow to 1.6% for the MSA.
Hampton Roads' MSA average annual compounded growth rate of resident population has been 21% lower than that of the nation.
Average annual compounded growth rate of per capita personal income for the MSA was 8% higher than that of the nation, 2010-2014.

Source: Woods & Poole Economics, Inc
The retail sales sector for the state of Virginia was again outpaced by the Hampton Roads MSA, which demonstrated an average annual compounded growth rate of 2.5%, with $21.901 billion in 2010 and $34.146 billion in 2014.
Radial Demographic Indicators
The following table reflects radial demographic trends measured by three points of distance from a middle point between Norfolk and Virginia Beach.
Demographics by Radius from the Center of Town
Population Growth to Decline within 1-Mile Radius
2015–2020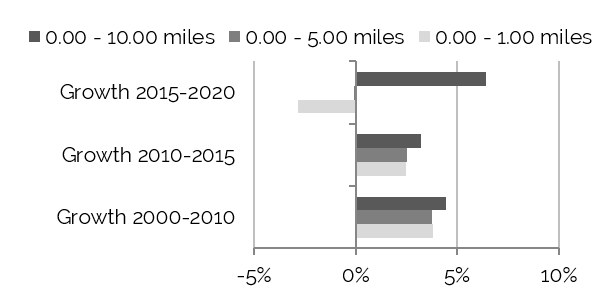 Household Growth Most Stable within 5-Mile Radius
2015–2020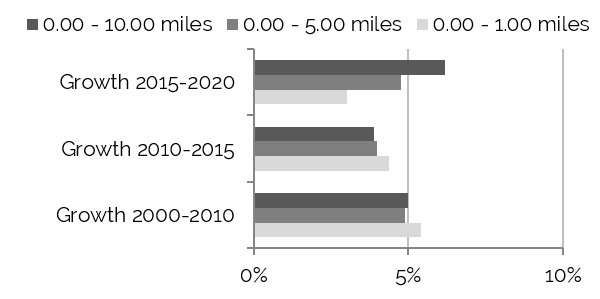 Source: The Nielsen Company
Top Five Occupations – Estimated for 2015
Within 1-Mile Radius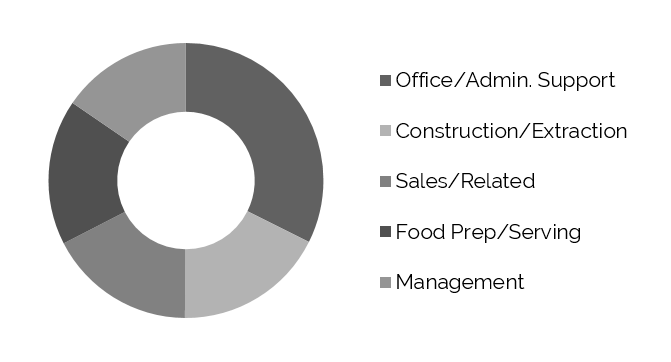 Within 5-Mile Radius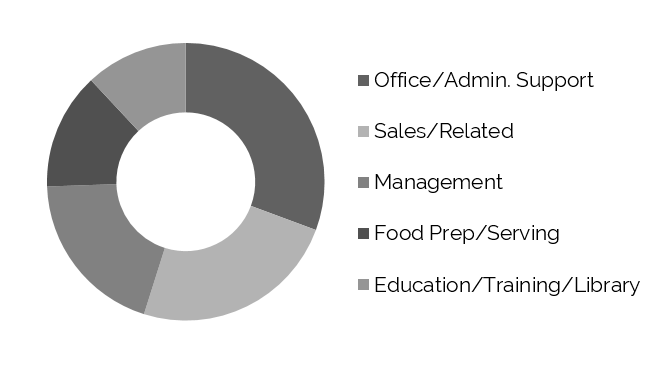 Within 10-Mile Radius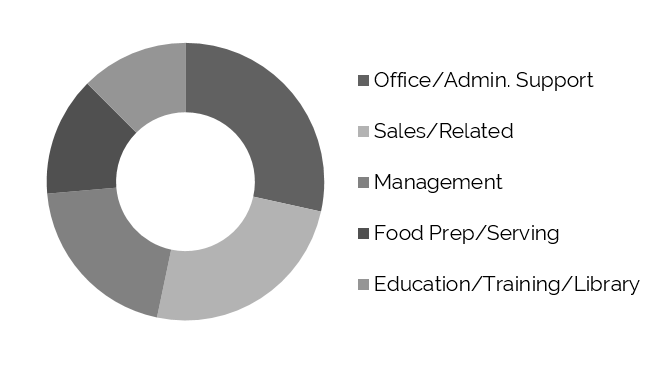 Source: The Nielsen Company
Population within the greater Norfolk and Virginia Beach area experienced healthy growth of 6.4% between 2000 and 2010. Although the overall growth rate slowed to 3.2% from 2010 to 2014, projected growth is anticipated to continue at about 4.4% per year into 2020. Households are expected to grow at a rate of 5.0% per year into 2020.
Average household income for the larger area between Norfolk and Virginia Beach is reported to be roughly $15,000 higher than the median household income. The overall Hampton Roads MSA average household income was reportedly up over 3.0% in 2014; it is forecast to increase another 4.2% in 2015, according to REIS.
2015 Forecast - Average and Median Household Income

Source: The Nielson Company
Workforce Characteristics
The characteristics of an area's workforce provide an indication of the type and amount of transient visitation likely to be generated by local businesses. Sectors such as finance, insurance, and real estate [FIRE]; wholesale trade; and services produce a considerable number of visitors who are not particularly rate-sensitive. The government sector often generates transient room nights, but per-diem reimbursement allowances often limit the accommodations selection to budget and mid-priced lodging facilities. Contributions from manufacturing, construction, transportation, communications, and public utilities [TCPU] employers can also be important, depending on the company type.
From 2000 to 2010, total employment in the MSA grew at an average annual rate of 0.5%. This rate was in line with the growth rate recorded the national average. The pace of employment growth in the MSA on an annual average from 2010 to 2014 was slightly higher, largely as a result of contract work associated with the military and government entities in the area. Woods & Poole Economics, Inc. anticipates total employment in the MSA to change by 1.2% on average annually through 2020, which is in line with the forecasted rate of change of 1.3% for the U.S. as a whole.
Employment Projections through 2020 Show Impressive Growth in Total Services, Government,
Health Care and Social Assistance, and Educational Services
Source: Woods & Poole Economics, Inc.
* Total Services include: Professional and Technical Services; Management of Companies and Enterprises; Administrative and Waste Services; Educational Services; Healthcare and Social Assistance; Arts, Entertainment, and Recreation; Accommodation and Food Services; and Other Services, except Public Administration
** Total Trade includes Wholesale Trade and Retail Trade
The government and services employment sectors represented 64.5% of total employment in the Hampton Roads MSA in 2014. Total Government, the second-largest primary employment sector in 2014, tends to generate demand for economy properties, as per-diem rates limit travelers to lower-priced hotels; however, growth within this sector is anticipated to decline going forward, as much of the market has had to shift market segmentation and focus on growing diversity given the instability of the government entities in the area's recent past. However, the sector succeeds at maintaining 23% to 25% of total employment. Moreover, the most recently approved defense plan by a senate committee bodes well for the Hampton Roads area, with initiatives that would support the region's ship construction and repair industry.
The largest primary sector was Total Services, which rose from 2000 to 2014, and is expected to grow through 2020. Of the various sub-sectors included in Total Services, Health Care and Social Assistance and Accommodation and Food Services were the largest employers.
Employment
The Hampton Roads area is notable for its large military presence and related industries. In addition, the area is a major medical center for southeastern Virginia. These industries are traditionally considered to be relatively stable, specifically during economic downturns. However, as previously noted, the 2008/09 recession and the 2013 government sequestration had negative impacts on the area's overall performance and employment levels. Issues within the government and military sectors could also have severe long-term effects on the market; however, local officials report that employment has remained positive.
The following table illustrates historical and projected employment, population, and income data for the overall Hampton Roads market as presented by REIS.
Historical & Projected Employment, Households, Population, and
Household Income Statistics for Hampton Roads

Source: REIS Report, 3rd Quarter, 2015
Top Industries in Government/Military and Manufacturing
The following table presents a list of the major employers in the Hampton Roads market:
Major Employers in Hampton Roads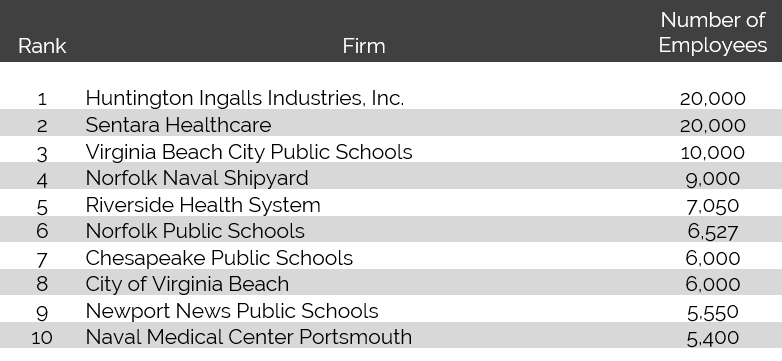 Source: Virginia's Hampton Roads Economic Development Alliance, 2013
The economic rudders of Hampton Roads revolve heavily around the federal government and U.S. military; the aerospace, manufacturing, and distribution industries; and the healthcare sector. Most of these rely directly on Hampton Roads' remarkable natural harbor and the Port of Virginia, the third-largest general-cargo port on the East Coast and the largest coal-exporting port in the United States. The Port of Virginia's trading partners extend across nations worldwide, and the total value of cargo shipped to and from the port in 2014 was greater than $71 billion.
The port comprises four terminals: Norfolk International Terminal (NIT), Newport News Marine Terminal (NNMT), APM Terminal (APM), and Portsmouth Marine Terminal (PMT). The northeast corner of the PMT facility is currently occupied by a joint venture arrangement headed by Skanska Arrangement Infrastructure Development for construction of a second Midtown Tunnel, scheduled to be complete in 2017.
Every branch of the U.S. military has a presence in Hampton Roads, with roughly 83,000 active-duty personnel spread across the area's seven major military installations and an additional 40,000 civilians employed by the area's military bases. According to an October 2013 study from the U.S. Department of Defense, defense-related spending accounts for approximately 40% of the area's economy. The extensive military presence in Hampton Roads has attracted seven of the world's top-ten defense firms, including Lockheed Martin, Boeing, and Northrop Grumman. Huntington Ingalls Industries, a shipbuilder and spin-off of Northrop Grumman, is the region's largest employer and the sole designer, builder, and maintainer of nuclear-powered aircraft carriers in the United States.
The aerospace and military technology industries are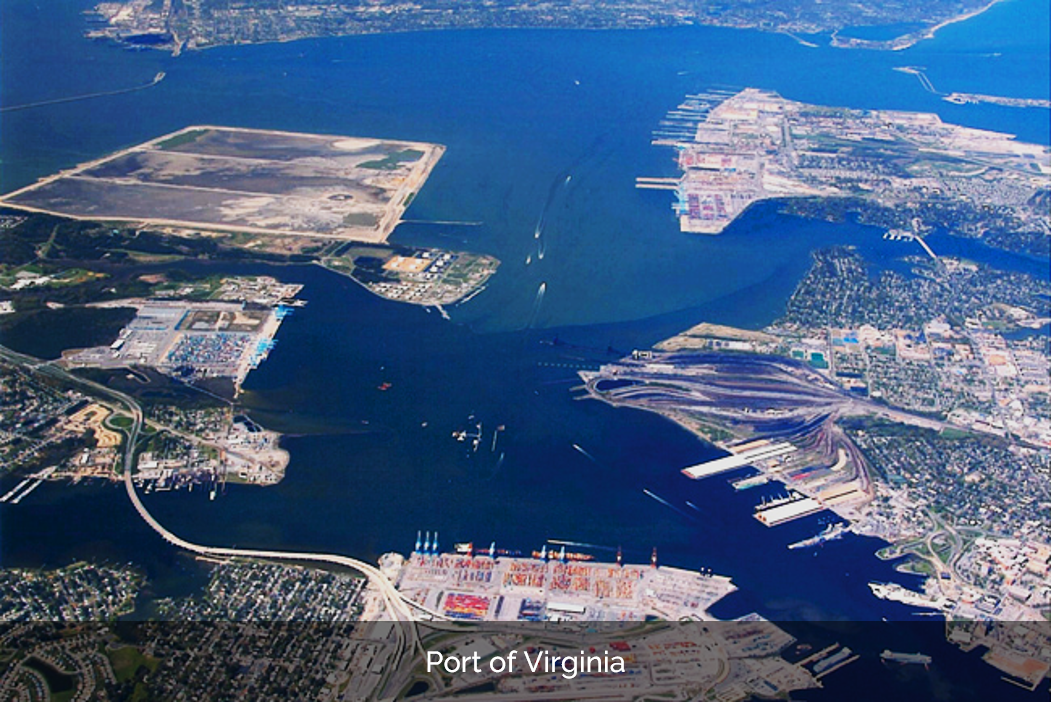 a major source of employment for the Hampton Roads area. Many of the top companies in these fields maintain significant operations in the area, including SAIC, AMSEC LLC, Northrop Grumman, Lockheed Martin, and Raytheon. Most of these companies work closely with the area's government institutions as contract engineers, consultants, and manufacturers. In addition, the National Institute of Aerospace is a world-class research and education facility created to conduct aerospace and atmospheric research, as well as develop new technologies.
The medical industry is important within this region. Sentara Healthcare is one of the most progressive and integrated healthcare organizations in the nation, providing services to more than two million Hampton Roads residents. Sentara operates more than 100 care-giving sites, including ten acute-care hospitals, outpatient-care campuses, seven nursing centers, three assisted-living centers, and over 380 primary care and multi-specialty physicians. Sentara also offers a full range of award-winning health coverage plans, home health and hospice services, physical therapy and rehabilitation services, and Nightingale (a regional air-ambulance service). The Sentara Leigh Hospital, located in Norfolk, is in the midst of a $126-million renovation. The renovation, which is scheduled for completion by early 2016, will reportedly include two new towers, a new lobby and a new outpatient center, an outpatient pharmacy, and a parking garage, increasing the total size of the hospital by 40%. Thus far, the 400-space parking garage and one of the new towers have been completed.
The MSA has traditionally recorded lower unemployment levels than the nation, but higher than the state of Virginia. These levels are attributed to Hampton Roads' stable military and navy operations, as well as the area's defense technology and medical industries. Unemployment rates in the area decreased in the middle of the last decade before rising in 2008. In line with national trends, the MSA registered notable increases in unemployment levels beginning in the second half of 2008 due to the impact of the national recession and the mid-year 2007 closure of the Ford Motor Company F-150 plant, previously the largest manufacturing plant in the area. Increases in unemployment continued through 2009 and 2010. However, unemployment rates began to decline in 2011, and this positive trend continued through 2014; furthermore, the most recent comparative period illustrates continued improvement, as indicated by the latest available data for 2015.
Unemployment in Hampton Roads MSA Remains Lower than Nation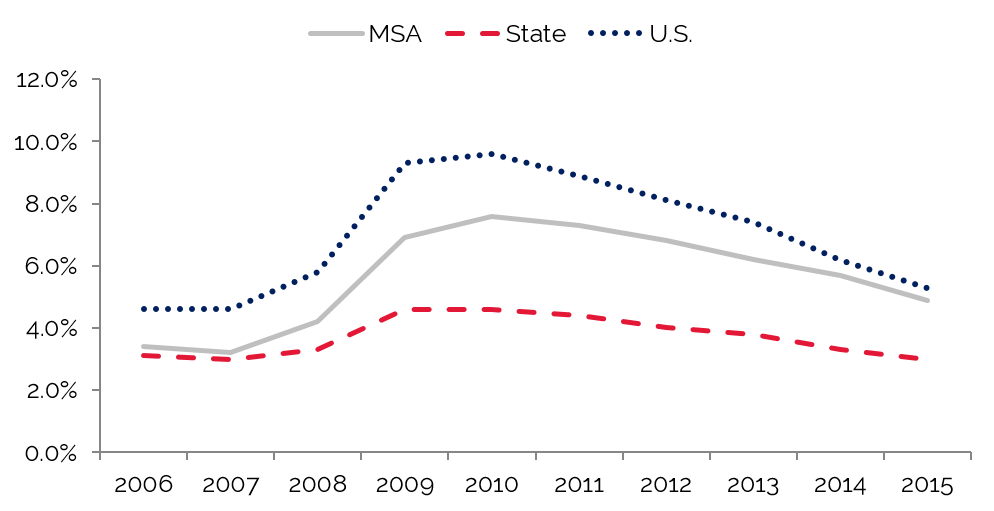 Source: U.S. Bureau of Labor Statistics
Office Space
Trends in occupied office space are typically among the most reliable indicators of lodging demand, as firms that occupy office space often exhibit a strong propensity to attract commercial visitors. Thus, trends that cause changes in vacancy rates or in the amount of occupied office space may have a proportional impact on commercial lodging demand and a less direct effect on meeting demand.
The greater Norfolk/Hampton Roads market comprises a total of 17.8 million square feet of office space. The Norfolk submarket comprises 4.4 million square feet. The Virginia Beach office market comprises 6.3 million square feet of office space, with a vacancy rate of 22.9% in 2014, which was above the overall market average. The average asking lease rate of $21.80 in Virginia Beach is roughly $2.50 above the average for the broader market.
It is reported that many companies are looking at Hampton Roads as a lower-priced alternative to other competitive markets; however, the limited available Class A space is a hindrance to growth. There are several suburban office projects in the pipeline, however, and market participants reveal that new supply would benefit the market area.
Office Square Footage across Hampton Roads Totals 17.8 Million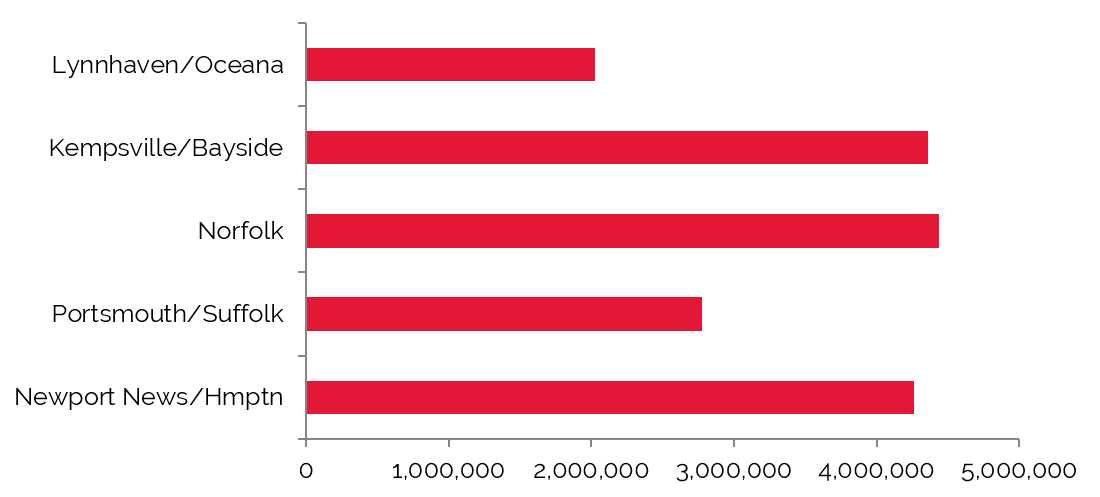 Source: REIS Report, 3rd Quarter, 2015
Norfolk Outperformed Overall Market in Both Vacancy Rate and Average Asking Lease Rate in 2014
Source: REIS Report, 3rd Quarter, 2015
Convention Activity
Convention centers generate significant levels of demand for area hotels, particularly those within a radius of three miles. Convention headquarters hotels command premium rates and, in addition to capturing event-related demand, can also benefit from hosting related banquet events. Major conventions also push demand to peripheral hotels in the market.
The market features a variety of convention spaces, including the Virginia Beach Convention Center. This facility is located off I-264 in Virginia Beach and features approximately 181,000 square feet of meeting and exhibition space. The Waterside Convention Center, which is attached to the downtown Marriott Norfolk Waterside, offers 45,000 square feet of meeting space and is the second-largest meeting facility in the Norfolk/Virginia Beach area. The Hampton Roads Convention Center, which opened in 2005, is located midway between Virginia Beach and Williamsburg and features 344,000 total square feet of versatile convention and exhibit space. The John Q. Hammons Embassy Suites is adjacent to the convention center, and other accommodations are within easy reach. Furthermore, the Newport News Marriott Hotel & Convention Center, located at Oyster Point in Newport News, features a 65,000-square-foot conference center with several ballrooms and meeting rooms.
Statistics related to all of Hampton Roads' conference and convention centers were not available for review. However, reports from the market reflect that these facilities are frequently used for consumer and trade shows that predominately attract visitors from within the region; the larger spaces, such as the Hampton Roads Convention Center, are also able to attract state and regional meetings and groups.
As previously mentioned, the Hilton Norfolk at The Main is anticipated to open mid-year 2017, adding roughly 50,000 square feet of conference space and 300 rooms to the Norfolk hotel and conference center market. The facility's main ballroom will be larger than the nearby Marriott's.
Convention Numbers Rise Since 2008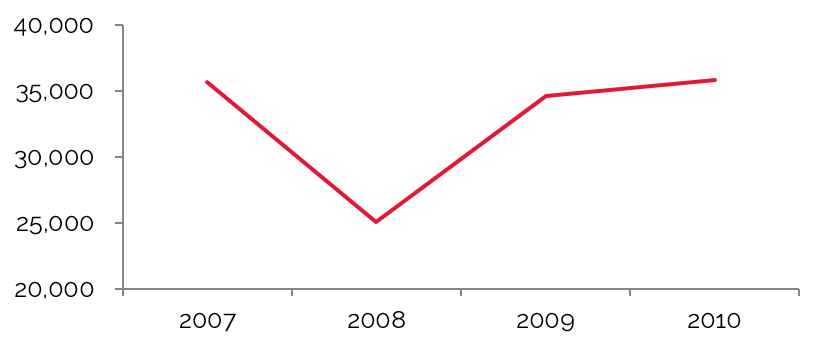 Source: Hampton Roads Convention Center
Airport Traffic
Airport passenger counts are important indicators of lodging demand. Depending on the type of service provided by a particular airfield, a sizable percentage of arriving passengers may require hotel accommodations. Trends showing changes in passenger counts also reflect local business activity and the overall economic health of the area.
The Hampton Roads metropolitan area is served by two main airports, the Norfolk International Airport and the Newport News/Williamsburg International Airport. Norfolk International Airport, southeastern Virginia's dominant airport, added many new nonstop destinations between 2010 and 2012, and an $11.7-million renovation was completed in early 2014, with upgrades to the public areas, restaurants, and retail outlets. Additionally, renovations to Concourse B were completed in March 2014, inclusive of an updated security checkpoint, new technology, new noise-reducing windows, and new flooring; similar upgrades to Concourse A should be completed by the spring of 2016. Passenger traffic has decreased since 2013, and local officials report that there are too few direct flights to and from the airport to sustain past levels of traffic. The reduced flights and a rise in ticket prices have hurt the airport in the recent past. New renovations are expected to help the airport realize growth in passenger counts.
The Newport News/Williamsburg International Airport is located northwest of Downtown Newport News, Virginia. While the various commercial airlines that service the airport do not offer any international flights, the airport handles a number of corporate international flights. In 2010, a new $13-million concourse opened, the airport's largest runway underwent an extensive rehabilitation at a cost of approximately $16 million, the USO facility was expanded, and numerous terminal upgrades were completed. In addition, a $4-million hangar and office-space complex at the airport opened in early 2011. Furthermore, in 2013, a customs inspection facility was opened, allowing international flights to fly directly to the airport.
In March 2012, AirTran stopped service to Newport News/Williamsburg International Airport and Delta Air Lines reduced its number of flights. The airport took a major hit when AirTran flights were pulled, worsened by Frontier's cessation of all nonstop service to Denver in January 2014. The collapse and departure of People Express, a small airline, also negatively affected the airport. Without another low-cost carrier at the airport, its future remains in question.
Norfolk International Airport Passenger Traffic has Declined Because of Fewer Direct Flights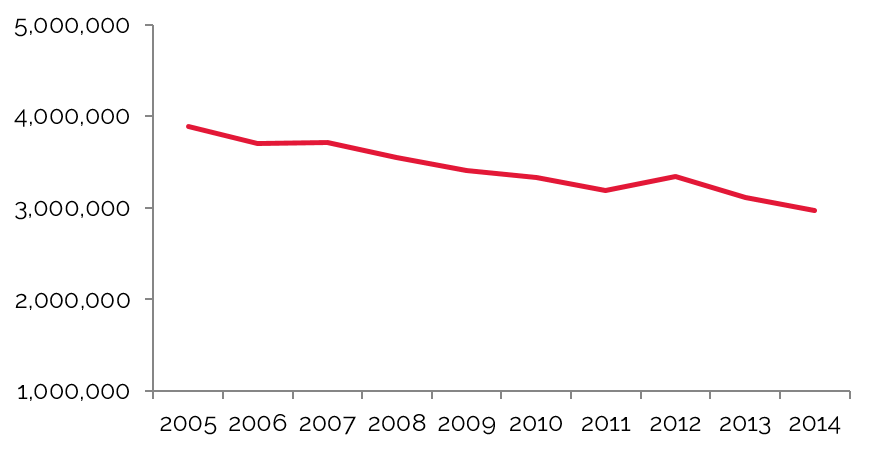 Source: Norfolk International Airport
Newport News/Williamsburg International Airport Statistics Show Steep Drop 2011–2014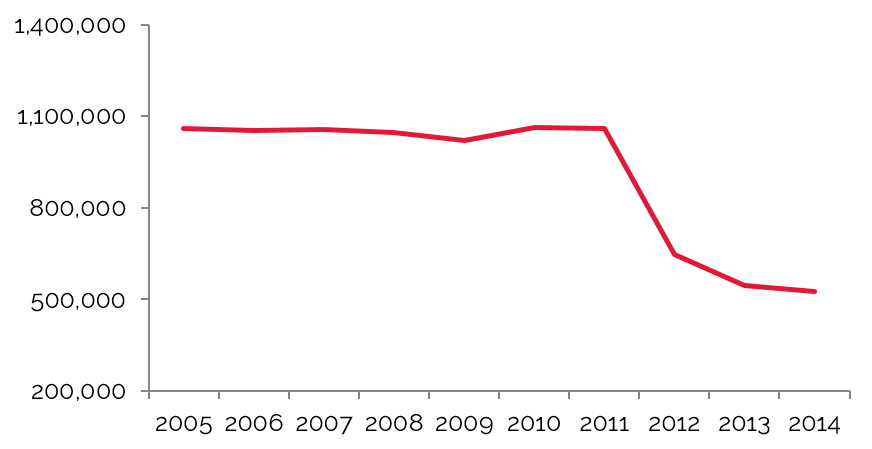 Source: Newport News/Williansburg International Airport
Tourist Attractions
Aside from the previously noted economic forces in Hampton Roads, the area also benefits from a thriving tourism industry, including Busch Gardens Williamsburg and the Historic Triangle, as well as the Virginia Beach Oceanfront and its three-mile boardwalk. Historically, hotel occupancy in the Hampton Roads metro area has peaked from June through August, with the highest occupancy in July, as the summer months attract tourism and leisure demand. Additionally, the region's tourism industry creates over 10,000 seasonal jobs during the peak summer months. Top attractions in Hampton Roads include the following: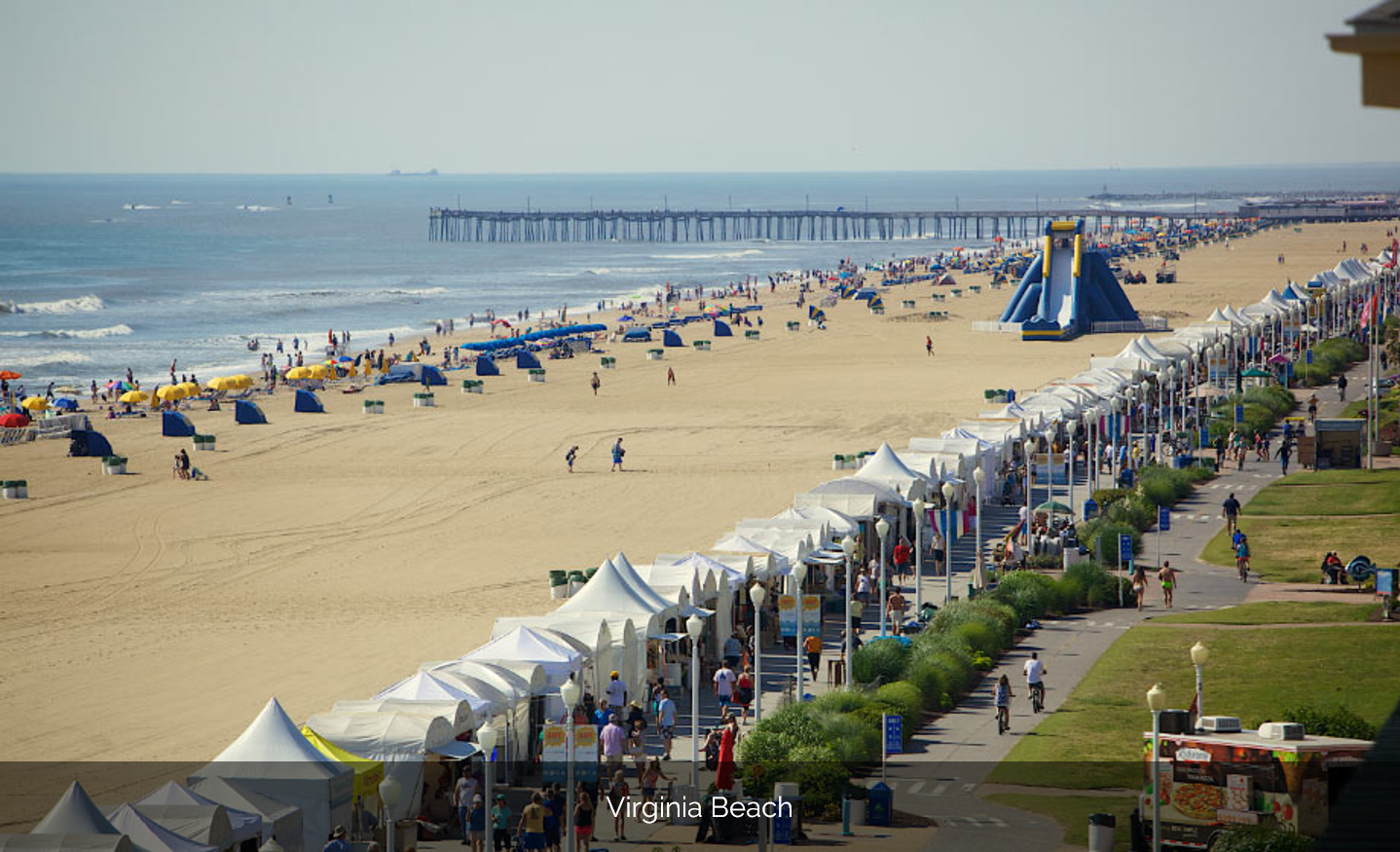 The Virginia Air and Space Center is the visitors' center for NASA Langley Research Center and Langley Air Force Base. This world-class facility features the Adventures in Flight gallery and more than 100 hands-on exhibits that tell the story of air and space exploration. Visitors can see the Apollo 12 Command Module, a Mars meteorite, and a three-billion-year-old moon rock.
The Cape Henry Lighthouse has long been important for the large amount of ocean-going shipping traffic along the region's harbors, rivers, and the ports of the Chesapeake Bay. Dating from 1792, it was the first lighthouse authorized by the U.S. government.
Comprising Jamestown, Yorktown, and Colonial Williamsburg, the aptly named Historic Triangle is another one of Hampton Road's top tourism draws. Rich with American history, Colonial Williamsburg includes 88 original 18th-century structures and is populated with historic re-enactors who demonstrate aspects of daily life in the historic past. Colonial Williamsburg has become one of the most popular tourist destinations in Virginia, with more than 100 million visitors having enjoyed the attraction since 1932. The Colonial Williamsburg Foundation is a private, not-for-profit educational institution that includes hotels, museums, restaurants, convention facilities, and golf courses.
Busch Gardens Williamsburg is a 383-acre theme park located in James City County, Virginia, about three miles southeast of Williamsburg. The park opened on May 16, 1975, adjacent to Anheuser-Busch's brewery and near its other developments, including the Kingsmill Resort complex. Busch Gardens is often recognized as one of the highest-quality theme parks in the world; it has received dozens of awards for its themed attractions and show quality, as well as its landscaping and culinary operations.
Bass Pro Shops Outdoor World attracts 1.5 to 2 million visitors per year, with the majority of all visitors traveling from outside of the immediate Hampton Roads area. The retail giant features in-store interactive sports such as fly-casting, rock climbing, and a shooting arcade. The store displays unique interior motifs, including waterfalls, a 10,000-gallon aquarium, and true-to-life wildlife exhibits.
The Hampton University Museum, founded in 1868, is the oldest African-American museum in the country and one of the oldest museums in the state of Virginia. The collection contains examples of traditional and contemporary African, American Indian, African-American, and Pacific Island art.
Closing Remarks
Hampton Roads' strong, diverse economy has recovered well from the recent recession. Several of the market's top industries have undertaken expansion projects, and the unemployment levels in the Virginia Beach-Norfolk-Newport News, VA-NC Metropolitan Statistical Area have declined year-over-year since 2010. With business activity having regained its thrust, hotel values, transactions, and performance are trending toward pre-recession levels. HVS interviews and market research support a forecast for this positive trend to continue. The market's reliance on the government and military made it prone to the temporary negative impact of federal budget sequestration in 2013. Overall, however, activity generated by government contractors, Navy operations, and the Department of Defense has proven essential to the Hampton Roads economy and hotel industry. As the local, regional, and national economies continue to surmount the tide, Hampton Roads' hotel industry is expected to continue its rise, giving well-advised hotel stakeholders incentive to seek out opportunities in the region.