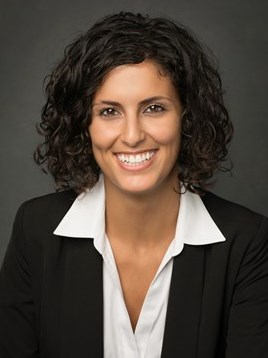 Saudi Arabia is entering an entirely new tourism landscape with its
Saudi Vision 2030
initiatives. With a strong economic outlook, a diversification of its economy, and significant governmental support, the hospitality and tourism markets across the Kingdom are expected to thrive over the next decade.
Economic Performance & Outlook
Saudi Arabia is the largest economy in the Arab world and the world's largest crude oil exporter. In 2016, the Saudi Government launched its Saudi Vision 2030 to diversify its economic resources. The Kingdom's plans focus on service improvement, fiscal sustainability, and private sector empowerment, through diversifying the economy, improving non-oil revenues, enhancing spending efficiency, and generating employment. With a continued focus to allocate resources to health, education, and the development of core services, in addition to the continuation of social support and benefits as part of its Vision 2030 objectives, the Saudi government is promoting a better quality of life and diversified economy. After a strong rebound in 2021, supported by healthier domestic demand, economic growth has continued to accelerate this year due to increases in oil production. Based on the data published by the
International Monetary Fund
, Saudi Arabia's GDP is expected to record a 7.6% growth in 2022 compared to the 3.2% growth registered in 2021. The growth rate is expected to be 3.7% in 2023 and 2.9% in 2024. The IMF forecasts an inflation rate of 2.7% in 2022 in comparison with 3.1 and 3.4 recorded in 2021 and 2020, respectively.
KSA's Key Economic Indicators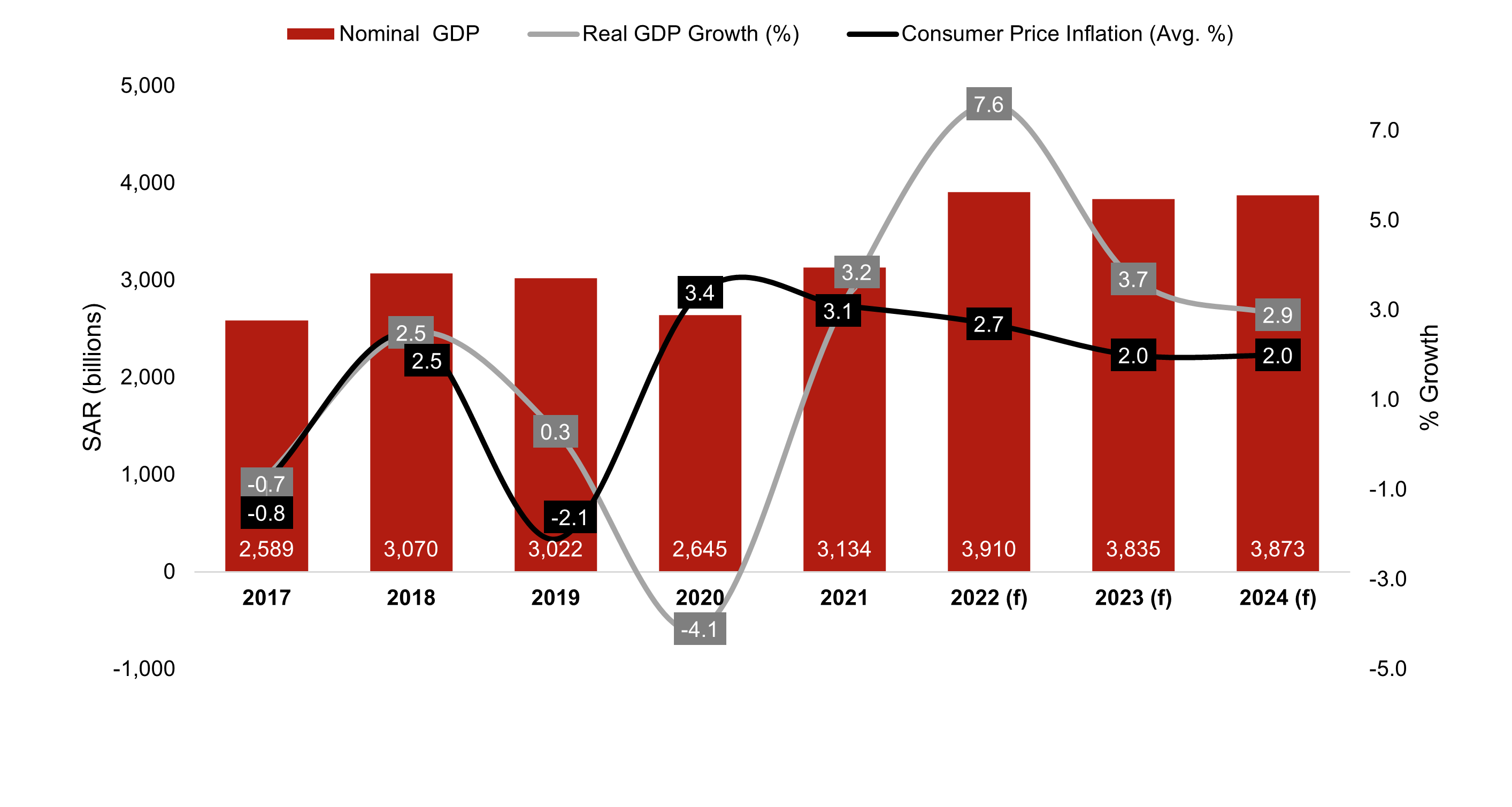 Source: International Monetary Fund
The
WTTC
forecasts the Travel & Tourism sector in Saudi Arabia to grow at an average of 11% annually over the next decade, making it the fastest-growing Travel & Tourism sector in the Middle East. The Kingdom expects the total sector's contribution to reach SAR 635 billion in 2032, constituting approximately 17.1% of the total economic GDP. The data illustrates the economic relevance of tourism in the Kingdom. Travel & Tourism will become a driving force of the Saudi Arabian economy due to high levels of investments and strong governmental support; according to WTTC, KSA is anticipated to surpass the goals set out in its Vision 2030 blueprint.
KSA's Tourism Contribution to GDP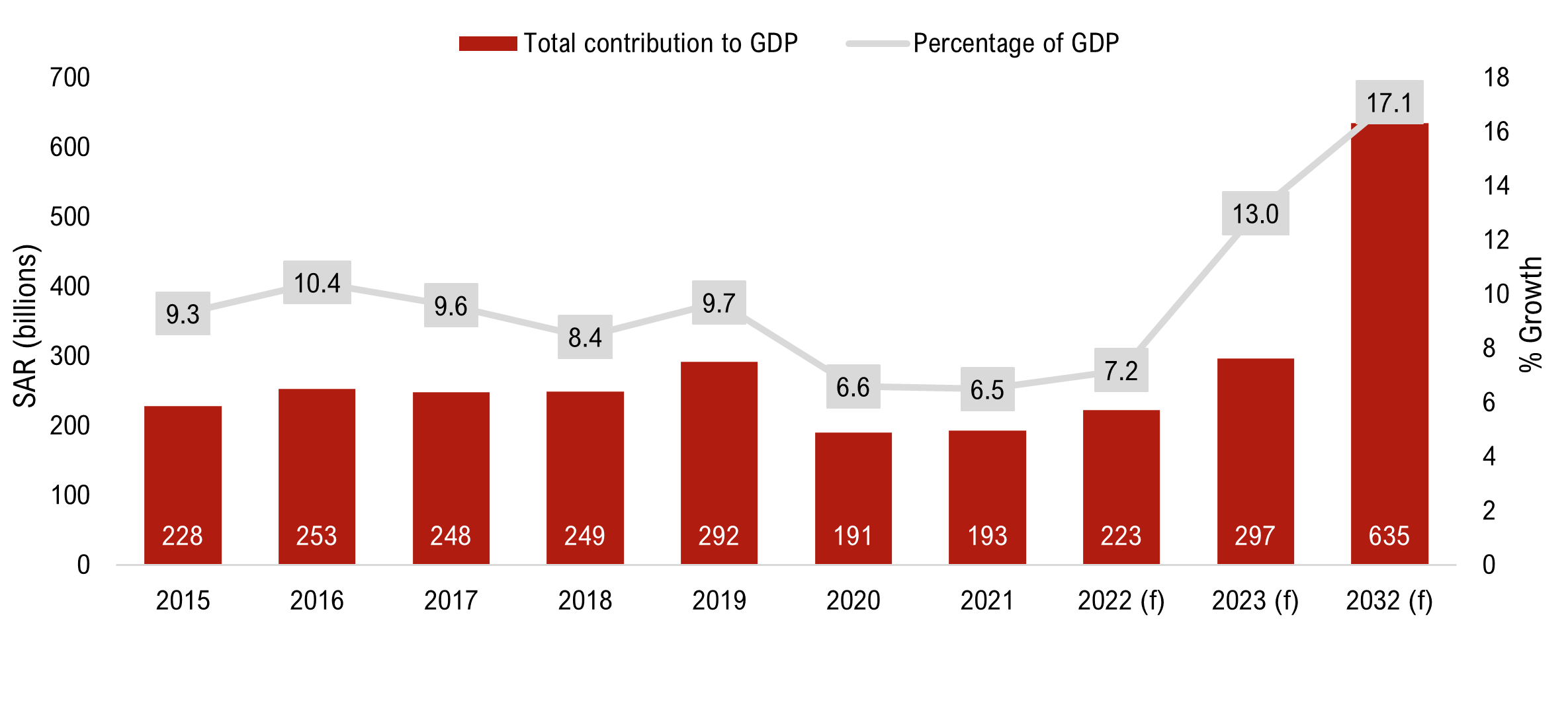 ​​​​​​
Source: World Travel and Tourism Council
Mega Projects
As part of Saudi Vision 2030, the Kingdom has invested in several "giga projects" across the nation, including
NEOM
,
AMAALA
,
The Red Sea Project
,
Diriyah
,
Qiddiyah
, and many more as shown on the map below. These projects each reflect uniquely and strongly the country's vision and are anticipated to change the tourism and overall economic landscape of Saudi Arabia.

Tourism Landscape
Airport Passenger Movement
Airport passenger movement is an important indicator of transient hotel demand. A sizeable percentage of arriving passengers will need hotel accommodation, depending upon the type and location of the airport. Trends showing changes in passenger counts also reflect local business activity and the overall economic health of an area. As illustrated in the graph below, the top five major airports in Saudi Arabia experienced a significant reduction in passenger movement in 2020 due to the pandemic. Following the pandemic, passenger movement has slowly recovered at every airport in the Kingdom. Passenger movement in the first half of 2022 has recovered to approximately 70% of pre-pandemic levels across the Kindgom, according to Saudi Arabia's General Authority of Civil Aviation (
GACA
) officials.
KSA's GACA aims to invest over $100 billion into the aviation sector, construct two major airports in Riyadh and Jeddah, and increase the number of destinations served from 100 to 250, in order to boost passenger traffic across the Kingdom to 330 million passengers by 2030.
Top Five Major Airports in Saudi Arabia – Total Passenger Movement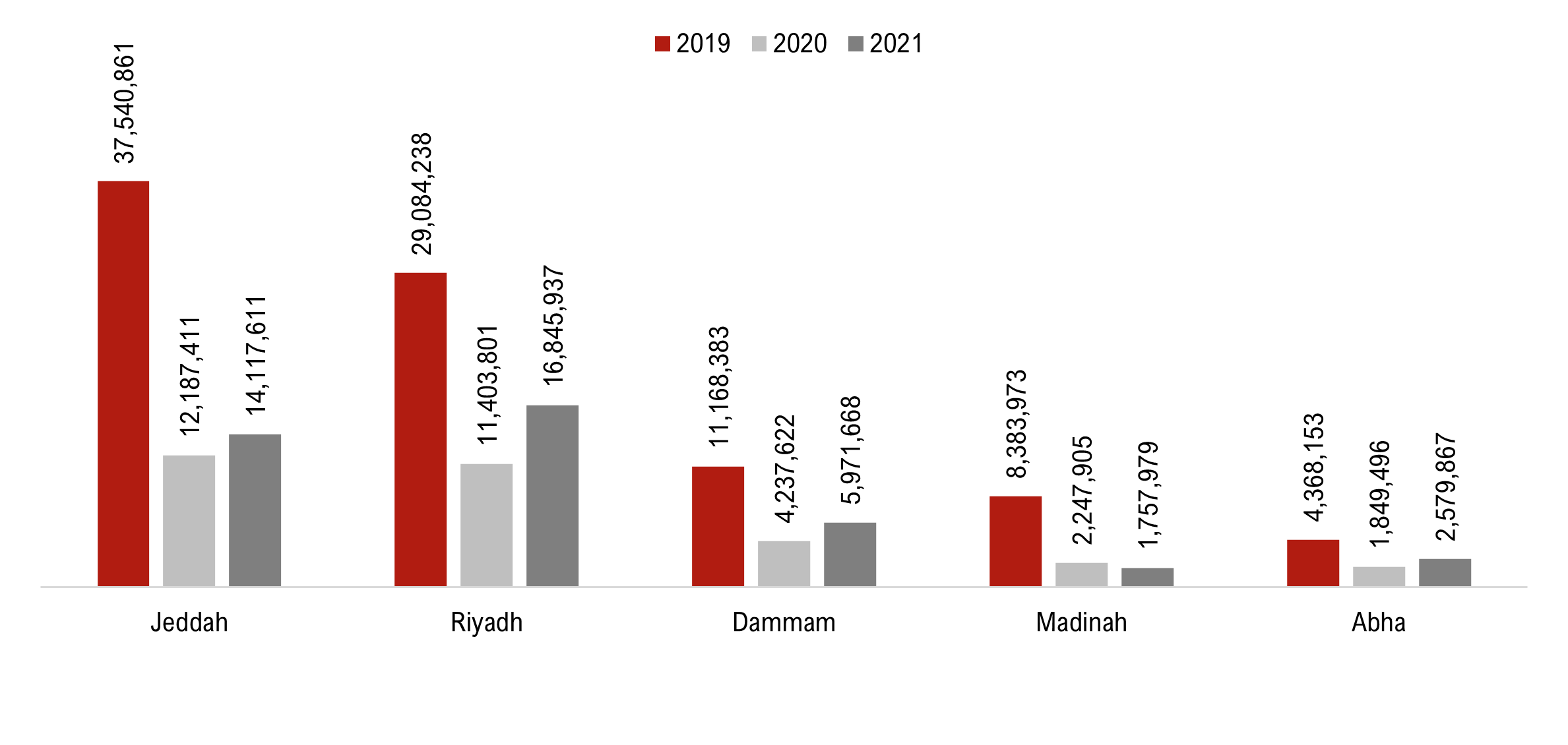 Source: General Authority of Civil Aviation
Visitor Arrivals
In 2021, the Kingdom witnessed a record of 63 million domestic trips in 2021 of which 49% accounted for leisure purposes. Although domestic tourism was initially fueled by the closure of borders and restrictions on travel for Saudi nationals, annual festivals and seasons organized by the tourism authorities supported the resurgence of domestic tourism. Sports, arts, and entertainment events, including the
Saudi Arabian Grand Prix
, engaged Saudis and attracted global attention and foreign visitors in 2021. Domestic tourism is anticipated to increase drastically in the next three to five years on account of the major developments planned for the Kingdom; it is expected that domestic travelers will initially drive the Kingdom's tourism goals. However, as the destinations develop further and gain popularity, the demand is expected to be generated from the Middle East region as well as globally.
In the long-term, the initiatives that will be implemented under vision 2030, the ease in visa restrictions following the introduction of the tourist visa, and the revamp of product offerings in secondary cities, as well as several legislative changes, inbound arrivals are expected to increase exponentially.
Inbound and Domestic Tourism Trips Throughout the Kingdom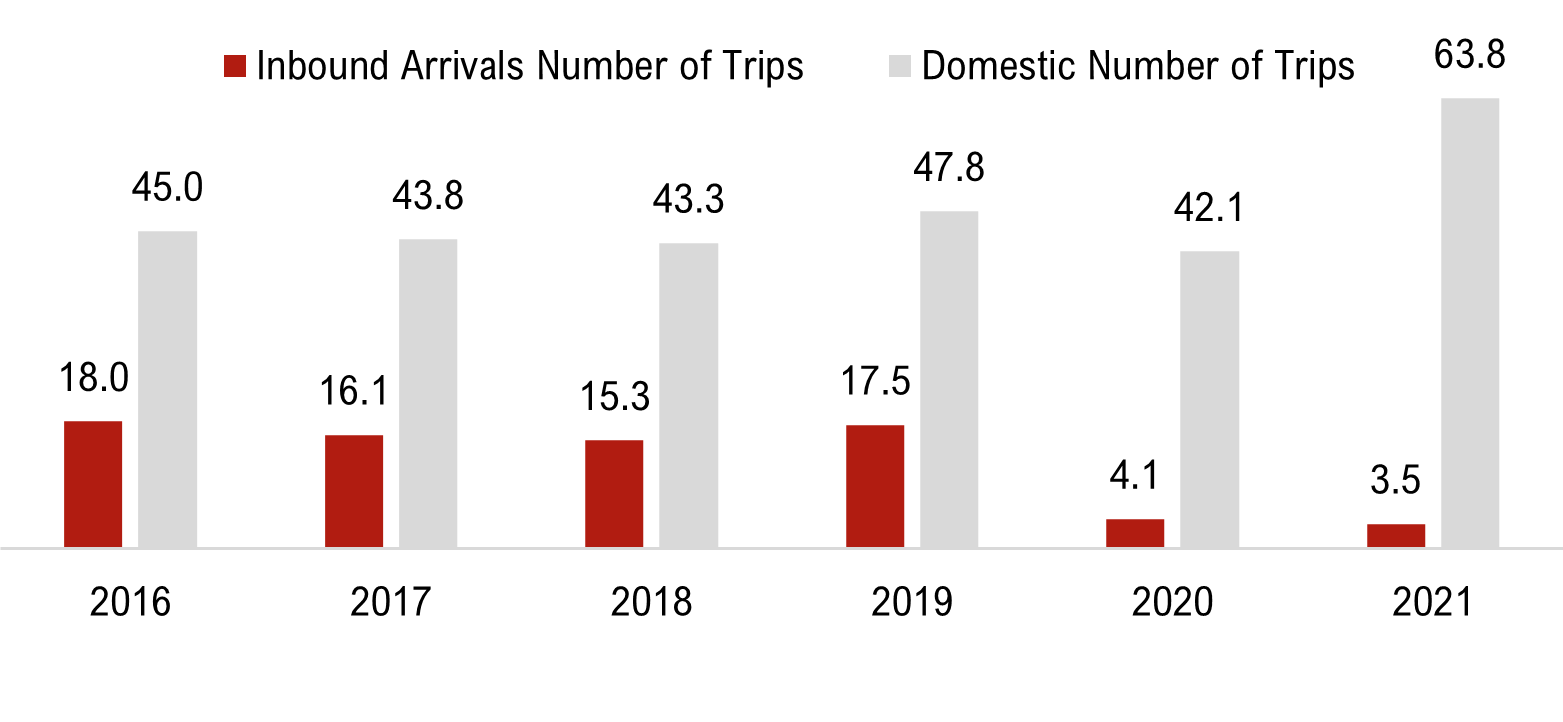 Source: General Authority of Civil Aviation

Tourism Spending
Saudi Arabia witnessed a marginal increase of 3.6% in domestic spending and an 18% increase in foreign visitor spending in 2019. This was a result of the government's initiatives to develop and promote new locations and demand generators, as well as the government's investments to improve infrastructure and its efforts to promote destinations' attractiveness. As per
UNWTO
, the Kingdom's domestic travel spending dropped by 30.9% in 2020 while the share of domestic spending increased to 33.1% in 2020 as the country closed its borders and imposed travel restrictions to tackle the COVID-19 pandemic. In 2021, the kingdom witnessed a record 87% increase in domestic spending to reach SAR 61 billion. Leisure travel spending generated nearly 43% of direct travel and tourism GDP in 2019 compared with 7% for business travel spending. In 2021, leisure travel spending was nearly 46% while business travel spending was nearly 4% of total direct travel and tourism GDP.
Tourism Spending by Segment

Source: World Travel and Tourism Council
Source Markets
Fast-growing Asian countries with large Islamic populations, as well as the
GCC
region, make up the top source markets for inbound travel to Saudi Arabia. This is anticipated to remain in the future on account of religious tourism. In 2021, travel restrictions and border closures had a significant impact on inbound visitation. However, a notable change was the visitation from nationals and residents from Qatar, accounting for 7% of the total inbound on account of the restoration of diplomatic relations by the other Middle East countries with Qatar and the subsequent lifting of the embargo in 2021.
Visitation by Source Countries (2019)* Visitation by Source Countries (2021)

Source: Saudia Arabia Tourism and Research Centre
Purpose of Visit
The Saudi Arabian inbound economy is heavily dependent on Hajj and Umrah pilgrims. However, investments by the Saudi Arabian government are anticipated to diversify inbound travel into Saudi Arabia. Religious tourism has continued to grow each year. According to Saudi Arabia Tourism and Research Centre (MAS), Makkah and Madinah have tripled the number of foreign Umrah visitors since 2005. In 2019, religious tourism consisted of 56% of total inbound tourism to Saudi Arabia. This was followed by business & conference (18%), visiting family and friends (15%), and lastly (6%) of the total inbound tourism, respectively. It is expected that the latter segments are likely to grow significantly as a result of the current promotion and development of a tourism landscape with Saudi Vision 2030, including the completion of mega-developments, the implementation of other tourism initiatives in line with Vision 2030, the ease in tourist visas as well as several legislative and social reforms in the Kingdom.
Purpose of Visit (Including Religious Tourism) Purpose of Visit (Excluding Religious Tourism)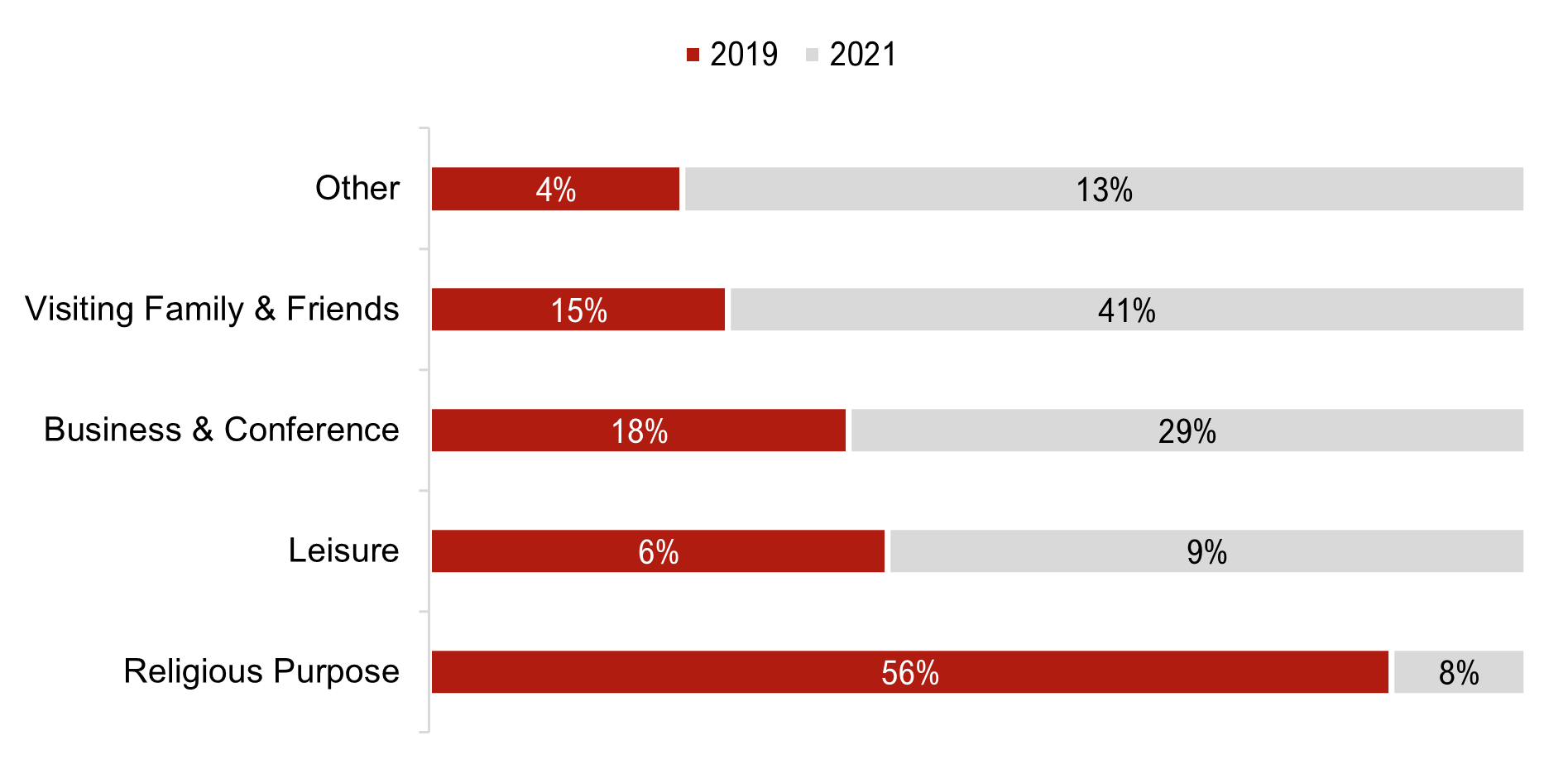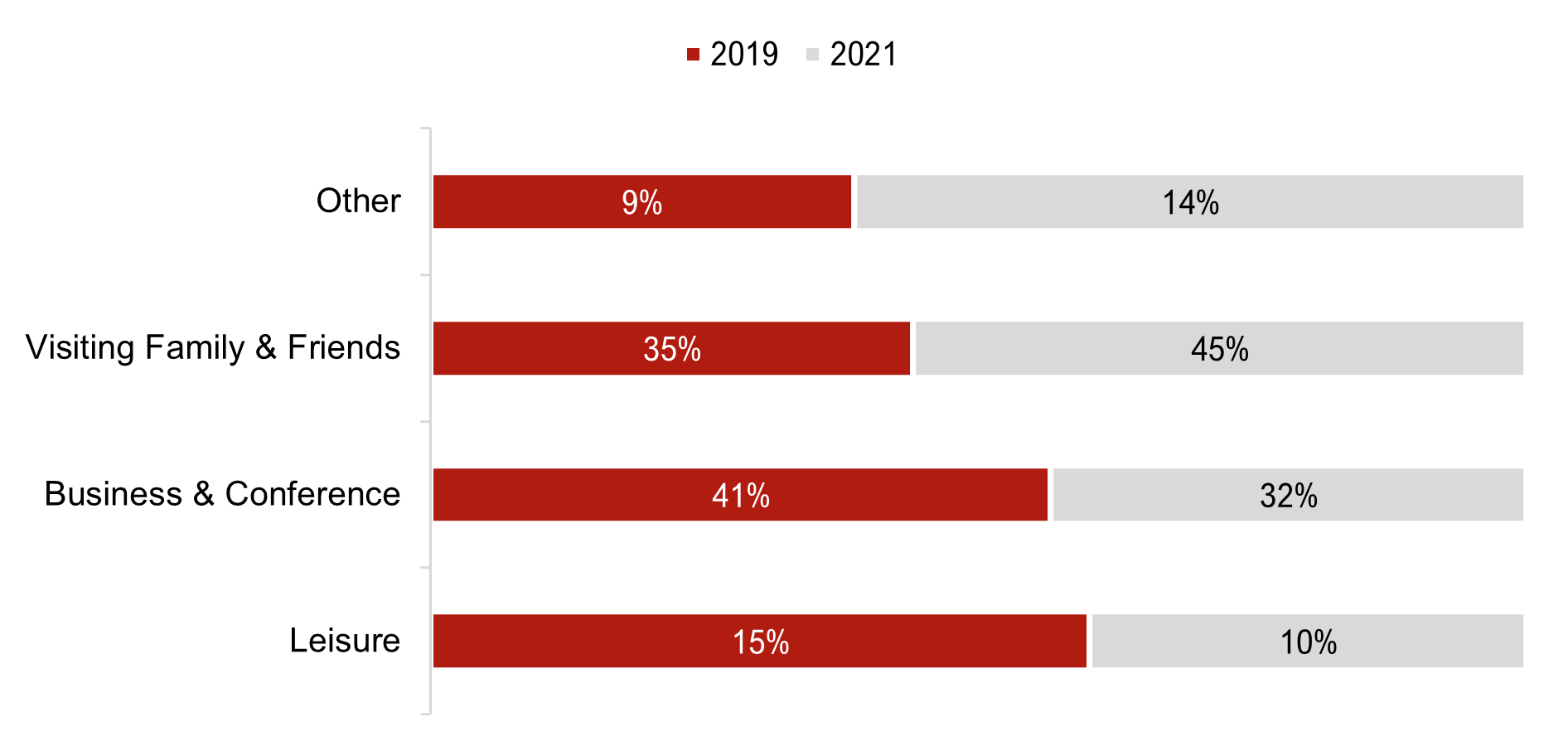 Source: Saudia Arabia Tourism and Research Centre

Seasonality and Length of Stay
Saudi Arabian tourism experiences a peak period over the summer period, coinciding with the
Hajj
and
Ramadan
, two essential drivers of the market that bring millions of domestic and international pilgrims into the region. According to data published by MAS, the highest tourism trips in 2019 peaked in June for the domestic market due to the local and school summer vacation. The international market peaked in August of that year as Saudis returned to work from summer abroad. The lowest months were May for the domestic market and September for the international market. It is important to note that domestic peak rates are in-line with religious holidays (Eid), which move roughly 20 days per year, therefore, domestic peaks slightly vary each year. Calendar 2021 data was a stronger domestic tourism year, while international tourism was slower to recover following the pandemic. It is important to note that a large amount of the inbound visitation includes business purposes, which allows a strong base and relative stability in visitation levels, aside from the Hajj season and other holidays. International visitations in 2021 were impacted by travel restrictions, therefore, the seasonality pattern seen above may not be a true representation of the market sentiments. These seasonality patterns are expected to continue going forward, however, the off-peak periods are expected to grow as the Saudi Vision comes to life and tourism becomes more diverse outside of religious tourism.
Overall Seasonality (Including Religious Tourism)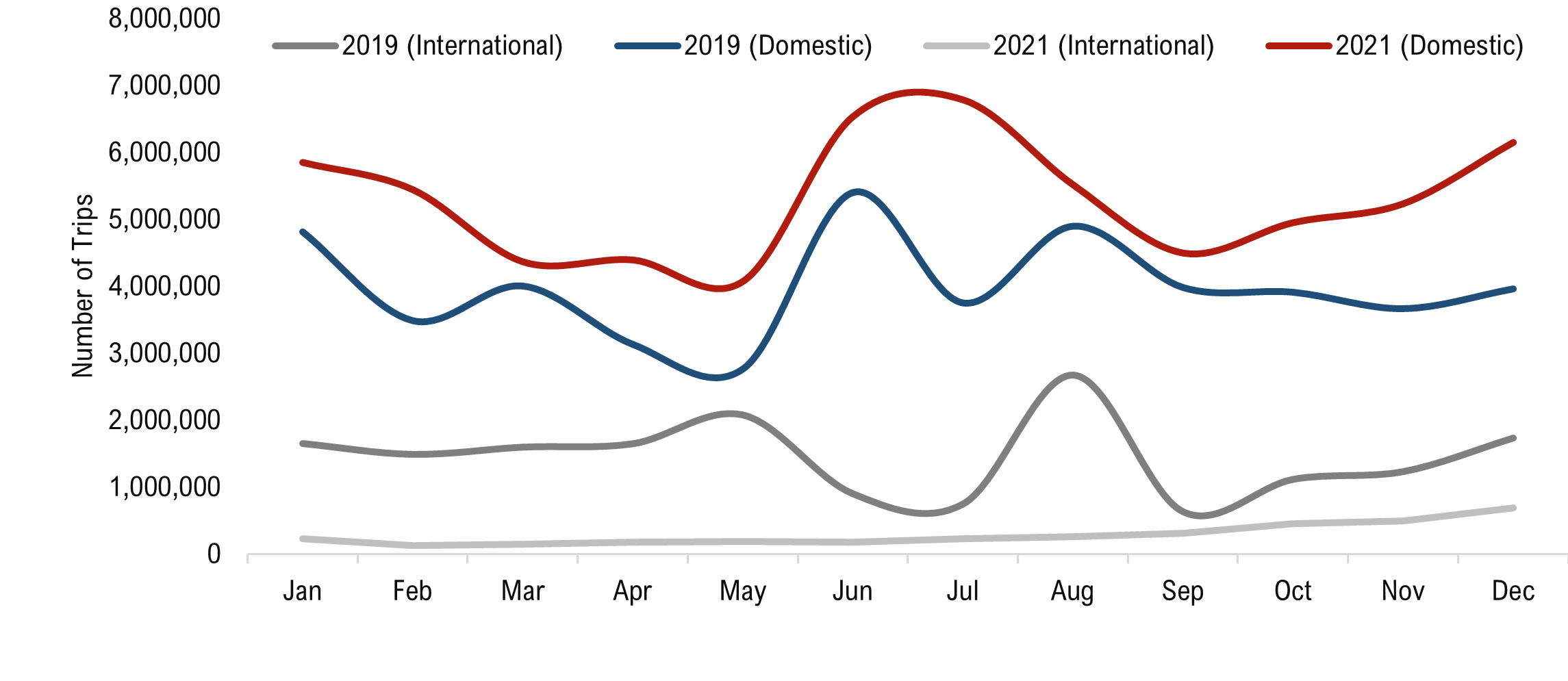 Source: Saudia Arabia Tourism and Research Centre

Inbound Tourism Seasonality (Excluding Religious Tourism)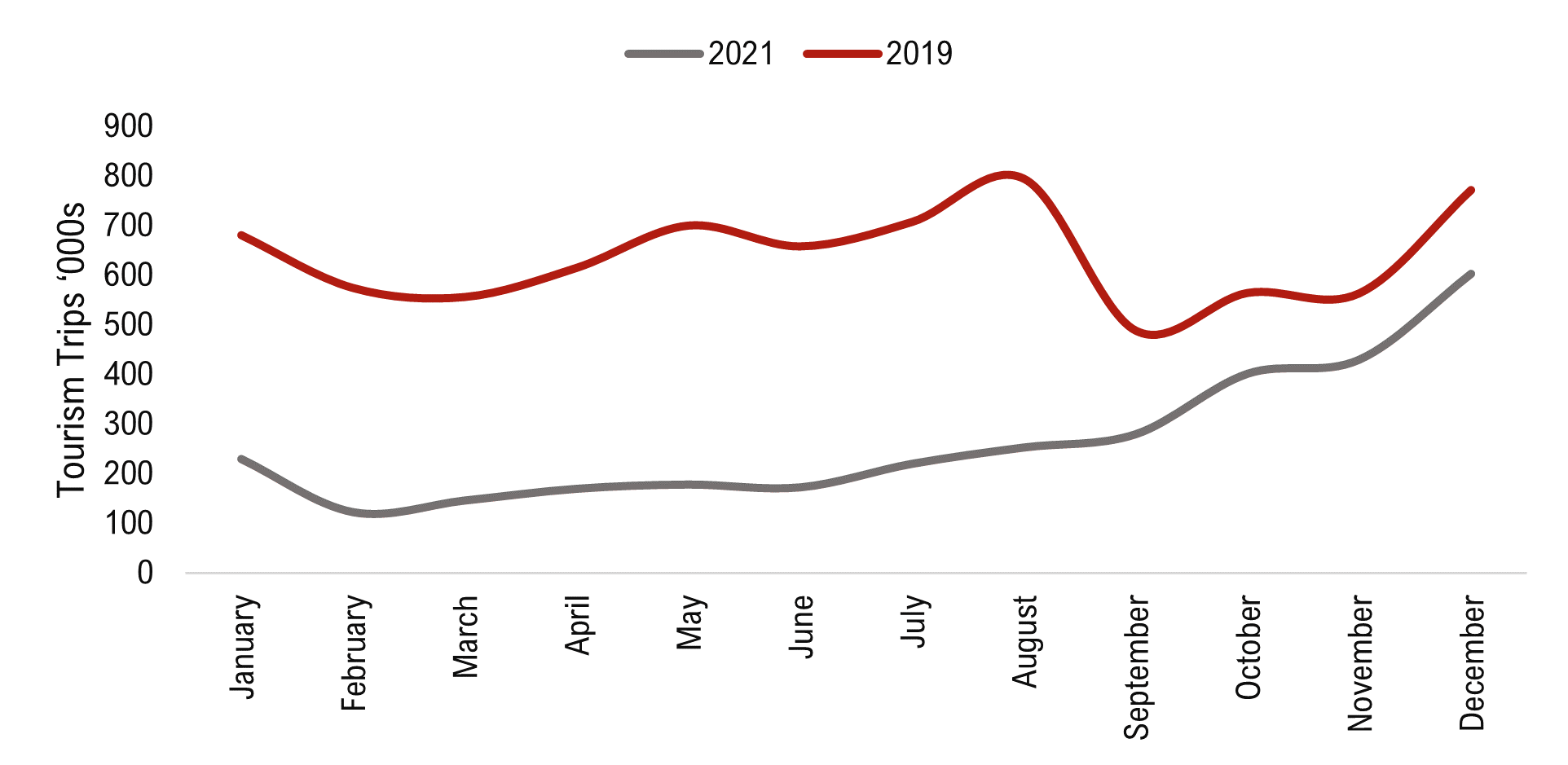 Source: Saudia Arabia Tourism and Research Centre
Domestic Tourism Seasonality (Excluding Religious Tourism)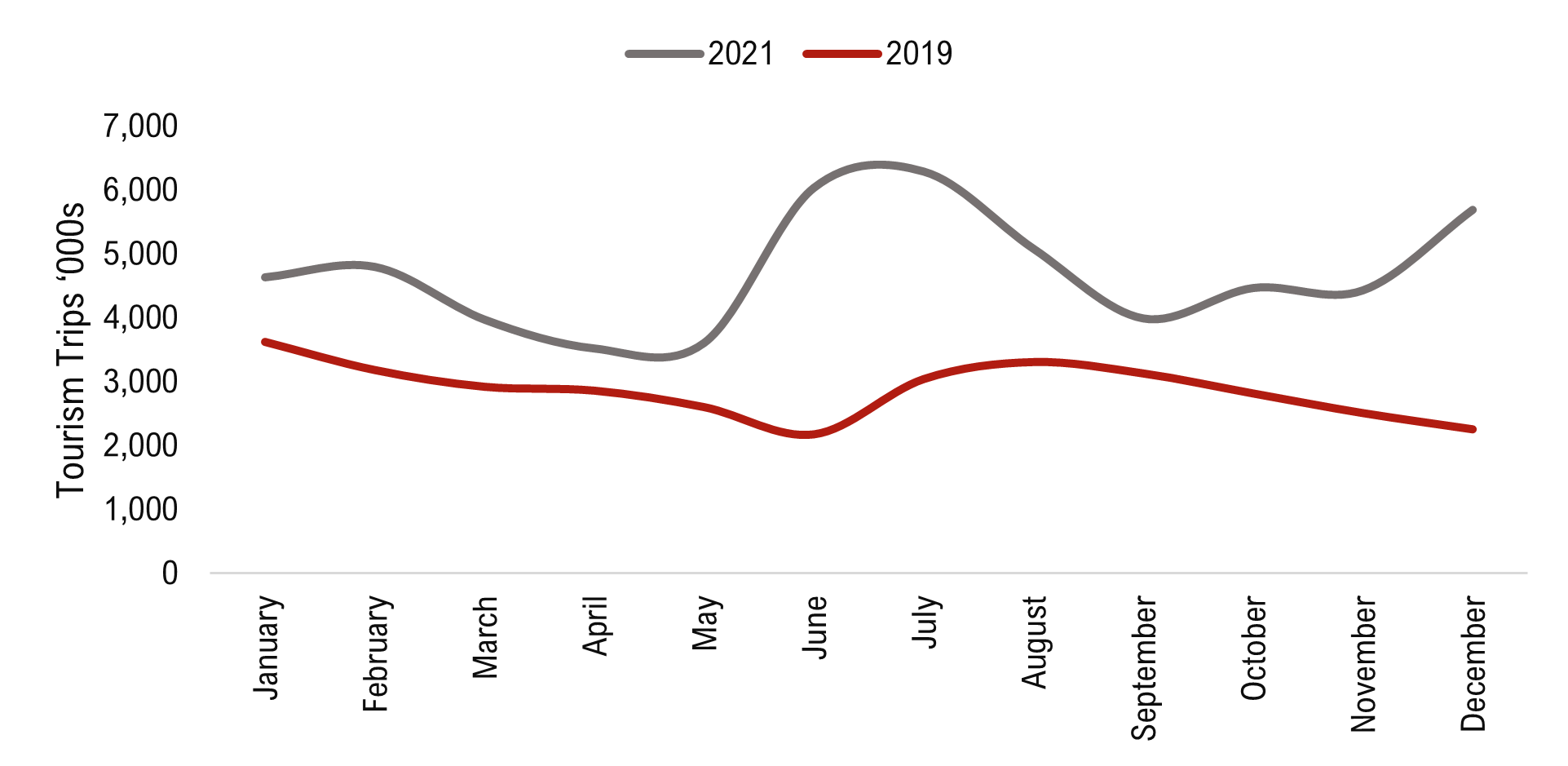 Source: Saudia Arabia Tourism and Research Centre

According to data published on Saudi Open Data Gateway, inbound tourism had an average length of stay of 9.8 days in 2019 with the highest peaks in the month of August and November. In 2021, the average length of stay for inbound tourism was similar to 2019; however, the peak month of August was over 10 days shorter in 2021. Domestic tourism had an average length of stay of 5.6 for 2019 with the highest peaks in the month of August and November; data for 2021 showed a similar average length of stay. The peak in August is in-line with the Hajj season and Eid holidays that follow the pilgrimage.
Domestic and International Tourism Length of Stay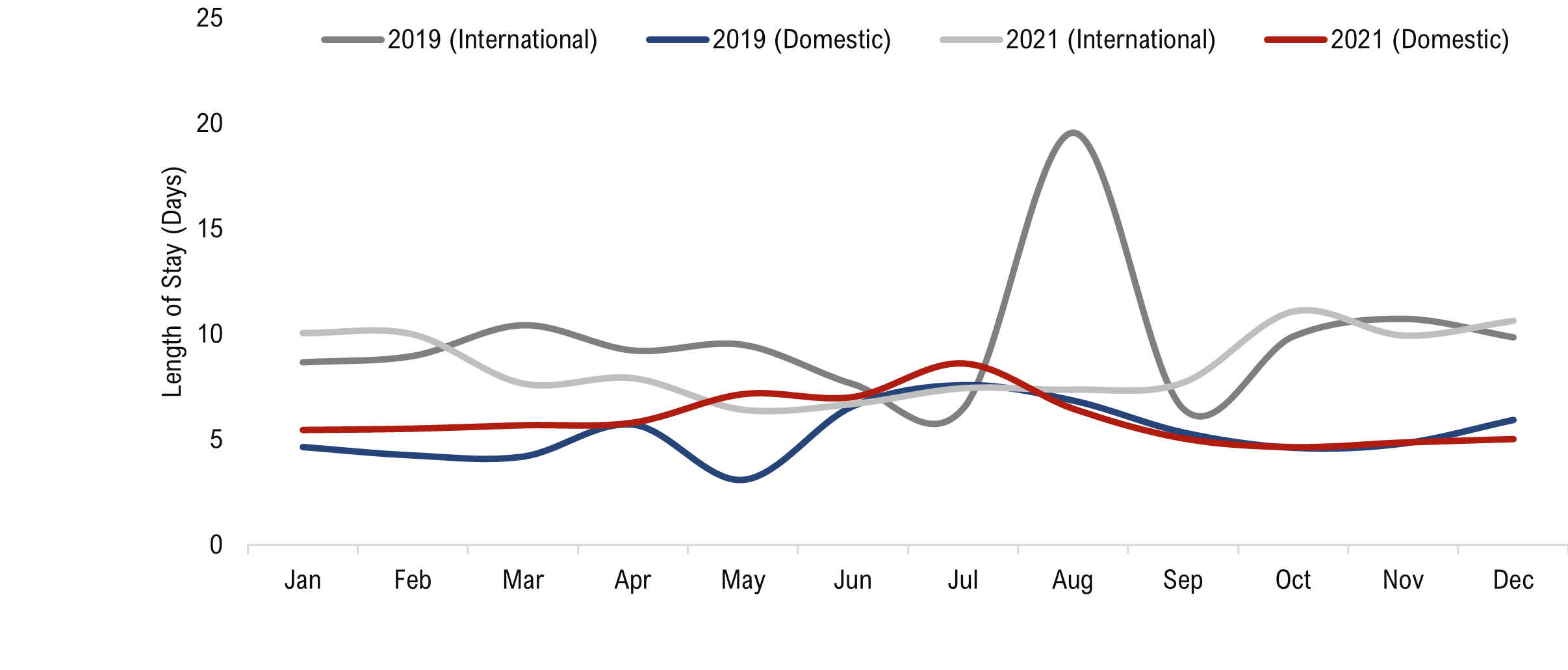 Source: Saudi Open Data Gateway
Existing Hotel Supply and Pipeline
The below graph illustrates the branded and quality hospitality supply in the Kingdom. As of 2021, Saudi Arabia had a total of 80,800 hotel and serviced apartment keys. As of mid-year 2022, 4-star hotels constitute 42% of the quality hospitality supply in the Kingdom in terms of keys. While the 5-star hotels constitute nearly 41% of the supply, the serviced apartments and 3-star and below hotels constitute nearly 8 % and 6% of the total supply, respectively. The average key count among the 4-star and 5-star properties in the Kingdom is 270 and 341 keys, respectively.
Saudi Arabia Hotel Supply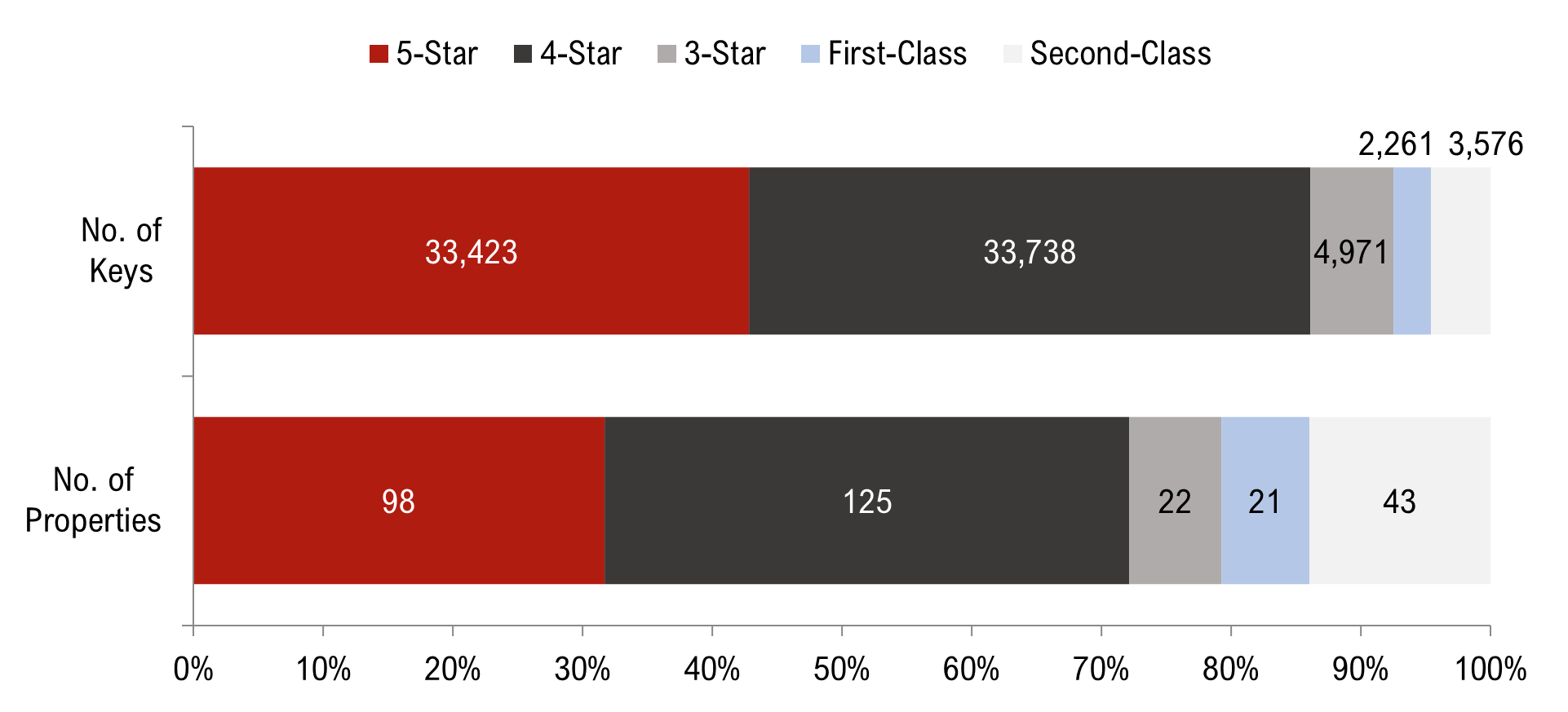 Source: HVS Research, STR

HVS research suggests that the 5-star and 4-star hotels will dominate forthcoming supply as they represent the largest category of the pipeline by the number of hotels and keys. Quality hotel supply in the Kingdom is expected to grow by 9% by 2027 to reach approximately 122,000 keys, with 3-star room keys projected to increase by 10%, followed by the 5-star and 4-star categories which are expected to increase by 9.4% and 8.8%. Our research also projects a 7.3% increase in the serviced apartment supply by 2027 to reach nearly 9,950 keys. Considering the existing and forthcoming supply,
AccorHotels
is the largest operator in the market with nearly 30,000 keys, followed by
Marriott International
and
IHG Hotels & Resorts
with a total supply of 18,900 and 18,590 keys, respectively.
Saudi Arabia Hotel Pipeline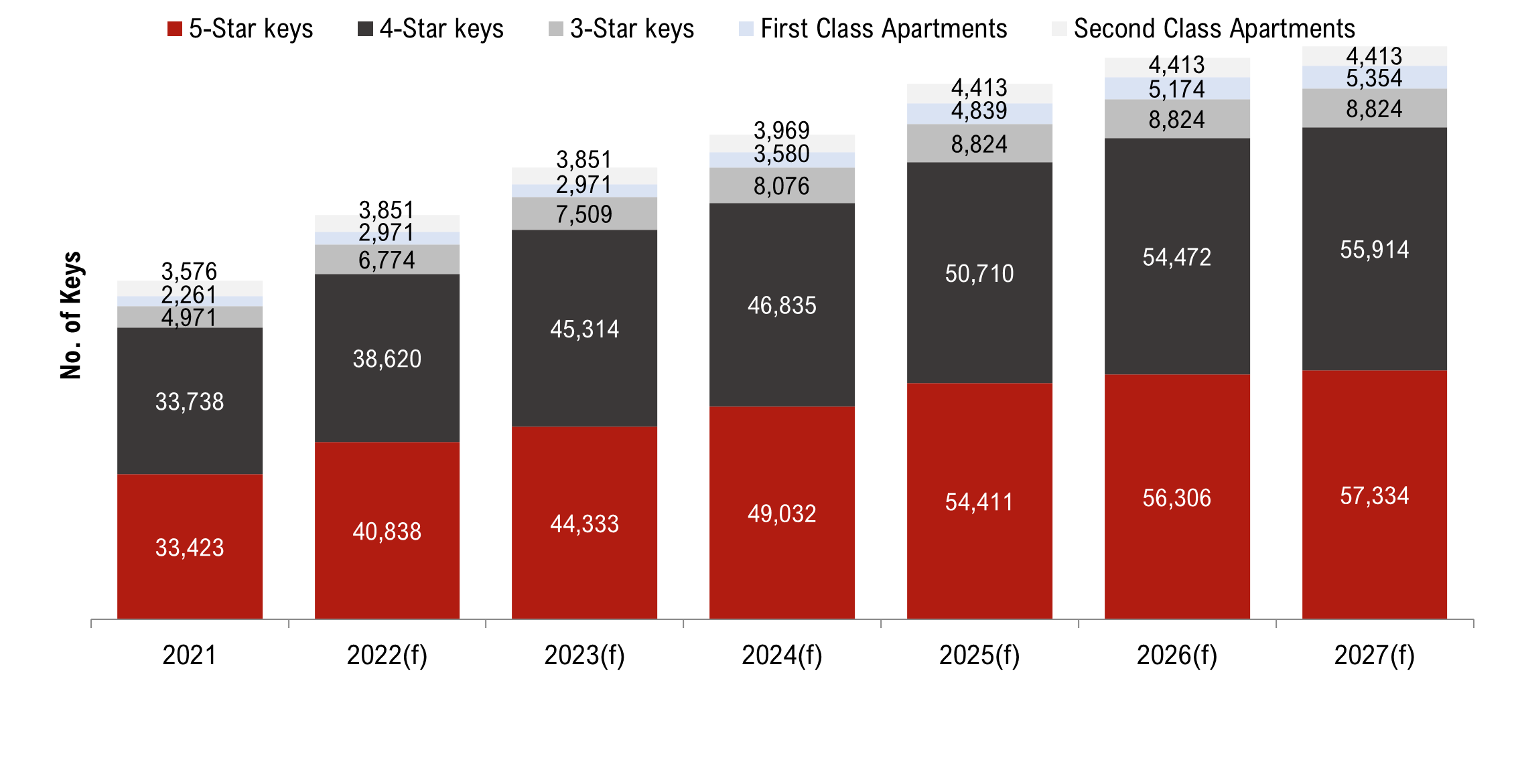 Source: HVS Research, STR
Overall Outlook
After a strong rebound in 2021 and a continuation of a strong recovery into 2022, supported by healthier domestic demand and a return of international demand, economic growth is expected to accelerate into next year toward a full recovery. The future of the Kingdom is bright, with significant investments across the entire country that is anticipated to boost tourism, both religious and non-religious tourism. The country continues to broaden tourist visa availability which will allow KSA to become more popular regionally and globally. The tourism and travel industry in the region is expected to grow exponentially through 2030.
With the completion of mega-developments, the introduction of a 30-day tourist visa to boost leisure demand and increased efforts in attracting foreign investment, we note opportunities for developing additional tourism are positive. This is reinforced by the moderate to strong growth expected to continue within all market segments. Nevertheless, it is important to position the opportunities with a clear vision and differentiated product, in order to compete with the growing hospitality market in the Kingdom.
For more information, contact our Dubai team:
Zabada Abouelhana
,
Ahmad Yousry Elbeheiry
, or
Hala Matar Choufany
.
In 2019, Zabada joined HVS in the HVS St. Louis office, working across the Heartland region. In 2021, she relocated to Phoenix, Arizona, to lead that office and gained experience throughout the Southwest region, primarily in Arizona, Utah, and Nevada. She spent half of 2022 in the HVS Dubai office, where she worked on complex hospitality assignments across the Middle East and Africa, including valuations, feasibility studies, and market studies on glamping resorts, integrated resorts, historic properties, and mixed-use assets, as well as an operator search and contract negotiation assignment.
Prior to joining HVS, Zabada worked in Yosemite National Park as an Operations Manager, where she managed a full-service restaurant, a lounge, a fast-casual restaurant, and a Starbucks. Zabada graduated from the School of Hotel Administration at Cornell University and holds a Bachelor of Science in Hotel Administration. During her time at Cornell, she was involved in the student organizations Hotel Ezra Cornell and Alpha Phi Omega, and she held positions at the SHA Communication Center and The Statler Hotel. Zabada holds a certified general appraisal license.
Follow Zabada on
LinkedIn
.
HVS is the nation's leading consulting firm that is laser-focused on the hospitality sector. The firm provides expertise through every phase of ownership across a wide range of hospitality assets. We help clients succeed in the complex consulting arena, from feasibility studies to exit strategies and everything in between.
Zabada Abouelhana, a Vice President in the HVS Phoenix office, is an expert in the lodging markets of the Southwest region, particularly in Arizona and Nevada. During her time at HVS, Zabada has performed hundreds of hotel valuation and consulting projects across 24 states and five countries. She has experience in a wide range of hotel asset types, including limited-service hotels, full-service hotels, complex luxury resorts, historic properties, and mixed-use assets, in a variety of locations, such as rural, airport, suburban, downtown, and national park-adjacent markets.


Over the years he has covered an array of consulting services, including but not limited to strategic planning, advisory, valuation, operational asset management and
capital markets.

Prior to joining HVS, Ahmad worked for Colliers MENA as a Manager in the hospitality division for 5 years based in Cairo, Egypt Throughout his journey with Colliers, Ahmad has
executed several market/financial feasibilities, operational asset reviews and valuations across the region, particularly in Egypt, Saudi, Sudan, Jordan, Oman and Iraq.

He also has experience in the Hotels Hospitality operations sector, as he worked for different Hotel operators in Egypt such as Accor, IHG and Hilton giving him a unique blend of experience.

Ahmad grew up in the hospitality business and holds a Bachelor's Degree in Hospitality Management from IMI Switzerland. He is also a qualified Chartered Surveyor (MRICS).
Ahmad is an Associate Director at HVS covering MENA region, he has an extensive background covering over 12 years in the commercial real estate and hospitality industries, working for real estate developers, real estate/hospitality consultants and hotel operators.