The Tucson lodging market often lives in the shadow of its bigger sibling, Phoenix. And while meeting and group demand in both markets is driven by Arizona's idyllic weather during the winter and spring, differences in local dynamics paint significantly different pictures in terms of leisure and commercial demand.
Both lodging markets experienced a prolonged recovery following the national recession late last decade, partially attributed to the controversial SB 1070 immigration law; however, the loss of MLB Spring Training in 2011 and the federal government sequestration in 2014 stalled Tucson's recovery even further. Furthermore, Tucson's in-house meeting and group segment is somewhat dependent on the health of Phoenix's resort market, which was affected significantly by the effects of the last recession, as the two markets are often seen as substitutes for one another. Nevertheless, RevPAR in Tucson has been on the rise in recent years, with data illustrating an 8.5% gain in RevPAR for the first quarter of 2018— the strongest first-quarter growth in the state.
[1]
While a healthy Phoenix meeting and group market has allowed Tucson hotels and resorts to assert more pricing power than in previous years, the primary driver of growth over the past few years has been economic expansion. In 2016, Raytheon Missile Systems (RMS), Tucson's largest private employer, was awarded a $291-million missile contract from the U.S. Navy. More recently, RMS dedicated a new visitor-access center in May of this year, while two more buildings are currently under construction, and several more are planned to be built by 2020; the expansion is expected to allow RMS to create an additional 2,000 jobs over time. In addition, the $426.7-million expansion of the Banner-University Medical Center Tucson, which began construction in 2016, is on schedule for completion in April 2019, while the $98-million Banner Health Center at the UA Cancer Center opened in December 2017. Moreover, Amazon recently selected Tucson for a new, 855,000-square-foot distribution center, and Hexagon Mining announced that it would lease 26,000 square feet on the third and fourth floors at Bourn Companies' new, five-story, 69,000-square-foot, City Park multi-use complex in the Central Business District. The building is currently under construction and slated for completion this fall. Furthermore, Caterpillar broke ground on its 200,000-square-foot office facility in January 2018; completion is scheduled for early 2019. Caterpillar's decision to locate its headquarters in Downtown Tucson will bring 600 jobs to the city.
Tucson's economic expansion has resulted in increasing levels of commercial-related travel and lodging demand, which is anticipated to continue. However, Tucson's reliance on government demand, from sources such as the University of Arizona, Davis-Monthan Air Force Base, US Customs and Border Patrol, and the State of Arizona, limits average rate (ADR) growth in the market, which represents a challenge for potential investors. A limited number of nonstop flights from the east coast to Tucson are another challenge. Furthermore, uncertainty surrounding NAFTA remains a major caveat to optimistic views of Tucson's growth. PRI's
The World
reported that up to 236,000 jobs in Arizona would be at risk if the U.S. were to pull out of the deal.
[2]
On the other hand,
The Arizona Republic
reported that if America were to remove existing trade barriers with Mexico instead, such a move could create 63,000 new jobs for the state.
[3]
Developments on the leisure front have contributed to Tucson's upward momentum over the past several years, as well. In 2016, Tucson gained an American Hockey League (AHL) team, the Roadrunners. While the team's attendance currently ranks 22nd out of the 30 teams in the AHL, average home-game attendance grew 4.0% in the team's second season, according to
HockeyDB.com
, and is expected to grow further in the coming years. In addition, the Pima County Board of Supervisors recently approved a pair of lease agreements with Visit Tucson and the University of Arizona Mineral Museum, which will occupy spaces in the historic Old Pima County Courthouse. The continued revitalization of Downtown and the renovation of several area resorts in recent years has also contributed to increased leisure business, as well as commercial and meeting/group business. However, NAFTA uncertainty extends to leisure travel, as well, as retail shoppers from Mexico represent a significant source of leisure demand for the state, especially in Tucson.
RevPAR has reached a level in the market to allow new development. According to STR, the September 2017 opening of the AC Hotel by Marriott Tucson Downtown represented the first new hotel to be built in the city since 2013. Market participants note that the hotel's opening, along with the recent rebranding of the Marriott Tucson University Park, has supported higher ADR levels in the market. Other notable projects include Caliber Hospitality's proposed hotel adjacent to the Tucson Convention Center and the proposed redevelopment of the Hotel Arizona.
While there is new supply in the pipeline for Tucson, the pipeline remains at a level that would generally not be considered worrisome. According to HVS's research, there are currently eleven active hotel projects proposed for locations in Pima County at varying stages of development, compared to roughly 60 active projects in Maricopa County. While BuildCentral typically includes projects that may be speculative or that may solely represent a pad site in a larger development, the data provide a good depiction of development in a region.
Hotel transaction volume for Pima County has fluctuated over the past several years, from a high of eight hotels trading in both 2015 and 2017, to a low of three sales in both 2012 and 2016. Average price per key has fluctuated, as well, given a range of factors including the mix of limited-service, full-service, and resort property sales and number of properties purchased for renovation. Given Tucson's delayed recovery from the recession, many hotels in the market had some level of deferred maintenance, allowing them to be bought at a discount before major renovations were undertaken. Only one hotel has sold in the year-to-date period through May 2018, down from four during the same period last year. The lone sale in 2018 was a Quality Inn, which sold for $31,888 per room, down from the 2017 year-to-date average per-room price of $68,288; however, most of the sales during the comparative 2017 year-to-date period represented upper-midscale properties. Sufficient data are not available to analyze hotel capitalization rates specific to Pima County; however, statewide, cap rates remained relatively stable from 2016 to 2017, at approximately 8.3%, and recent data indicate similar cap rates for 2018.

Pima County Transaction Data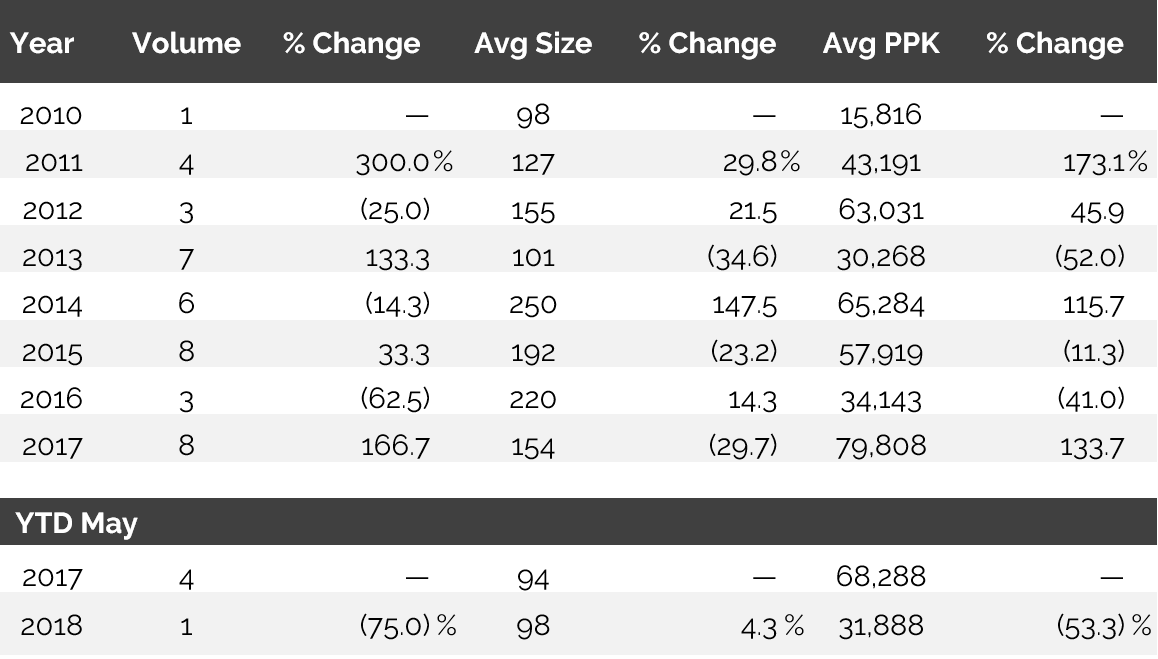 Source: RCA & CoStar

Arizona Transaction Data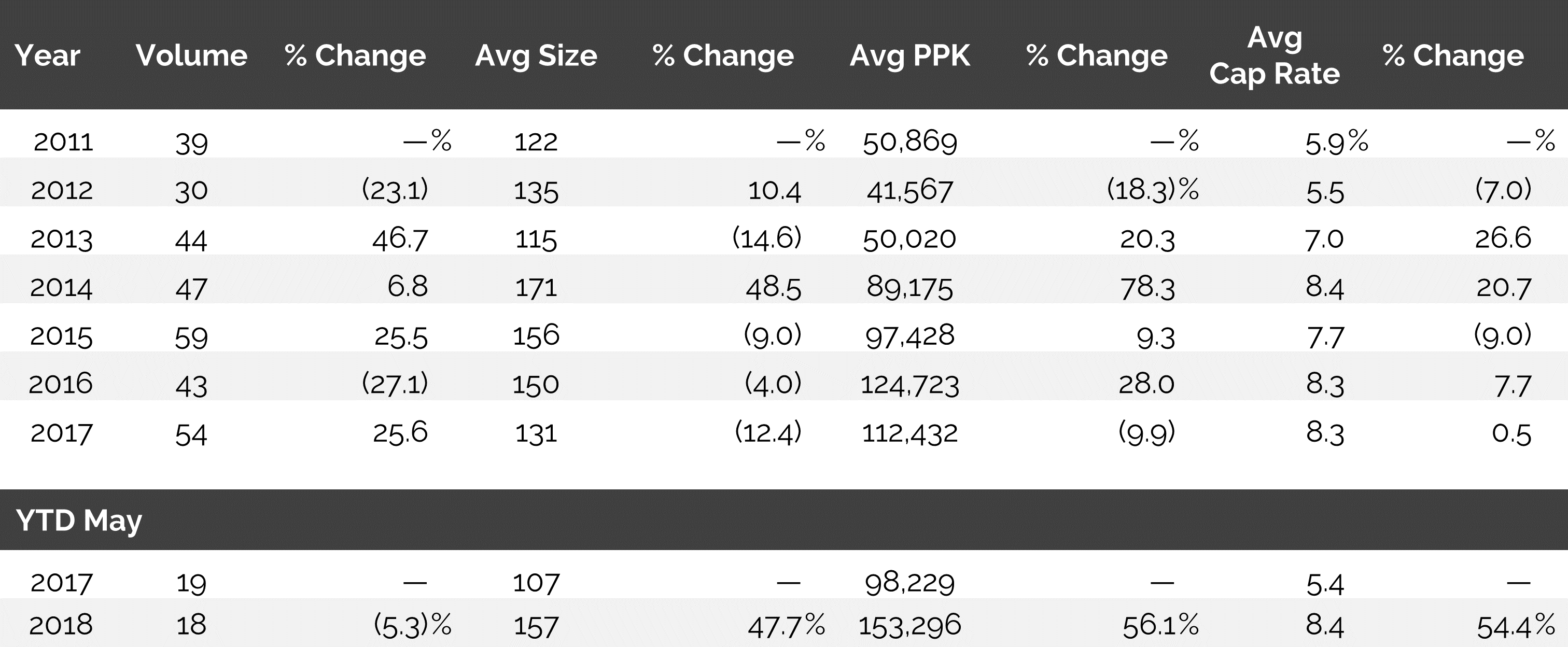 Source: RCA & CoStar
While Tucson may be overshadowed by Phoenix, the market is making strides in its own right. The city's lack of corporate headquarters has historically been a stumbling block, but the relocation of Caterpillar, as well as the expansion of Raytheon and Amazon, bode well for the market. New supply remains at healthy levels and is not expected to negatively affect performance for the greater market. And although the uncertainty surrounding the current administration's renegotiation of NAFTA remains a concern, the overall outlook for Tucson is optimistic given the numerous positive factors.
Previously published in the Tucson Trend Report July 2018 provided by © Tucson Real Estate + New Development.
---
[1] https://tourism.az.gov/research-statistics/data-trends/lodging
[2] https://www.pri.org/stories/2017-12-21/trump-s-threats-pull-out-nafta-concern-many-arizona
[3] https://www.azcentral.com/story/news/politics/arizona/2018/02/25/stronger-nafta-could-add-63-000-jobs-arizona-study-says/306879002/