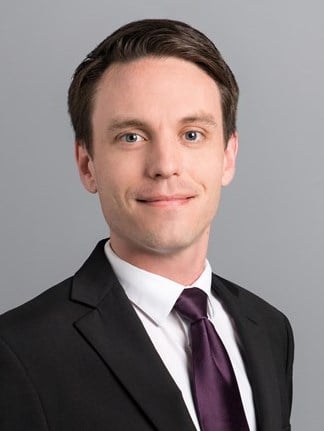 This year, Forbes named the greater Denver MSA as the "Best Place for Business and Careers," just one of many accolades the area has received in recognition of Denver's growth in recent years. Forbes ranked Denver fourth in 2014, and this year's improvement reflects what many hotel developers and owners have been witnessing—as a market for jobs, business, and development, Denver continues to outperform.



Residents and tourists alike revere the natural beauty of the Rocky Mountains just outside of Denver, where national and state parks and world-renowned ski resorts attract millions of visitors each year. The draw to the city itself, however, owes to a growing recognition among businesses of the diverse and educated workforce Denver has to offer. Aerospace, healthcare, and telecommunication companies have been active in and around Denver for decades, and these industries have continued to expand in the region. More recently, aviation, bioscience, energy, and financial services companies have become embedded in Denver, helping to further diversify the regional economy and provide more demand for Denver hotels.
Denver's international airport and booming convention industry further contribute to making the city one of the nation's strongest hotel markets. Both supply and demand have risen markedly in recent years, and RevPAR growth for Denver hotels has remained strong. These positive metrics have made the Denver lodging market one of the most attractive options for national hotel firms and real estate investors.
Hotel Market Performance and Forecast
The following charts illustrate trends in forecasted occupancy, average rate, and RevPAR for Denver hotels from 2015 to 2018.
Denver's Occupancy Outpaced the Nation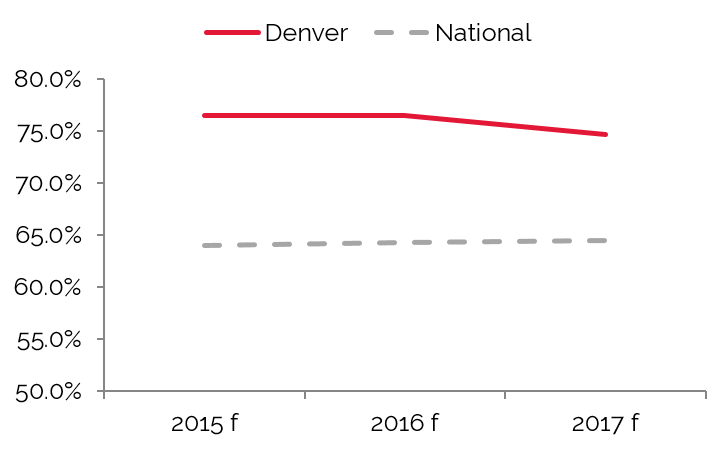 Denver's ADR Remains Similar to the Nation's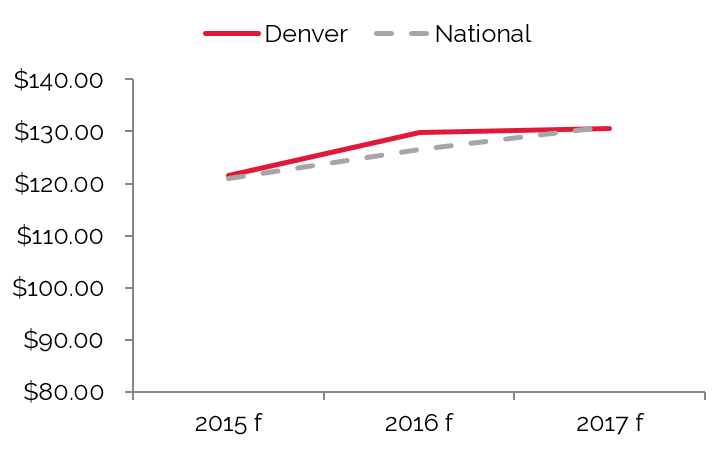 RevPAR Expected to Flatten as New Supply Opens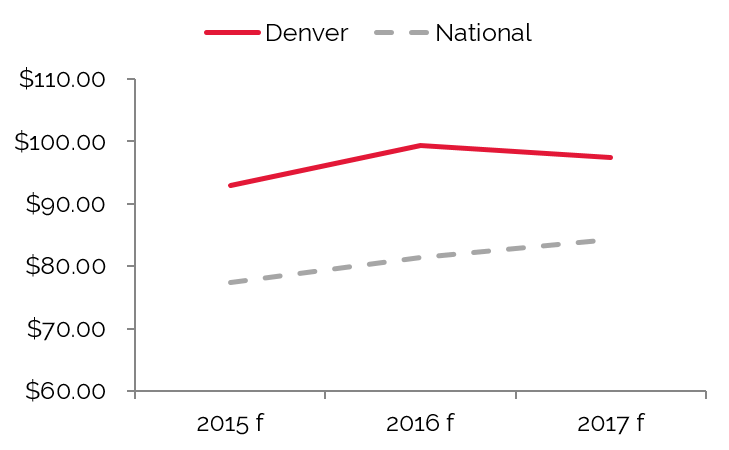 Source: HVS
The Denver hotel market has achieved marked growth in occupancy, average rate, and RevPAR since 2009. After several years of strong growth, HVS forecasts a peak in market occupancy in 2015/16, followed by a slight decline to a more stabilized level near 75% by 2017. This stabilization point, almost ten points higher than pre-recession levels, underscores the overall growth of hotel performance in the Denver metropolitan area since the end of the last recession.
The entrance of several upscale full-service hotels in the market, combined with generally muted levels of new supply in suburban areas, has accelerated average rate growth since 2013. HVS forecasts more moderate rate growth through 2019, as operators of existing hotels adjust rates to help maintain occupancy and RevPAR in response to higher levels of new supply in 2016 and beyond.
Occupancy stabilization and moderate average rate growth result in a relatively flat forecast for RevPAR. Nevertheless, this forecast reflects the ability of the Denver market to absorb an unprecedented amount of new hotel supply without an overall negative impact to performance at existing hotels. Hence, stable RevPAR over the next several years would serve as a testament to the market's strength versus stagnation.
Denver Supply is Expected to Outpace Demand in 2016 and 2017

Source: HVS and STR
Existing Supply Breakdown
Approximately 30% of all hotels in the Denver area belong to the economy class; however, at a total room count of 7,920, economy hotels represent only 18% of the market's total room supply. The 29 upper-upscale hotels in the Denver area, by contrast, comprise 24% of the total market room count, representing the largest positive difference between percent of hotels and percent of total room inventory.
Largest Portion of Hotels in Denver are Economy, followed by Upper-Midscale Class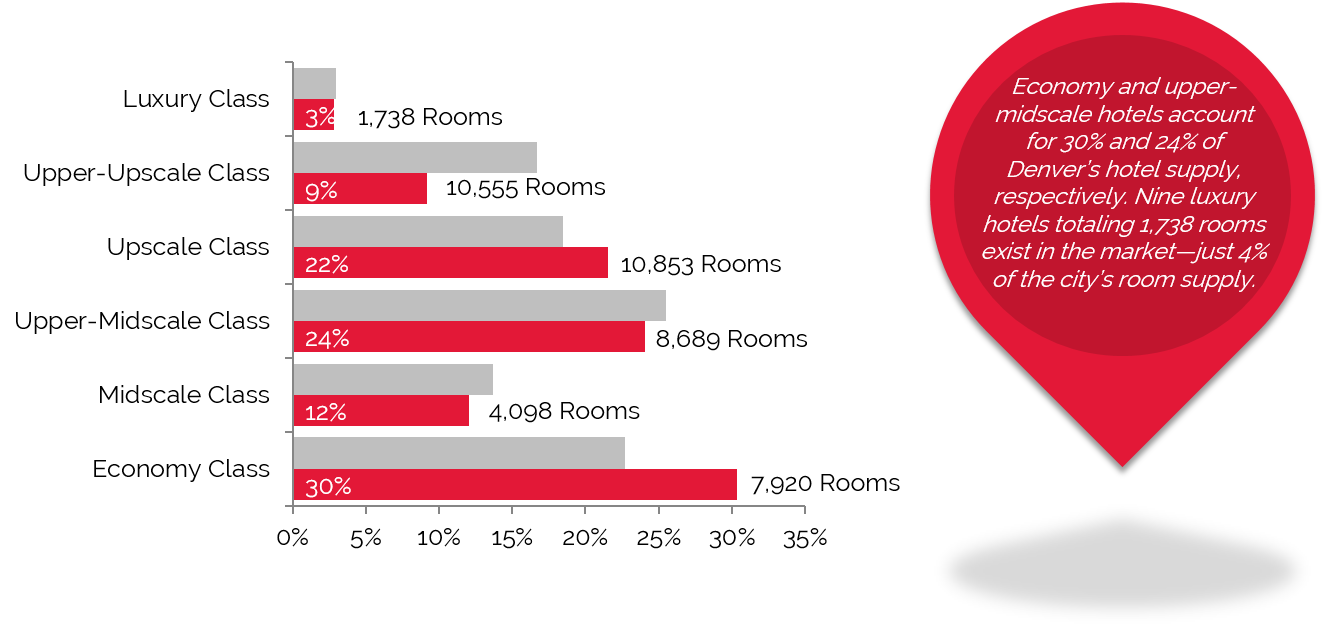 Source: HVS & STR
Slightly more than 80% of all Denver area hotels are branded, and these hotels equate to 91% of the market's total available room nights (i.e., the total available rooms in a market multiplied by 365)
Factors Influencing Market Dynamics
Major Redevelopments Bring Better Performance, Values to Denver Hotels
Denver's thriving economy shows no signs of slowing, and areas of growth and revitalization are most evident in the city's downtown. The Lower Downtown (LoDo) district of Denver originally became popular as a restaurant and bar district after the opening of Coors Field in 1995. LoDo has undergone major redevelopment projects over the past several years, coinciding with the renovation of Union Station. This has spurred numerous hotel, retail, residential, and mass-transit projects. The transition now underway is expected to culminate in 2016 when the light-rail line connecting Downtown Denver to Denver International Airport is complete.
Other spots in the city are also undergoing redevelopment. A major construction project is currently underway on virtually every corner of Denver's Cherry Creek district, with projects ranging from luxury condominiums to the newly announced luxury hotel at 245 Columbine Street. The River North (RiNo) area is also experiencing an influx of new residential and office space.
Redevelopment projects and the expansion of transportation infrastructure have played a key role in raising RevPAR for Denver hotels. New gates and a terminal-adjacent hotel are now under construction at Denver International Airport, while new light-rail lines are connecting the airport and other centers of business with Downtown and to corridors beyond. Furthermore, the expansion of highways is allowing hotel submarkets to attract guests from demand generators in the city that may have otherwise chosen alternative accommodations.
High Demand for Downtown Hotels
Demand generators from all over Denver create business for downtown hotels, where a concentration of shops, restaurants, and entertainment venues are among the attractions. More office complexes are being built in the burgeoning River North and Lower Downtown districts, and conversions or renovations of older buildings to the south are also underway. Helping cater to the high end of this demand, the downtown Renaissance by Marriott and the new upscale Crawford Hotel both opened mid-year 2014.
Supply Follows Demand in Denver
The capacity of Denver's hotel supply pipeline continues to be a topic of discussion and debate. Even so, the driving force of the area's economy, as well as unprecedented levels of hotel demand, is prompting the construction of new hotels;
hence, hotels are not springing up to simply capture a fair share of existing demand, but in response to ever-rising demand levels.

A new Gaylord resort is rumored to come to Denver in the very near future. If the success of the Gaylord Texan is any indication, Denver's Gaylord will bring a substantial new book of business to the city and prove a boon to nearby hotels that can house overflow demand. Similarly, the new terminal-adjacent Westin at Denver International Airport will cater to new group demand in Denver seeking space at an in-airport location.
New Supply Pipeline
According to HVS research, 16 hotels are in the pipeline for the Denver area. The following chart reflects the arrival of 3,943 rooms in addition to the existing supply of 43,853 rooms in the city, an increase of approximately 9.0%.
Majority of New Hotels are Expected in the Central Business District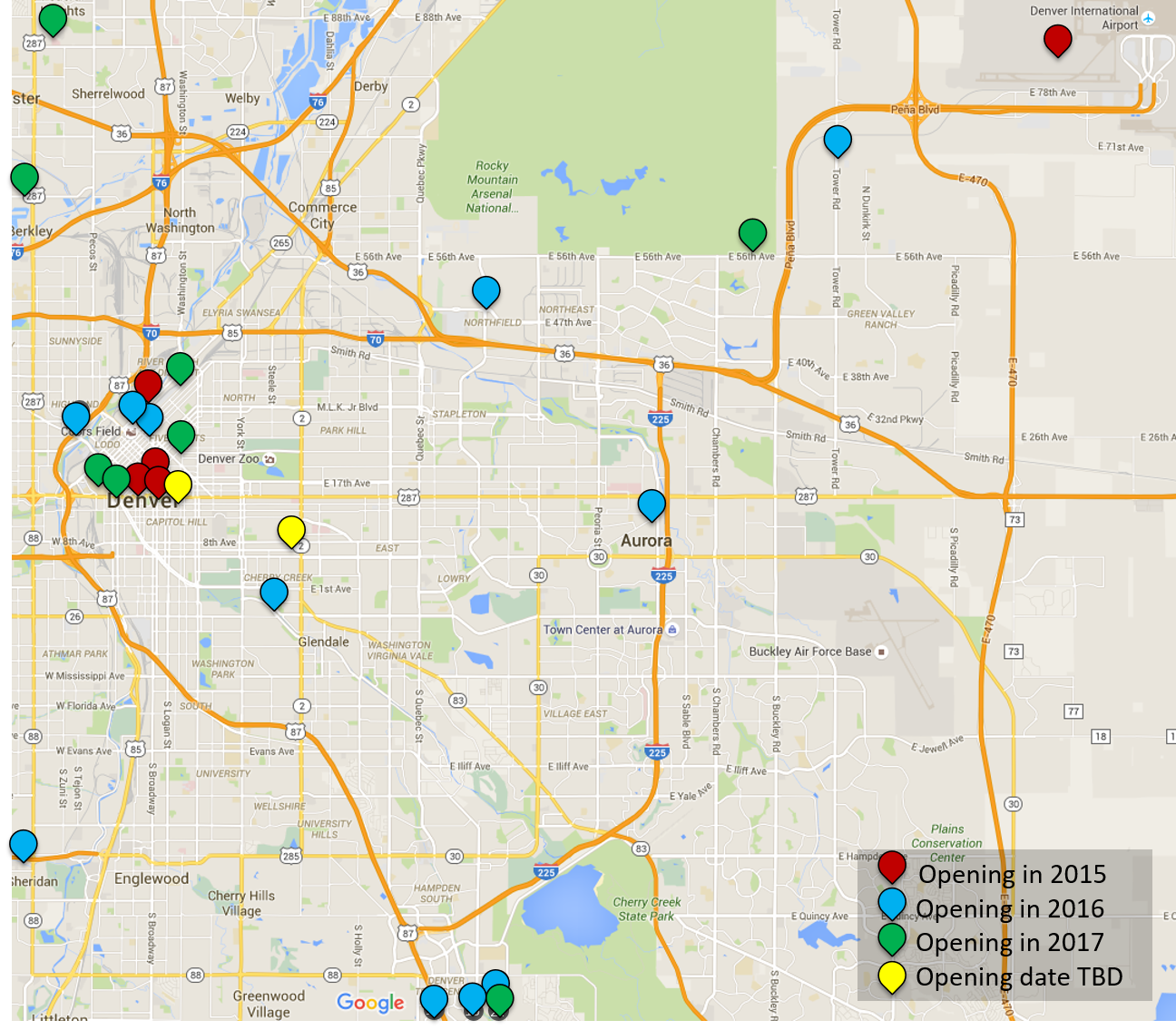 Strong hotel demand in Denver in 2013 and 2014 sparked new investment interest in the market. New hotel supply scheduled to open from 2015 through 2017 is largely concentrated in Downtown Denver, with four proposed hotels (the Kimpton Hotel, the Z Block Development, the Hotel Indigo, and the Hilton Garden Inn) representing 686 rooms coming to the Lower Downtown (LoDo) area. Development projects underway in the surrounding Denver metropolitan area include the 200-room Westin Greenwood Village, which will benefit from demand from the commercial corridor in the Denver Tech Center.
Continued focus by the City of Denver on urban renewal and revitalization has become a major factor in hotel development within the LoDo area, as well as Northern Downtown, where the planned development of the Source Hotel in the River North district was recently announced. Though it remains in the approvals process, the 1,500-room Gaylord Hotel and Entertainment Center is expected to open in 2017. When completed, the complex will constitute the largest hotel in the Denver metropolitan area.
Other hotels in the Denver supply pipeline represent a mix of select- and full-service properties; however, upscale and upper-upscale hotels represent the majority of proposed projects, as developers target demand related to commercial developments in the Denver market.
Seven new hotels representing 1,426 guestrooms entered the Downtown Denver submarket from 2010 through 2014. Expected new supply in the Downtown submarket from 2015 through 2017 includes nine hotels, totaling 1,616 guestrooms.
Upper-Upscale Hotels Exhibit Vigorous Growth*†

Source: HVS, STR and BuildCentral, Inc.
* Only includes properties with room counts and class designations
† Only the lowest value in the rooms range is considered
Supply Increases Have Historically Outpaced Demand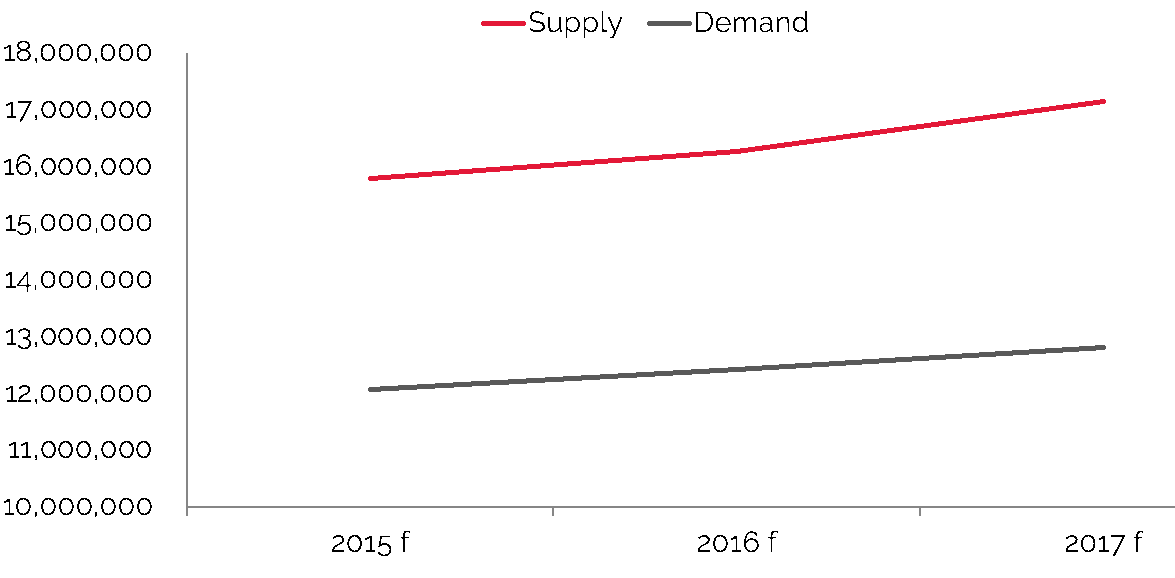 Source: HVS
In 2004, supply outpaced demand by approximately 5.3 million room nights. In 2014, the gap had declined to 3.8 million. Given forecasts for higher levels of supply going forward, this difference is expected to move up to approximately 4.3 million room nights in 2019. In terms of the relationship between supply and demand in Denver, this represents an improvement of one million room nights compared with levels from 2004, evidence of the overall depth of the market and generally higher stabilized occupancy levels.
Overall, the graph shows a nearly parallel relationship between supply and demand in Denver over the past decade, evidence that the market has been successful at absorbing supply increases. The only exception was during the economic downturn of 2009, when demand levels dropped substantially. Despite the higher levels of supply forecast for 2016 and beyond, HVS expects demand to increase in line with growth in supply.
Hotel Value Trends
The annual Hotel Valuation Index (HVI) piles data derived from over 4,500 hotel appraisal assignments each year, providing for analysis of performance and forecasts for hotel markets nationwide.. Hotel values in Denver have undergone some volatile shifts in the past ten years, mirroring for the most part the trends seen in hotel markets nationwide. The following chart illustrates percent changes in hotel values for Denver and the nation from 2006 through 2018 (projected).
Denver Hotel Values Fall in 2009, Registering Positive Growth Every Year Since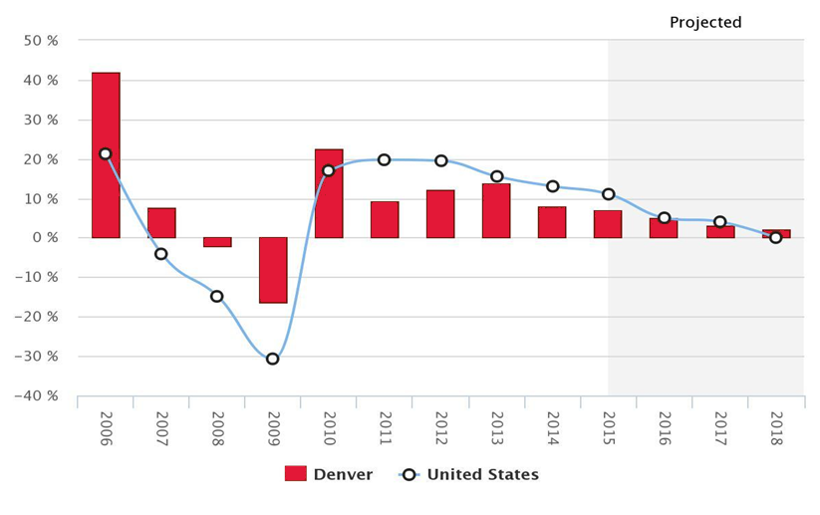 Source: HVS & STR
As shown above, Denver hotel values fell more than 15% during the 2008/09 recession. The average loss for the nation, however, was -30%, significantly more severe than the impact on the Denver hotel market. Denver hotels registered double-digit percent growth in 2010, 2012, and 2013, and values are projected to continue to increase through at least 2018.
Denver Hotel Value Growth Expected to Continue

Source: HVS & STR
Growth in values for Denver hotels in the past has been slower than the nation's growth as a whole, primarily due to effects from new supply entering the local market. As Denver continues to evolve as a diverse lodging market, values should continue on an upward trend; however, value growth in Denver is still forecast to be lower than that of the nation over the next four years due to the anticipated supply increases. By 2018, value growth for Denver hotels is expected to surpass that of the nation, as the new supply is absorbed.
Recent Hotel Transactions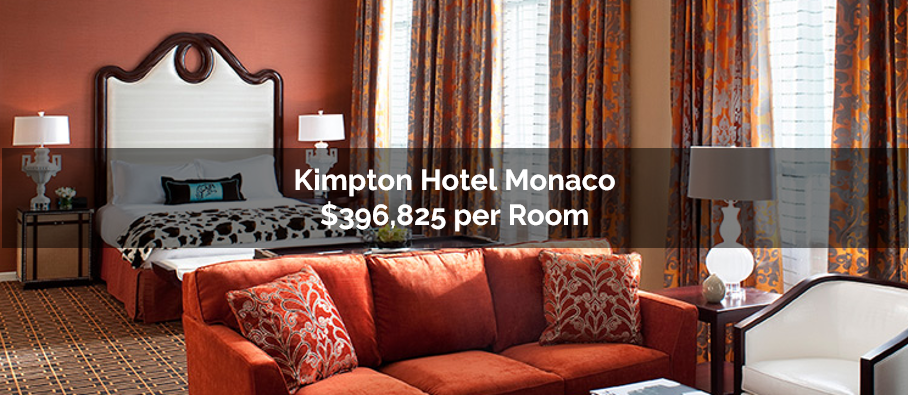 Since August 2013, hotel transactions across the state of Colorado have ranged from a high of $396,825 per key for the upper-upscale Kimpton Hotel Monaco in Downtown Denver down to $27,269 per key for the economy-scale Howard Johnson Denver West. Of the 38 sales, 20, or 53%, had a per-key price of less than $100,000. Twelve sales ranged between $100,000 and $199,999; five were between $200,000 and $299,999; and one, the aforementioned Hotel Monaco, fell at the high end of the $300,000 to $399,999 range.
The Kimpton Hotel Monaco Leads Per-Key Sales over the Past Two Years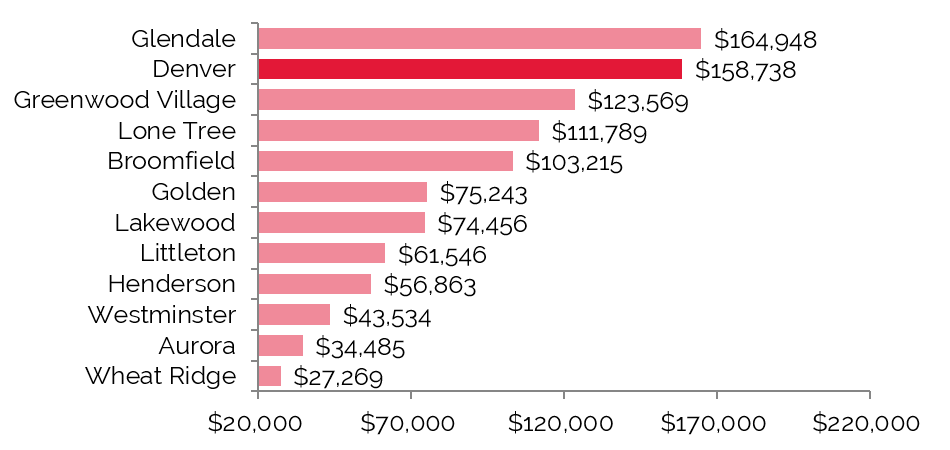 Avergae Price per Room
Source: HVS & RCA
Denver was the Most Active Market of the MSA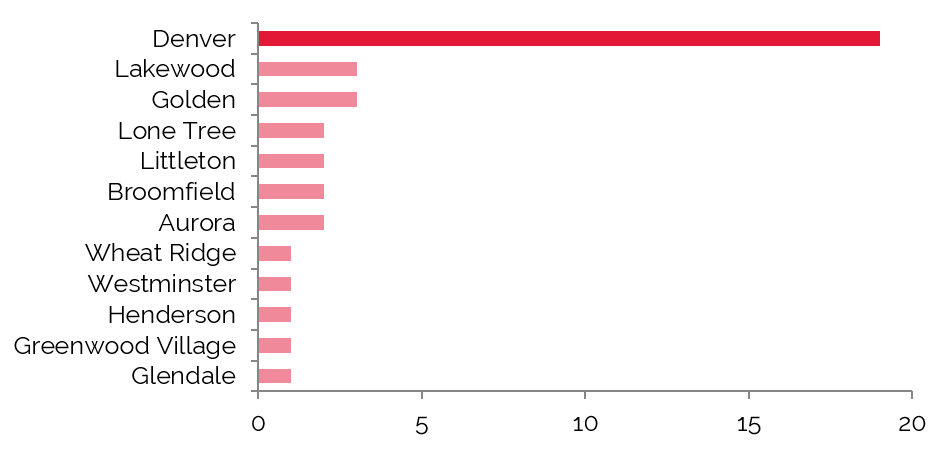 Number of Sales
Source: HVS & RCA
The mean average price per key was $118,510 and the median was $97,486. Pricing was highly dependent on historical operations, location, product type, and if the property was under financial distress. The pace of sales for 2015 is below the level established in 2014, with ten sales occurring through July 2015 versus 15 sales in the same period last year. The 2015 transactions, however, are averaging a higher sales price per key, and all but two of the sales have been for assets selling for more than $100,000 per key.
Across the nation, according to Real Capital Analytics, the lowest confirmed hotel sale for the preceding three years was the Hotel Seagate in the Toledo, Ohio CBD at $2,830 per key. The next two lowest sales occurred in Chicago and Atlanta. The highest confirmed sale, at $1.85 million per key, was the purchase of the Park Hyatt Hotel in the Manhattan Midtown West neighborhood. The next runner up was the Hollywood Saint Louis in Missouri at $1.22 million.
Number of Major U.S. Sales ($10M and above)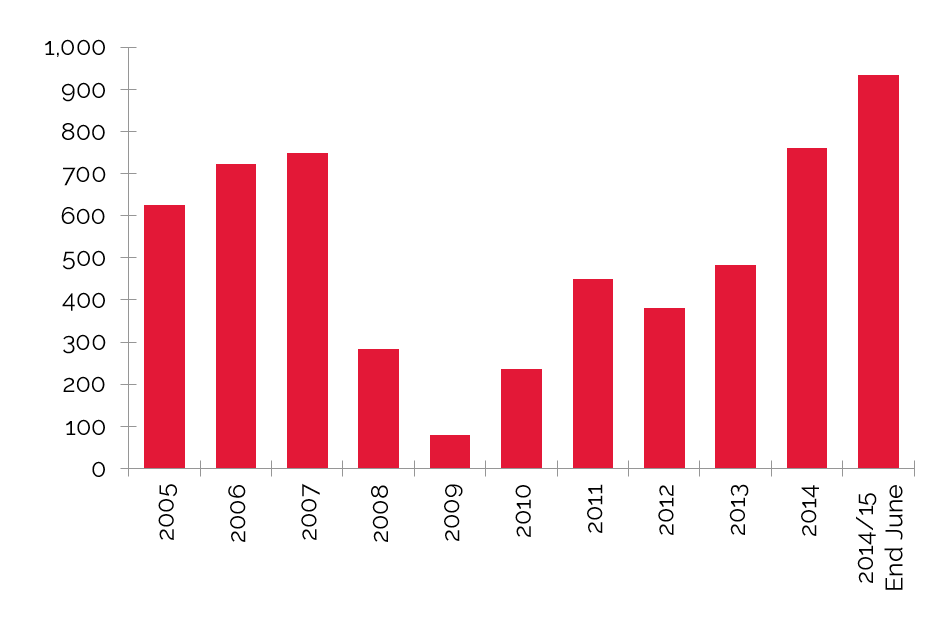 Average U.S. Key Price per Room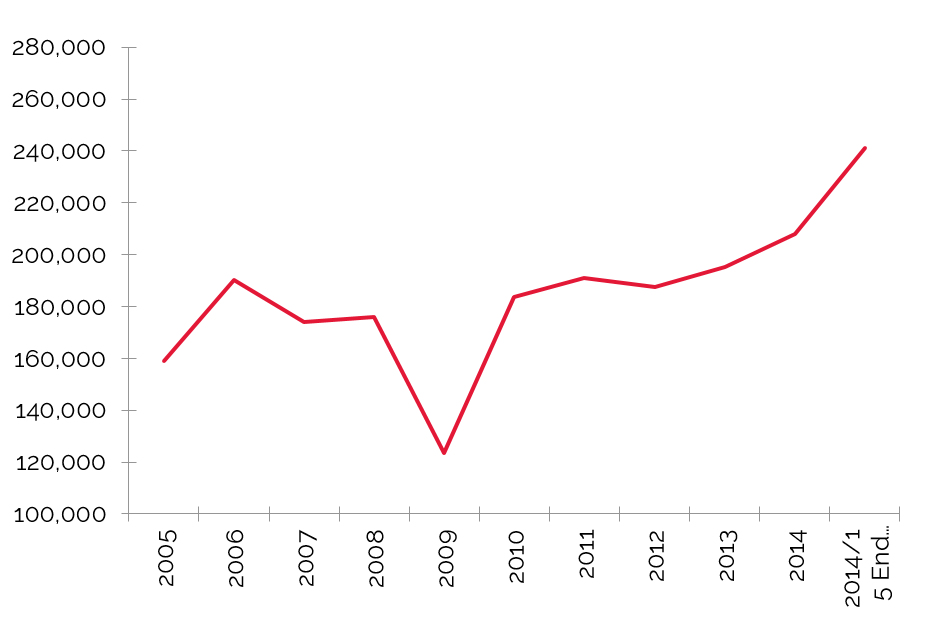 Source: RCA
Key Economic Indicators
Economic and Demographic Review
A primary source of economic and demographic statistics used in this analysis is the Complete Economic and Demographic Data Source published by Woods and Poole Economics, Inc., a well-regarded forecasting service based in Washington, D.C. Using a database containing more than 900 variables for each county in the nation, Woods & Poole employs a sophisticated regional model to forecast economic and demographic trends. Historical statistics are based on census data and information published by the Bureau of Economic Analysis. Projections are formulated by Woods and Poole, and all dollar amounts have been adjusted for inflation, thus reflecting real change.
The Woods and Poole Economics, Inc. definition of the Denver MSA includes the following counties: Adams, Arapahoe, Clear Creek, Denver, Douglas, Elbert, Gilpin, Jefferson, and Park.
The U. S. population has grown at an average annual compounded rate of 1.0% from 2010 through 2014, and that rate is forecast to continue into 2020. The Denver MSA's population growth exceeded that of the nation by more than 65% heading into 2014. It is expected to continue at a rate 40% stronger than the nation's rate into 2020.
The current and forecasted average annual compounded growth rates of per-capita personal income for the Denver MSA and the nation reflect moderate but steady growth. According to the Woods & Poole Wealth Index, both the Denver MSA and the nation are expected to continue to follow a flat trend.
Food and beverage sales in the Denver MSA grew at an annual compounded rate of 2.9%, with an increase of $561,000 in 2014 over 2010. Through 2020, the pace of growth is anticipated to moderate slightly to 2.2% per year, which is still an improvement of $714,000 over 2014. At the national level, food and beverage sales range from 15% to 26% weaker than the Denver MSA's related sales between 2010 and 2020.
The nation reported a total retail sales growth rate of 2.7% from 2010 to 2014, with a rate of 2.0% expected for 2020. The Denver MSA exceeds the nation by 18.5% and 15%, respectively.
Denver Population Growth Outpaces Nation
Denver's MSA average annual compounded growth rate of resident population has been 65% higher than that of the nation.

Average annual compounded growth rate of per-capita personal income for the MSA was similar to that of the nation in the 2010-2014 period.

"Denver-Aurora Metropolitan Area" by User:Nyttend - Modified from this United States Census Bureau file.. Licensed under Public Domain via Commons - https://commons.wikimedia.org/wiki/File:Denver-Aurora_Metropolitan_Area.png#/media/File:Denver-Aurora_Metropolitan_Area.png
Radial Demographic Indicators
The following table reflects radial demographic trends for the Denver market area measured by three points of distance from the center of Downtown Denver.
Demographics by Radius from the Center of Town
Population Growth Expected to Taper Down 2015-2020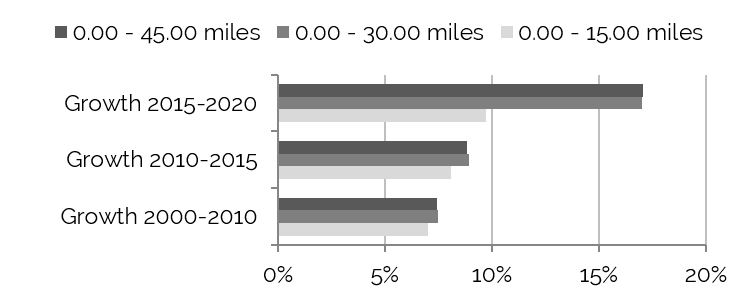 Overall Household Growth to Slow Down 2015-2020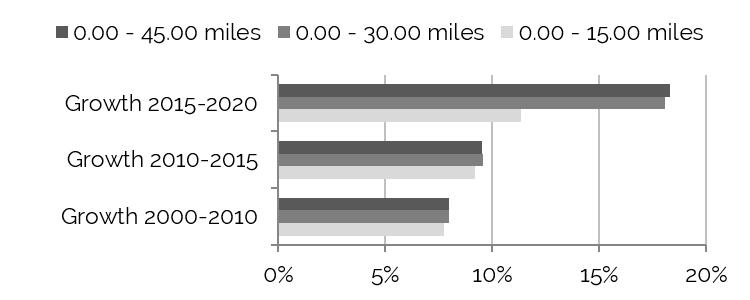 Source: The Nielsen Company
Top Occupations within 15-Mile Radius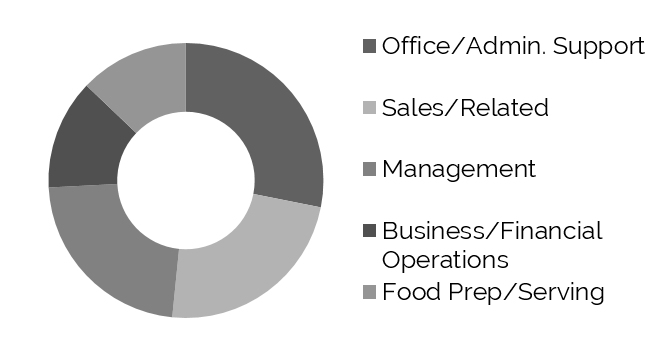 Top Occupations within 30-Mile Radius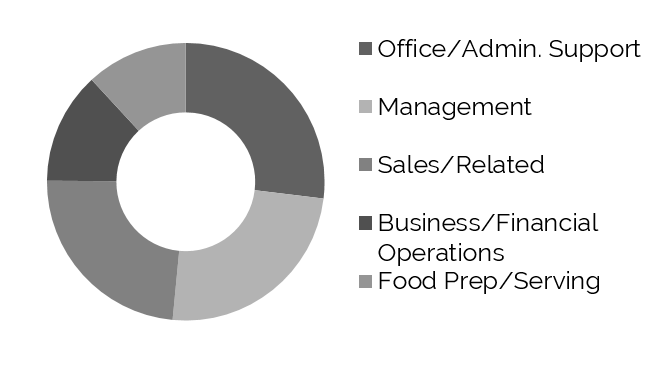 Top Occupations within 45-Mile Radius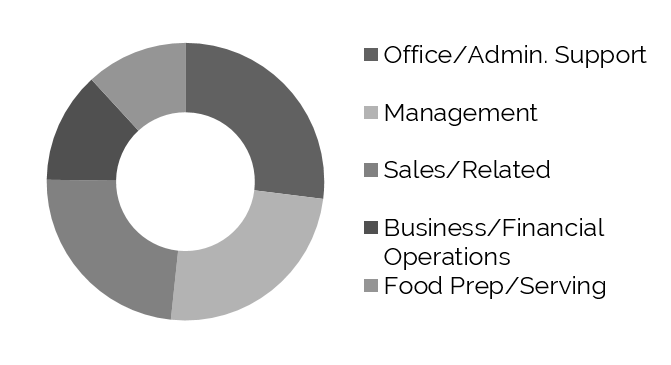 Source: The Nielsen Company
The Denver MSA was ranked by Forbes as the sixth-fastest-growing metro area in the United States based on population and economic growth in 2014. Within a 15-mile radius of the center of Downtown Denver, from 2010 to 2015, Denver's population is estimated to have grown by almost 170,000, or 8.1%. The Nielsen Company expects the 2020 population to increase by another 159,000, or 7.0%, above the 2015 count. The population of the area between the 15- and 45-mile radius is estimated to have grown by an additional 92,000, or 10.6%, from 2010 through 2015. This area is expected to grow by another 80,000 people by 2020, an 8.4% increase over the 15-mile radius area.
At 9.2% between 2010 and 2015, household growth is estimated to have slightly outpaced population growth within the 15-mile radius from Downtown Denver; household growth is expected to decline to 7.7% into 2020. In the radius between 15 and 45 miles, household growth kept pace with the growth in overall population. From 2010 through 2015, households in that radius are estimated to have grown by 33,500, or 10.4%, and from 2015 through 2020, households are predicted to increase by 30,400, or 8.5%.
2015 Forecast – Denver MSA Beats Nation in Average and Median Household income

Source: The Nielsen Company
Workforce Characteristics
The characteristics of an area's workforce provide an indication of the type and amount of transient visitation likely to be generated by local businesses. Sectors such as finance, insurance, and real estate [FIRE]; wholesale trade; and services produce a considerable number of visitors who are not particularly rate-sensitive. The government sector often generates transient room nights, but per-diem reimbursement allowances often limit the accommodations selection to budget and mid-priced lodging facilities. Contributions from manufacturing, construction, transportation, communications, and public utilities [TCPU] employers can also be important, depending on the company type.
The following chart sets forth the Denver MSA workforce distribution by business sector in 2000, 2010, and 2014, as well as a forecast through 2020.
Employment Projections through 2020 Show Impressive Growth in Total Services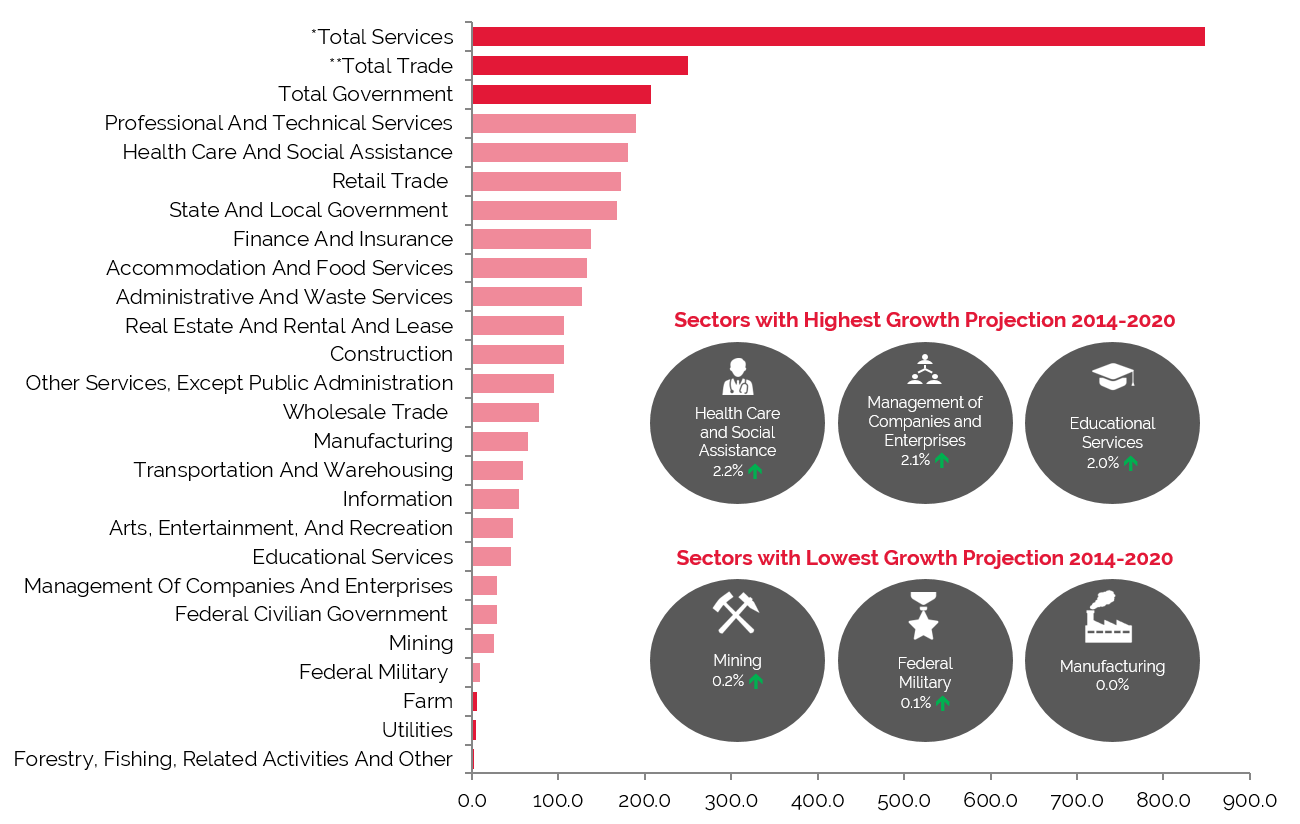 Source: Woods & Poole Economics, Inc.
* Total Services include: Professional and Technical Services; Management of Companies and Enterprises; Administrative and Waste Services; Educational Services; Healthcare and Social Assistance; Arts, Entertainment, and Recreation; Accommodation and Food Services; and Other Services, except Public Administration
** Total Trade includes Wholesale Trade and Retail Trade
Woods & Poole Economics, Inc. reports that during the period from 2000 to 2010, total employment in the MSA expanded at an average annual rate of 0.6 %, very near the national rate of 0.7%. Employment growth in the MSA jumped 150% to 1.5% for the 2010 to 2014 period. This pace is expected to moderate in the near term, with employment in the MSA forecast to flatten through 2020. Still, at the forecasted rate, the MSA will continue to exceed the nation by approximately 7.7%.
The finance, insurance, and real estate [FIRE]; wholesale trade; and services sectors are driving demand to upper-midscale through luxury-class hotels. These sectors combined represented 61.7% of total employment in 2014, with an average annual compounded growth rate for the group expected to be approximately 1.4% into 2020.
The largest primary sector was Total Services, with 44.3% of total employment. Of the various sub-sectors within Total Services, Management of Companies and Enterprises, Educational Services, and Health Care and Social Assistance have shown strong growth; these sub-sectors are forecast to perform well into 2020.
The growth rate of the Total Government sector, a strong demand driver for economy-class hotels, has fluctuated, but generally represents approximately 11% of total employment in the Denver MSA.
Employment
The recent fall of gas and oil prices has forced businesses in the energy industry to cut budgets and reduce staff. According to REIS, Inc., the effects of the cutbacks on Denver's economy are uncertain. Denver's diverse industry base should help maintain employment stability. The Mining industry sector, which includes gas and oil production, grew by 7.2% from 2000 to 2010; growth in the sector has since fallen to 3.0%. Forecasts point to a further reduction in growth into 2020, but no contraction is expected.
Other employment sectors in Denver, especially Construction, Total Trade, Transportation and Warehousing, and Total Services, are expected to thrive in the coming years and may effectively negate the ill effects of the oil and gas commodity price downturn. Woods & Poole is predicting the Denver MSA's total employment to increase by more than 154,000 jobs between 2014 and 2020.
Historical Employment, Households, Population, and Household Income Statistics

Source: REIS Report 3rd Quarter 2015
Top Industries In Denver
The information technology (IT) and software-development sectors are predominant in the Denver area. In 2013, TechAmerica's Cyberstates report ranked Colorado as the third state in the U.S. for its concentration of technology industry workforce, and eleventh for high-tech establishments, with Colorado employing 162,600 workers in high-tech fields. Major software developers in the market area include CIBER, Cisco Systems, MapQuest, Oracle, Sun Microsystems, and IBM.
Three of the nine Fortune 500 companies in the market are among the largest in the telecommunications industry. These include Dish Network Corporation; Level 3 Communications; and CenturyLink, which merged with Denver-based Qwest Communications in 2011 to form the third-largest telecommunications company in the United States. Having completed its acquisition of TW Telecom, Level 3 Communications now serves more than 50,000 customers in over 60 countries and employs 13,000 employees globally. The Denver tech industry continues to expand, with Gogo Business Aviation expected to hire as many as 150 additional employees in 2015. Moreover, FiveStars announced in April 2015 that it had secured 10,000 square feet of office space in Denver, with plans to hire over 100 employees by year-end 2015.
The government sector is an important economic driver, with the State Capitol, City and County offices, and State and Federal courthouses located in Downtown Denver. These government entities, as well as area law firms and government-related contractors, generate significant levels of demand for area hotels. The 623-acre Denver Federal Center, located in the western section of the city, houses 28 different government agencies in over 40 buildings and represents the largest concentration of federal agencies outside of Washington, D.C.
The Fitzsimons Innovation Campus and the adjacent Anschutz Medical Campus in Aurora serve as a major regional hub for healthcare and biotechnology. The combined $5.2-billion complex totals 578 acres, and at full build-out in an estimated 20 years, it should encompass 18.5 million square feet of education, patient care, research, and medical office space; on-site entities include the University of Colorado Hospital, Children's Hospital Colorado, and the Veteran's Administration Hospital (currently under construction). Buckley Air Force Base, located on the eastern edge of the city, leads the nation's efforts for space-based defense systems; furthermore, as a result of continued expansion at the base, construction on a new medical facility is planned to begin in 2016. Downtown Denver is home to a new satellite location of the U.S. Patent and Trademark Office, which opened in June 2014; Colorado is expected to realize a $440-million economic impact during the first five years of its operation.
Industries related to national defense, energy, and mining are important for Denver. Lockheed Martin Corporation operates a major manufacturing facility in the southwestern edge of the city at its 5,400-acre industrial astronautics site, as well as its administrative campus at the 1,060-acre Deer Creek facility. These facilities house the company's space systems headquarters, mission services, and information systems services. Furthermore, in October 2014, Lockheed Martin opened a Commercial Space division at its Waterton Canyon campus. The division, which relocated from Pennsylvania, is expected to create as many as 500 aerospace jobs in Colorado over its first eight years of operation. Golden's National Renewable Energy Lab has over 1,700 employees and is home to the National Bioenergy Center and the National Center for Photovoltaics. Energy and mining firms with a major presence in the Denver market include Encana, Halliburton, Smith International, Rio Tinto Group, Newmont Mining, Noble Energy, and Anadarko.
Unemployment
Substantial job creation has occurred in multiple sectors, including fields such as high technology, health care, construction, energy, and hospitality. Furthermore, an increase in commercial office space and company start-ups or relocations has aided in bringing unemployment down. Reportedly, no major industry has illustrated negative job growth within the past year.
Improving Unemployment Levels since 2009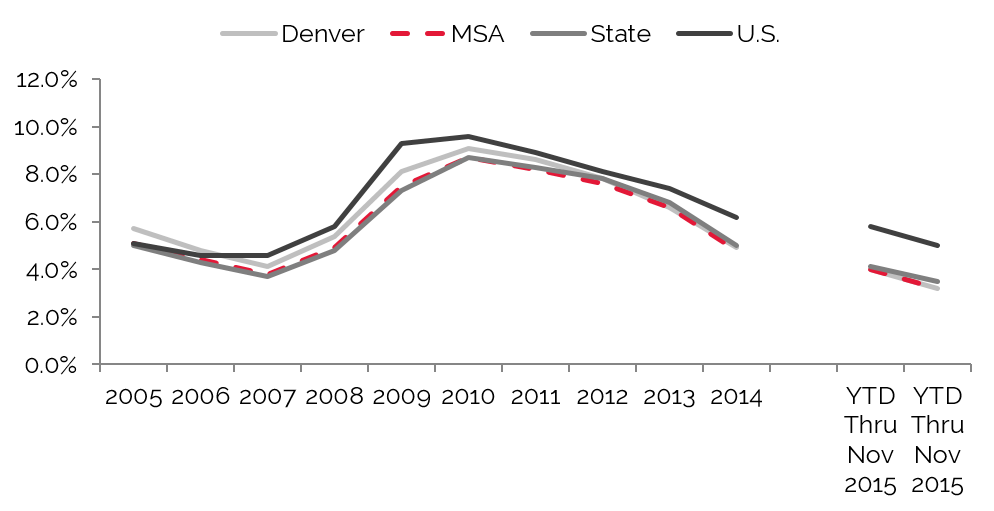 Source: U.S. Bureau of Labor Statistics
Office Space
Trends in occupied office space are typically among the most reliable indicators of lodging demand, as firms that occupy office space often exhibit a strong propensity to attract commercial visitors. Thus, trends that cause changes in vacancy rates or in the amount of occupied office space may have a proportional impact on commercial lodging demand and a less direct effect on meeting demand.
Southeast Denver Submarket Features the Most Office Space in Denver MSA

Source: REIS Report, 3rd Quarter, 2015
The eight Denver submarkets listed above comprise nearly 90 million square feet of office space. For the 1st quarter of 2015, average vacancy rates ranged from 13.1% in Midtown to 26.3% in the Northeast submarket. Vacancy is also relatively low in Denver's CBD, which also boasts, by a wide margin, the highest average asking lease rate—both indications of a healthy office market downtown. Conversely, the Northeast submarket has the lowest average asking lease rate, though Denver's mayor has introduced redevelopment plans for this submarket that have the potential to boost rates and increase absorption.
CBD Outperformed Overall Market in 2014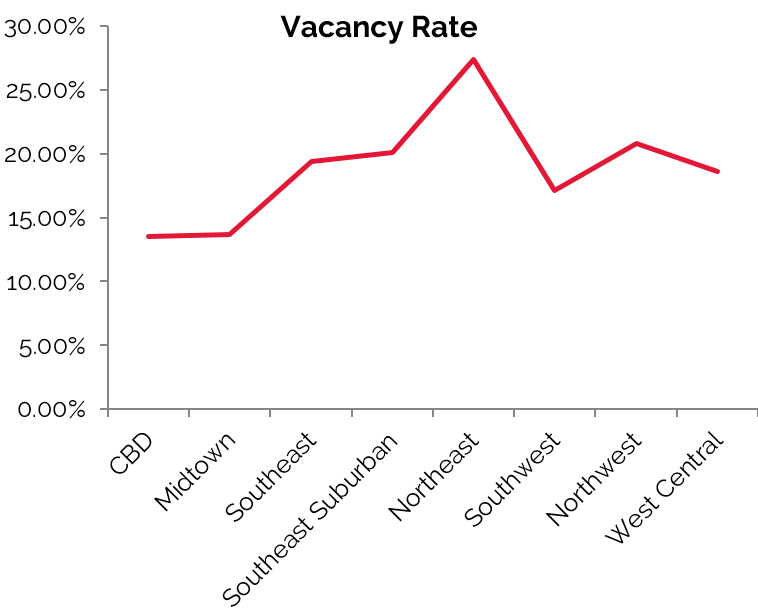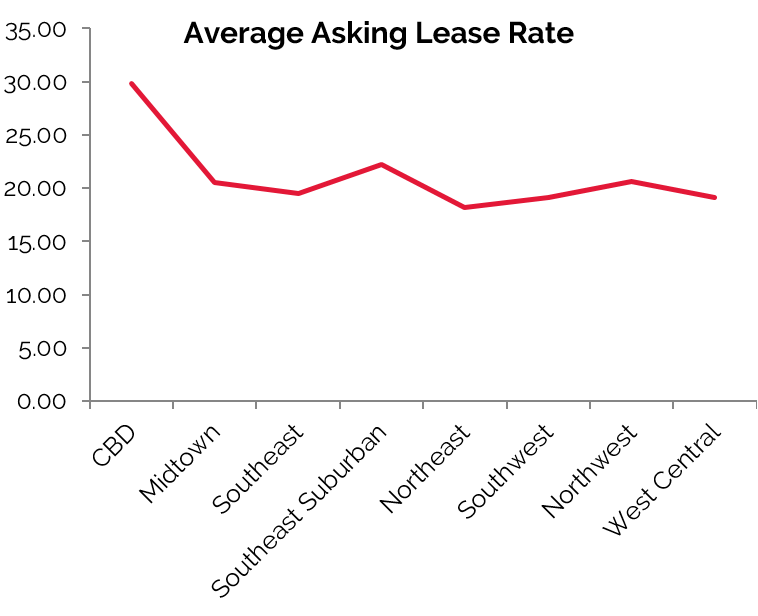 Source: REIS Report, 3rd Quarter, 2015
The Metro Denver office market's strong fundamentals are evidenced by overall increasing investment activity, declining vacancy, and improving asking lease rates. The CBD's vacancy rate rise from year-end 2014 (13.1% to 13.3% in the 1st quarter of 2015) reflects an increase in supply; overall levels of occupied space in the submarket actually increased. Commercial office construction has boomed in the CBD, with the largest amount of office space being developed in 2015 since the last peak in 2001, according to REIS. As the downtown area continues to grow and redevelop, this submarket is expected to remain a premier relocation destination for businesses and corporations, supported by the increasing supply of Class A office space.
The Southeast Denver submarket features the most office space in the Denver MSA, with developments across Greenwood Village, Englewood, Centennial, Littleton, Highlands Ranch, and Lone Tree driving substantial corporate demand in the area. The Denver Tech Center (DTC), located along the Interstate 25 corridor between Interstate 225 and State Highway 88 (Arapahoe Road), spans over 900 acres, with almost 11 million square feet of office space and 3,500 single- and multi-unit residences. In May 2014, Charles Schwab opened a 17,000-square-foot retail branch in Lone Tree.
Commercial Office Construction has Boomed in Denver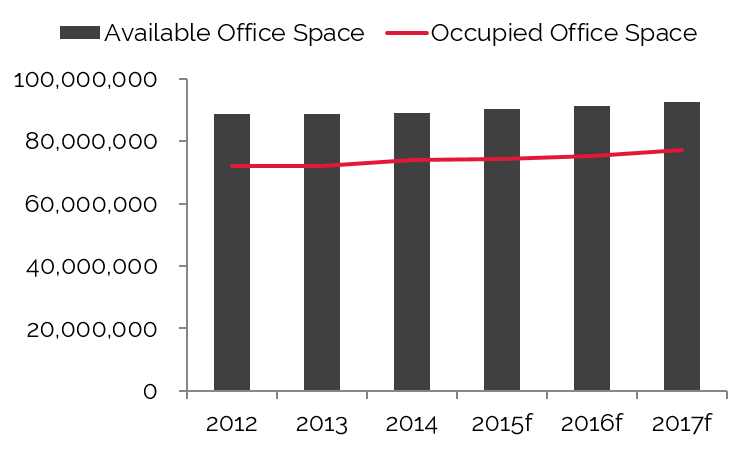 Vacancy Rate is Anticipated to Decline in the Near Term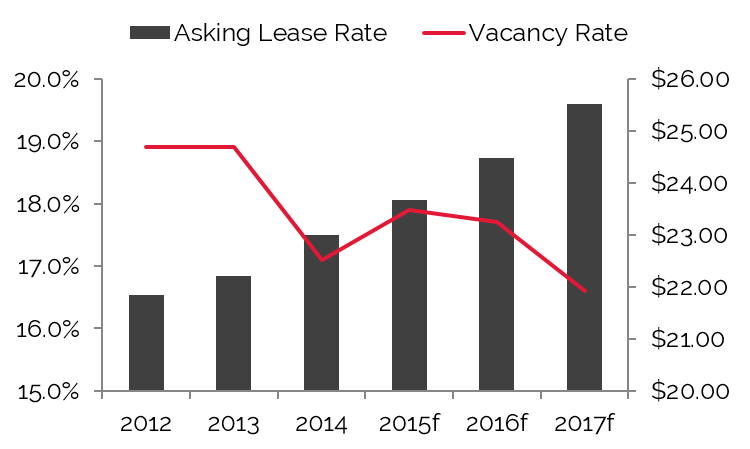 Source: REIS Report, 3rd Quarter, 2015
Convention Activity
Convention centers generate significant levels of demand for area hotels, especially those proximate to the center. Hotels serving as headquarters for an event benefit the most by way of premium rates and hosting related banquet events. During the largest of conventions, peripheral hotels may benefit from compression within the city as a whole.
The Colorado Convention Center was built in 1990 at 14th and Stout Streets, along the western side of Downtown Denver. A $340-million expansion, completed in 2004, almost doubled the size of the center, which currently features 584,500 square feet of exhibit space on one level; 100,000 square feet of meeting space; two ballrooms consisting of 35,000 and 50,000 square feet; and a 5,000-fixed-seat lecture hall. Together, these spaces comprise approximately 769,000 square feet. The facility's Bellco Theatre, formerly known as the Wells Fargo Theatre, underwent a $3-million, five-year renovation that was completed in 2012. According to Visit Denver, a master plan is being developed to add meeting space to the convention center; however, details regarding the amount of space or a specific completion date have not yet been determined.
Following the Colorado Convention Center expansion and the opening of the 1,100-room Hyatt Regency headquarters hotel in 2005, booking activity increased significantly through 2008. After a drop in 2009, the number of conventions, delegates, and room nights rebounded in 2010. While a record number of conventions were held in Denver in 2010, delegate attendance and room-night bookings lagged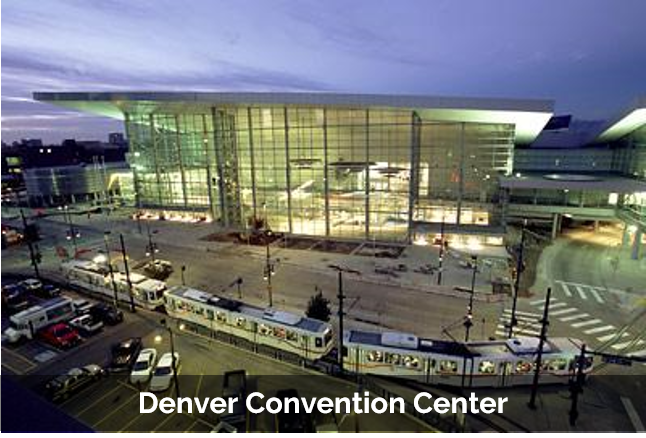 behind the prior year's levels. However, the 2012 convention year registered increases over 2011 in the number of both conventions and delegates.
The Colorado Convention Center hosted a record number of convention delegates in 2014, up over 10% from 2013, providing an estimated economic impact of $500 million. Although large, citywide convention bookings have decreased in 2015, the city's attractive convention package and its ability to sell the Colorado Convention Center in conjunction with the 1,100-room Hyatt Regency are expected to continue to draw sizeable levels of group demand to Denver. Furthermore, the addition of the new Downtown hotels over the next few years should allow the center to target larger groups in the near term.
Denver Convention Center Breaks Attendance Record in 2014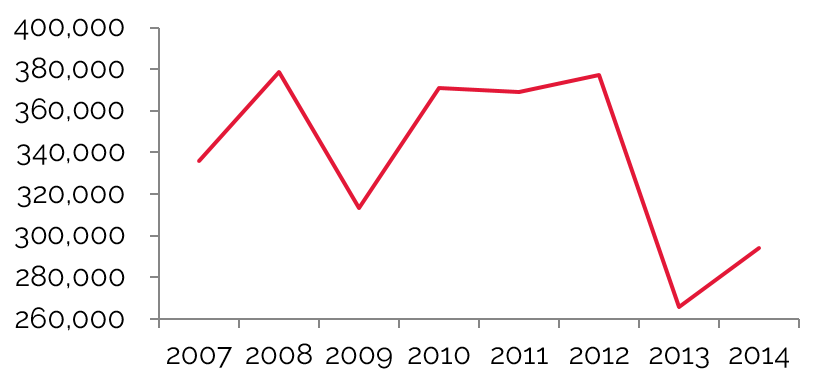 Source: Denver Convention Center
Airport Traffic
Airport passenger counts are important indicators of lodging demand. Depending on the type of service provided by a particular airfield, a sizable percentage of arriving passengers may require hotel accommodations. Trends showing changes in passenger counts also reflect local business activity and the overall economic health of the area.
Denver International Airport (DIA) opened in 1995 at a cost of $4.8 billion. United Airlines and Frontier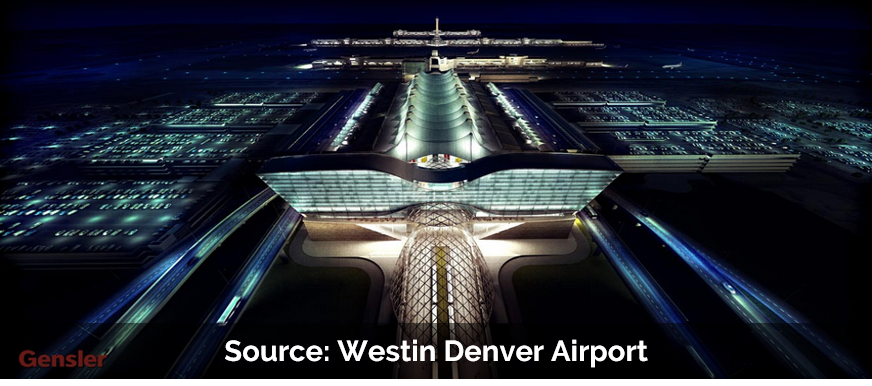 Airlines utilize the airport as a major hub; Southwest Airlines is another of the airport's primary airlines. DIA is undergoing a major South Terminal redevelopment project, which includes a new 519-room Westin hotel and conference center, a public transit center that will connect DIA via FasTracks with Downtown Denver, and a public plaza featuring restaurants and entertainment venues. The renovation's first phase is scheduled for completion in 2016, at which time rail service will begin. The hotel is scheduled to open in November 2015.
Airport Passenger Traffic Peaks in 2014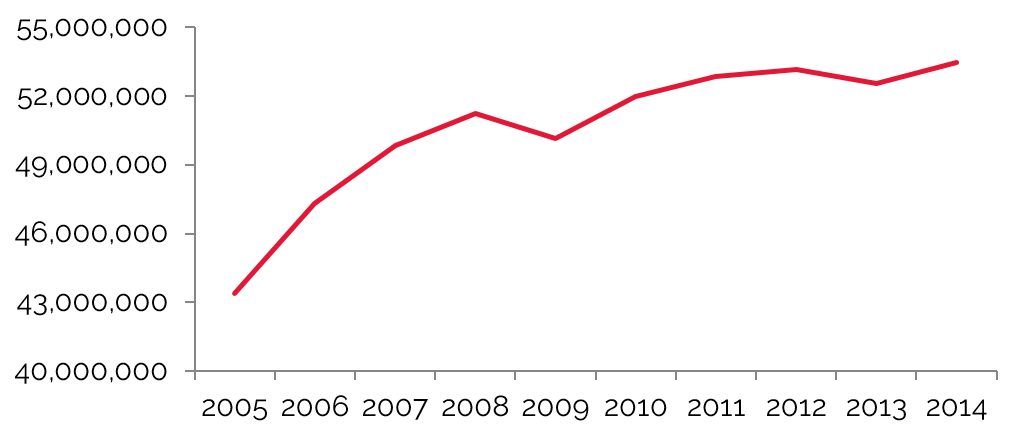 Source: Denver International Airport
The second, final phase will include the construction of another parking structure and a renovation of the existing terminal. Five new gates opened in Concourse C in September of 2014 to accommodate steady growth by Southwest Airlines; in addition, the area around these new gates is being improved with new shops and amenities that should be completed by year-end 2015.
Annual passenger levels at DIA have increased by more than 10 million since 2005. Levels declined in 2009, a result of the sharp fall in commercial, leisure, and group travel during the last recession. Levels fell in 2013, though more slightly. Overall, the growth over the past decade demonstrates the strong upward trend in use at DIA, which should continue to support demand for local hotels.
Centennial Airport is a public-use, international airport located just east of the Inverness Business Park in an unincorporated area of Arapahoe County. The airport covers 1,400 acres and has three runways, which extend into Douglas County. While it offers no scheduled air transport, the airport accommodates a number of charter and corporate flights, as well as several flight schools.
A $6.6-million taxiway rehabilitation project began at Centennial Airport in early 2015. The project, which entered the third of five phases of construction in July 2015, will result in the resurfacing of taxiway A and the addition of runway lighting. The Centennial Airport benefits from its location near the Denver Tech Center (DTC) and other major business parks, as well as its proximity to Interstate 25 and the city of Denver.
Tourist Attractions
The tourism season in the city of Denver peaks from June through August, with tourism to the greater area's ski resorts active during the winter months. During other times of the year, weekend demand comprises travelers passing through en route to other destinations; local and regional visitors attending concerts, shows, and sporting events; people visiting friends or relatives; and other similar weekend demand generators.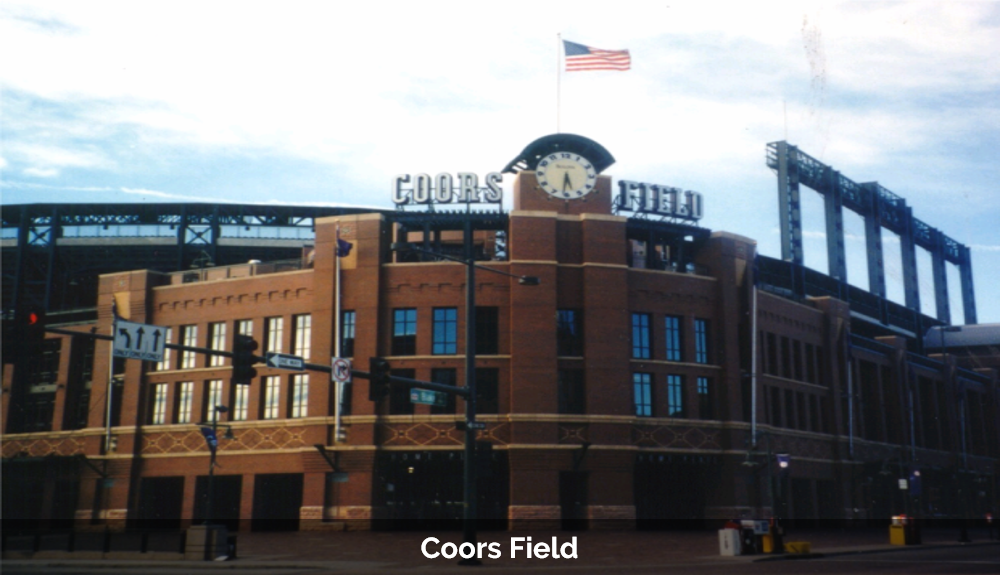 Professional sports draw millions of visitors to Denver. The NFL's Denver Broncos of the NFL play at Sports Authority Field at Mile High; the stadium also hosts the city's Major League Lacrosse team, the Denver Outlaws. The Colorado Rockies, Denver's Major League Baseball team, play home games at Coors Field in Downtown Denver. The NHL's Colorado Avalanche play at the multi-purpose Pepsi Center, which also hosts the Denver Nuggets of the NBA and the Colorado Mammoth of the National Lacrosse League. The city's Major League Soccer team, the Colorado Rapids, play in Dick's Sporting Goods Park in nearby Commerce City.
The Denver Center for the Performing Arts (DCPA), located at Curtis and 14th Streets in Downtown Denver, is one of the area's premier leisure attractions. The DCPA features the following venues: Boettcher Concert Hall, the first surround orchestra theater built in the United States; Denver Auditorium Theater, which dates to the early 1900s; Helen Bonfils Theater; and the Temple Hoyne Buell Theater, a 2,800-seat facility added in late 1991. The DCPA is known as one of the most innovative and comprehensive performing arts facilities in the country, offering an array of musicals, classics, and new plays.
The 16th Street Mall attraction in Downtown Denver features cafés, street performers, cart vendors, and high-end retail stores. The pedestrian mall features the outdoor Writer Square and the Denver Pavilions. In addition, Larimer Square and Union Station in LoDo feature fine dining and an array of boutique retail establishments, many of which are locally owned and operated. The Cherry Creek Shopping Center is the Rocky Mountain region's premier shopping venue with over 1.1-million square feet of space and 160 shops. The Cherry Creek Shopping Center's featured stores include Neiman Marcus, Tiffany & Co., Burberry, Louis Vuitton, and Ralph Lauren. The center reportedly attracts approximately one-third of its shoppers from out-of-state, making it an important leisure demand generator for Denver hotels.
Denver museums include the Colorado History Museum, the Forney Transportation Museum, the Children's Museum, the Molly Brown House Museum, the Denver Art Museum, the Leanin' Tree Museum of Western Art, the Turner Museum, and the Denver Museum of Nature & Science (featuring an IMAX Theatre). The Denver Zoo and Botanic Gardens also factor into Denver's strong leisure demand. The Botanic Gardens represent one of the top five botanic gardens in America, with more than 32,000 plants and over 2,000 species, including seven that are classified as endangered.
The Fiddler's Green Amphitheatre, located in the Greenwood Plaza near the Denver Tech Center, has a capacity of 17,916. The outdoor venue features 7,500 attached seats and a general admission lawn section. Opening in 1988, the amphitheatre originally began as a sculpture, consisting of only earth and grass, where local business employees could congregate to enjoy afternoon music performances. Eventually, walls and seats were erected to define the current structure. The venue, which is operated by AEG Live Rocky Mountains, underwent a $6-million renovation in 2014.
Closing Remarks
Denver's growth since the 2008/09 recession has been evident from all angles. The area's highly educated workforce, high quality of life, and abundant opportunities for outdoor recreation has brought in new businesses, tourists, and residents. The surge in new business has created higher levels of commercial demand for Denver hotels over the past several years, complementing the area's strong leisure demand. Higher levels of group and leisure travel also lie on the horizon, and hotel values should continue to realize positive gains through 2018. Supply additions into 2019 are expected to influence the local hotel industry, though only minimally. Demand in the Denver market has demonstrated an ability to keep pace with new supply in the recent past, and this supports a forecast for continued sustainable growth over the long term.