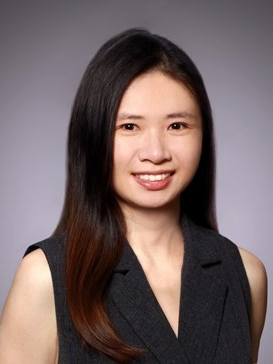 Reimagining the Future of Tourism
The pandemic has accelerated the technology and virtual reality scene in every industry, including travel and tourism. Is virtual travel the new way to travel? Will virtual travel replace the need for physical travel altogether?
Apart from online travel and Virtual Reality (VR) tourism, visitors can also opt for a virtual trip to an island via Nintendo Co.'s life simulation game "Animal Crossing: New Horizons." This includes the Sentosa island in Singapore and Sado Island in Japan. In early January 2021, Universal Studios Japan shared a virtual tour of the Super Nintendo World theme park before the official opening date on 4 February.
Hosting an Online Experience Globally
While travel borders may have been closed, Singapore has pushed for "Experience Singapore Now, Travel Later", where virtual local tours and experiences are igniting interested visitors to discover and enjoy 360° experiences of major attractions in Singapore.
In October 2020, Airbnb Experiences and the Singapore Tourism Board (STB) announced a two-year strategic partnership to support the international tourism recovery amidst the COVID-19 pandemic by co-promoting and producing a range of Airbnb Experiences hosted by passionate locals on the Airbnb Experiences platform. The two parties plan to enable co-branded content available to travel industry partners via STB's Tourism Information and Services Hub. To kick start this, the two organisations have jointly developed and launched Singapore Virtual Trips, a collection of Online Experiences hosted by Singapore tourism industry partners. The partnership aims to help local entrepreneurs leverage the economic benefits of experience-driven travel while offering international travellers an opportunity to explore Singapore virtually. In addition, it will strengthen Singapore's brand image and ensure that the country remains a priority as a tourism destination amongst global audiences.
Beyond Online Experiences, there are also plans to collaborate in the future to bring in-person Airbnb Experiences across various categories, including dining, nature, wellness, and the arts.
This year, SingapoReimagine MICE Virtual Show launched from 3 to 4 March 2021, showcasing live-streamed cultural and leisure tours, culinary masterclasses by celebrity chefs, a live panel discussion, one-on-one virtual meetings between participants and up to 40 leading suppliers including hotels, tour operators, and convention centres.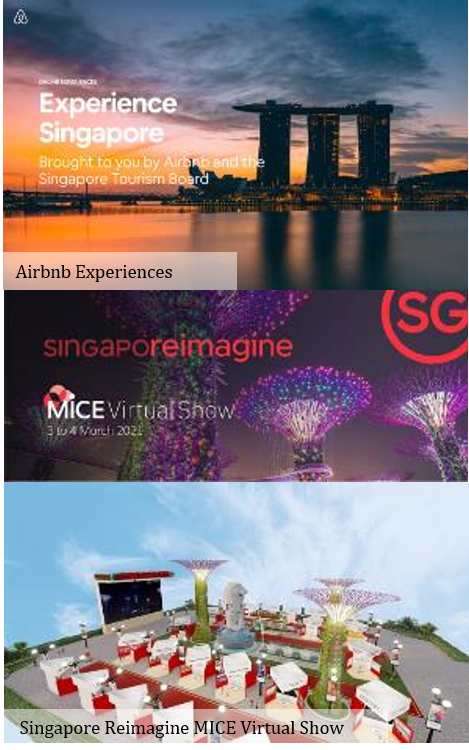 Source: Airbnb, Miceneurol

Vandana Kumar, founder of Hong Kong-based travel marketplace, TourHQ, mentioned that virtual travel has been gaining more popularity due to the longer-than-expected border restrictions as compared to in the early stage of the pandemic. She added that many visitors who have experienced the virtual tour expressed that they will definitely visit the destination once the travel restrictions have been lifted.
Similar Initiatives Within Asia
The Tokyo Metropolitan Government offers online tours featuring sightseeing spots across the Japanese capital. A total of 19 tours featuring different tourist spots using the Zoom videoconference system have been scheduled between October 2020 and February 2021. Travel companies in other parts of Japan have also rolled out various online tours. In November 2020, East Japan Railway Group hosted The Japan Rail Fair, featuring a myriad of seminars and activities on Japan travel, food and culture. This is followed by the Japan Nationwide Rail Trip hosted by JR West, JR Hokkaido and JR Kyushu.
Indonesia's most prominent travel portal, Traveloka, has collaborated with a tourism technology company, PT Atourin Teknologi Nusantara, to launch the Virtual Tour from Online Xperience that offers experiences of local and overseas destinations in October 2020.
Maldives Virtual Tour was successfully launched in partnership with Visit Maldives on 31 December 2020, with a collection of over 2000 virtual tours from more than 150 islands. Maldives Virtual Tour Expo, a virtual consumer travel fair held quarterly, is also anticipated to be launched this year.
In February 2021, Hong Kong Tourism Board launched its first global fan-engagement program, "Hong Kong Super Fans", with a Chinese New Year-themed virtual tour that brought online participants to popular attractions.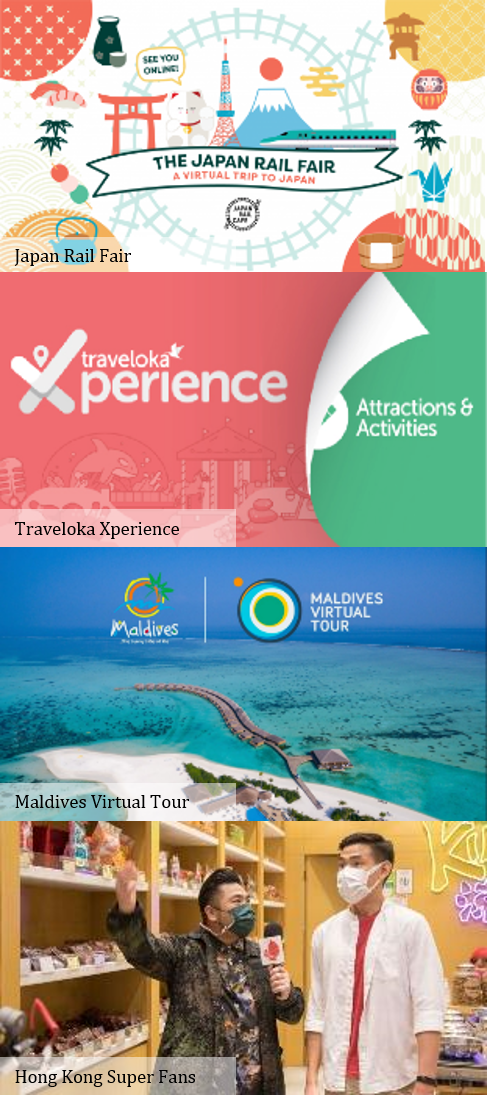 Source: Japan Rail Times, Traveloka, Maldives Virtual Tour, Hong Kong Tourism Board
Virtual Reality Tourism
While people have been talking about VR for a while, many of the virtual travel companies have not gained much attention till the COVID-19 pandemic hits. A VR tour offers a 360° view of a location that can be viewed using VR headsets (Oculus Rift, Google Cardboard, Samsung VR Gear).
In January 2019, Changi Airport Group collaborated with STB to launch Trishaw 360 Singapore Stories by leveraging on VR and 4D simulation. The partnership aims to bring a different experience, allowing passengers to get the first impression of Singapore without the need to leave Changi Airport. Each ride on the trishaw features three different locations and takes approximately 3 minutes to complete.
In October 2020, STB has announced working with the National Heritage Board to create 1,000 3D models of cultural and heritage items, among other things, that can be viewed through a user's phone camera. This is part of the Augmented Reality (AR) Strategy, their ongoing efforts to drive the digital transformation in the tourism industry.
As part of its marketing campaign, Tourism Australia taps into a host of cutting-edge VR and 360° mobile technologies as early as 2016. In September 2020, Tourism Australia launches "8D Escapes" which includes a series of new immersive videos which offer 8D sound and sensory experience of Australia's iconic destinations.
In India, the Ministry of Tourism has collaborated with OutsiteVR, a travel tech startup in Aug 2020. The aim of this collaboration is to empower people to travel India virtually and further promote Incredible India campaigns.
Recently, The Tourism Authority of Thailand launched a series of VR tours to four destinations in Thailand including Bangkok, Chiang Mai, Phuket and Surat Thani. The tours allow visitors to explore the attractions in 3D via individual links on the Tourism Thailand Virtual Tours main page.
Tourism boards in other countries including Hong Kong, Japan, South Korea, Indonesia, and Vietnam have also utilised 360° videos and images of major attractions on their tourism website.

Source: cargocollective
Survey Insights
In anticipation of future travel needs, we have conducted a Virtual Tourism Sentiment Survey which received a total of 290 responses globally. While most of the respondents have heard of online travel experience, a substantial 36.2% are not aware of this alternative travel experience.
Since the majority of the respondents (74.6%) prefers a private setting, either as a group or individual for the online travel experience, and most of them get to know about the online travel experience through word-of-mouth, there is a huge potential to attract and engage new travellers through this form of marketing strategy, coupled with a strong awareness campaign.
Only 5.5% (16 respondents) have tried online travel experience before COVID-19 while 4.8% (14 respondents) have tried during COVID-19, representing a small share. Generally, the online travel experience has received positive sentiments for those that have experienced it. More than half of them rated the whole experience as above average and have tried it more than once. The majority of them indicated strong interest to visit the place after the online travel experience and to continue this form of travel post COVID-19.
Slightly more respondents are willing to try online travel during COVID-19 as compared to before COVID-19. The neutral interest from respondents may be contributed to irreplaceable elements of physical travel including tangibility (Smell, Touch, Taste, Weather, Ambience), quality of visuals, social interactions, commuting experience, the excitement of travelling to another environment, and the ability to take photos with the scenery for memory keeping.

On the other hand, more than 70% of the respondents prefer VR Tour over online travel experience and concur that incorporating AR as part of the travel experience may attract them to visit the destination.
Key Takeaways
Top Three Reasons in Favor of Online Travel Experience:
Gain First Impression of the Destination
Hassle-Free
Easy Accessibility to Not-so-convenient Destinations
Top Three Reasons Not in Favor of Online Travel Experience:
Impersonal/Incomplete Experience
Uninteresting/Not Engaging
Lack of Social Interaction
Top Three Preferred Type of Online Travel Experience:
Cultural
Nature
Adventure
Top Three Reasons to Try Online Travel Experience:
Broadening Knowledge
Preliminary Insights on Places to Visit
Convenience
While we expect a surge in popularity in virtual tourism, travellers will want to fill the gaps of the irreplaceable elements through physical travel. However, tourism authorities and businesses will be able to tap on this emerging trend to increase awareness of new destinations and their tourism offerings ahead of borders reopening.

Virtual Tour Experience Survey
Figure 1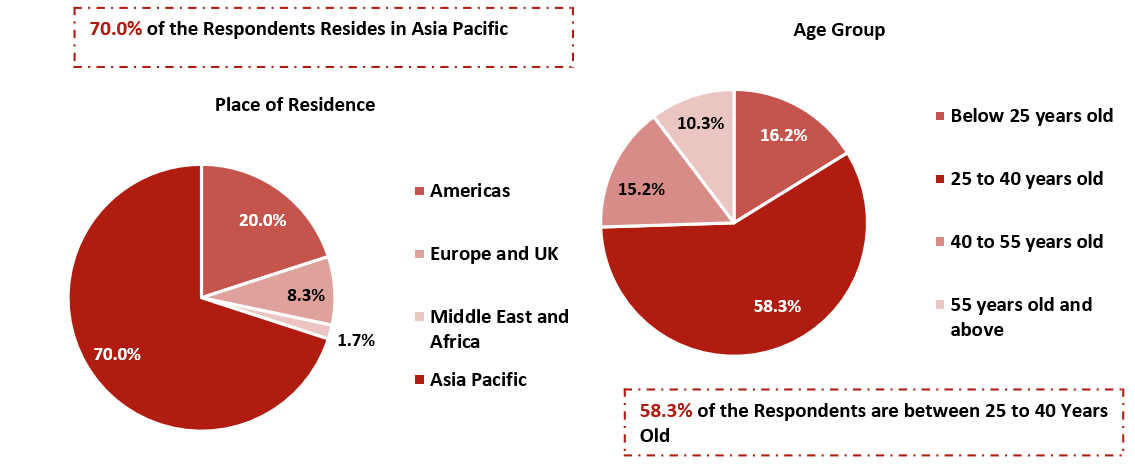 Source: HVS
Figure 2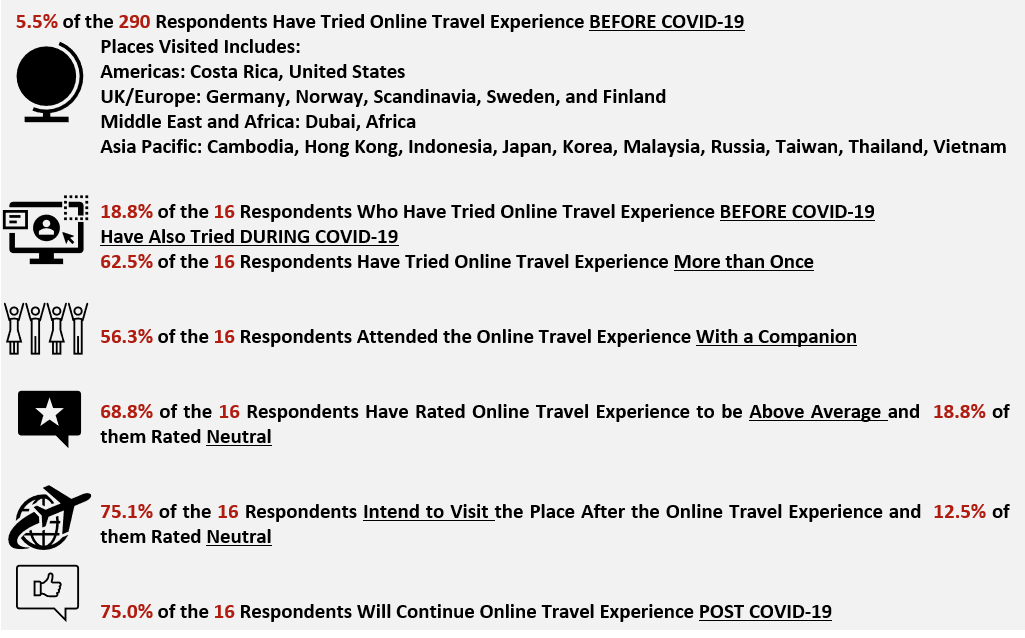 Source: HVS
Figure 3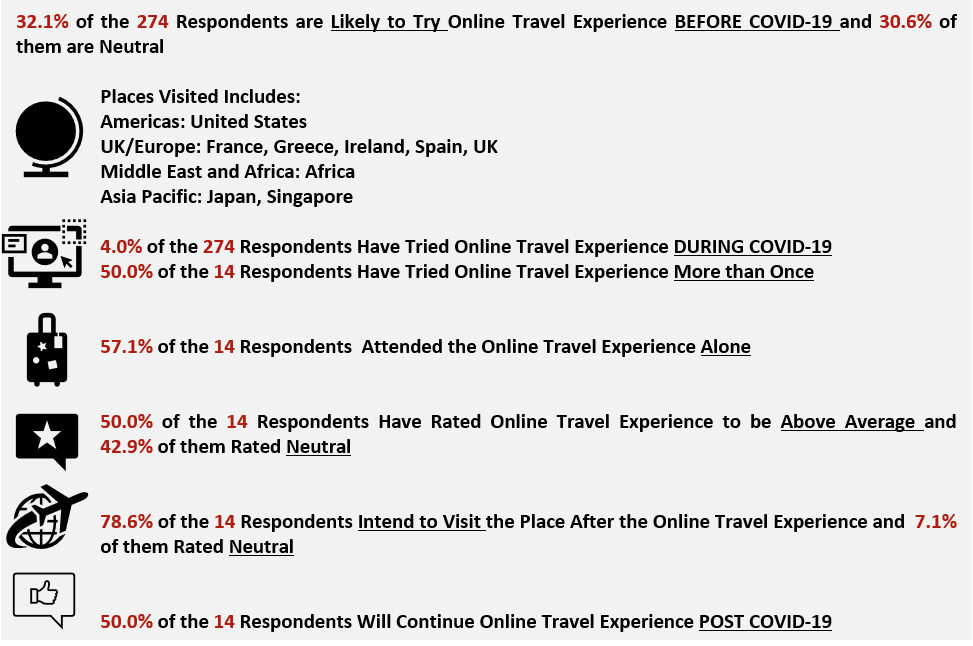 Source: HVS
Figure 4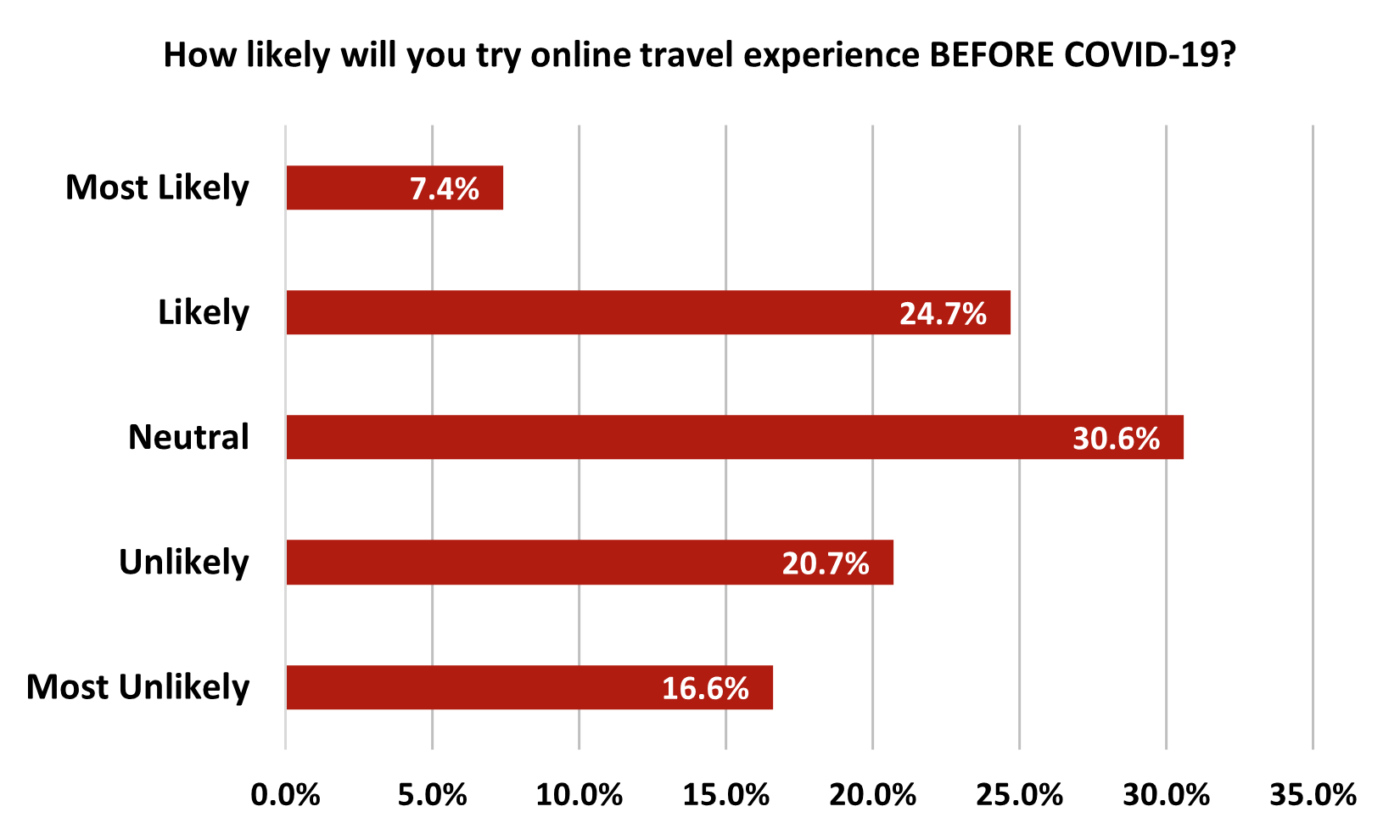 Source: HVS

Figure 5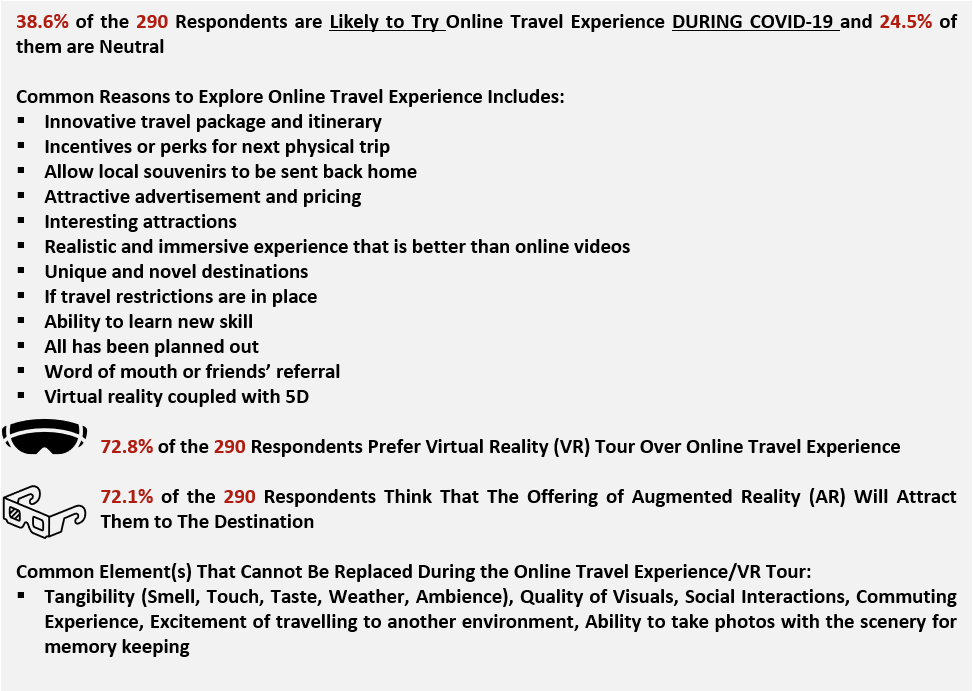 Source: HVS

Figure 6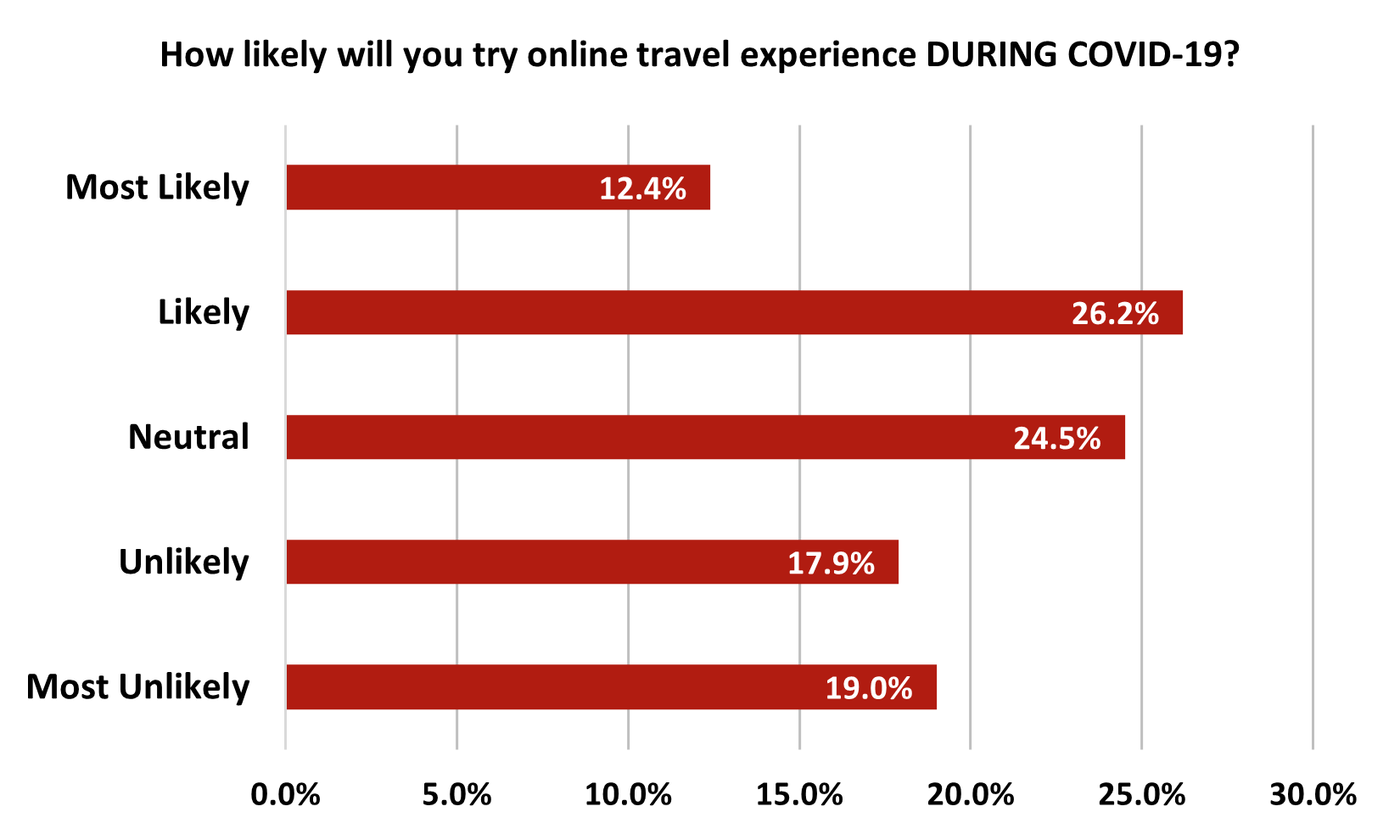 Source: HVS

Figure 7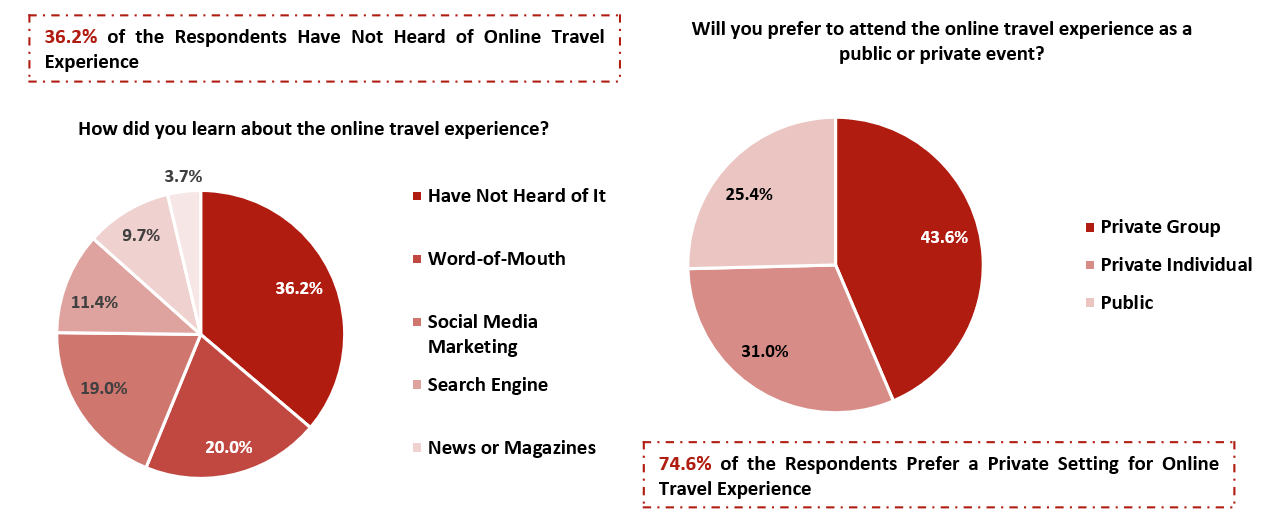 Source: HVS

Figure 8
Source: HVS

Figure 9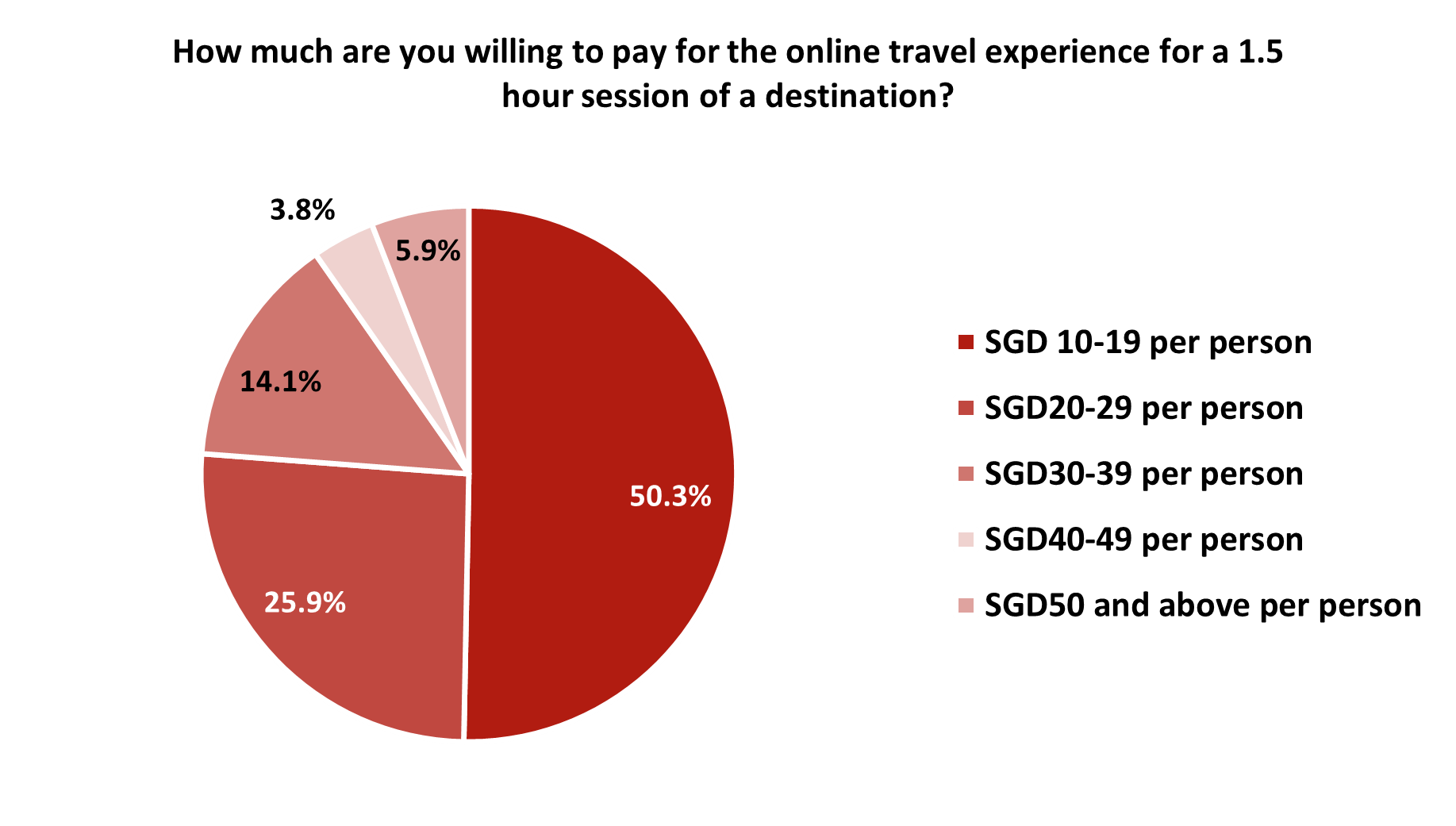 Source: HVS

Figure 10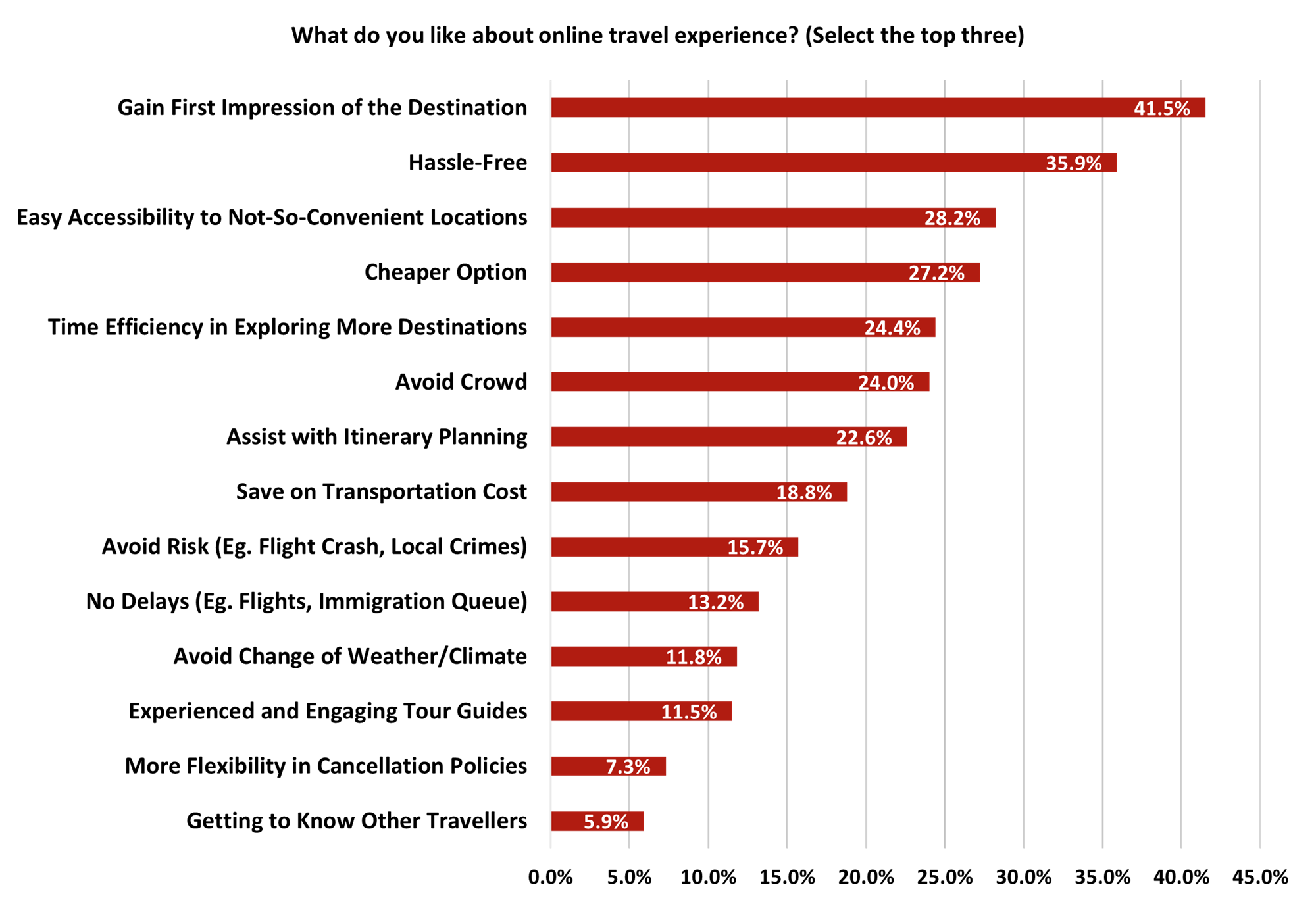 Source: HVS

Figure 11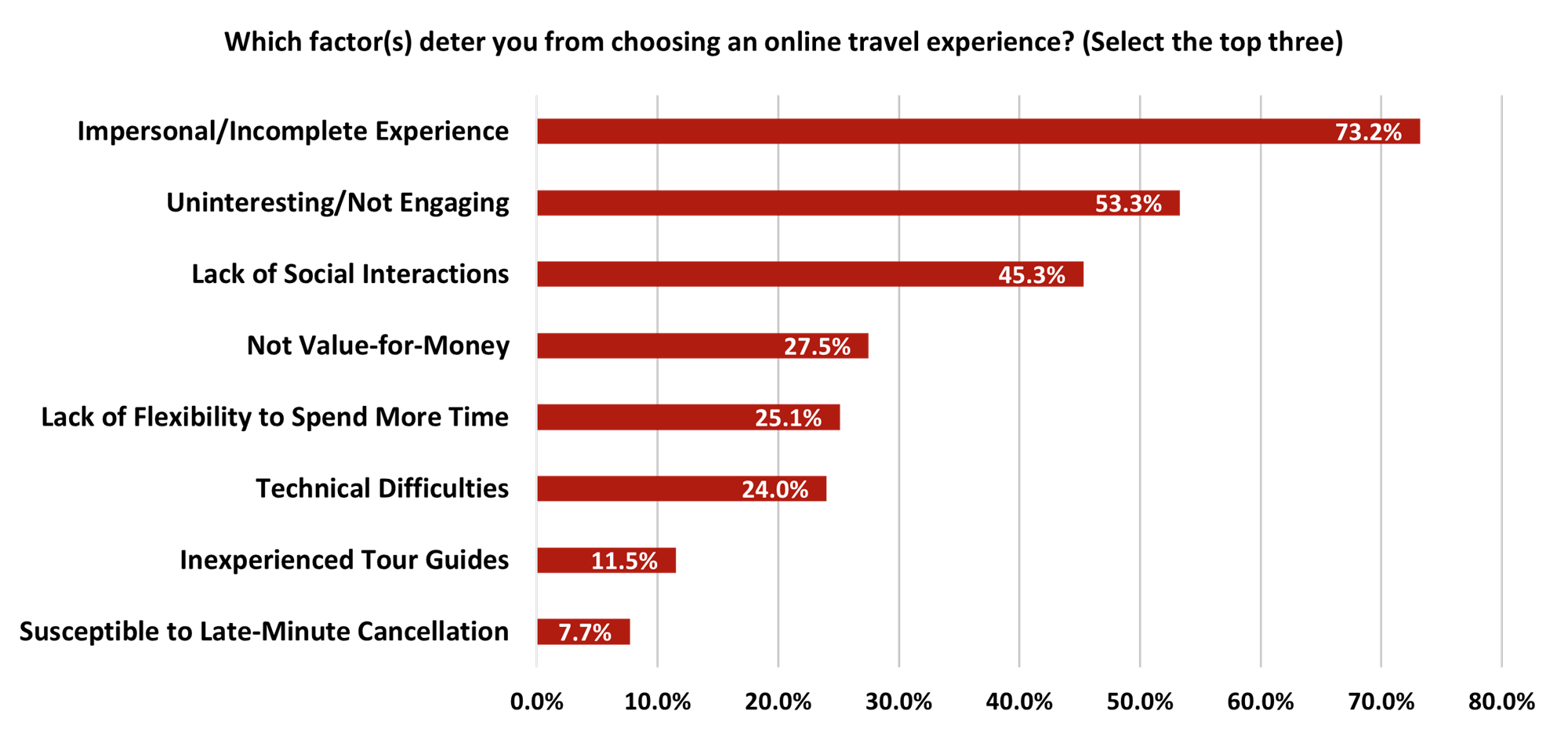 Source: HVS

Figure 12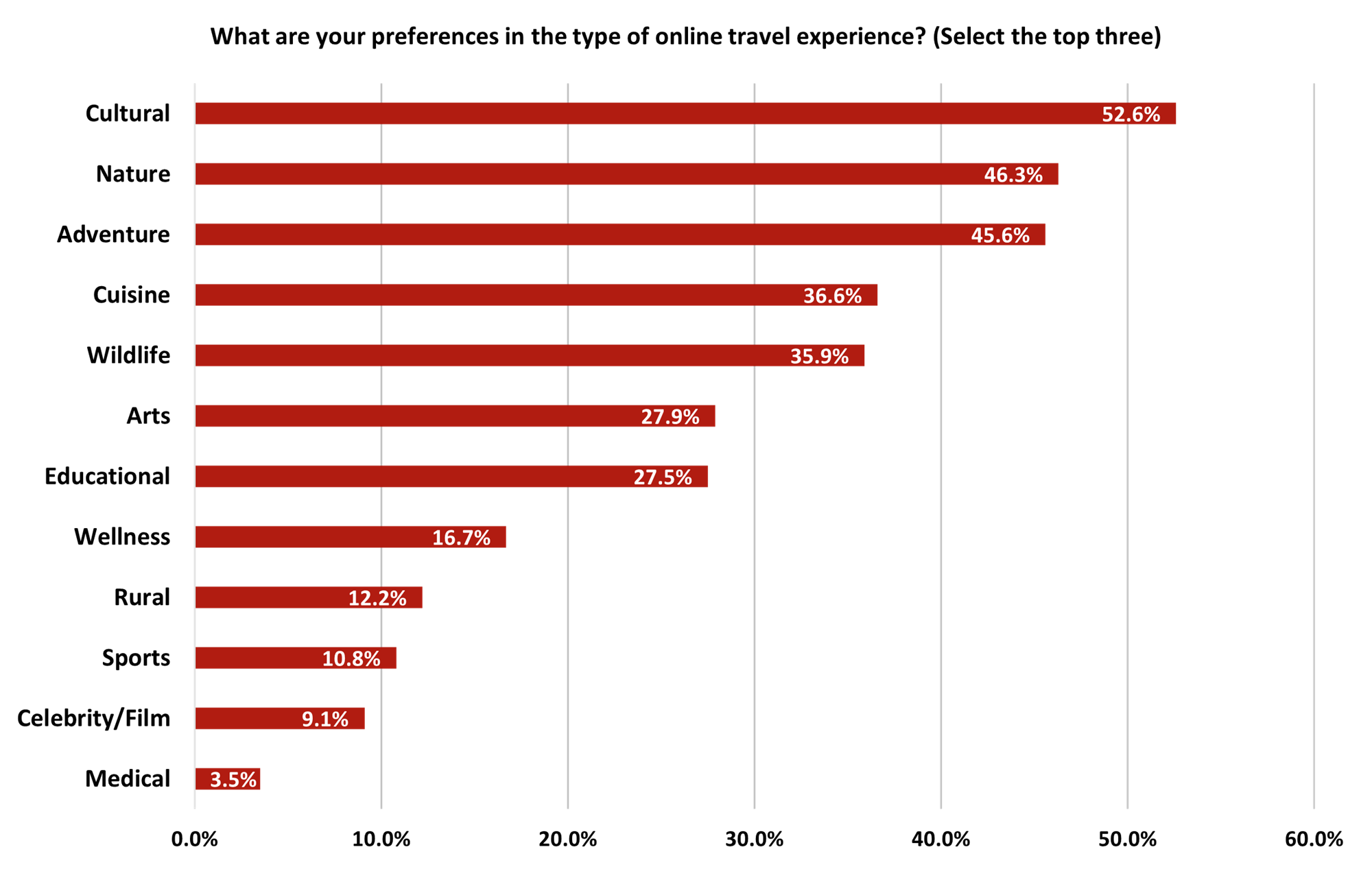 Source: HVS

Figure 13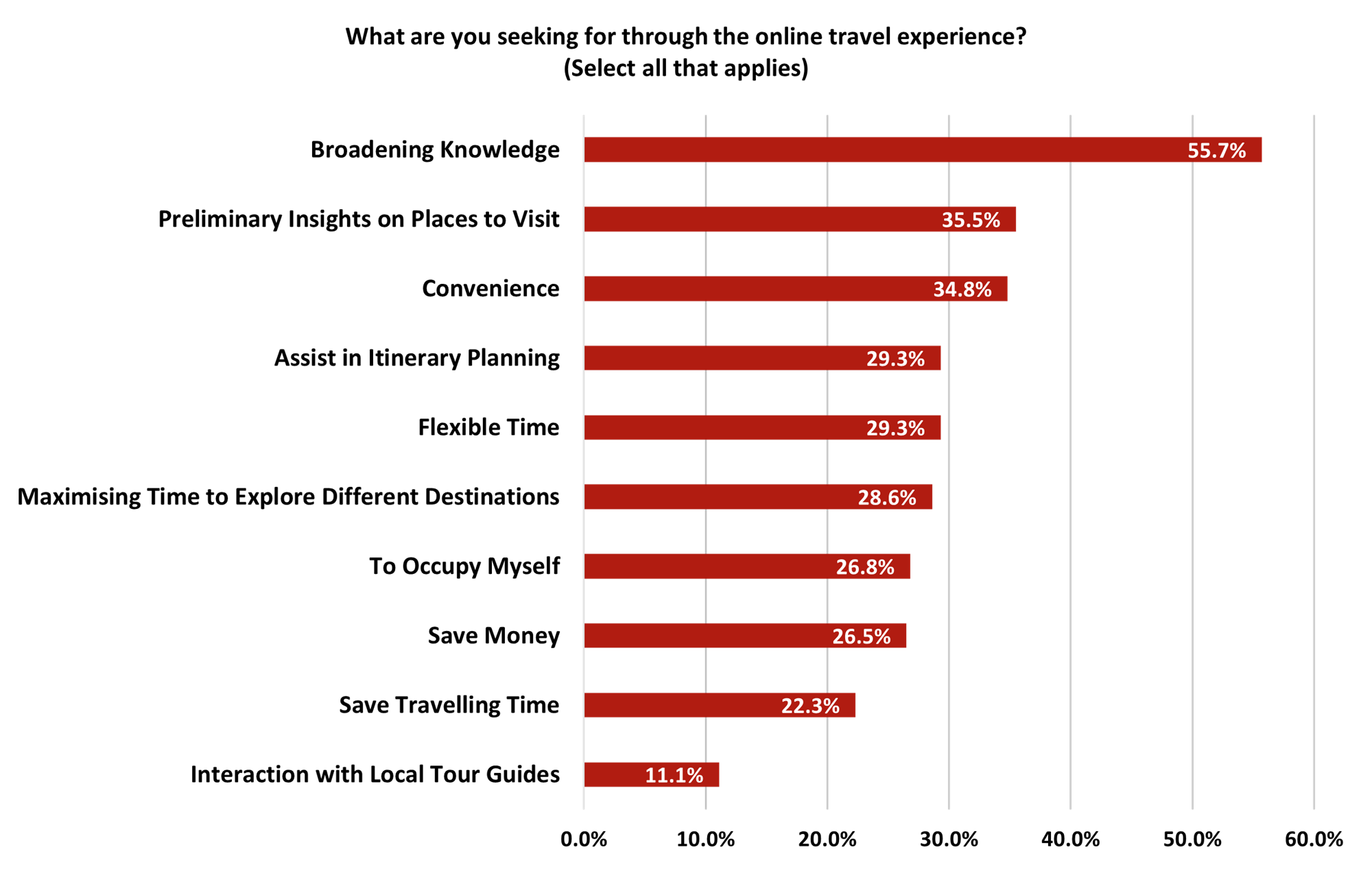 Source: HVS