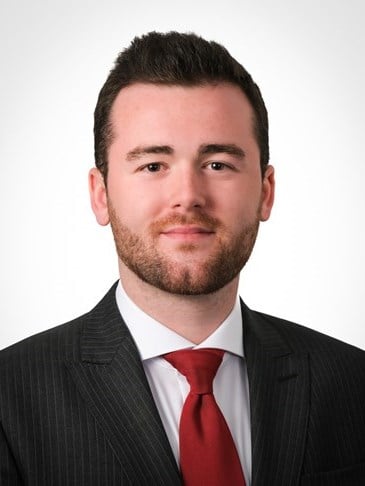 As the seventh-largest city in Germany, Düsseldorf is predominantly a MICE and business destination, owing to its ample supply of convention space and its proximity to many company headquarters. The city's proximity to other German cities (such as Cologne, Dortmund and Essen), easy access to the Benelux region and its well-developed international travel network have all been contributing factors to Düsseldorf's growth.
The COVID-19 pandemic strongly affected international and business demand in Düsseldorf, and thus its hotel market; however, the easing of travel restrictions and successful vaccination rollout in Germany and across Europe have allowed significant events to resume, resulting in a market bounce in the second half of 2022, in line with the country's economic growth.



Sources: Messe Düsseldorf; Airports Council International; AM:PM; HVS Research

Economic Indicators – Germany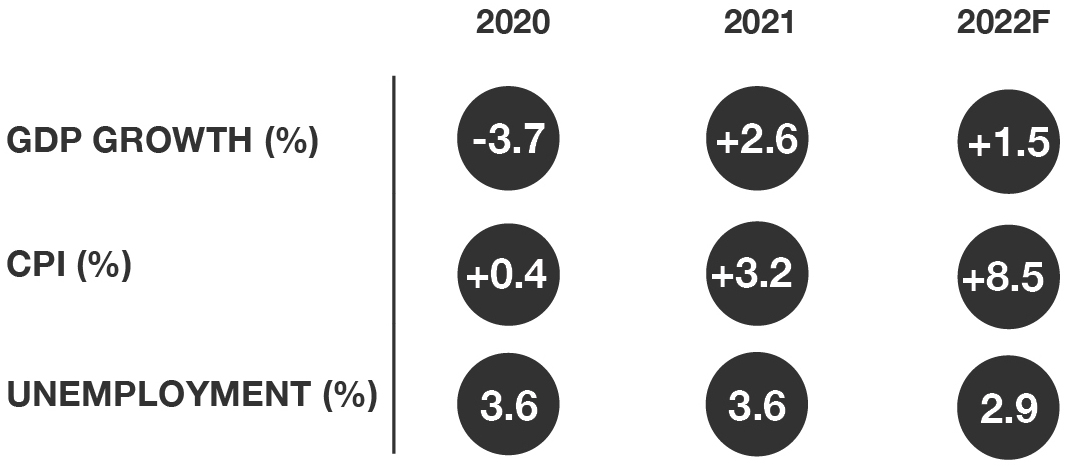 Sources: OECD; IMF, 2022
Location/Transportation
The city is in northwest Germany, 34 km from Cologne, in the centre of the Rhine-Ruhr region, which has a population of 11.4 million. Düsseldorf, which covers an area of 217 km², is located where the Rhine meets the Düssel. The city is the seventh largest in Germany and continues to show consistent yearly population growth.
In 2019, Düsseldorf International Airport achieved record-breaking figures in passenger movements, strengthening its position as Germany's fourth-largest airport. In recent years, the travel hub developed a more international profile, with 60 airlines offering direct flights to 151 destinations as of 2019. This allowed the airport to record a 2.5% compound annual growth rate (CAGR) in passenger numbers over the 2011-19 period. In 2020, the number of passengers declined by 74% owing to the pandemic, despite a strong start to the year.
The airport is well connected to the city, which is 20 minutes away. Düsseldorf also benefits from well-developed road, rail, bus and tram networks, and two overground lines (U-bahn and S-bahn).
Tourism Demand
Düsseldorf benefited from consistent tourism growth in the past decade, recording a 3.4% CAGR from 2011-19. In 2018, visitor numbers peaked at 3 million and remained somewhat stable in 2019. Düsseldorf benefits from strong corporate and MICE demand, but also increasingly from leisure visitors, owing to the numerous cultural and tourism attractions in its historic centre.
As with the rest of the world, the onset of the COVID-19 pandemic hampered not only tourist arrivals (down 65% from 2019), but also the economy of the region, which is heavily reliant on trade and business tourism.
While international visitation had increased steadily over the past decade, this segment was the most affected by the pandemic owing to travel restrictions. The city's reputation for exhibitions and its ability to attract major domestic and international companies enabled a somewhat strong recovery.

Arrivals by Source Country – Düsseldorf 2019 (000s)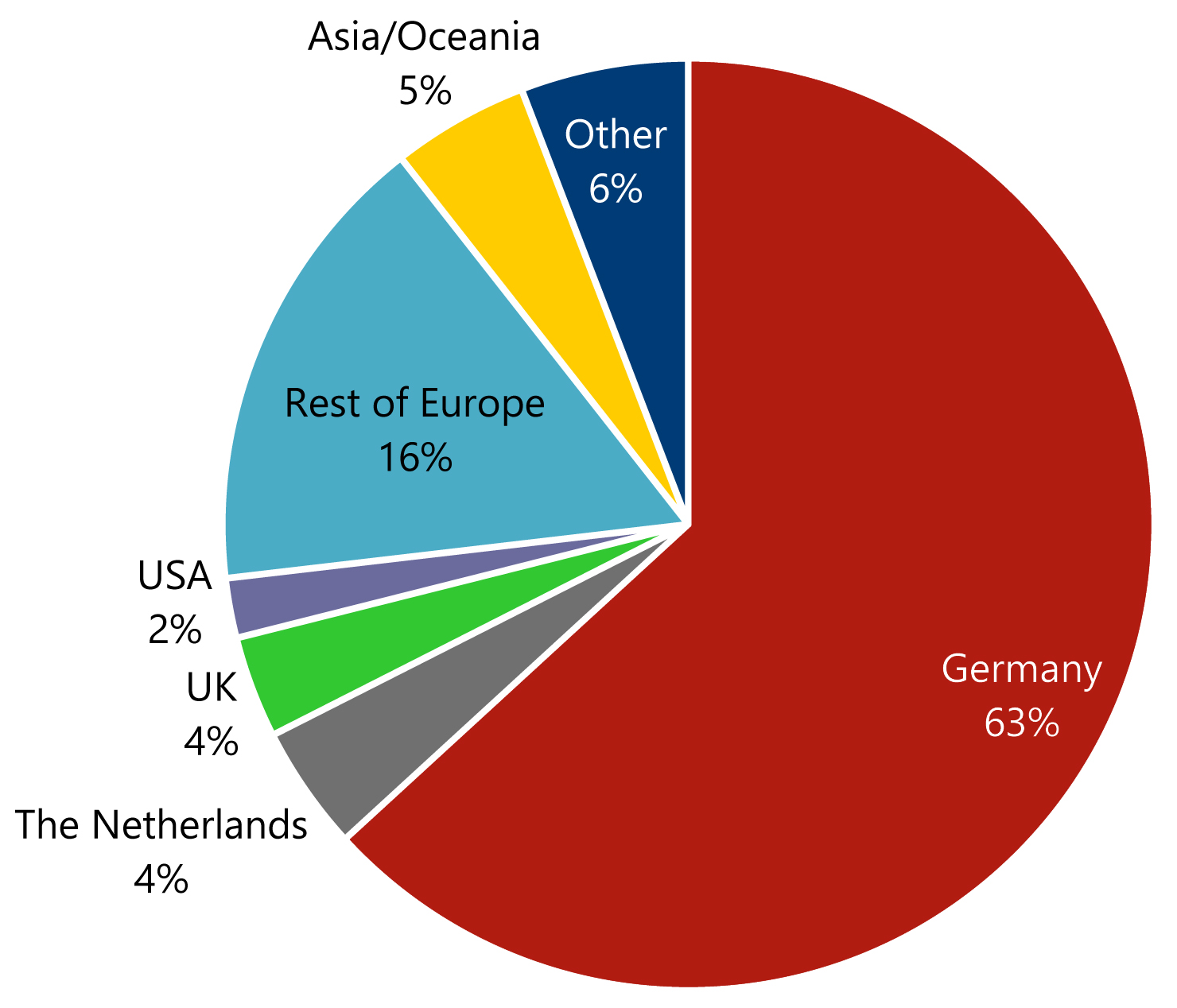 Source: Düsseldorf Tourism Office
Trade Fair Scene
Germany is the world's top location for trade fairs, with around two-thirds of the world's trade fairs taking place in the country. In terms of trade fair visitation, Düsseldorf was sixth in Germany, with 1.6 million visitors in 2016. As the city's main venue, Messe Düsseldorf, with 305,000 m² of exhibition space, organises nearly a fifth of premier trade shows globally and is currently ranked the tenth-largest convention centre worldwide. From 2011-19, exhibitor and visitor numbers remained stable. Messe Düsseldorf saw its visitation drop by 65% in 2020 and a further 45% in 2021. While the recovery started in the spring, Düsseldorf still has some way to go to regain its pre-pandemic attendance levels. Anecdotal evidence indicates that the number of enquiries for events at hotels keeps increasing, which could be an indicator of the general appetite for hosting events. We expect this trend to be broadly comparable to that of larger fairs and conventions, which should therefore continue to improve over the next year.
Seasonality
Düsseldorf has a somewhat atypical seasonality as the city's performance strongly depends on the exhibition and trade fair schedule. As a result, there are only a few months when the volume of accommodated bednights falls, mainly in February and April, and slightly in August, although these troughs are now less pronounced than they were in the past. On the other hand, the high season in Düsseldorf takes place during March, June, September, October and November, when business visitors make up most of the demand and when there is also leisure travellers.
Tourism started to recover from COVID-19 in the second half of 2021 and continued in 2022, after a subdued start to the year. As can be seen in the chart below, April saw arrivals at 80% of the volume of 2019 while May and June surpassed 2019 levels.

Bednights – Düsseldorf 2019-22
Source: Düsseldorf Tourism Office
Hotel Performance
Düsseldorf's hotel performance has been negatively impacted by the COVID pandemic, especially due to the city's heavy reliance on MICE and international demand. That was apparent not only in 2020, but also in 2021 as hotels struggled to fill their rooms owing to the imposition of strict travel restrictions. 2022 is providing signs of recovery with occupancy reaching 40% for the year-to-May 2022. Rates are still down 10% compared to 2019 levels, but are ramping up as demand increases. The outlook remains positive as the city's fundamentals are strong owing to its economic and trade activities, with some concerns over the potential impact of new supply as it comes into the market. Recent evidence from the market indicates a strong pick-up in demand following the lifting of restrictions in March 2022. Most notably, the city-wide average rate is experiencing a robust recovery, with RevPAR levels for May, June and August having almost recovered (90%) to 2019 levels.

Key Metrics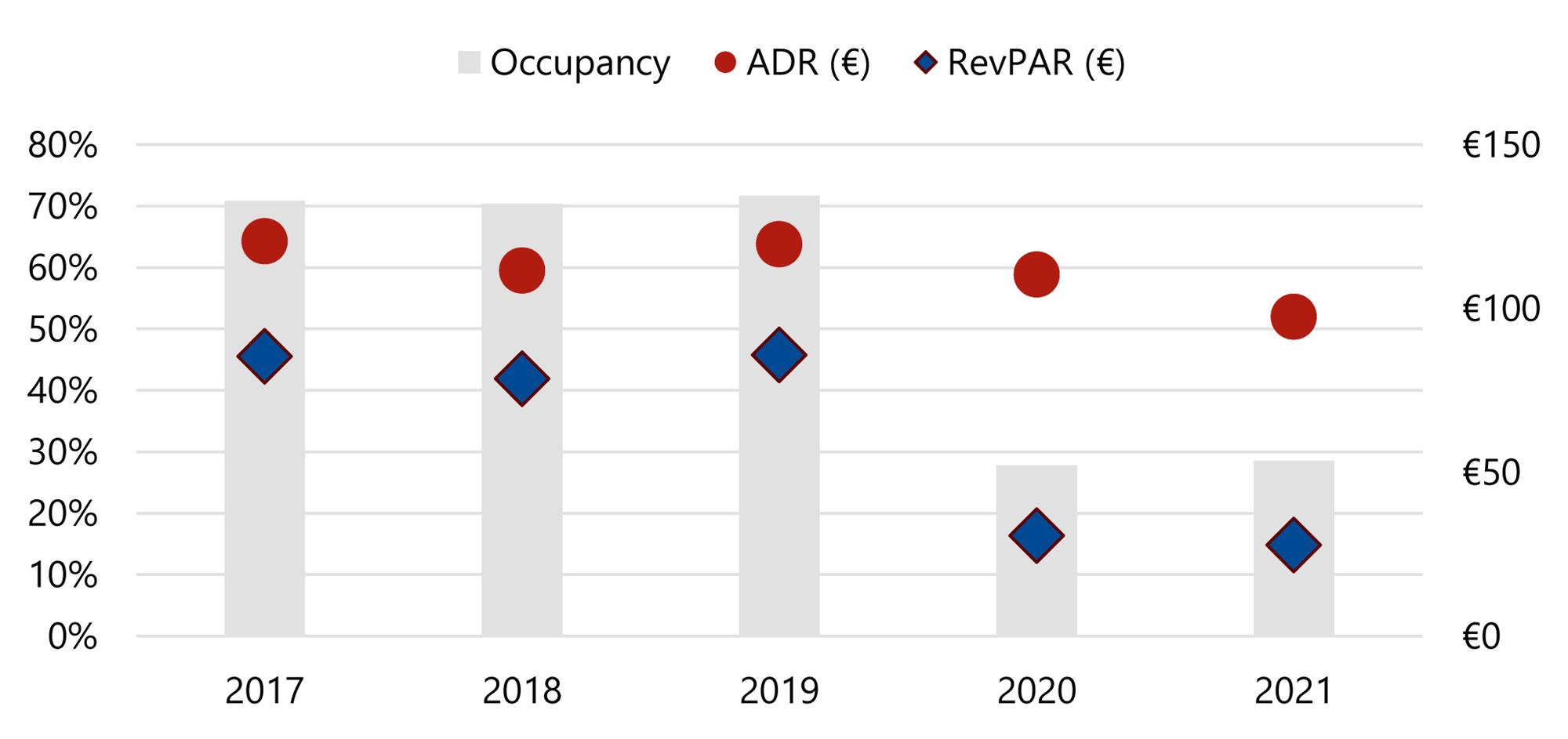 Source: HVS Research
Hotel Supply
Together with Hamburg, Düsseldorf has experienced more growth than the other main German cities in terms of the number of rooms at a CAGR of 3.3% from 2011-22, or 5,300 additional rooms for a total of 17,600.

Hotel Supply by German City
Source: HVS Research

Hotel supply has been mainly driven by growth in three- and four-star hotels and apartments, which underlines the demand profile of the city, led by domestic corporate and MICE demand. Five-star is the only category that shows a decline in the number of properties over this period. On the other hand, the apartment category experienced a 7.6% CAGR increase in the number of rooms, proving the strong interest in serviced apartments in the city.

Current Hotel Supply by Category – Düsseldorf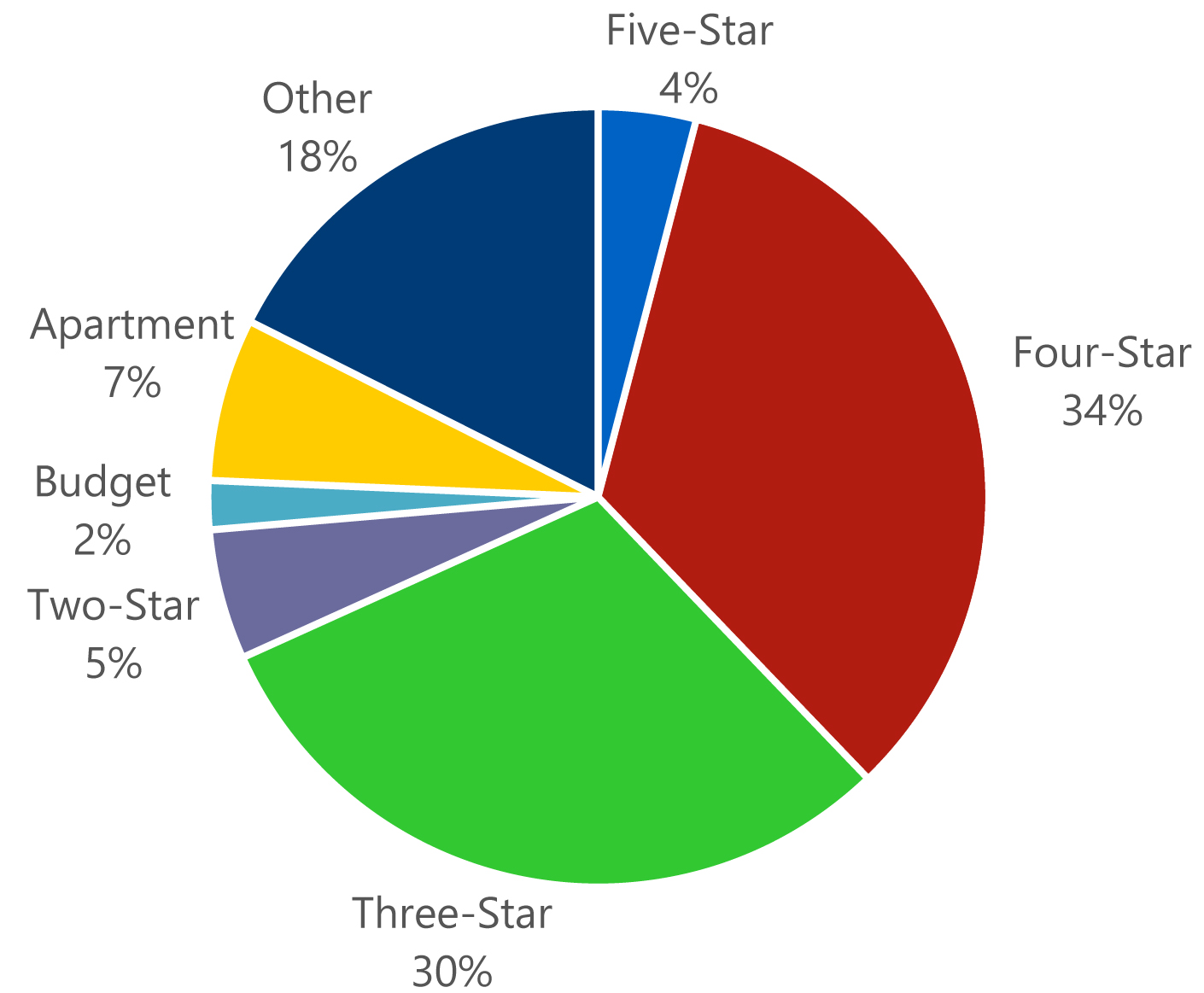 Source: HVS Research

According to our research, around 3,000 rooms (13 projects) are expected to enter the market in the next three years, representing an 18% increase in the existing room supply. Notable projects include the 324-room Holiday Inn Express at Düsseldorf Airport, the 431-room niu Hub and the 175-room Hyatt Place, both in Derendorf and scheduled to open in Q4 2022 and Q1 2027, respectively.

Hotel Pipeline – Düsseldorf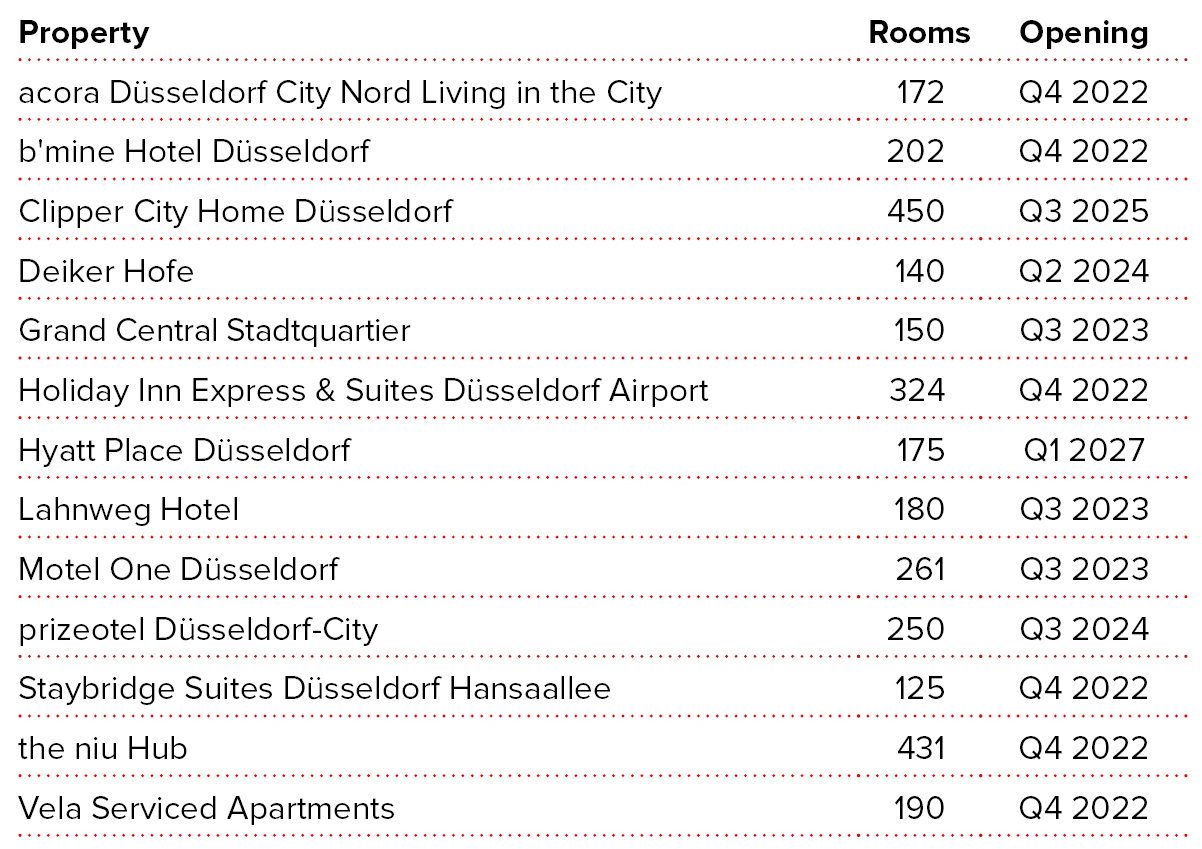 Source: HVS Research

Hotel Supply Projections – Düsseldorf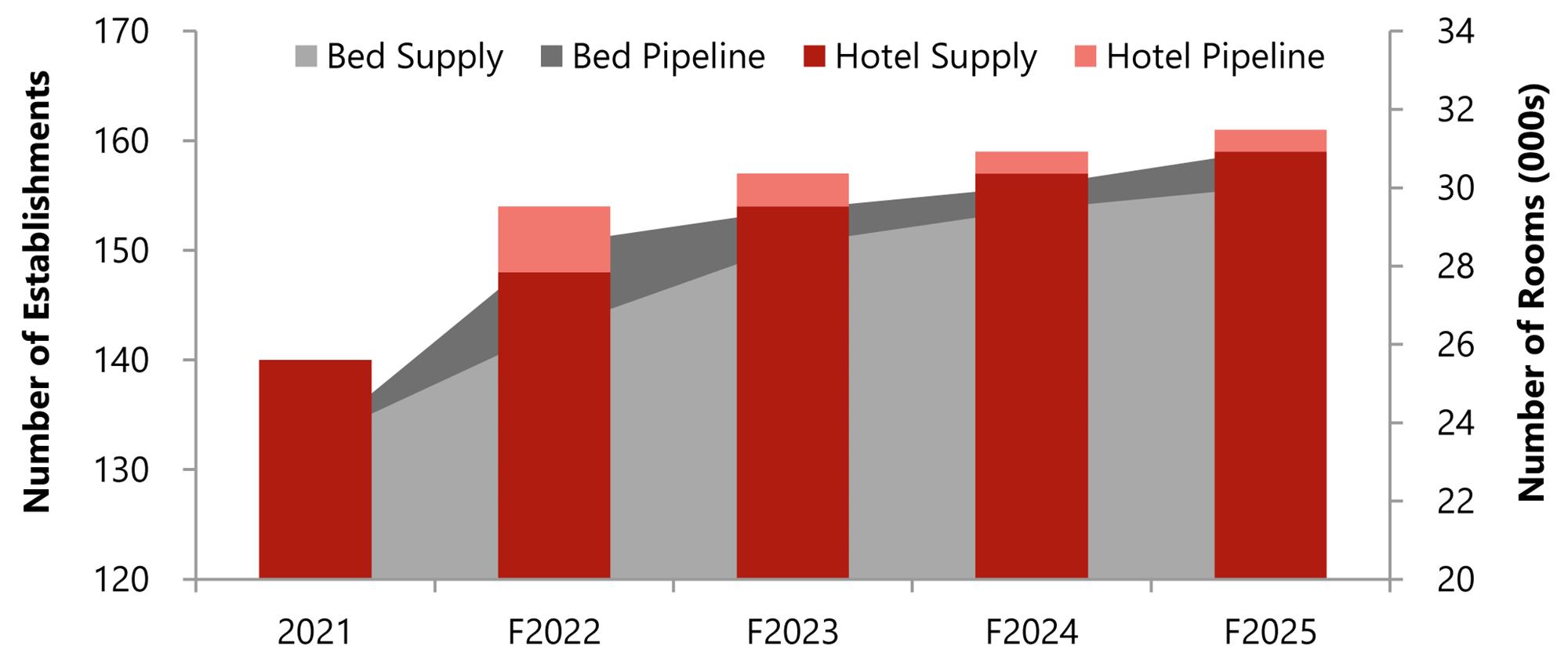 Source: HVS Research
Investment Market
Over the past decade, Düsseldorf has remained among Germany's core hotel investment destinations. Notable pre-pandemic transactions include the sale of the 533-room Maritim Hotel Düsseldorf for €162 million and the sale of the 330-room NH Düsseldorf City Nord for €97 million.
The COVID-19 pandemic strongly affected Düsseldorf's hotel investment market, with only very few transactions taking place since March 2020. On the other hand, Düsseldorf has not experienced any distressed sales throughout the period, proving the market's resilience. The sale of the 244-room Renaissance Düsseldorf in August 2021 and the 249-room Me and All Hotel in July 2022 point towards the start of the recovery.

Hotel Transactions – Düsseldorf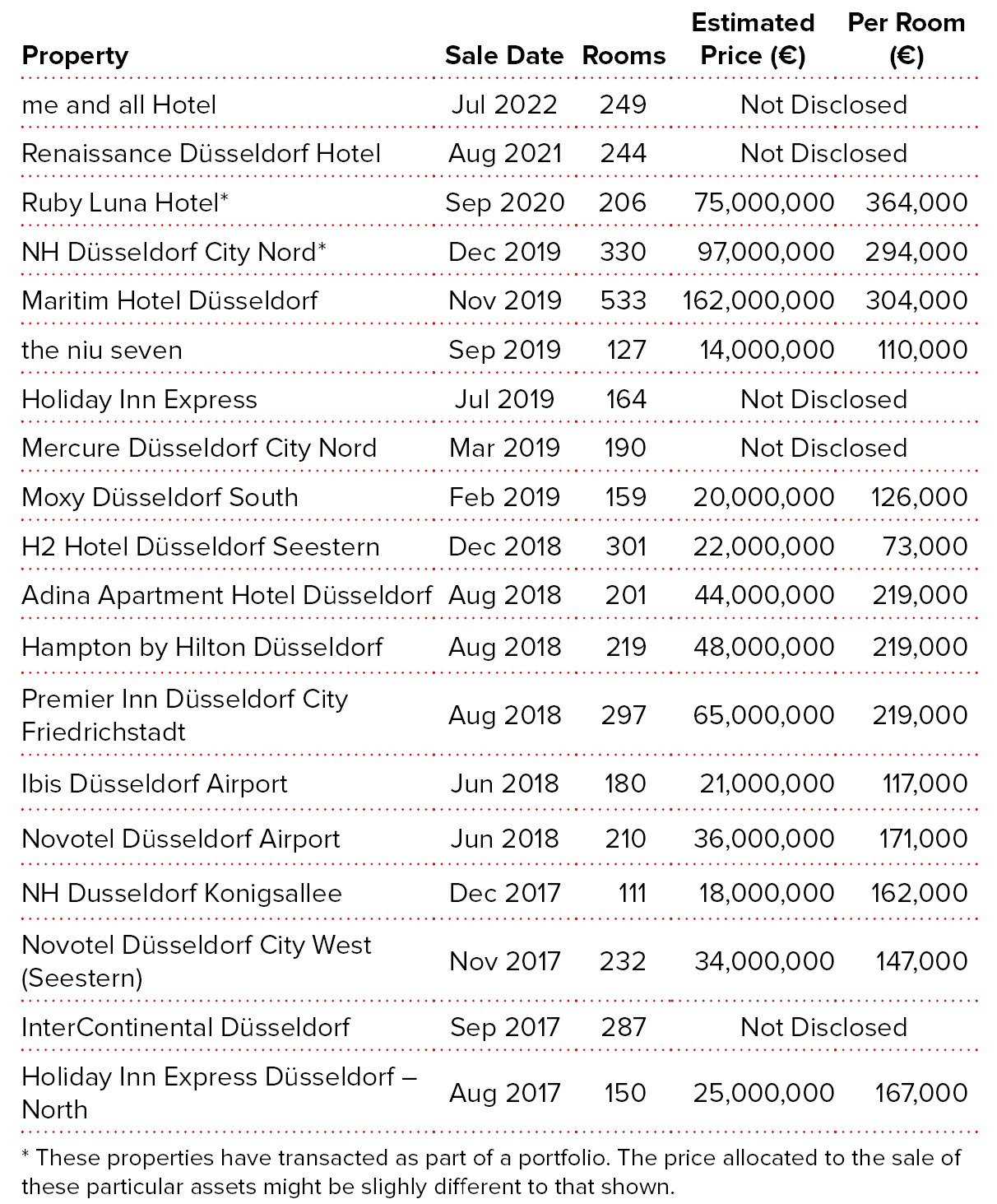 Source: HVS Research
Outlook
Düsseldorf is, without doubt, a strong and established hotel market, benefitting, pre-pandemic, from strong fundamentals such as a robust trade fair market, growing arrival numbers, and a well-connected air and land transport network. Despite consistent growth in arrivals, its heavy reliance on the trade fair market results in volatility in terms of visitation, which impacts the hotel market.
The city's recovery is expected to continue to be driven mainly by its strong business and MICE demand. However, the substantial new supply, should it fully materialise, could slow the pace of recovery.
Düsseldorf's relatively low leisure demand presents opportunities to improve demand-base diversity. To this end, the city is making efforts to increase leisure travel by promoting itself as a fashion, art and cultural destination. This should lead to Düsseldorf's international travel base increasing its market share and broadening the market's seasonality, further strengthening the fundamentals for Düsseldorf and continuing to attract investor interest for years to come.

Value Trends

Source: HVS Research