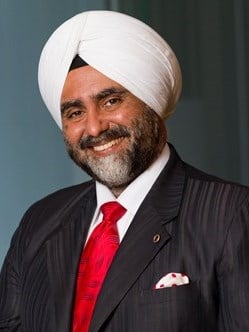 FOREWORD
India has witnessed rapid economic growth in the past few years with a GDP growth averaging over 7.5% for the period 2014-2018 facilitated by a host of economic and policy reforms by the Government of India (GoI).
Transformative reforms such as the RERA (Real Estate Regulation and Development Act), Insolvency & Bankruptcy Code, and Arbitration and Conciliation (Amendment) Act are game changing initiatives that will go a long way towards enhancing transparency and investor confidence. The government also unified the country into a single market with the introduction of the Goods and Services Tax (GST), a much-needed tax reform, thereby, easing the flow of goods and services across states.

These reforms have not only helped India to maintain its leadership status as the world's fastest growing major economy but also helped the country remain competitive in the global scenario. As a result, between 2014 and 2019, India has jumped 79 positions to 63rd rank in the World Bank's Ease of Doing Business Index in 2019.
While in general these reforms have benefitted the Indian travel and tourism (T&T) sector, which is among the fastest growing in its group globally, setting up a hospitality business in India and achieving reasonable scale is accompanied with its own set of challenges as compared to developed economies.
In this report, we have tried to highlight the key challenges that inhibit the entry of fresh capital in the Indian hospitality sector, while discussing some of the immediate reforms needed for the sector to reach its full potential.

An established industry leader, Mandeep has won several awards and recognitions in India and abroad for his accomplishments and contribution to the hospitality industry. He is a Certified Hospitality Administrator from the American Hotels Association (CHA), a member of the Royal Institute of Chartered Surveyors, UK (MRICS) and a member of the Tourism Council of CII (Northern India). His views are often solicited for television and print media as a spokesperson for the hospitality & tourism sector.
Prior to joining HVS in 2018, Mandeep was the Managing Director, Hotels & Hospitality Group for JLL.
Contact Mandeep at +91 981 1306 161 or
[email protected]
Mandeep S. Lamba, President – South Asia, oversees the HVS global hospitality practice for South Asia. He has spent over 30 years in the hospitality industry of which the last 19 have been in CEO positions. Having worked with leading International and domestic Hotel Companies such as IHG, Radisson & ITC Hotels, he also set up joint venture companies with Dawnay Day Group UK and Onyx Hospitality, Thailand to own and operate hotels in India giving him a broader exposure to the hospitality business.