An HVS Quarterly Macau Update
With the introduction of various family-oriented resorts in the Cotai Strip, more diversified tourist base is embracing Macau as a destination, as compared to the casino crowd in the downtown area of old. The wide range of activities offered in these resorts, from gaming to non-gaming, have led tourists to visit Macau. The newly-opened resorts induced demand, notably tourists from mainland China, South Korea, and Japan, which greatly improved hotel performance in both occupancy and average rate (ADR).
Macau Visitor Arrivals
The results of diversifying Macau tourism from solely a gaming hub to a family-resort destination seemed to be well-received among travellers, given that visitor arrivals in 2017 reached a record high at 32.6 million, a 5.4% YoY increase. As more resorts are being introduced in the Cotai area, such as The Parisian Macao, Studio City, and MGM Cotai, these resorts increasingly target customers who enjoy non-gambling activities.
Compared to the previous quarters in the year which also registered positive growths, the fourth quarter registered the strongest YoY growth of 8.4%. The top five key source markets remained the same as the fourth quarter of 2016 (in order of size): mainland China, Hong Kong, Taiwan, South Korea, and Japan.
Good news for the city is that the family-oriented resort concept is particularly appealing to Chinese travellers, as their spending pattern trend is evolving from shopping to intangible experiences, such as dining, entertainment, and cultural activities. In the fourth quarter, Macau received an impressive 14.9% YoY growth of 6.1 million mainland Chinese visitors, credited to the varied types of attractions from glamourous resorts and entertainment shows to historical tours.
The persistent trend of rising South Korean visitors coming to Macau could be seen in the fourth quarter, recording a remarkable growth of 25.4% YoY to 230,000. The positive impacts of the Macau Government Tourism Office (MGTO)'s successful marketing initiatives in promoting the city as a travel destination, Korean TV shows and drama shoots in Macau, and more importantly, the increased in direct and low-cost flights from South Korea made Macau a viable getaway destination.
Thanks to the increasing interest among Japanese travellers to Hong Kong and proximity to Macau, Japanese travellers continued to post stable YoY growth of 2.7% to 88,000. However, both Hong Kong and Taiwan noticed a decline in visitation, by 7.1% and 2.8% YoY, respectively. In a larger scale, Southeast Asia and South Asian countries such as Thailand, Singapore, India, and Malaysia witnessed a decrease in visitor arrivals in Macau by -26.3%, -17.7%, -5.8%, and -2.2%, respectively.
FIGURE 1: MACAU VISTOR ARRIVAL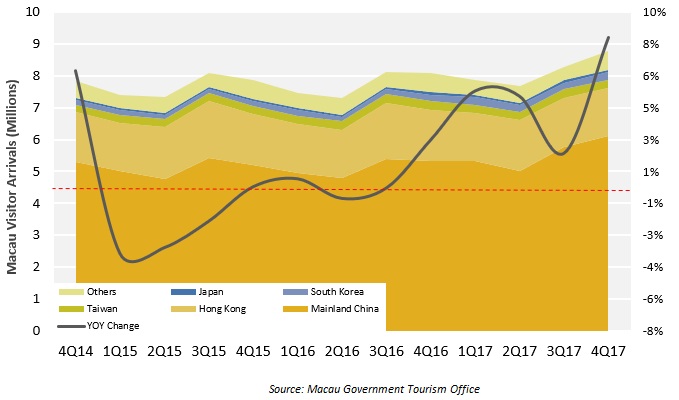 Macau Overnight Visitors Arrivals
Macau overnight visitor arrivals increased by 7.5% to 4.6 million during the fourth quarter, mainly fuelled by the growth from mainland China and South Korea, at a YoY growth rate of 16.2% and 37.7%, respectively, to 3.3 million and 143,000 visitors. South Korea surpassed Taiwan and became the third largest overnight source market to Macau, ranking behind Hong Kong and mainland China.
Compared to its 7.1% YoY decline in visitor arrivals, Hong Kong overnight visitors plummeted by 17.4%. Given the proximity to Macau, the city has always been a familiar getaway destination for Hong Kong travellers. In particular, the openings of two hotels in Cotai in the second half of 2016, namely Wynn Palace and The Parisian Macao, powered a spike of Hong Kong overnight visitors. However, as the city and these hotels started to lose its viral appeal to Hong Kong travellers, it triggered the comparatively drastic decline to 687,000 overnight visitors. Similarly, Taiwan visitors saw a 7.5% YoY decline in overnight stays to 127,000, followed by Japan which witnessed a decline by 3.1% to 51,000, despite the increase in visitor arrivals.
Looking forward, with the opening of the long-awaited Hong Kong – Macau – Zhuhai bridge in 2018 and numerous integrated resorts in Cotai, as well as Government support in developing the city as a multi-day travel destination, Macau is expected to attract more visitors to the city.
FIGURE 2: MACAU OVERNIGHT VISTOR ARRIVALS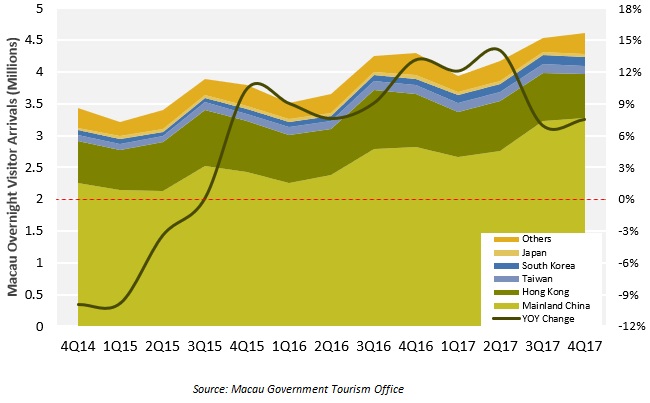 Macau Hotel Sector Performance
As hotels in Macau have started to feature more non-gaming facilities, attractions in Macau have spread from the downtown area to Cotai, which has established itself as a mass-market and family-friendly destination. The development of the area is further supported by the newly-opened resorts; The Parisian, Wynn Palace, and Studio City, which stimulated the overall hotel performance in Macau.

In the fourth quarter of 2017, ADR of Macau hotels registered an YoY increase by 4.9% to MOP1,359. The openings of the integrated resorts in Cotai induced demand to the city, boosting the occupancy by 4.2% from 88.0% to 91.7%. With both healthy growth in occupancy and ADR, RevPAR recorded a substantial jump by 9.3% to MOP1,246, compared to MOP1,139 in the same period in 2016.

Looking forward, Macau hotel owners are set to enjoy demand growth in line or in excess of supply growth. Notable hotels opening soon include Morpheus at City of Dreams with approximately 780 rooms in 2018 and Grand Lisboa Palace with 1,400 rooms in 2019.

FIGURE 3: MACAU HOTEL MARKET PERFORMANCE (2007-2017)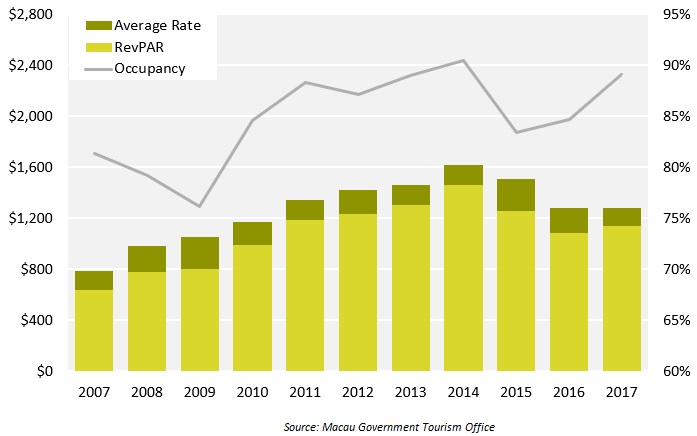 FIGURE 4: MACAU HOTEL MARKET PERFORMANCE (Q42014-Q42017)

Macau Gaming Sector Performance
Following the market's upturn at the end of 2016 when it realised a 10.2% increase in gross gaming revenue, the city saw a 19.1% YoY increase in 2017 to MOP266 billion of gross gaming revenue, an addition of 43 billions from 2016. This is an indicator of the market's recovery from the negative growth in three years. In the fourth quarter of 2017, the growth of gross gaming revenue remained positive at 19.8% to MOP72 billion, thanks to the returning Chinese gamblers and rising mass-market gamblers. Accounting for 99.7% of total gaming revenue, Games of Fortune experienced a 19.1% YoY growth in 2017 to MOP266 billion of revenue. VIP Baccarat saw a dramatic 26.7% YoY increase to MOP150 billion, while Standard Baccarat recorded healthy growth of 9.6% to MOP84 billion.
In the fourth quarter of 2017, gaming tables increased 2.1% YoY to 6,419 tables, while revenue per table per day increased by 17.4% from MOP99,000 to MOP116,000. While the number of slot machines increased by 13.0% to 15,622 machines, revenue only increased marginally by 4.9%, or MOP118, to MOP2,523 per slot machine per day.
FIGURE 5: MACAU GAMING REVENUE (2007-2017)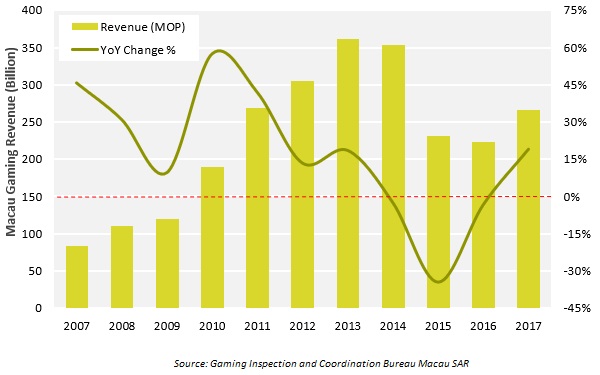 FIGURE 6: MACAU GAMING OF FORTUNE REVENUE BREAKDOWN (2011-2017)