What makes Mumbai tick? Is it the fact it is India's largest melting pot? Is it the resilience of its people? Whatever may be the reason, the fact is that Mumbai has an uncanny way of jumping right back onto its feet every time it is knocked down.

26/11 hit Mumbaikars in the ribs! The pain lingers on. The global economic crisis hurt our financial capital more than any other major Indian city. The monsoons paralyze Mumbai almost every year. The stock markets in Mumbai have witnessed some scary troughs in the recent past. However, the city keeps moving ahead - it grows and it prospers!

The hospitality saga in Mumbai is interesting and while still relatively nascent (Mumbai has approximately 10,000 branded hotel rooms; compared to some 85,000 in New York or 135,000 in Shanghai), the growth story will certainly be one for the books.

The year 2008/09 was a mixed bag. While the first two quarters went exceptionally well, the November attacks severely dampened the overall occupancies across Mumbai. The city closed at 64% occupancy, down over 10% from the prior year. Consequently, this year is seeing a correction in room rates. This rate rationalization, however, should help the existing hotels revive the business that they had lost to the unbranded segment in recent years. Overall, while the immediate outlook may not give many reasons for cheer, the good news is that the medium to long term forecast is strong. The Mumbai market is expected to see a revival of sorts in the next 12 to 18 months. While the proposed supply pipeline over the next three to five years is strong, there are several demand generators that are likely to boost demand for quality branded guestrooms across Mumbai.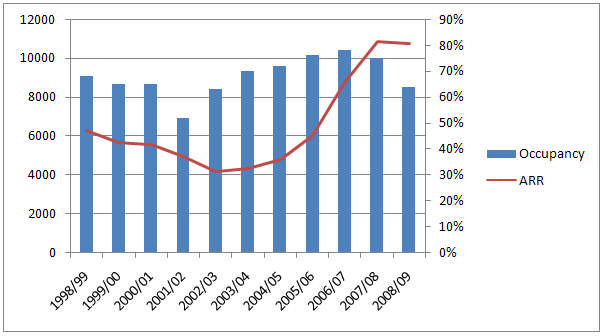 Supply:
The Trident BKC and The Westin Goregaon will open their doors for business this year. The Oberoi Nariman Point and The Taj Mahal (heritage wing) are slated for a grand re-opening shortly thereafter. Sofitel BKC, Ibis Andheri, Holiday Inn Saki Naka and the Courtyard by Marriott in Andheri are also expected to follow soon.

Demand:
The Bandra-Worli Sea Link opened for public use in early July. The bridge will provide much needed respite to the weary travelers who need to go from North to South Mumbai and vice versa, without having to deal with a score of traffic signals along the way. Hotels in both parts of the city are likely to benefit from this development as well.

The ongoing up-gradation and expansion of the Chhatrapati Shivaji International Airport is undoubtedly going to have a direct and positive impact on the demand for quality accommodation in Mumbai. The airport is expected to cater to over 50 million passengers per year by 2025.

Mumbai International Airport Limited is in the process of master planning a large mixed-use development around the Domestic and International airport terminals. This mega development is expected to house several Grade A office buildings, large scale retail, several hotels across all segments and various entertainment options of international fame. A large exhibition and convention center is also likely to be a part of this development. Mumbai is currently starved of quality meeting space. The convention center will establish Mumbai as a MICE destination, which in turn will lead to substantial incremental room-night demand.

As the global economy staggers its way out of this massive recession, India has managed to sustain a respectable GDP growth. It is generally agreed that prospects for the country's growth remain bright. Mumbai is India's financial nerve-centre, and most global organizations with interests in the sub-continent are increasingly looking at setting up their regional headquarters in this city. Demand for quality hotel rooms in the budget, mid-market, luxury as well as extended stay space is thus expected to steadily grow.

The slum rehabilitation project had been in the books for several years and has recently been revived. In fact, all slum dwellers in Mumbai, who make up more than 50% of the population, are to be rehabilitated. Several slum dwellers have already been relocated, and the recent relaxation of FSI norms and the availability of TDR in most pockets of Mumbai are additional welcome steps. These initiatives are bound to create several additional parcels for infrastructure and real estate enhancement.

Mumbai as we know it today is thus all set to receive a well deserved facelift. Overall, Mumbai is poised for several exciting developments and the next decade will undoubtedly witness exponential growth in India's beloved Comeback City.