MEININGER Hotels has signed an agreement with Foncière des Régions, through its subsidiary Foncière des Murs, for what will become its second property in Munich, Germany. The MEININGER Hotel Munich Olympic Park is expected to open at the end of 2017. The 173-room (820 beds) hotel is to be developed in a former office building on one of the city's ring roads, the Mittlerer Ring, a ten-minute tram journey from Munich Central Station. The hotel, which will be leased to MEININGER for an initial term of 20 years, is the first project to emerge from the Strategic Investment Partnership formed by MEININGER and Foncière des Régions at the end of last year. "Munich is one of our most successful markets and the planned hotel will be a great addition to our growing portfolio", said Navneet Bali, MEININGER's chief executive officer.
Via its Hispania Real SOCIMI, SAU subsidiary, Hispania Activos Immobiliarios has acquired two resort properties on the island of Feurteventura in the Canary Islands, Spain, for €105 million: the 242-room Gran Hotel Atlantis Bahía Real and the 383-room Suite Hotel Atlantis Fuerteventura Resort. The hotels are in the north of the island and will continue to be operated by Atlantis Hotels & Resorts.
Through one of its subsidiaries, Singapore-based institutional investor First Sponsor Group Ltd has purchased two Holiday Inn-branded hotels in Amsterdam from IVG Institutional Funds GmbH for approximately €55 million. The 120-room Holiday Inn – Arena Towers and the 323-room Holiday Inn Express – Arena Towers are both housed in the Arena Towers building in the city's Zuidoost district, and together comprise 17,500 m² of hotel space.
Hilton Worldwide has made its debut in Georgia with the opening of the Hilton Batumi in the Black Sea port of Batumi, southwest Georgia. The 247-room hotel, the result of a management agreement with Tourinvest Ltd, has the best of both worlds with views over the Black Sea and nearby hills and mountains. Hilton's second foray into the country is due to take place in 2016 in Georgia's capital with the opening of the 165-room Hilton Garden Inn Tbilisi Chavchavadze.
Following extensive refurbishment and a rebrand, the DoubleTree by Hilton London Docklands has opened in east London's Docklands area. Formerly known as the Hilton London Docklands Riverside, the 378-room hotel joins ten other DoubleTree by Hilton hotels in Greater London. John Greenleaf, global head of DoubleTree by Hilton, commented, "The DoubleTree by Hilton London Docklands is just a two-minute ferry ride across the River Thames to Canary Wharf, one of the world's major global business districts, and near to international exhibition and event centres such as the O2 Arena and ExCel London. We are delighted to warmly welcome both business and leisure guests to this thriving London neighbourhood."
Hyatt Hotels and Resorts has opened its first Hyatt Place hotel in Africa: the 152-room Hyatt Place Taghazout Bay in Morocco. Ten miles north of the coastal town Agadir, the hotel is another example of the brand's expansion outside of the USA. It joins two other non-USA Hyatt Place hotels that have opened in the last 18 months (the 330-room Hyatt Place Amsterdam Airport and the 117-room Hyatt Place Pune/Hinjewadi) as well as the Hyatt Place Heathrow/Hayes, which is due to open later this year. Peter Fulton, Hyatt's group president for EMEA and Southwest Asia, said, "Bringing a brand into a new market is always exciting, but in particular in Africa where we are planning on doubling the number of our properties on the continent over the next three years, adding four further properties to our existing four hotels."
Hilton Worldwide has signed a management agreement with the Swaziland Public Service Pensions Fund to open a new-build, 130-room Hilton Garden Inn hotel in Mbabane, Swaziland. The hotel will be the first Hilton-branded property in Swaziland. Adrian Kurre, global head of Hilton Garden Inn, commented, "As we expand with more Hilton Garden Inn locations across Africa – we see an incredible opportunity to establish our portfolio as the continent's leading mid-market brand – offering travellers a network of trusted hotels in diverse locations including Nigeria, Ghana, Namibia and now, Swaziland."
Hyatt Hotels Corporation has opened the 656-room Hyatt Regency Makkah in Saudi Arabia. Part of a 2 million m² mixed-use development, the hotel is Mecca's first Hyatt-branded hotel and the first Hyatt Regency in Saudi Arabia. The hotel is operating under a management agreement with Jabal Omar Development Company. A second Hyatt Regency hotel for Saudi Arabia, the Hyatt Regency Riyadh Olaya, is due to open next year. Pablo Graf, senior vice president of operations for Hyatt Hotels and Resorts in Southwest Asia, said, "As we grow thoughtfully in places where our guests are traveling, we look forward to introducing additional brands such as Hyatt Place and Hyatt House to Makkah in the coming years."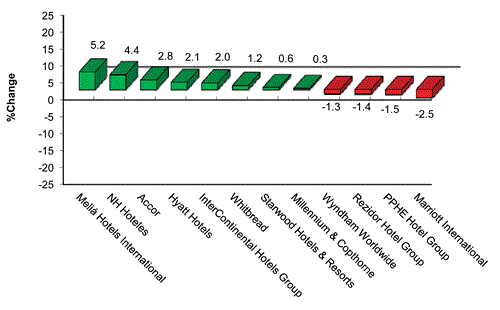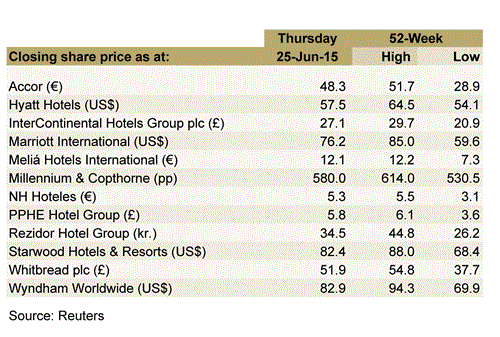 Hyatt Hotels – Will release second-quarter 2015 financial results on Tuesday 4 August 2015, before the stock market opens.

InterContinental Hotels Group – Credit Suisse upgraded to "neutral" from "underperform".

For the latest in the hospitality industry, please visit: http://www.hvs.com/. You are also welcome to contact the following personnel.
| | |
| --- | --- |
| Russell Kett, Chairman – HVS London (@russellkett) | [email protected] |
| Charles Human, CEO – HVS London/HVS Hodges Ward Elliott | [email protected] |
| Simon Tucker Brown, Managing Director – HVS Executive Search Europe & Middle East | [email protected] |
| Chris Martin, Senior Director – HVS Hodges Ward Elliott | [email protected] |
| Puneet Kanuga, Director – HVS Hodges Ward Elliott | [email protected] |
| Arlett Oehmichen, Director – HVS London | [email protected] |
| Sophie Perret, Director – HVS London | [email protected] |
| Tim Smith, Managing Partner – HVS Cape Town | [email protected] |
| Demetris Spanos, Managing Director – HVS Athens | [email protected] |
| Hala Matar Choufany, Managing Director – HVS Dubai | [email protected] |
| Ezio Poinelli, Director – HVS Milan | [email protected] |
| Louise Fury, Senior Editor and EMEA Hospitality Newsletter Author – HVS London | [email protected] |
Disclaimer: Information provided above has been gathered from various market sources. HVS has not independently verified the accuracy of the information provided. Interested parties should not rely on the information as statement of facts and are advised to make their own independent checks to verify the information provided. For further information, please feel free to contact HVS London.
Superior Results through Unrivaled Hospitality Intelligence. Everywhere.
Stay current. Click here to receive free HVS newsletters
Looking for insights into the hospitality industry?
Discover unique hospitality intelligence at hvs.com/publications
Interested in a particular market?
Find hundreds of market overviews, all written by HVS experts, at hvs.com/marketresearch
Like to be in the know on hotel trends and predictions?
See our Hotel Valuation Index for dozens of cities at hvi.hvs.com