Hybrid hotel brand MEININGER Hotels has announced that it has formed a strategic investment partnership with Fonciére des Régions for the expansion of the brand throughout Europe. MEININGER is to source opportunities for new hotels, which will be financed by Fonciére and managed by MEININGER under its own brand in a lease structure. The main gateway cities to be targeted are Amsterdam, Barcelona, Brussels, Berlin, Geneva, Hamburg, Frankfurt, London, Madrid, Milan, Munich, Paris, Rome, Vienna and Zürich; other Western and Eastern European cities will also be part of the expansion plan. "MEININGER's aim is to operate an 'urban traveller's home' in every major European city," said Navneet Bali, chief executive of MEININGER Hotels.
After recently making its debut in Europe with the 133-room Element Frankfurt Airport, in Germany, Starwood Hotels & Resorts' Element brand now plans to open its second hotel on the continent in Amsterdam, the Netherlands. The group has signed an agreement with Bari Gruppe GmbH & Co. for the 160-unit Element Amsterdam. The hotel is to be developed in a former office building in the Gelderlandplein shopping centre and is expected to open in November 2015. Starwood currently operates three hotels in the Netherlands (under its Sheraton and Luxury Collection brands).
GBH S.p.a., an affiliate of the Limonta Group, has signed a management agreement with Hilton Worldwide for a 162-room hotel on Lake Como, Italy. The new hotel, expected to open in early 2017, will be part of a mixed-use development, next to the centre of Como, adjacent to the historic Villa Olmo and to Cernobbio. HVS Milan assisted GBH in defining the hotel concept and with the operator selection. With a share of more than 80% international guests, the Lake Como high-end hotel market is on the radar of top international hotel chains. G.B. Limonta, president of the Limonta Group, said, "We are proud of the agreement we have reached with Hilton, one of the most prestigious hospitality brands in the world, with the support of HVS. This new hotel will add to Como's existing allure and further promote it as a destination to international visitors."

Dutch group citizenM has reportedly purchased an office building in Paris, which it intends to convert into its second hotel in the French capital. The 10,500 m² complex is adjacent to Gare de Lyon railway station. The hotel is expected to open at the beginning of 2016 and is to be linked to the station directly via a pedestrian bridge. The group currently operates the 230-room citizenM Paris Charles de Gaulle in the city.
Marriott International has made its first appearance in Bosnia and Herzegovina with the opening of the Residence Inn Sarajevo. The 75-suite hotel, close the Old Town in the country's capital and largest city, is operated by US-based Interstate Hotels & Resorts. The extended stay property is the first internationally branded hotel to open in the country.
Wyndham Worldwide has signed a development agreement with Lester Hotels Group Ltd that will result in the opening of a further 20 Ramada hotels across the UK over the next decade. The hotels will be managed by Lester Hotels Group and the first two properties under the agreement are due to open next month: the 45-room Ramada Resort Cwrt Bleddyn, in southeast Wales, and the 79-room Ramada Leicester, in England's East Midlands region. The Ramada brand currently has a presence in 35 locations across the UK.
Steigenberger Hotels Group subsidiary InterCityHotel has opened its third hotel in the northwest German city of Hamburg: the 275-room InterCityHotel Hamburg Dammtor-Messe, which has become the 37th hotel overall in InterCityHotel's portfolio. The hotel is being operated via lease agreement by InterCityHotel GmbH; it is owned and was developed by B&L Group. "The launch of a third InterCityHotel in Hamburg enables us to bring the year 2014 to a successful conclusion," said Joachim Marusczyk, InterCityHotel GmbH's managing director. "We will begin 2015 in a similar vein when the InterCityHotel Enschede opens in January and becomes our fist venture in the Netherlands," he added.
Carlson Rezidor Hotel Group has announced its second Radisson Blu hotel for Cairo, Egypt. The Radisson Blu Hotel, Cairo Nasr City is due to open in the first quarter of 2016 in the city's largest district, Nasr. The 300-room hotel is owned by Egyptian development firm Genena Group and will join the 427-room Radisson Blu Hotel, Cairo Heliopolis. "Egypt has recovered from the turmoil of past years and opens new, exciting business opportunities," commented Wolfgang Neumann, Rezidor's president and chief executive officer. The group now has seven hotels either in operation or under development across Egypt.
US-based chain Nikki Beach Hotels & Resorts has got together with Meeras Holding to bring a 52,000 m² resort to Dubai. The 132-unit Nikki Beach Resort & Spa, which is on the emirate's man-made Pearl Jumeirah development, will also have 61 branded residences. When it opens in the second half of 2015, the resort will mark the group's debut in the Middle East, following the news that it has recently pulled out of its Doha project.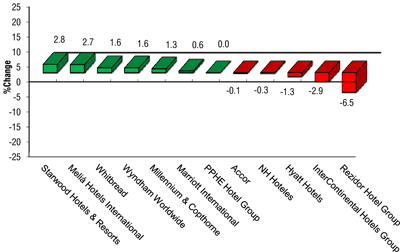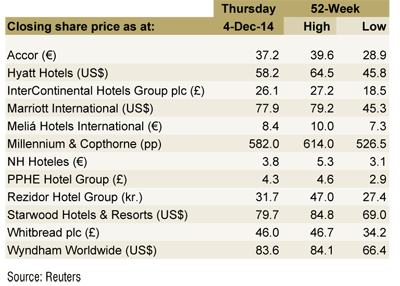 InterContinental Hotels Group – Cut to "sell" from "neutral" by UBS.
NH Hoteles – Fitch has kept the highly speculative B- credit rating with a "stable" outlook.
For the latest in the hospitality industry, please visit: http://www.hvs.com/. You are also welcome to contact the following personnel.
| | |
| --- | --- |
| Russell Kett, Chairman – HVS London (@russellkett) | [email protected] |
| Charles Human, CEO – HVS London/HVS Hodges Ward Elliott | [email protected] |
| Chris Martin, Senior Director – HVS Hodges Ward Elliott | [email protected] |
| Puneet Kanuga, Director – HVS Hodges Ward Elliott | [email protected] |
| Tim Smith, Director – HVS London | [email protected] |
| Arlett Oehmichen, Director – HVS London | [email protected] |
| Sophie Perret, Director – HVS London | [email protected] |
| Peter Malone, CEO – HVS Executive Search, EMEA & Asia | [email protected] |
| Demetris Spanos, Managing Director – HVS Athens | [email protected] |
| Hala Matar Choufany, Managing Director – HVS Dubai | [email protected] |
| Ezio Poinelli, Director – HVS Milan | [email protected] |
| Louise Fury, Senior Editor and EMEA Hospitality Newsletter Author – HVS London | [email protected] |
Disclaimer: Information provided above has been gathered from various market sources. HVS has not independently verified the accuracy of the information provided. Interested parties should not rely on the information as statement of facts and are advised to make their own independent checks to verify the information provided. For further information, please feel free to contact HVS London.
Superior Results through Unrivaled Hospitality Intelligence. Everywhere.
Stay current. Click here to receive free HVS newsletters
Looking for insights into the hospitality industry?
Discover unique hospitality intelligence at hvs.com/publications
Interested in a particular market?
Find hundreds of market overviews, all written by HVS experts, at hvs.com/marketresearch
Like to be in the know on hotel trends and predictions?
See our Hotel Valuation Index for dozens of cities at hvi.hvs.com