CHICOS Claims Caribbean Still Great Market for Future Hotel Investment Opportunities; Capital is Available and South American Visitors Boosting Caribbean Tourism
November 18, 2014: "The Caribbean remains a positive market, as far as hotel performance is concerned - and it will be for some time to come," says Mr. Parris E. Jordan, Chairman, Caribbean Hotel Investment Conference & Operations Summit (CHICOS) and Managing Director of HVS's operations in the Caribbean. "If you're a hotelier in the Caribbean, things are good…very good."

Approximately 300 delegates gathered at the Caribbean Hotel Investment Conference & Operations Summit (CHICOS) 2014, held last week at the Hard Rock Hotel & Casino in Punta Cana, Dominican Republic. Recognized as the leading venue for the hospitality industry in the region, CHICOS is known throughout the hotel investment world as the place where deals get done. This is the must-attend event for anyone with interest in hospitality in the Caribbean region.

"Visitor arrivals to the region continue to increase," Jordan adds. "Hotel operating performance is healthy and strong, particularly average daily rates and revenue per available room (RevPAR). It will surpass the prior peak of 2007 by the end of this year. And the percentage of RevPAR growth, year-to-date 2014, is surpassing even what we're witnessing in the United States."

With regard to hotel investments, Jordan goes on to share that the future of Caribbean financing is in alternative sources of capital, as opposed to traditional debt sources. "The banks and lenders who were active in the prior cycle are not active now, but capital is available and we can assist developers in finding these sources."

Many of the speakers commented on the notable and increasingly active feeder markets to the Caribbean region from South America.

CHICOS 2014 featured numerous panel discussions composed of prominent executives in the industry. Participants included Kenny Blatt, Principal and COO, CPG Real Estate; Nicholas Hecker, Principal, Och Ziff Real Estate; Honorable Minister Sealy, Chairman of Caribbean Tourism Organization and Minister of Tourism for Barbados; Adam Rosenberg, Global Head of Gaming and Leisure, Fortress Investment Group- Credit Funds; Hugh Riley, CEO, Caribbean Tourism Organization; Roland Mouly, VP Development, Latin America, Mexico & Caribbean, Carlson Rezidor Hotel Group; Doug Kulig, CEO, OBM International; Patrick Freeman, President, Cisneros Real Estate; Alinio Azevedo, Director of Development, Four Seasons Hotels and Resorts; Denis Ebrill, EVP Product Development North America, Melia Hotels International; Rafael Blanco, EVP, Viva Resorts; among many others.

In addition to the event organizers, CHICOS was sponsored by: Host Patrons Dominican Republic Export & Investment Center and Hard Rock International; Patron Sponsors Interval International and MasterCard; Platinum Sponsors KPMG, Lifestyle Holidays Vacation Club, Marriott International, Choice Hotels International, JetBlue and OBM International (OBMI); Silver Sponsors Carlson Rezidor Hotel Group, BCQS, Melia Hotels International, Apple Leisure Group, K&L Gates, PKF, Starwood Hotels and Resorts, BanReservas, Rider Levett Bucknall; Cisneros Real Estate, Banco Popular; and Media and Education Partners Hotel Executive.com, HotelNewsNow.com, STR and Florida International University.

CHICOS 2015 location and dates are to be announced shortly. Photography and video footage of CHICOS 2014 are available upon request. For more information about CHICOS, visit www.hvschicos.com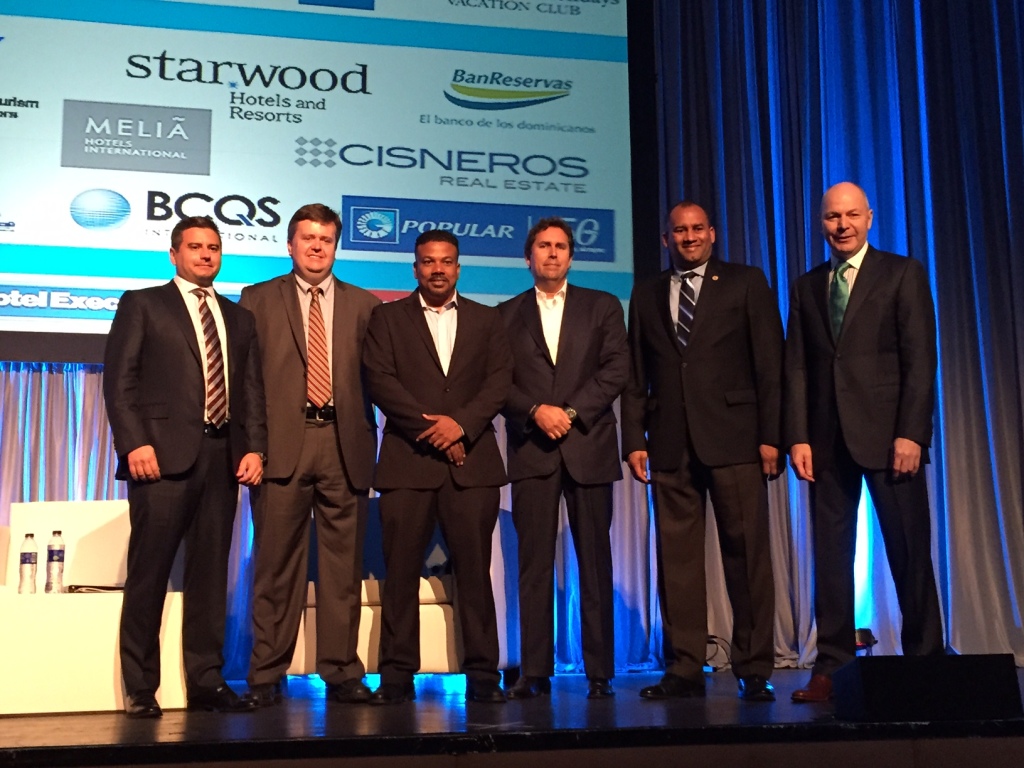 PHOTO CAPTION: (from left to right): Paulo Pena, President Latin America and Caribbean, Wyndham Hotel Group; Dave Callaghan, Vice President, Interval International; Parris Jordan, Managing Director HVS Caribbean and Chairman CHICOS; Kenny Blatt, Principal and COO, CPG Real Estate; Honorable Minister Richard Sealy, Chairman, Caribbean Tourism Organization and Minister of Tourism Barbados; David Larone, Director, PKF Consulting.

Media Contact:
Leora Halpern Lanz


[email protected]


MOBILE: 516-680-8529
SKYPE: LeoraLanz

About CHICOS
Staged by HVS, the Caribbean Hotel & Tourism Association (CHTA) and the Caribbean Tourism Organization (CTO), CHICOS brings together more than 300 regional and international investors and operators as well as the region's leading decision makers. CHICOS 2014 will have delegates and speakers from governmental representatives, opinion leaders, developers, bankers and other lenders, tourism officials, investment funds, hotel chain executives, individuals/companies seeking investors for their tourism projects, franchise and operations companies, public and private institutions, consultants, advisors, architects and designers – all to discuss the region's markets and possibilities.

About HVS
HVS is the world's leading consulting and services organization focused on the hotel, mixed-use, shared ownership, gaming, and leisure industries. HVS principals are regarded as the leading experts in their respective regions of the globe. Through a network of more than 30 offices and 450 professionals, HVS provides an unparalleled range of complementary services for the hospitality industry. HVS.com


Superior results through unrivalled hospitality intelligence. Everywhere.

Superior Results through Unrivaled Hospitality Intelligence. Everywhere.
Stay current. Click here to receive free HVS newsletters
Looking for insights into the hospitality industry?
Discover unique hospitality intelligence at hvs.com/publications
Interested in a particular market?
Find hundreds of market overviews, all written by HVS experts, at hvs.com/marketresearch
Like to be in the know on hotel trends and predictions?
See our Hotel Valuation Index for dozens of cities at hvi.hvs.com