Shanghai travel company, Jin Jiang International Holdings Co., has bought Paris-based Louvre Hotels Group for a reported €1.2 billion. The deal, set to add 1,100 hotels, with more than 90,000 rooms, across 40 countries to Jin Jiang's portfolio, is expected to take place during the first quarter of 2015 upon government approval in China. Louvre and Jin Jiang already have an established relationship following a commercial partnership in 2011 which saw them introduce a co-branding programme to selected hotels in China and France. Chairman of Jin Jiang International Holding Co., Yu Minliang, commented, "As a strategic investor, we are pleased, on the basis of close partnership over the past years, to reach consensus with Starwood Capital Group. There is strong complementary synergy between Louvre Hotel and Jin Jiang in brand portfolio, geographic footprint and guest base. We are looking forward to working with the management, employees and other stakeholders of Louvre Hotel Group so as to create larger space for both parties to grow globally."
Patron Capital has sold a 23% stake in Generator Hostels to Invesco Real Estate for €60 million in capital, which will be used to expand the chain worldwide. Commenting on the deal, Patron's Josh Wyatt said, "This transaction, via a global institutional capital partner, is a major proof of concept for hostels as an asset class". Patron plans to increase Generator's portfolio to 20 properties by 2018 and in particular will target European cities and at least three cities in the USA.
The autumn conference "season" continues apace this month with three more events where you can meet key members of the HVS London team. Harry Douglass and Russell Kett will be speaking at the Hostel & Budget Traveller summit next Tuesday, 18 November, in central London – click here for more details. The recent announcement by Generator and Invesco (see above) could not have been more timely, not least because there is a visit to Generator's London property included on Monday afternoon followed by a drinks reception there. On Thursday 20 November, Russell is also leading a panel at the HOSPACE event at the Sofitel T5 at London Heathrow Airport on "The things that do – or should – keep you awake at night". Click here for more details. Additionally, Arlett Oehmichen and Tim Smith will be speaking at Henry Stewart's Hotel Financing conference on Wednesday 26 November at Le Méridien Piccadilly in London – click here for more details.
This week, HVS, Zolfo Cooper and AM:PM published their Hotel Bulletin for the UK hotel market for the third quarter of 2014. The bulletin highlights the continuation of rate-driven RevPAR growth in the UK. All of the cities analysed recorded RevPAR growth for each of the last four quarters. Additionally, UK hotel transaction volume in the third quarter of 2014 has outpaced the total for 2013. The latest bulletin also analyses hotel closure information to determine how major events in the last 150 years have impacted the shape of the UK hotel market. To read the bulletin in full, click here.
Internos Hotel Real Estate Fund has acquired the NH Köln Mediapark from London-based investment manager InfraRed Capital Partners for €29.5 million (€135,900 per room). The 217-room hotel is in Cologne city centre, western Germany. InfraRed also sold the adjacent Cologne Tower (the tallest office building in the city) to Canada-based Dream Global REIT for €140 million.
In partnership with 123Venture, Perseus Capital Partners (PCP) has purchased the Hôtel Atlanta-Frochot, in Paris' Pigalle area, for an undisclosed sum as part of PCP's strategy to create a small portfolio of three- to four-star hotels in the French capital. The 47-room hotel will now close to undergo a full renovation and is scheduled to reopen in 2015 as the four-star, 45-room Le Pigalle.
Hilton Worldwide has opened its second hotel in Krakow, Poland. The Hilton Garden Inn Krakow Airport is opposite the international terminal. The 155-room hotel is owned and is being managed by Krakow Airport Hotel, under a franchise agreement. The newest Garden Inn on the block joins the 154-room Hilton Garden Inn Krakow, in the city centre. Hilton now has 11 hotels in operation across Poland, under its Hampton, Garden Inn and Hilton brands. The group's DoubleTree brand is due to make its debut in the country soon with the opening of the 232-room DoubleTree by Hilton Krakow Hotel & Convention Center.
Hong Kong-based Dorsett Hospitality International has made its first appearance in the UK with the opening of the Dorsett Shepherds Bush in west London. The 317-room hotel, which is the group's first hotel outside of Asia, was developed on the site of the former Pavilion Cinema. Dorsett already has a second hotel in the pipeline for London: the group purchased a 1970s office block in the Square Mile in 2012 for £14 million and received planning permission in late 2013 to demolish the building and build the 13-storey, 275-room Dorsett City, London.
After a period of cost-cutting measures, including the sale of the Lowry Hotel in the UK city of Manchester, Italian group Rocco Forte has secured a £60 million investment that Sir Rocco Forte plans to use to double the size of the business over the next five years. The state-backed sovereign find, Fondo Stategico, has provided the funds in return for a 23% stake in the firm. Sir Rocco is pursuing opportunities in Venice, New York, Paris and Madrid.
Viceroy Hotel Group has announced that it will make its European debut in 2017 with the Viceroy Algarve at Quinta da Ombria. The luxury hotel, designed by architectural firm WATG, will have 147 rooms and 99 residential units. Viceroy's chief executive officer, Bill Walshe, commented, "We are truly delighted to bring Viceroy's ethos, ideology, and vibe to Europe. Authenticity, individuality and a sense of place are critical components in our commitment to create life-long memories for our guests, rewarding careers for our colleagues, and a positive legacy for the community of Quinta da Ombria." Viceroy Hotel Group, founded in 1999, now has properties in 16 destinations around the world.
Hilton Worldwide has signed an agreement for its third hotel in Belgium. A 224-room hotel in Brussels city centre is to be rebranded as the Hilton Brussels Grand Place and Hilton will manage the hotel, which is owned by HDI Brussels Management SA, from 17 November 2014. During its first year as a Hilton hotel, the property is to undergo a significant renovation. It will become the group's second hotel in the capital alongside the Hilton Brussels City; additionally, a Hampton by Hilton hotel is due to open in Brussels in 2016.
German luxury hotel group Oetker Collection is to take over the management of the iconic Lanesborough hotel in London. Formerly operated under Starwood Hotels & Resorts' St. Regis brand, the 93-room hotel, close to Buckingham Palace, is currently closed for renovation and is scheduled to reopen in spring 2015. "The Lanesborough will be a perfect sister hotel with Le Bristol Paris, offering two major urban hotels on each side of the Channel and creating exciting synergies between both hotels and the entire Collection," said Oetker's chief executive, Frank Marrenbach.
Foremost Hospitality has opened two new hotels in the German city of Nuremberg. The 124-room Holiday Inn Express Nuremberg City is the group's ninth Holiday Inn Express property in Germany and the 80-room Hampton by Hilton Nuremberg City Centre is the first of its brand to be operated by Foremost in the country. Berlin-based GBI AG developed both properties.
The Preferred Hotel Group has added five hotels to its London portfolio: The Stafford London, originally built as private residences in the 17th century (105 rooms); The Beaumont Hotel which opened this month and features a Grade II-listed art deco exterior (73 rooms); the recently renovated Hotel Xenia (99 rooms); The Bentley London, an established five-star property in the Royal Borough of Kensington & Chelsea (64 rooms); and The Exhibitionist which is part of the Preferred Boutique collection (37 rooms).
Stockholm-based Pandox has announced this week that it is creating its own operating company, Pandox Operations. "We can see the need for greater flexibility and for having the possibility to choose different strategies for different situations…," commented Pandox's chief executive officer, Anders Nissen. The company will initially be made up of the 16 hotels that its partner Scandic currently operate, giving the group a portfolio of 4,958 rooms across Belgium, Germany, Denmark, Finland, Canada and the Bahamas. However, Pandox Operations will also enter into lease agreements with other property owners.
German chain Pentahotels has opened its sixth property in the UK: the five-floor, 90-room Pentahotel Inverness, which is at the centre of the capital of the Scottish Highlands. The group's other hotels in the UK are in Birmingham, Derby, Ipswich, Reading and Warrington.
Abu Dhabi-based Cristal Group has opened its second hotel in Iraq: the 100-room Cristal Erbil Hotel, which brings Cristal's portfolio of hotels across the Middle East and Africa up to six. The group made its debut in the country with the Cristal Grand Ishtar in the capital, Baghdad. Hotel number three in Iraq for Cristal is due to open by the end of the year and will mark the inauguration of the first of the group's new budget chain, Emerald, and the 298-room Cristal Grand Erbil is expected to open in 2016.
Carlson Rezidor Hotel Group has announced its newest hotel for the UAE. The Radisson Blu Hotel, Ajman city is expected to open in the first quarter of 2016 as the group's first hotel in Ajman, the smallest of the UAE's seven emirates. Once the 156-room hotel opens, Carlson Rezidor will have a presence in five emirates. The group currently operates 15 hotels across the UAE.
InterContinental Hotels Group (IHG) has signed a contract extension with tourism investment, development and management company, Omran, for the 258-room InterContinental Muscat. The hotel is facing massive refurbishment designed to provide guests with more amenities once it opens in 2017. As well as work on the hotel's existing facilities, the refurbishment will include the addition of new dining and drinks venues, tennis courts, a lap pool, a children's play area and a new, purpose-built concierge lounge. Wael Ahmed Al Lawati, chief executive officer at Omran, said, "InterContinental Muscat has been a preferred choice amongst guests who enjoy luxury travel in Muscat. With a major refurbishment plan in place, we wanted to have a trusted partner who understands the hotel and guests manage the project with us. We have enjoyed a strong relationship with IHG over the past 37 years and are very pleased to continue our longstanding relationship with them. The new and enhanced features in InterContinental Muscat will definitely help draw more guests through our doors and we look forward to the completion of the refurbishment in the coming years." IHG has six hotels in Oman across three brands (InterContinental, Crowne Plaza and Holiday Inn) with another two in the pipeline.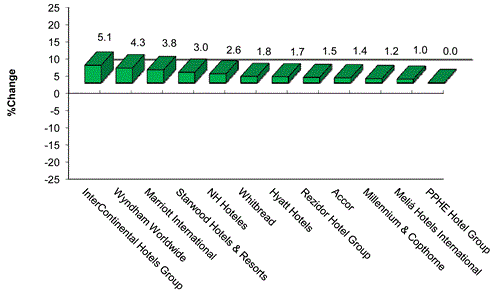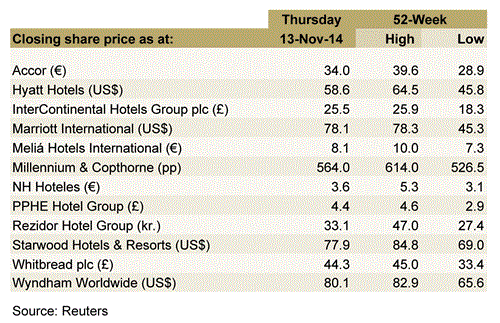 InterContinental Hotels Group – Numis reiterated its "hold" rating and raised the share price target to 2600p from 2400p.
Wyndham Worldwide – Declared a cash dividend of US$0.35 per share on its common stock.
Accor – Societe Generale raised its recommendation from "hold" to "buy" and raised the share price target from €39 to €41.
For the latest in the hospitality industry, please visit: http://www.hvs.com/. You are also welcome to contact the following personnel.
| | |
| --- | --- |
| Russell Kett, Chairman – HVS London (@russellkett) | [email protected] |
| Charles Human, CEO – HVS London/HVS Hodges Ward Elliott | [email protected] |
| Chris Martin, Director – HVS Hodges Ward Elliott | [email protected] |
| Tim Smith, Director – HVS London | [email protected] |
| Arlett Oehmichen, Director – HVS London | [email protected] |
| Sophie Perret, Director – HVS London | [email protected] |
| Peter Malone, CEO – HVS Executive Search, EMEA & Asia | [email protected] |
| Demetris Spanos, Managing Director – HVS Athens | [email protected] |
| Hala Matar Choufany, Managing Director – HVS Dubai | [email protected] |
| Ezio Poinelli, Director – HVS Milan | [email protected] |
| Louise Fury, Senior Editor and EMEA Hospitality Newsletter Author – HVS London | [email protected] |
Disclaimer: Information provided above has been gathered from various market sources. HVS has not independently verified the accuracy of the information provided. Interested parties should not rely on the information as statement of facts and are advised to make their own independent checks to verify the information provided. For further information, please feel free to contact HVS London.
Superior Results through Unrivaled Hospitality Intelligence. Everywhere.
Stay current. Click here to receive free HVS newsletters
Looking for insights into the hospitality industry?
Discover unique hospitality intelligence at hvs.com/publications
Interested in a particular market?
Find hundreds of market overviews, all written by HVS experts, at hvs.com/marketresearch
Like to be in the know on hotel trends and predictions?
See our Hotel Valuation Index for dozens of cities at hvi.hvs.com