Accor has purchased a 35% stake in the capital of French budget design chain, Mama Shelter, giving Mama Shelter access to Accor's development and distribution network. Mama Shelter currently has properties across France and one in Istanbul, Turkey, but the group is expanding, with 20 new hotels due to open over the next five years. Commenting on the new partnership, Accor's chairman and chief executive officer, Sébastien Bazin, said, "This agreement is the outcome of a beautiful encounter and a shared desire to learn from our respective talents. I am very happy to be embarking on this new adventure. Thanks to this partnership, Accor is enriched by the original know-how that has made Mama Shelter such a splendid success".
Legal and General Property has acquired 19-31 Piccadilly Gardens in the city of Manchester, northwest England, from Jolan Piccadilly Ltd for £23.1 million. The deal, which represents an initial yield of 4.84%, includes the 157-room Travelodge Manchester Piccadilly Hotel, which is housed over the five upper floors of the building, and two restaurants and a supermarket, arranged over the ground and basement floors. The hotel opened at the beginning of this year and is let to Travelodge Hotels Ltd until 12 January 2039.
Kempinski Hotels announced this week that its president and chief executive officer since 1995, Reto Witter, has retired. Alejandro Bernabé has now taken the helm and, as of 29 October, is chief executive officer of the company. Additionally, Kempinski has signed a management agreement with Bayerische Landesbank that will see it take over the operation of the Berchtesgaden International Resort, 1,000 metres above sea level in the Bavarian Alps, in Germany. The 138-room hotel, which opened in 2005, is currently operating as an InterContinental property but is due to be rebranded during the first half of 2015.
Four Seasons Hotels and Resorts has opened its first hotel in Moscow, Russia. This historic Moskva hotel, on Manezhnaya Square, has reopened as the Four Seasons Hotel Moscow. The hotel was originally built in the 1930s and had been closed for many years before its transformation. The property has 180 rooms and five food and beverage outlets. Also in the news this week, InterContinental Hotels Group's Holiday Inn Express brand (IHG) is poised to make its debut in Russia. The 145-room Holiday Inn Express Voronezh – Kirova is due to open in just a few weeks' time in the city of Voronezh, west Russia. The hotel is the product of a multiple development agreement between IHG and Regional Hotel Chain, signed in 2013. IHG's aim is to have 100 hotels open or in the development pipeline in Russia, the CIS and Georgia by 2020. Carlson Rezidor Hotel Group recently announced two new properties for the Russia, CIS and Baltics region. First to open will be the Radisson Residence in Zavidovo, in the resort of Zavidovo, 150 km northeast of Moscow, in the fourth quarter of 2014, joining the Radisson Resort, Zavidovo which opened this summer. Second is a Radisson Blu hotel for Minsk, which will see the group make its first appearance in Belarus. The 200-room hotel is due to open in the second quarter of 2017. "Both signings further strengthen our leading position in Russia/CIS & Baltics, and underline our unchanged commitment to this emerging market which is one of our most important growth regions," said Rezidor's president and chief executive officer, Wolfgang Neumann.
Hilton Worldwide has signed a franchise agreement with Italian hotel owners and developers DHotels for a new DoubleTree by Hilton hotel in Venice. A 203-room property in the northeastern Italian city is to be converted and will reopen as the DoubleTree by Hilton Venice North this November, as the fourth of its brand in Italy.
Generator Hostels has acquired a site in Amsterdam for its first property in the Netherlands. The Generator Amsterdam is due to open in 2015 in the University of Amsterdam's former health sciences and zoological department building, which dates from 1917. The hostel will have 168 twin and quadruple rooms with capacity for 566 guests and a six-person apartment with self catering facilities. Commenting on the news, Josh Wyatt, investment director at Patron Capital, which backs Generator, said, "The new Generator Amsterdam continues the strategy of buying and repositioning beautiful buildings in world class locations to create the world's first truly global design led hostel business...Generator's growth ambitions continue unabated with much more to come in 2015 and beyond." Additionally, in just a couple of weeks the inaugural Hostel & Budget Traveller 2014 summit is taking place at Mary Ward House in London (on November 17 and 18). The HVS team looks forward to seeing you there. Russell and senior associate Harry Douglass are leading sessions at the conference. Harry is speaking on When is a Hotel a Hostel? and Russell will be interviewing three sector leaders: Navneet Bali, chief executive officer of Meininger, Simon Champion, chief executive officer of easyHotel, and Josh Wyatt of Patron Capital, owners of Generator Hostels.
Starwood Hotels & Resorts has opened its second Aloft hotel in the UK. The 116-room Aloft Liverpool is housed in the historic Royal Insurance Building in the port of Liverpool, northwest England, and was part of a four-year £18 million regeneration project to preserve Grade II-listed building, led by Ashall Property. The hotel is managed by Redefine|BDL Hotels and is the fourth of its brand to open in Europe.
HVS London's chairman, Russell Kett, is chairing a panel at the World Travel Market (WTM) next week called International Hotel Investment and Development: Current Trends on Investment and Development on the International Scene. Russell's panel of hotel experts includes Patrick Fitzgibbon, senior vice president of development at Hilton Worldwide; Jonathan Hubbard, head of investor services for the EMEA region at hotels & hospitality group, JLL; and Dominic Seyrling from Host Hotels. WTM runs from 3 to 6 November at ExCel London. You can catch Russell and his panellists on Tuesday 4 November at 10.30 am in the South Gallery. Russell's event is free to those attending WTM.
Whitbread is taking its Premier Inn chain to Germany. The group has acquired the freehold of a 200-room hotel in Frankfurt, which is due to open as a Premier Inn by the end of 2015. "We are currently adapting our Premier Inn customer offer where appropriate to ensure that it delivers in every area for our German guests and we are sure that this will be the first of many great hotels in Germany for us," said Mark Anderson, Whitbread's managing director of commercial & property. Outside of the UK and Ireland, Whitbread currently has Premier Inn hotels in the Middle East and India. This is its first foray further into Europe.
Marriott International has announced its second Courtyard by Marriott property for Scotland. The Courtyard by Marriott Edinburgh will be housed in three adjacent Georgian townhouses in the Scottish capital. The original façade of the houses will be retained but the building behind will be new. The 240-room hotel is being developed in association with the Chris Stewart Group and will join the 194-room Courtyard by Marriott Aberdeen Airport, which opened in July last year.
HVS's London office released a publication on the Dubrovnik hotel market this week. Click here to download In Focus: Dubrovnik – Croatia's Hottest Market, co-authored by Christof Bertschi and Arlett Oehmichen.
Hilton Worldwide has signed an agreement with Transcorp Hotels Plc for a hotel in Port Harcourt in Nigeria, West Africa. The Transcorp Hilton Port Harcourt, on Evo Road, is expected to have 250 guest rooms, 1,400 m² of conference facilities, six food and beverage outlets, a spa and other leisure facilities. This is the third agreement Hilton has signed with Transcorp, the hospitality arm of the Transitional Corporation of Nigeria. The pair have already opened the Transcorp Hilton Abuja and are also working on the Transcorp Hilton Lagos, due to open in 2017.
Meliá Hotels International is soon to open its second hotel in the Cape Verde archipelago, 570 km off the coast of West Africa. The Meliá Dunas is due to open on 1 November on the island of Sal. The resort will have 1,143 suites and will join the Meliá Tortuga Beach Resort & Spa, which opened in 2011. The Spanish group has two other properties in the pipeline for Cape Verde: the Meliá Llana Resort & Spa, on Sal, and the Meliá White Sands, on the island of Boa Vista. All four hotels are owned by The Resort Group Plc. Additionally, Meliá has signed an agreement with Tanmiyat Real Estate Company for its first hotel in Qatar. The 280-room Meliá Doha is due to open in January 2015 in the 41-storey Bin Samikh Tower in Doha's West Bay area.

Rotana has announced the development of its first property in Tanzania, East Africa. The 24-storey, five-star Rotana project will have 191 hotel rooms and 63 serviced apartments; it will be part of the MNF Square mixed-use development in Dar es Salaam, which will also include office, retail and parking facilities. "The property in Tanzania falls in line with our strategic goal to operate 100 hotels by 2020," said Omer Kaddouri, Rotana's president and chief executive officer. "Tanzania has tremendous potential and we are anticipating an excellent response for our debut project in the country," he added.
Carlson Rezidor Hotel Group has signed a long-term country development agreement with Al Hokair Group that will see it operate approximately 30 new and existing hotels, resorts and serviced apartments under its Radisson Blu and Park Inn by Radisson brands across Saudi Arabia. The group currently operates seven hotels in the kingdom. Key markets for the new Radisson Blu and Park Inn properties are Riyadh, Jeddah, Mecca and Medina, but the duo will also target the country's Eastern Province and secondary cities.
InterContinental Hotels Group has signed a franchise agreement with Abjar Hotels International for two new hotels in Dubai: the 450-room Holiday Inn Dubai World Central, the fifth Holiday Inn to open in the UAE, and the 250-room Staybridge Suites Dubai World Central, the first franchised Staybridge Suites in the Middle East. The hotels will be in the emirate's purpose-built city, Dubai World Central, which is built around Al Maktoum International Airport.
Hard Rock International has announced that it is planning another Hard Rock hotel for the Middle East. The group has signed a management agreement with Abu Dhabi Financial Group and Sheffield Holdings for the Hard Rock Hotel Dubai Marina. The 281-room hotel will open in mid-2015 in the first 33 floors of the Marina 101 tower in Dubai. The property will mark Hard Rock's debut in the region, as although the group announced a Hard Rock hotel for Abu Dhabi in 2012 it not expected to open until 2017.
American firm Warwick International Hotels Group has signed a management agreement with Al Ebaa Company for its first hotel in Iraq. The Babylon Warwick Hotel, Baghdad is on the Tigris River, opposite the US embassy. The 300-room hotel is a conversion property. Warwick currently has eight hotels in operation across the Middle East (in Jordan, Lebanon, the UAE, Qatar and now Iraq) and the group aims is to have a network of 15 hotels in the region by 2016.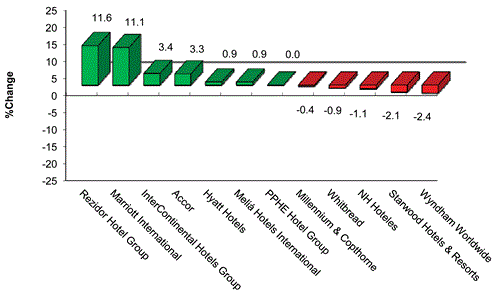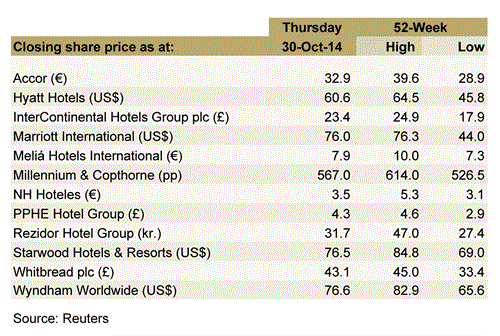 Rezidor Hotel Group – Reported strong performance from its Middle East properties in the third quarter of 2014.
Marriott International – Prices rose on higher daily room rates.
InterContinental Hotels Group – lifted 51p to 2,268p over the past week.
For the latest in the hospitality industry, please visit: http://www.hvs.com/. You are also welcome to contact the following personnel.
| | |
| --- | --- |
| Russell Kett, Chairman – HVS London (@russellkett) | [email protected] |
| Charles Human, CEO – HVS London/HVS Hodges Ward Elliott | [email protected] |
| Chris Martin, Director – HVS Hodges Ward Elliott | [email protected] |
| Tim Smith, Director – HVS London | [email protected] |
| Arlett Oehmichen, Director – HVS London | [email protected] |
| Sophie Perret, Director – HVS London | [email protected] |
| Peter Malone, CEO – HVS Executive Search, EMEA & Asia | [email protected] |
| Demetris Spanos, Managing Director – HVS Athens | [email protected] |
| Hala Matar Choufany, Managing Director – HVS Dubai | [email protected] |
| Ezio Poinelli, Director – HVS Milan | [email protected] |
| Louise Fury, Senior Editor and EMEA Hospitality Newsletter Author – HVS London | [email protected] |
Disclaimer: Information provided above has been gathered from various market sources. HVS has not independently verified the accuracy of the information provided. Interested parties should not rely on the information as statement of facts and are advised to make their own independent checks to verify the information provided. For further information, please feel free to contact HVS London.
Superior Results through Unrivaled Hospitality Intelligence. Everywhere.
Stay current. Click here to receive free HVS newsletters
Looking for insights into the hospitality industry?
Discover unique hospitality intelligence at hvs.com/publications
Interested in a particular market?
Find hundreds of market overviews, all written by HVS experts, at hvs.com/marketresearch
Like to be in the know on hotel trends and predictions?
See our Hotel Valuation Index for dozens of cities at hvi.hvs.com