Thailand-based Minor Hotels has announced that it has acquired a significant stake in UK-based hotel and restaurant group Corbin & King for a reported £58 million. "We at Minor Hotels are thrilled to be entering the UK market…" said the group's chief executive office, Dillip Rajakarier. "Our strategic joint venture will build upon Minor Hotels' history of operating signature restaurants within our hotels and in third-party locations. We look forward to working with Jeremy and Chris to expand the Corbin & King portfolio in the UK and key international markets," he continued. As well as its portfolio of 11 restaurants across London, Corbin & King also operate the 73-room Beaumont Hotel in the city's Mayfair district.
London-based real estate investor Aprirose has acquired the 210-room Hilton Reading, four miles from Reading town centre in southern England, from M&G Real Estate for £27.75 million (£132,000 per room). "With Reading's excellent connectivity, combined with the soon-to-arrive Crossrail which will further increase the fast and easy access to London, the Hilton hotel was a very attractive asset," said Aprirose's chief operating officer, Gary Jones.
Bowling Green Asset Management has purchased the Holiday Inn Salisbury-Stonehenge in southwest England from Fiesta Enterprises for £12.5 million (£121,000 per room), reflecting a net initial yield of 9.25%. The 103-room hotel, which recently underwent a refurbishment, is six miles from the iconic UNESCO World Heritage site of Stonehenge.
Mandarin Oriental has announced that it will manage a new hotel and branded residences development in London. The 50-key Mandarin Oriental Mayfair and the 80-unit Residences at Mandarin Oriental are expected to open in 2021 on Hanover Square, at the heart of the city's most exclusive residential, retail and fashion districts, becoming the group's second property in the UK capital. The project is owned and will be developed by Clivedale London. Mandarin Oriental currently operates 31 hotels and eight residences across 21 countries and territories.
The fourth Hotel Alternatives Event, organised by Hotel Analyst, is to be held on 21 February 2018 at The Montcalm London Marble Arch. The boundaries between hotels and other "buildings with beds" are blurring, both for customers and investors and this year's event will explore the opportunities and challenges being created by this change. There will be a host of industry leaders speaking at the conference. "At last year's conference we saw how traditional hotel yields had contracted so that they now align with retail property. Hotel alternatives are becoming more and more popular with investors as they seek out superior returns," said Andrew Sangster, editorial director and owner of Hotel Analyst and conference founder. To check out this year's speakers (HVS London's Russell Kett will be moderating "The Battle of The Brokers" session) and to book your place visit, www.hotelalternatives.net. Don't miss the early bird rate of £495 + VAT, which is available until 24 January 2018.
Hyatt Hotels' Centric brand has made its debut in France with the opening of the Hyatt Centric La Rosière, the first Hyatt ski resort in Europe. The 69-room hotel is 1,850 metres above sea level in La Rosière in the French Alps. The hotel is operated by Sophos Hotels under a franchise agreement. Additionally, Hyatt opened its first Hyatt Regency property in the Russian capital, Moscow, this week, its second hotel in the city overall. The Hyatt Regency Moscow Petrovsky Park, which has 298 guest rooms and 39 suites, is on Leningradsky Avenue within the VTB Arena Park project and joins sister property the Ararat Park Hyatt Moscow. Hyatt now has four hotels in operation across Russia, two of which are Hyatt Regency hotels.
Pandox has signed two new lease agreements with NH Hotel Group for the Hotel BLOOM! and Hotel Berlaymont in Brussels, Belgium. The 214-room Hotel Berlaymont was acquired in May 2017 and the 305-room Hotel BLOOM! was purchased 2005. The 20-year revenue-based agreements will take effect on 1 February 2018 and will result in the two hotels being reclassified from Operator Activities to Property Management.
InterContinental Hotels Group's (IHG) Indigo brand has made its first appearance in Belgium with the Hotel Indigo Antwerp – City Centre. The 82-room hotel, at the heart of Antwerp's diamond district, is within walking distance of some of the city's main attractions. IHG currently has 24 Hotel Indigo hotels across Europe and a further 18 in the pipeline due to open over the next three to five years.
InterContinental Hotels Group (IHG) has opened its first InterContinental-branded resort in the Middle East. The beachfront InterContinental Fujairah Resort, in the Dibba coastal area, beneath the Hajar Mountains, has 190 guest rooms and suites. "This marks an important milestone in our journey in the region, as we expand our luxury portfolio to cater to our luxury guests…" said Pascal Gauvin, IHG's chief operating officer for India, the Middle East and Africa. "With its dazzling coastline, majestic mountains, palm orchards and deep wadis, combined with a rich heritage, Fujairah is fast emerging as a tourist haven that lures the most discerning travellers," he added.
Meliá Hotels International's ME by Meliá brand is to make its Middle Eastern debut with the ME Dubai, which is scheduled to open at the end of 2018. The hotel will be housed in the 95-metre-high Opus building at the heart of the Burj Khalifa district and will comprise 93 rooms and suites, a luxurious Suite Me and 98 serviced apartments. "Dubai is a fascinating, exciting city, known for its progressive feats of design; all of which are characteristics that resonate with ME by Meliá hotels and the high standards we offer our guests," commented Gabriel Escarrer, Meliá's vice chairman and chief executive officer.
We take this opportunity to wish all our readers, clients and friends a very happy Christmas and a wonderful New Year holiday. Our London office will reopen on 2 January 2018 and our next newsletter will be published the following week. We also bid farewell to our senior editor, Louise Fury, who has prepared our newsletters for the past several years – she leaves to pursue a new career in teaching and we wish her well in the future.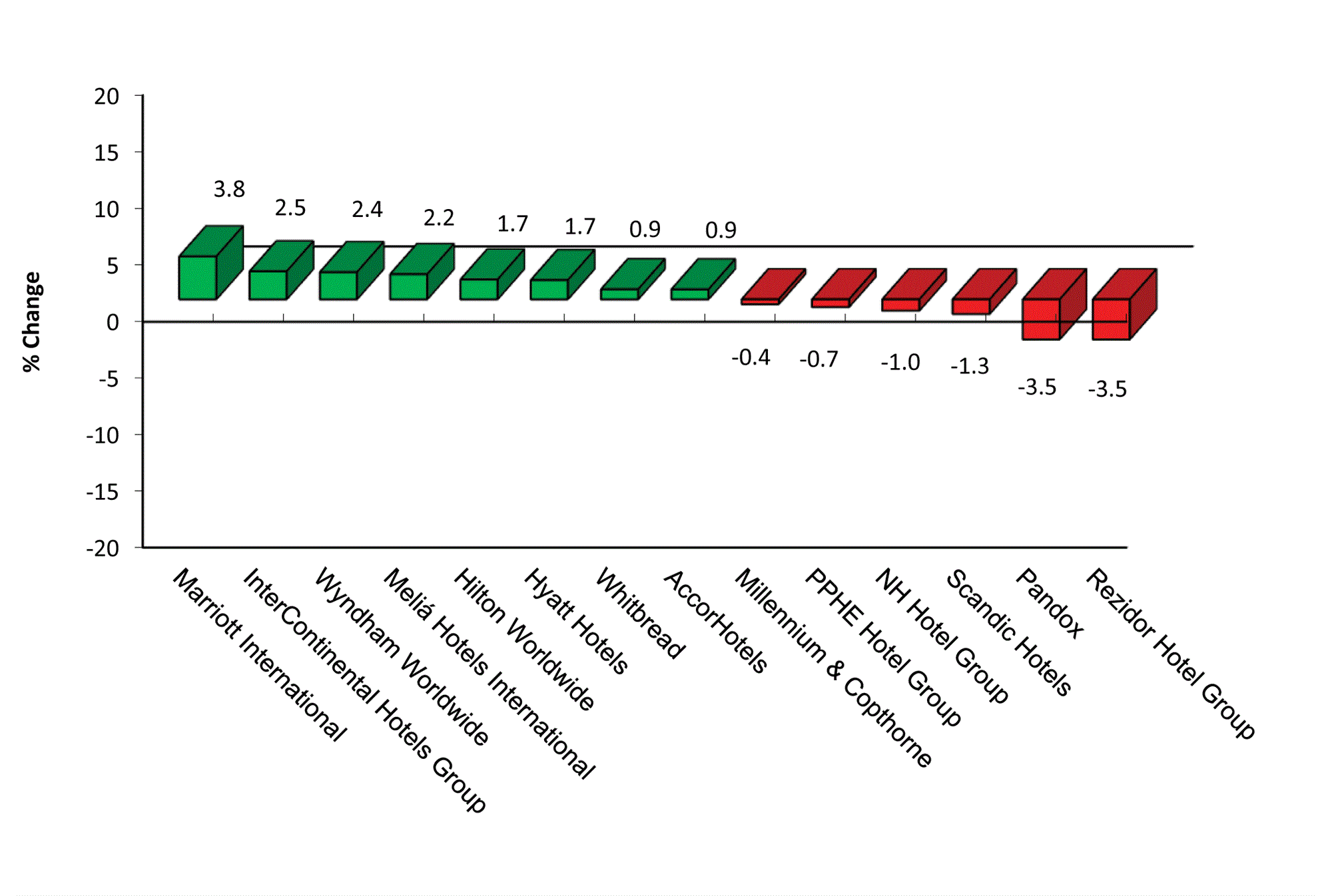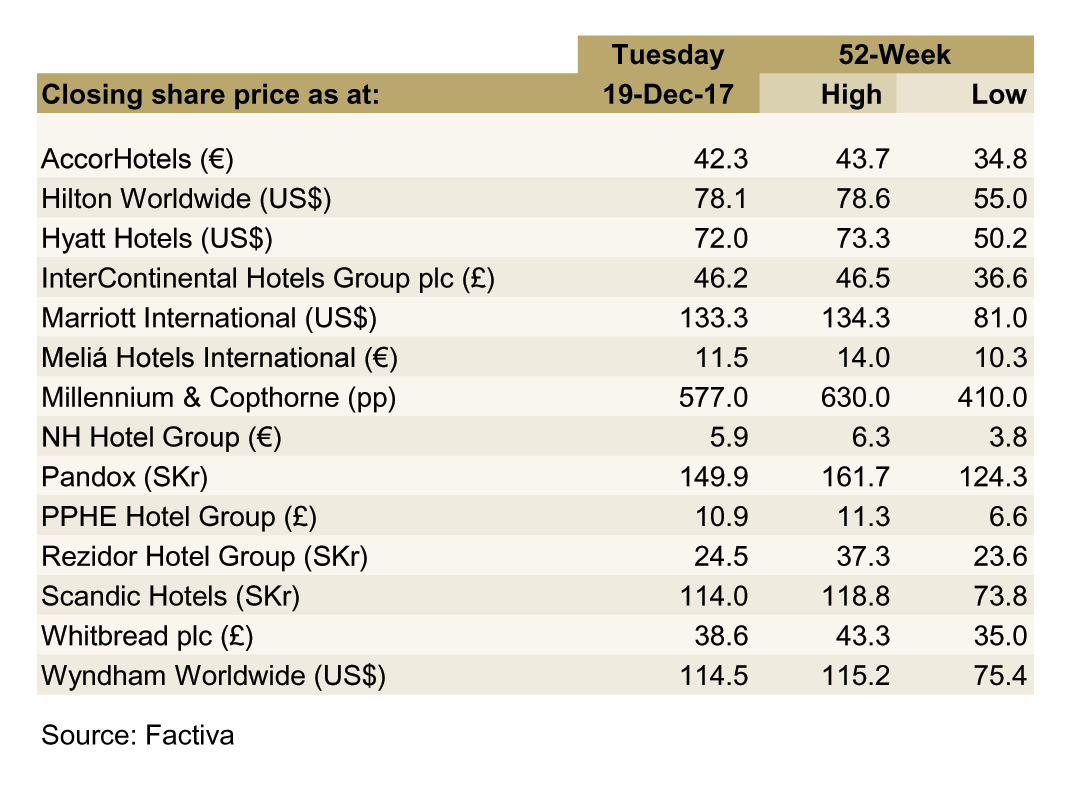 Hyatt Hotels – announced that its Board of Directors has authorized the repurchase of up to an additional US$750 million of the Company's common stock.


Disclaimer: Information provided above has been gathered from various market sources. HVS has not independently verified the accuracy of the information provided. Interested parties should not rely on the information as statement of facts and are advised to make their own independent checks to verify the information provided. For further information, please feel free to contact HVS London.
Superior Results through Unrivaled Hospitality Intelligence. Everywhere.
Stay current. Click here to receive free HVS newsletters
Looking for insights into the hospitality industry?
Discover unique hospitality intelligence at hvs.com/publications
Interested in a particular market?
Find hundreds of market overviews, all written by HVS experts, at hvs.com/marketresearch
Like to be in the know on hotel trends and predictions?
See our Hotel Valuation Index for dozens of cities at hvi.hvs.com