Hilton Worldwide's luxury Waldorf Astoria Hotels & Resorts chain has signed a management agreement with Prime Investors Capital for a hotel in the iconic Admiralty Arch monument in London, marking the brand's debut in the UK capital. Commissioned by King Edward VII, Admiralty Arch was completed in 1910 and Prime Investors Capital acquired a 250-year lease for the property in 2015. The building, which has served many purposes over the years, including a Royal Navy outpost and, most recently, a centre for the UK Government's Cabinet Office, is undergoing an extensive refurbishment programme and the Admiralty Arch Waldorf Astoria is due to open in 2022. "This agreement marries the timeless elegance of Waldorf Astoria with the historic grandeur of one of London's great monuments. Projects of this calibre are rare, and Admiralty Arch Waldorf Astoria will provide a truly unforgettable hospitality experience when it opens to guests," said Christopher J. Nassetta, Hilton's president and chief executive officer. Hilton currently operates one hotel in the UK, the Waldorf Astoria Edinburgh – the Caledonian in Scotland.
Hamilton Park Racecourse, in the Scottish town of Hamilton, 12 miles southeast of Glasgow, has applied for planning permission from South Lanarkshire Council for a 118-room hotel on the racecourse ground's main public car park. The £10 million project is to be operated under Hilton Worldwide's Hampton by Hilton brand. "Hampton by Hilton has grown rapidly since being introduced to Scotland last year," commented Graham Dodd, senior director of development, UK and Ireland, for Hilton. "We will soon have six hotels operating under the brand in four key locations across Scotland and we look forward to welcoming guests to Hamilton and its racecourse in the coming years," he added.
Marriott International's EDITION brand has announced seven new hotel launches in 2018 across three continents, increasing the EDITION family from four to eleven properties. Two of the hotels are to be developed in the USA and two will be in Thailand and China. The remaining three are for Europe and the Middle East. The chain's second and third European hotels are to open in Bodrum (Turkey) and Barcelona (Spain) and the first EDITION in the Middle East will open in Abu Dhabi (UAE). A further nine hotels are planned to open across five continents by 2020.
Art-Invest Real Estate has acquired the Dorint Hotel Maison Messmer, in the spa town of Baden-Baden in southwest Germany, for its Hotel Manage to Core fund from a closed-ended fund of Honestis AG for an undisclosed sum. Art-Invest has also completed a new, long-term lease contract for the five-star, 152-room property with hotel operator Neue Dorint.
Singapore-based Fragrance Group has purchased the 50-room Corbyn Head Hotel in the seaside resort of Torquay in southwest England from Rew Hotels for an undisclosed sum. The three-star hotel, with an outdoor swimming pool and terrace and other facilities, is opposite Livermead Sands beach. The deal marks Fragrance Group's sixth hotel acquisition in the UK this year and its second property in Torquay (the group bought the 141-room Palace Hotel in July).
HVS alumnus Amir Lababedi has been appointed by Mövenpick Hotels & Resorts to spearhead its expansion strategy across Europe and North Africa. For the past three years, Amir has been based in Mövenpick Middle East's regional office in Dubai as Vice Presdient Middle East and he will be relocating to London to take up the newly created role of Vice President Development Europe & North Africa. Before joining Mövenpick, Amir worked as an associate director with HVS in Dubai and he has also worked in HVS's London office. "We are fortunate that Amir, an experienced hotel developer, will be driving our strategy in Europe and North Africa – one that is underpinned by our dynamism, flexibility, reinvigorated design philosophy, true owner-centric management values and of course, the exceptional hospitality and pioneering food and beverage concepts for which Mövenpick is globally renowned," said Mövenpick's Chief Development Officer, Andrew Langdon.
Rosewood Hotel Group has appointed Karl Bieberach-Dielman as chief development officer. Karl is expected to join the group later this year to lead the global development and feasibility team. Karl has more than 20 years of experience in development and has previously held roles with Starwood Hotels & Resorts, Marriott International and HVS's New York office.
Hilton Worldwide recently made its debut in the West African archipelago of Cabo Verde with the opening of the Hilton Cabo Verde Sal Resort. The 241-room beachfront resort is near to the village of Santa Maria on Sal. The resort has a 24-hour fitness centre, a casino, a spa and more than 1,000 square metres of conference and event space amongst other facilities.
Indian chain Sarovar Hotels & Resorts has signed an agreement for a second hotel in Dar es Salaam in Tanzania, East Africa. The 130-room Sarovar Portico Dar es Salaam, owned by Esprit Developers and currently under development, is scheduled to open in February 2018 in the city centre. Sarovar has more than 510 rooms in operation or in its pipeline across Africa.
Bulgari Hotels & Resorts is due to make its first appearance in the Middle East on 7 December with the opening of the Bulgari Resort & Residences Dubai. The resort is on the man-made, seahorse-shaped Jumeirah Bay Island, which is connected to the Dubai coastline by a 300-metre-long bridge, and includes 101 guest rooms and suites, plus 20 Bulgari villas with a pool, garden and sea views. The complex also includes six residential buildings with 173 sea-facing apartments, 15 private mansions and Bulgari's first-ever marina and yacht club. The resort brings the group's global portfolio up to five (with two more properties in the pipeline for Shanghai and Moscow scheduled to open in 2018 and 2020, respectively).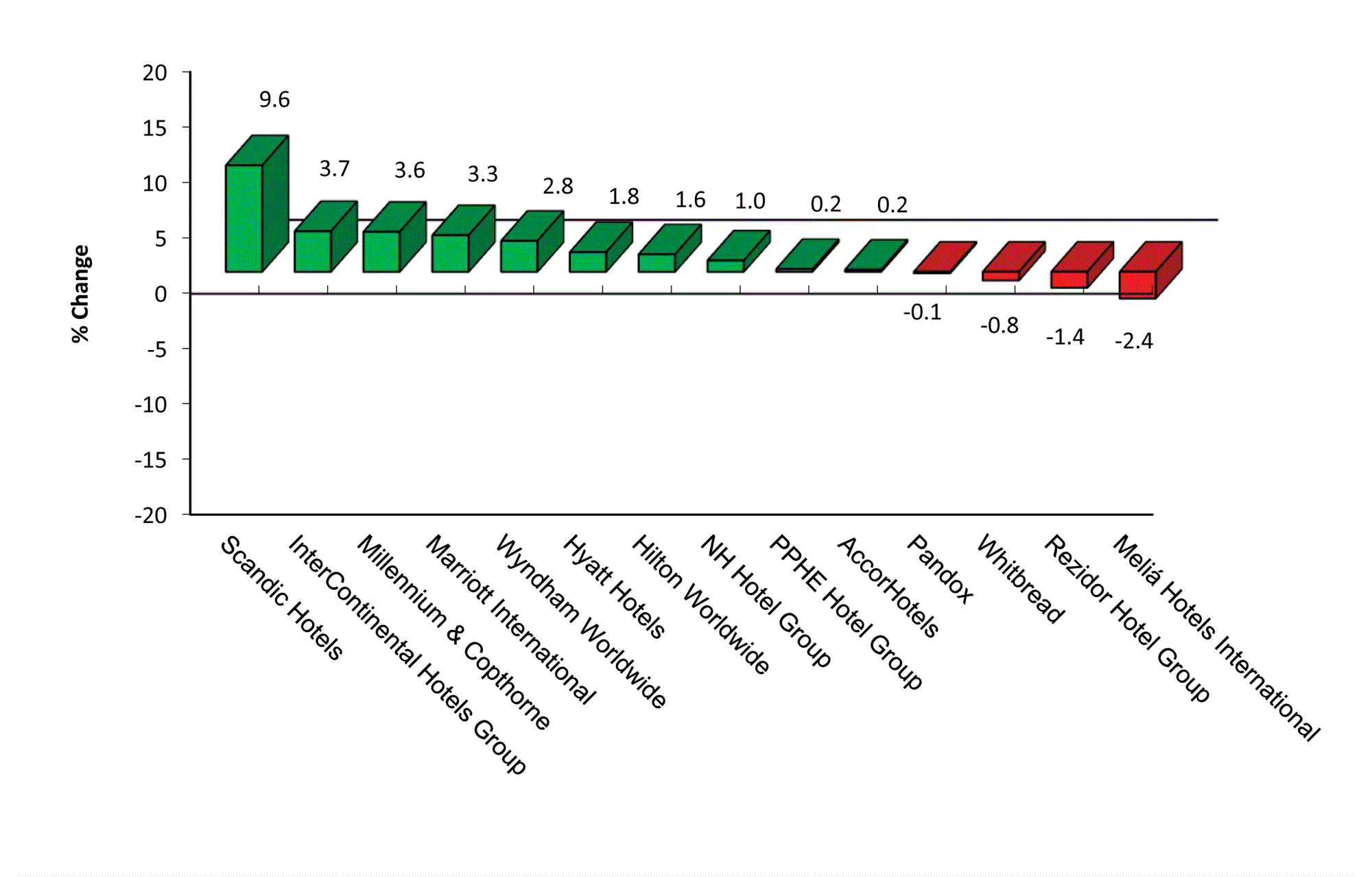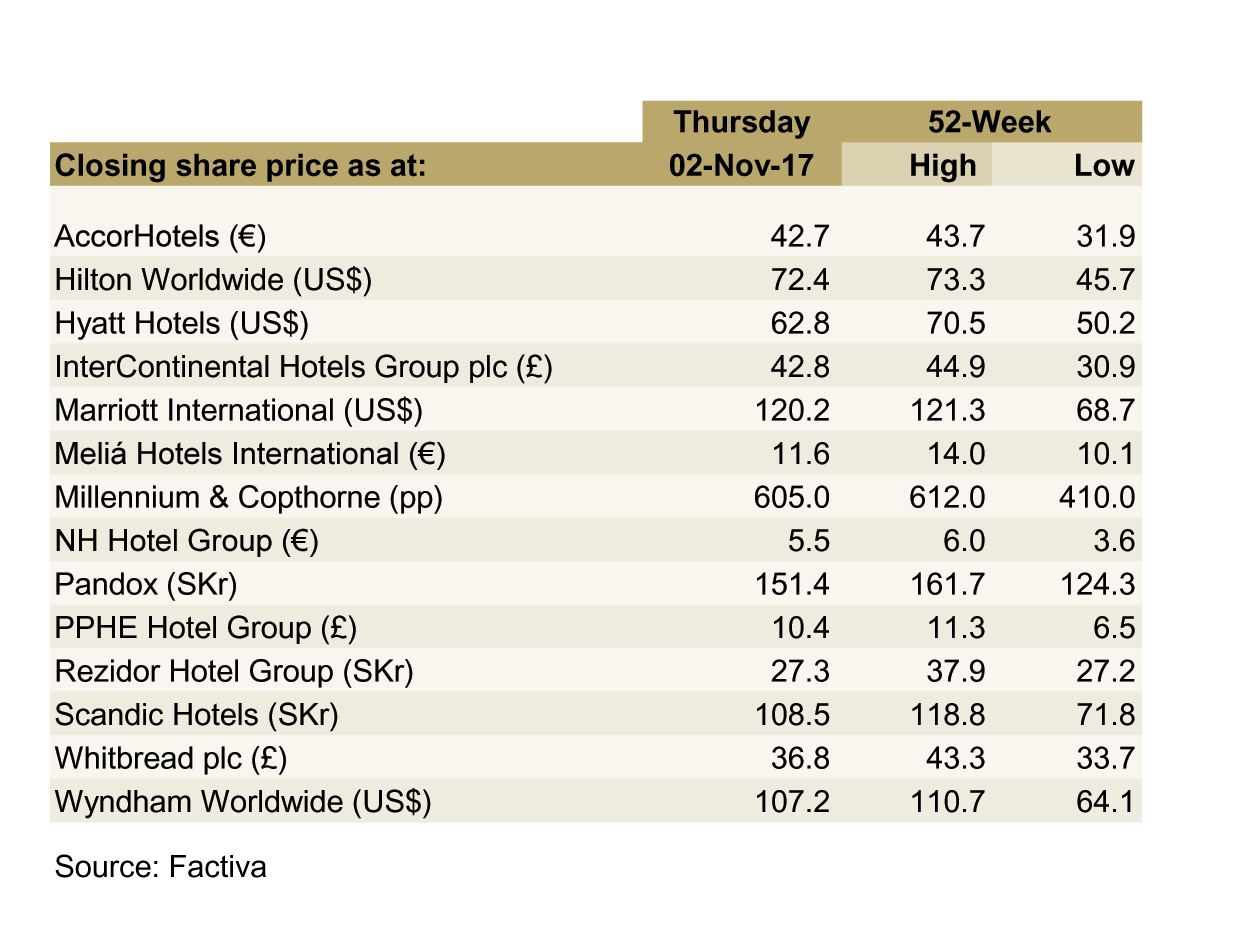 InterContinental Hotels Group – Raised to "outperform" From "neutral" by Credit Suisse.

Millennium & Copthorne – Total revenue for the third quarter of 2017 was £263 million, a 4.8% rise on the same period last year.
Disclaimer: Information provided above has been gathered from various market sources. HVS has not independently verified the accuracy of the information provided. Interested parties should not rely on the information as statement of facts and are advised to make their own independent checks to verify the information provided. For further information, please feel free to contact HVS London.
Superior Results through Unrivaled Hospitality Intelligence. Everywhere.
Stay current. Click here to receive free HVS newsletters
Looking for insights into the hospitality industry?
Discover unique hospitality intelligence at hvs.com/publications
Interested in a particular market?
Find hundreds of market overviews, all written by HVS experts, at hvs.com/marketresearch
Like to be in the know on hotel trends and predictions?
See our Hotel Valuation Index for dozens of cities at hvi.hvs.com