European real estate investment platform Henderson Park is to purchase two Hilton Metropole hotels in the UK for reportedly £500 million (£270,000 per room) from family owned Tonstate Group, marking Henderson's entry into the UK hotel market. The transaction includes the 1,059-room Hilton London Metropole, in the UK capital's Paddington area, and the 790-room Hilton Birmingham Metropole, located at the National Exhibition Centre in England's West Midlands region. Both properties will continue to be operated by Hilton Worldwide.
INTERNOS Global Investors has completed its acquisition of the Vincci Seleccion Hotel Posada del Patio in Malaga, in southern Spain, from real estate firm Dospuntos for €26.75 million (€252,400 per room). The five-star 106-room hotel, in Malaga's Old Town, is operated by Vincci Hotels under a long lease. The transaction marks the first purchase for INTERNOS' Hotel Fund II, which will focus on the acquisition of three- to five-star city centre business hotels across Europe that provide the opportunity to add value.
Marriott International's extended-stay Residence Inn brand has made its debut in London with the opening of the Residence Inn – London Bridge. The 87-unit property, in Southwark, is within walking distance of some of the city's most iconic attractions, such as Tower Bridge and St Paul's Cathedral. The hotel won't be the only one of its brand in the UK capital for long, however, as the 307-unit Residence Inn London – Kensington is scheduled to open later this year. Both properties are owned by a controlled affiliate of Starwood Capital Group and will be operated by Cycas Hospitality under a franchise agreement. More Residence Inn properties are expected to open in Aberdeen (UK) and Amsterdam (the Netherlands) in early 2018, increasing the chain's European portfolio from three to seven hotels.
Deutsche Hospitality has revealed plans for a new flagship IntercityHotel in Frankfurt city centre, Germany. The IntercityHotel Frankfurt Hauptbahnhof Süd is scheduled to open in early 2019 close to Frankfurt Main railway station. The 400-room hotel, which is currently under construction, is owned by CA Immo Deutschland GmbH and will operate under a lease agreement. "This is a special place and time for our company," commented Joachim Marusczyk, managing director at IntercityHotel. "The successful development of our brand began precisely thirty years ago with the founding of IntercityHotel GmbH. The very first IntercityHotel opened at Frankfurt's main train station. We are proud that we will soon be able to launch our future flagship hotel on this highly attractive site," he added.
Budget design chain Motel One has opened its first hotel in Zürich and its second in Switzerland overall. The 394-room Motel One Zürich, at the heart of Switzerland's largest city and just a 20-minute car journey from Zürich Airport, joins its Swiss sister property in Basel.
Foremost Hospitality has opened its 14th and 15th hotels in Germany with a new-build dual-branded project in Hamburg. The 104-room Holiday Inn Express Hamburg-City Hauptbahnhof and the adjacent 61-room Hampton by Hilton Hamburg City Centre are on the Sonnin-Canal, close to the city's main railway station. Foremost has more expansion in the pipeline for Germany with the opening of the largest Holiday Inn Express in Europe in Cologne, and the Hilton Garden Inn brand is scheduled to make its debut in Frankfurt in autumn 2017.
Austrian hotel chain Vienna House is planning to open a new hotel in Warsaw, Poland, under its Vienna House brand. The Vienna House Mokotów Warsaw is scheduled to open in summer 2018 in the city's Mokotów business district and joins five existing Vienna House hotels in the country. The hotel is owned by private equity fund Garvest and will be operated under a lease agreement. Total investment in the 164-room hotel is reported to be €22 million (€134,000 per room). "We have been managing hotels in Poland very successfully for many years, including a resort and several business and city hotels," said Rupert Simoner, chief executive of Vienna House. "The new Vienna House brand hotel confirms our growth strategy as well as our commitment to the Polish market," he continued.
Hamburg-based NOVUM Hotel Group has announced plans to open a Niu hotel in Düsseldorf, western Germany. Construction is due to start on the 438-room hotel in mid-2018 and the property is to be developed with investor Citygrove European Developments Ltd. The hotel will be close to the city centre and will join ten existing NOVUM-branded hotels in the city.
Hilton Worldwide has signed a management agreement with Fahd Abdallah al-Harbi & Sons Ltd for its first DoubleTree by Hilton property in Jeddah, Saudi Arabia. The 114-room DoubleTree by Hilton Jeddah Al Salamah District is expected to open in the first quarter of 2020, just ten kilometres from King Abdulaziz International Airport. Hilton currently has two hotels in operation in the Red Sea port, under its Hilton and Waldorf Astoria brands.
Swiss-Belhotel International has opened its third hotel in the Jordanian port of Aqaba. The Marina Plaza Hotel by Swiss-Belhotel joins the Grand Swiss-Belresort Tala Bay Aqaba and the Swiss-Belhotel Aqaba City. The 260-room Marina Plaza property is 15 km south of the city in the resort area of Tala Bay. The four-star hotel, which overlooks the Red Sea, is just a four-minute walk from the beach. The hotel is part of an agreement between Swiss-Belhotel and Jordan Projects for Tourism Development (JPTD), under which the Hong Kong-based group will co-manage JPTD's existing three properties in Aqaba and its future portfolio of hotels.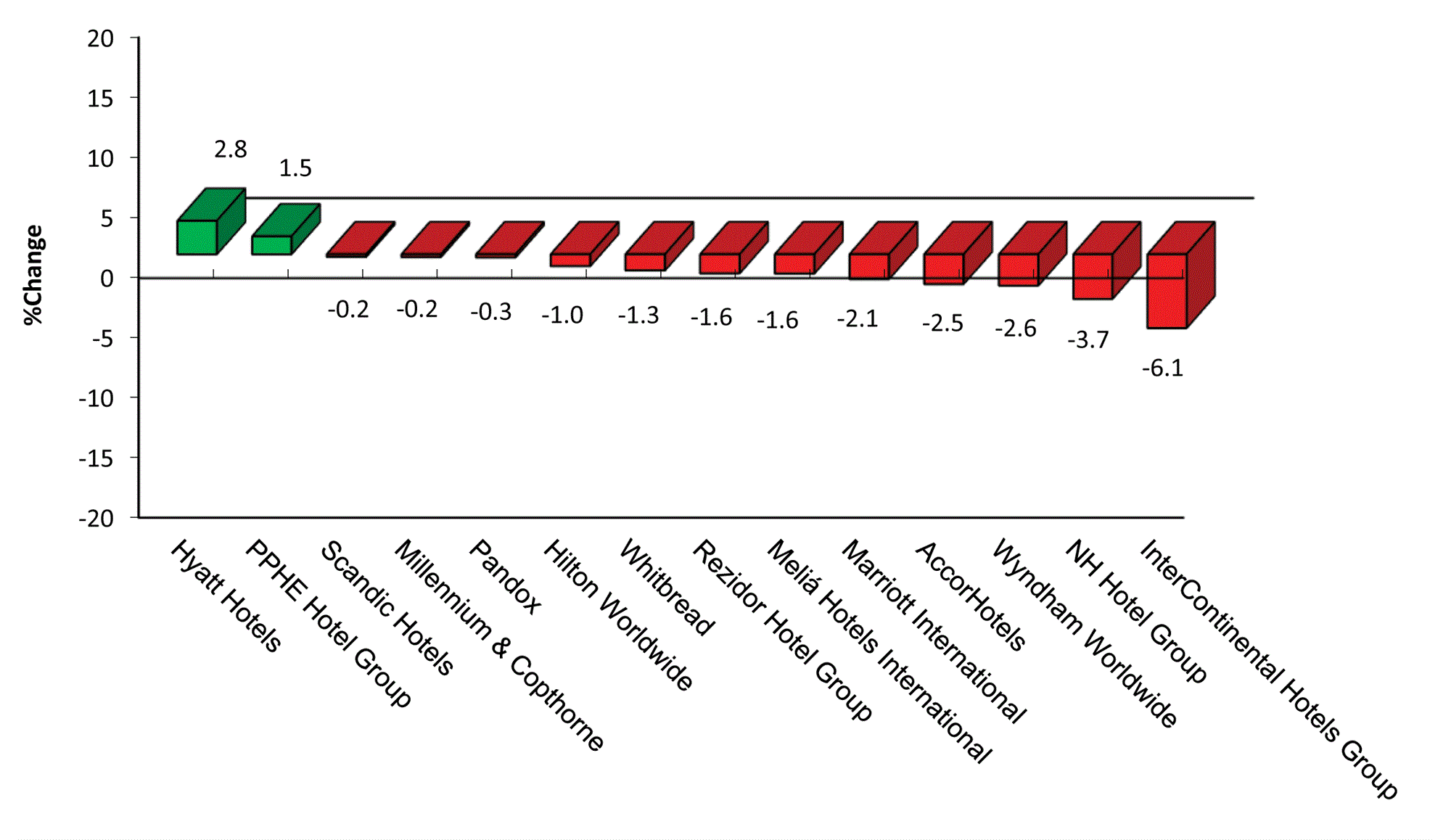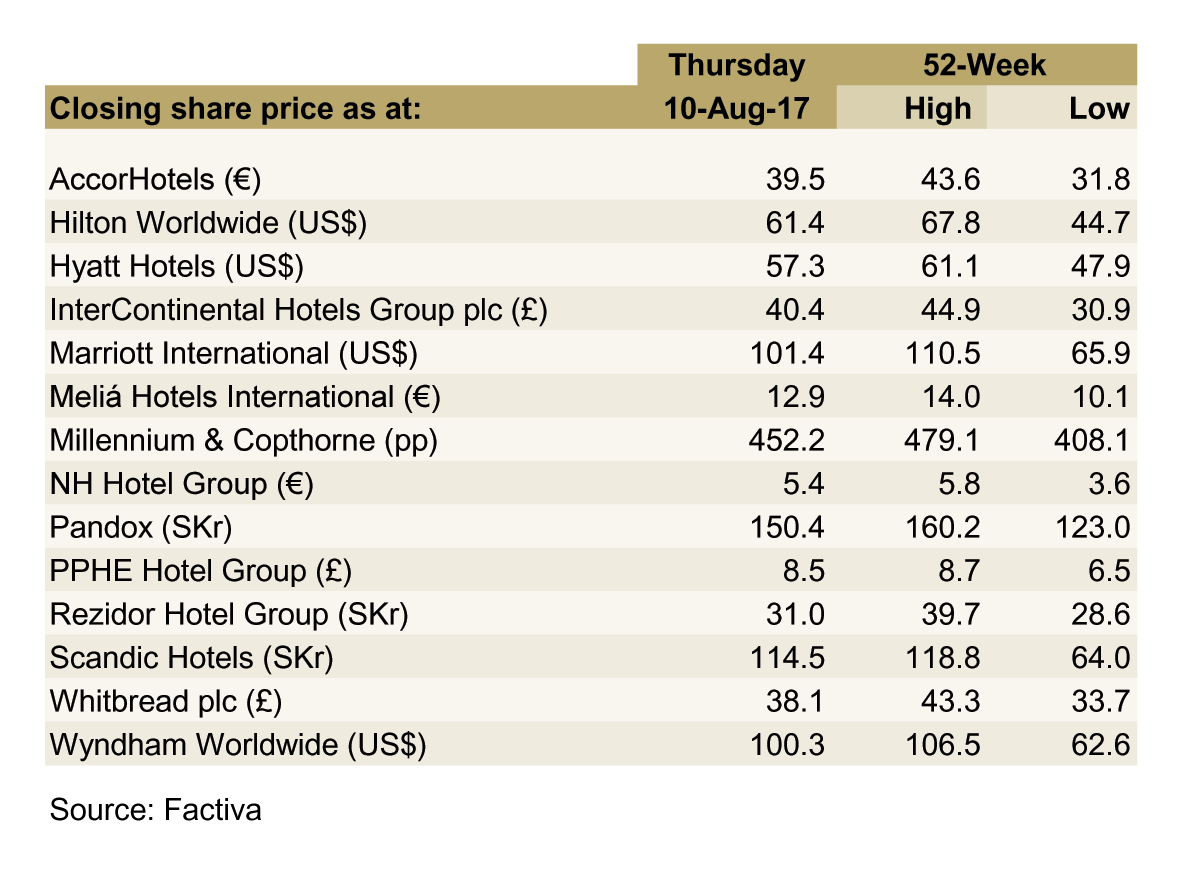 Wyndham Worldwide – RCI, part of Wyndham Worldwide, has reached an agreement with Beneficium to acquire DAE Global Pty Ltd (DAE), operator of Dial An Exchange, a leading timeshare exchange company headquartered in Australia, and @Work International, a software company also based in Australia.

AccorHotels – Revenue up 33.5% to €922 million for the first half of 2017.
Disclaimer: Information provided above has been gathered from various market sources. HVS has not independently verified the accuracy of the information provided. Interested parties should not rely on the information as statement of facts and are advised to make their own independent checks to verify the information provided. For further information, please feel free to contact HVS London.
Superior Results through Unrivaled Hospitality Intelligence. Everywhere.
Stay current. Click here to receive free HVS newsletters
Looking for insights into the hospitality industry?
Discover unique hospitality intelligence at hvs.com/publications
Interested in a particular market?
Find hundreds of market overviews, all written by HVS experts, at hvs.com/marketresearch
Like to be in the know on hotel trends and predictions?
See our Hotel Valuation Index for dozens of cities at hvi.hvs.com