Nordic group Pandox has agreed to acquire the Hilton London Heathrow Airport in west London for £80 million (£201,000 per room). The 398-room hotel is connected to Heathrow Airport's Terminal 4 by a covered walkway and is operated by Hilton Worldwide subsidiary Adda Hotels under a revenue-based lease agreement. The sale is expected to close by the end of the third quarter of 2017.
Also in London this week, HPL Ealing Private (a joint venture between HPL Properties (West) and Anchorage View) acquired the freehold interest in the DoubleTree by Hilton Hotel London – Ealing from Gilmour S.a.r.l for an undisclosed sum. The 189-room hotel will continue to be operated under the DoubleTree brand via a franchise agreement with Hilton Worldwide. The sale is reportedly the largest transaction to take place in the west of the city so far this year.
After purchasing four hotels from Africa-Israel Hotels for NIS524 million (€131.3 million) earlier this year, the Dayan family has now signed a deal to acquire the full ownership of Africa-Israel Hotels for NIS413 million (€103.5 million). Africa-Israel currently operates 15 hotels (some are fully owned), ten of which are in Israel (approximately 2,500 rooms); the other five properties are in Romania, Russia and Germany. The group, owned 50:50 by Africa-Israel Investments and Netz Group Ltd, is a franchisor for InterContinental Hotels Group, operating nine of its Israeli hotels under the Crowne Plaza and Holiday Inn brands.
Deutsche Hospitality has formed a partnership with GBI AG to cooperate on the development of new hotel locations. The main focus of the partnership will be growing the group's IntercityHotel and Jaz in the City brands, and to start with four IntercityHotels will be developed in Heidelberg, Wiesbaden, Bielefeld and Graz in Germany. A total of around 800 rooms will be created close to the main railway stations in these cities. Lease agreements have already been signed for the projects, and GBI has acquired the sites from Deutsche Bahn as part of a package deal. Deutsche Hospitality also recently announced that its design chain Jaz in the City is to strike its first note in Vienna, Austria, in 2020. The 167-room Jaz Vienna will be operated by the group under a lease agreement and it will be developed by Immovate Holding GmbH. This latest signing means that the Austrian city will be the first location to host all three of Deutsche Hospitality's brands.
Aina Hospitality has bought a 50% equity stake in Breda Capital SL, the company that owns the four-star Grand Hotel Velazquez in Madrid, Spain for an undisclosed sum. The 143-room hotel is in the city's exclusive Salamanca district. Aina has co-invested in the property, which has just closed to undergo an extensive refurbishment, with Grupo Didra and the pair now plan to will reposition the hotel as a luxury five-star property. When the hotel reopens it will have a reduced room count of 111, a restaurant, a rooftop bar, a cinema and bowling outlet, a spa and a fitness centre.
Carlson Rezidor's Radisson Blu brand has made its first appearance in the port of Świnoujście in northwest Poland. The Radisson Blu Resort, Świnoujście has LEED certification and is Poland's first five-star hotel that has been designed and built to meet strict sustainability standards. With views of the Baltic Sea, the hotel has 317 rooms inspired by their marine environment, 22 suites and a presidential suite. The hotel is owned by Jan Wróblewski. The group's latest opening "represents Carlson Rezidor's ambitious expansion plans in Poland," said Yilmaz Yildirimlar, The Rezidor Hotel Group's senior area vice president for Central and Southern Europe.
Marriott International has opened the Four Points by Sheraton Venice Mestre, in Greater Venice, Italy, bringing its Four Points portfolio in the country to five properties (joining the 218-room Four Points by Sheraton Padova, the 254-room Four Points by Sheraton Milan Center, the 161-room Four Points by Sheraton Catania Hotel & Conference Center and the 189-room Four Points by Sheraton Bolzano. The 168-room hotel in Mestre, which has recently been completely renovated, is operating under a franchise agreement with Italian management firm DHotels. Marriott currently has 47 hotels in operation across Italy overall, under 14 brands.
Hilton Worldwide has opened its third DoubleTree by Hilton property in Dubai and its eighth across the Middle East overall. The DoubleTree by Hilton Dubai – Business Bay is in the Bay Square mixed-use community. The 238-room hotel is owned by Dubai Properties. "Dubai is a fast-growing, cosmopolitan city that offers visitors a range of activities, from shopping in the modern malls, to watching a performance at the opera, to abra rides on the creek," said Dianna Vaughan, DoubleTree by Hilton's senior vice president and global head. "As the first and only hotel in Bay Square, DoubleTree by Hilton Dubai – Business Bay is ideal for travellers seeking accommodation in this popular new destination," she added.
Jumeirah Group is set to manage its first hotel in Saudi Arabia. Dubai Holding has signed an agreement to develop the 1,033-room Jabal Omar Jumeirah Makka Hotel, which will be within walking distance of the Holy Mosque in Mecca. The development will also include 93 villas, food and beverage outlets, meeting space and more than 90 retail units. The hotel brings Jumeirah's portfolio to 22 hotels and resorts worldwide.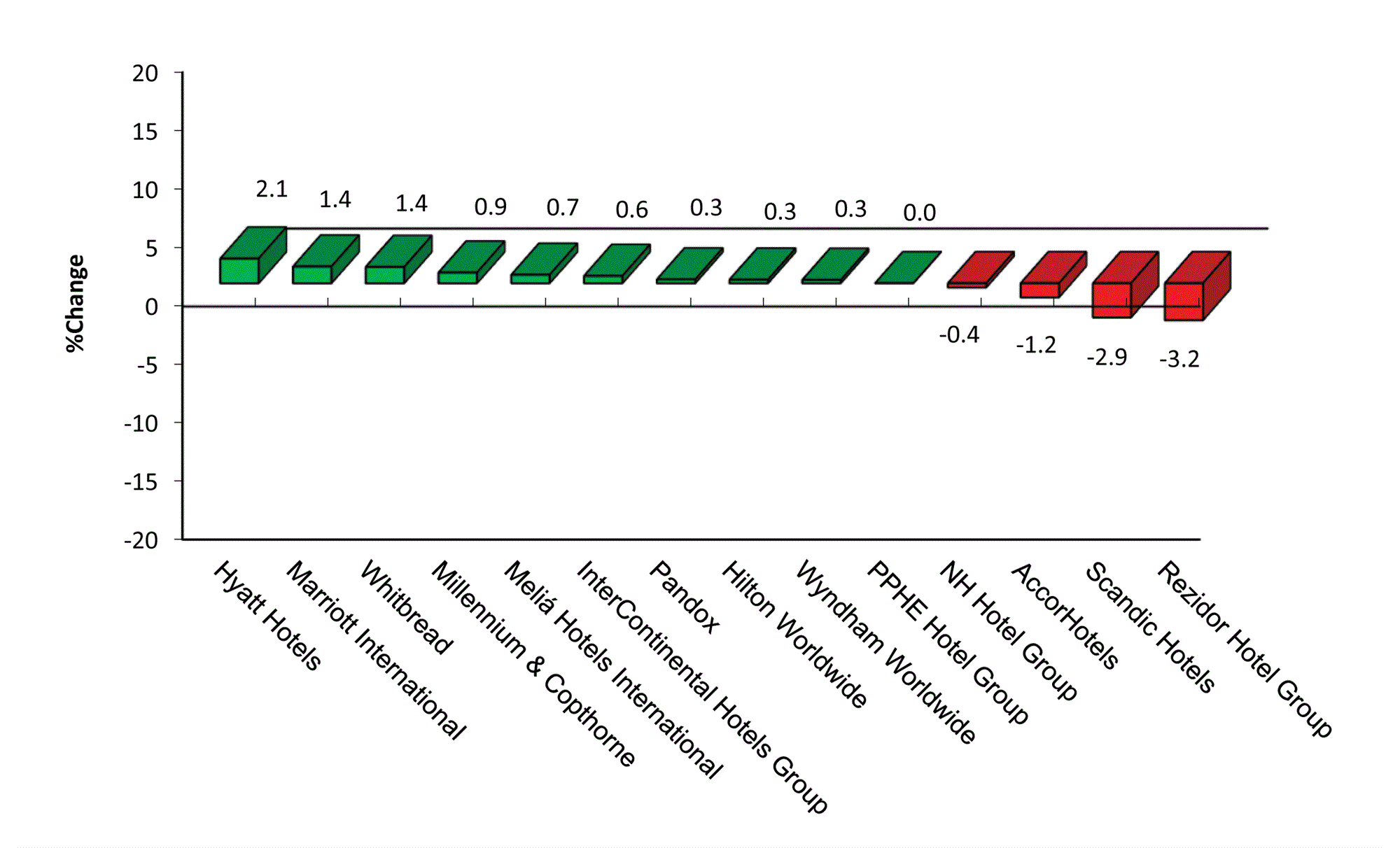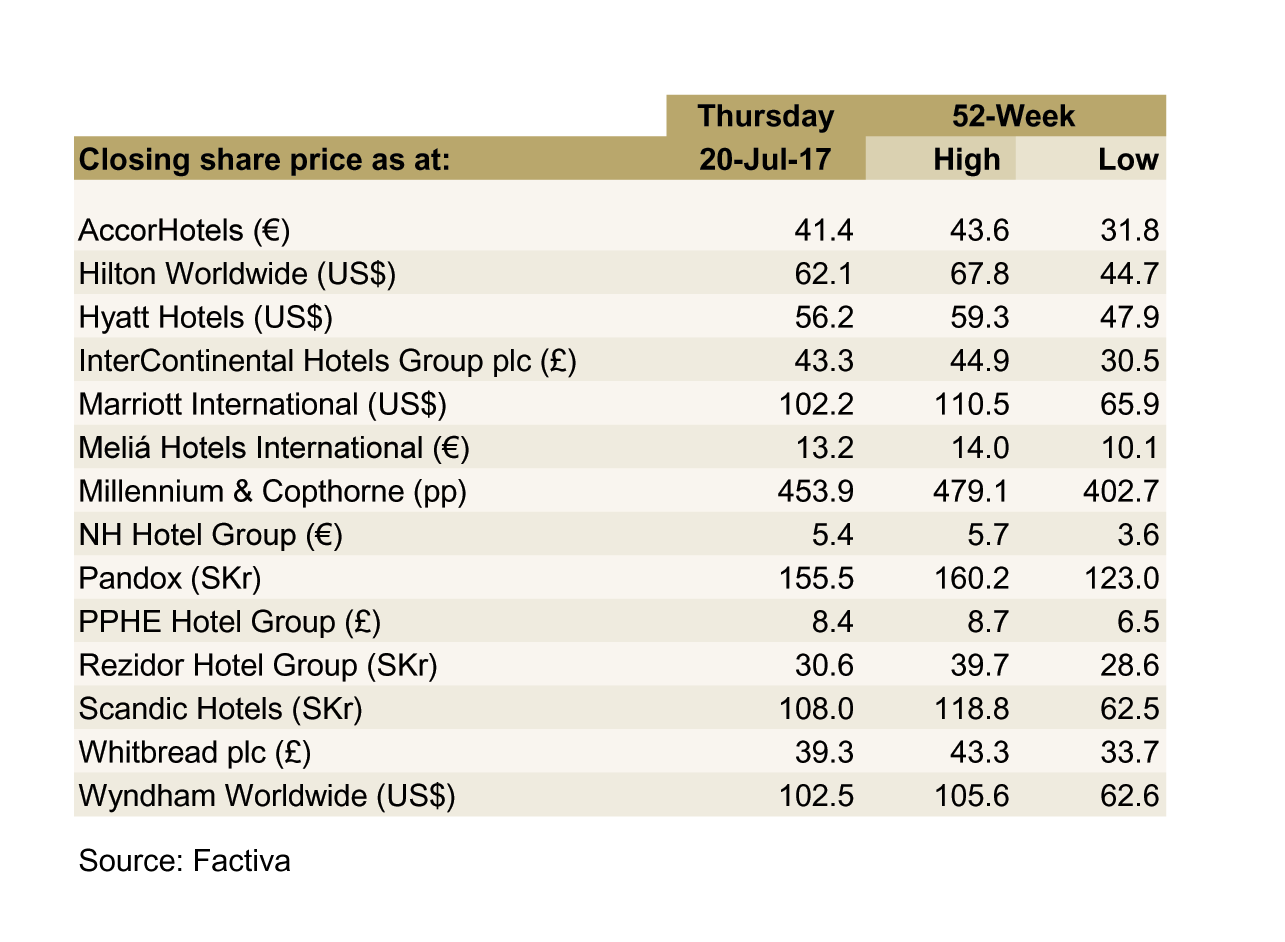 Scandic Hotels – Net sales increased by 13.6% to SKr6,865 million due to higher RevPAR, more rooms in operation and positive currency effects.

InterContinental Hotels Group – Global Ratings has affirmed its 'BBB' long-term corporate credit and issue ratings on the group. The outlook remains stable.
Disclaimer: Information provided above has been gathered from various market sources. HVS has not independently verified the accuracy of the information provided. Interested parties should not rely on the information as statement of facts and are advised to make their own independent checks to verify the information provided. For further information, please feel free to contact HVS London.
Superior Results through Unrivaled Hospitality Intelligence. Everywhere.
Stay current. Click here to receive free HVS newsletters
Looking for insights into the hospitality industry?
Discover unique hospitality intelligence at hvs.com/publications
Interested in a particular market?
Find hundreds of market overviews, all written by HVS experts, at hvs.com/marketresearch
Like to be in the know on hotel trends and predictions?
See our Hotel Valuation Index for dozens of cities at hvi.hvs.com