London-based European property investor Avignon Capital has purchased the Hyatt Place Amsterdam Airport for €53.8 million (€163,000 per room) from Hillgate Investments. The purposed-built, 330-room hotel is in Amsterdam's Hoofddorp business district, a five-minute drive from Amsterdam Schiphol Airport. The transaction marks Avignon's third deal in the Netherlands.
Norwegian investor Wenaasgruppen has acquired the AC Hotel Bella Sky Copenhagen, in Denmark, from private equity group Solstra Investments on a sale-and-leaseback basis for an undisclosed sum. The seller will continue to operate property, in the city's Ørestad area, under a franchise agreement with Marriott International. The 812-room room hotel is the largest hotel in Denmark and the largest Marriott-branded property in Europe.
InterContinental Hotels Group (IHG) has signed a franchise agreement with Criterion Capital that will see it open its fourth Hotel Indigo hotel in London and its 11th in the UK overall. The Hotel Indigo – One Leicester Square is due to open near the end of the year and will be IHG's first property in the city's iconic Leicester Square, a prime tourist attraction. The signing marks IHG's first venture with Criterion Capital. Additionally, AccorHotels announced the opening of the MGallery by Sofitel Leicester Square this week. The 86-room hotel is housed within Criterion Capital's Victory House and is operated by Bespoke Hotels.
Hilton Worldwide has signed a franchise agreement with Ariva Hotel for the Hilton Garden Inn Mannheim, in southwest Germany, marking the group's debut in the city. The 197-room hotel, in Mannheim's Kepler-Quartier, will be part of a mixed-use development also containing office and residential space. The hotel will be adjacent to the city's main railway station.
Leonardo Hotels has opened its first hotel in Granada, in southern Spain's Andalusia region, bringing its portfolio in the country up to six hotels. The group acquired the Vincci Granada and reopened it as the Leonardo Hotel Granada. The 177-room, four-star hotel is in the city centre, close to the main railway station. "Part of our company strategy is to open hotels in Spain's dynamic hotspots. So we are delighted now, after Barcelona and Madrid, to include Granada in our portfolio," said Daniel Roger, managing director for Leonardo Hotels Europe.
After the great success of THINC Africa 2016, it's time to get together again for THINC Africa 2017: similar but better! The conference will bring together 45 speakers from 14 countries and 12 different fields. Investors, owners, brand operators, bankers, lawyers, designers and marketing experts will mingle in one place to discuss the opportunities and challenges of hotel investment in Africa in 2017. Sessions will not only address investment and operations but educational challenges, alternative business models and debt raising opportunities. Whether you're wondering if you should invest, looking for opportunities, seeking ideas to overcome challenges or just curious about what is happening on this massive and varied continent called Africa, THINC Africa 2017 is a must-go. This year will see the launch of the THINC Africa Awards, rewarding the best hotel, general manager and student of 2017. Additionally, all delegates can register for a free full-day seminar run by Tim Smith, managing partner of HVS Cape Town, and Stephen Rushmore Jnr, CEO and president of HVS, on how to value hotels. This year's event will be held on 30-31 August 2017 at the FNB Portside Building in Cape Town. For more details or to register visit, www.thincafrica.com.
Minor Hotels' Avani Hotels & Resorts chain is planning to develop its first property on the East African island of Mauritius. The new-build Avani Mauritius Bel-Ombre Resort & Spa is scheduled to open in 2021 with 150 guest rooms, including 16 suites. Additionally, the development, 30 minutes from the island's international airport, will also include 12 four-bedroom residential pool villas.
Carlson Rezidor has made its first appearance in Chad, Central Africa, with the opening of the Radisson Blu Hotel, N'Djamena on the shores of the Chari River in the country's capital, N'Djamena. The 175-room hotel is ten minutes from the city centre and 15 minutes from Hassan Djamous International Airport. Chad is Africa's fifth largest country. "Since 2010, the country has signalled significant growth and development ambition, and we are delighted to be part of Chad's continued progress, especially in travel and tourism, " commented Mark Willis, The Rezidor Hotel Group' senior area vice president for the Middle East, Turkey and Africa. This latest opening brings the groups portfolio across Africa to 42 hotels (more than 16,200 rooms) in operation or under development.
Also this week, Carlson Rezidor signed an agreement with Mr Abdulaziz bin Abdullah bin Sulaiman bin Akrash for the Radisson Blu Hotel, Riyadh Al Sahafa in Saudi Arabia, increasing its portfolio in the country to 36 in operation or under development, six of which are in Riyadh. The 163-room hotel is expected to open in the first quarter of 2019 in the Saudi capital's North Business District, at the intersection of Olaya Street and King Fahd Road.
Millennium Hotels and Resorts has signed an agreement with Dubai-based SuperCasa Development Ltd for a hotel in Ras Al Khaimah, UAE. The 339-key resort is to be developed on the man-made Al Marjan Island and will have a private beach, two swimming pools, a fitness centre and meeting and event space among other facilities. Millennium currently has ten hotels in operation across the UAE and a further 11 in its pipeline.
Thailand-based Dusit International has signed a management agreement with Al Manzil Hospitality for its first hotel in Bahrain. The dusitD2 Seef Bahrain is expected to open in the capital, Manama, in 2018. The 195-room upscale hotel will be close to Bahrain International Airport and will benefit from sea views. Dusit currently has 29 hotels in operation worldwide with a further 51 properties under development. Also in the news this week was Australian firm Staywell Hospitality Group's plan to open its first Park Regis property in Bahrain, in partnership with Bahrain-based hotel operator and manager VKL Group. The 164-room Park Regis Juffair is due to open in Manama's Juffair neighbourhood in the third quarter of 2017.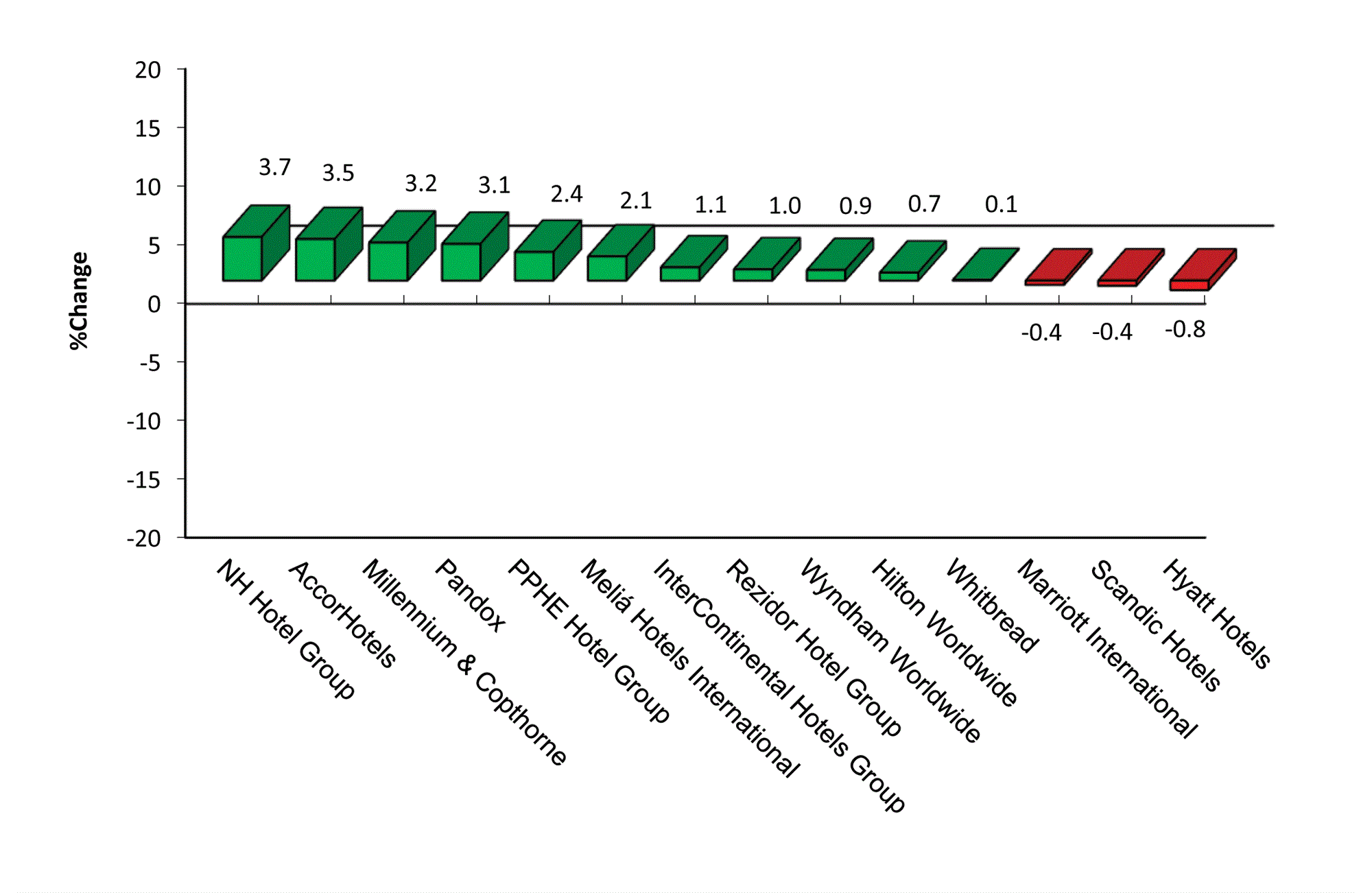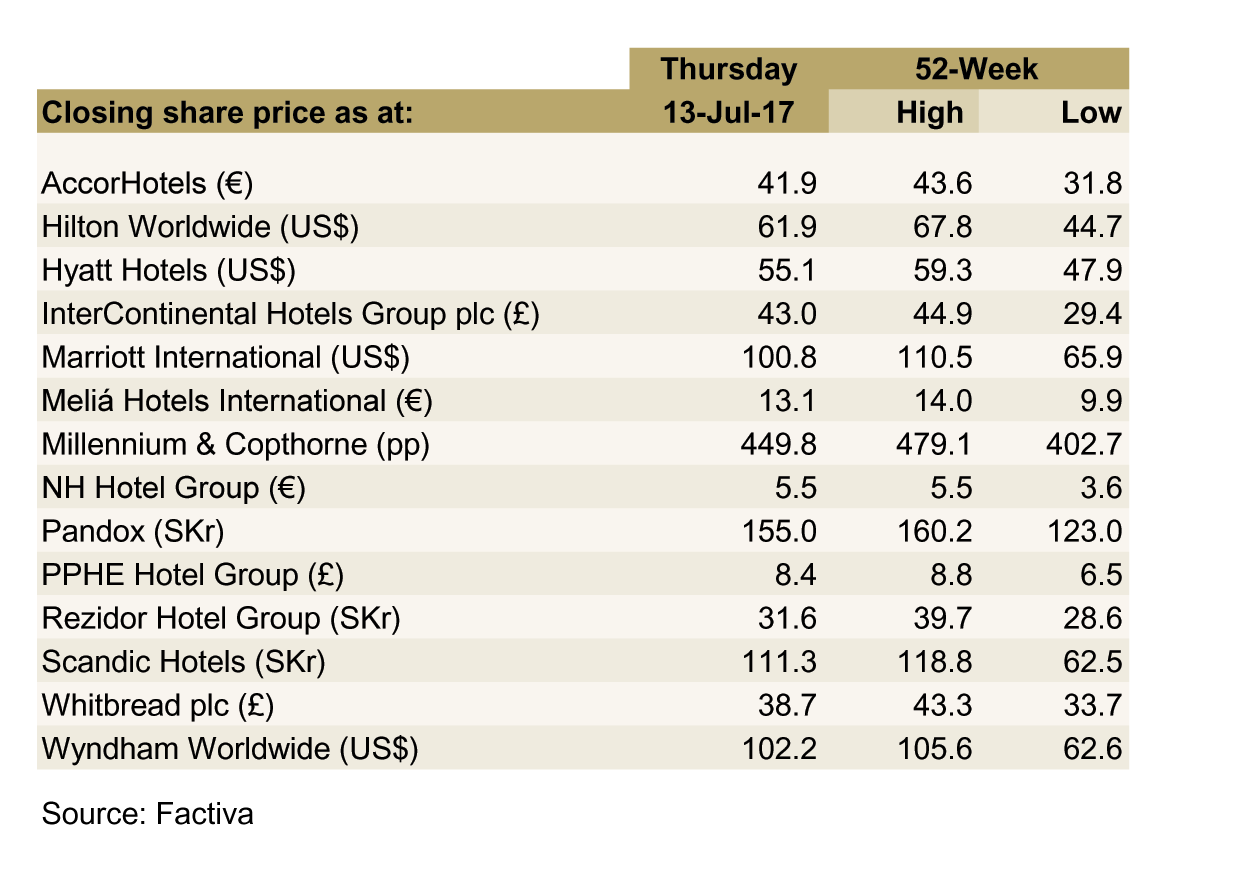 Scandic Hotels – Will present its interim report for the second quarter of 2017 on 20 July 2017.

Pandox – For the second quarter of 2017, net operating income from property management amounted to SKr485 million and net operating income from operator activities amounted to SKr139 million.
Disclaimer: Information provided above has been gathered from various market sources. HVS has not independently verified the accuracy of the information provided. Interested parties should not rely on the information as statement of facts and are advised to make their own independent checks to verify the information provided. For further information, please feel free to contact HVS London.
Superior Results through Unrivaled Hospitality Intelligence. Everywhere.
Stay current. Click here to receive free HVS newsletters
Looking for insights into the hospitality industry?
Discover unique hospitality intelligence at hvs.com/publications
Interested in a particular market?
Find hundreds of market overviews, all written by HVS experts, at hvs.com/marketresearch
Like to be in the know on hotel trends and predictions?
See our Hotel Valuation Index for dozens of cities at hvi.hvs.com