Scandic Hotels Group has signed a deal to acquire Restel's hotel portfolio across Finland, which comprises 43 hotels (approximately 7,600 rooms), for €114.5 million on a cash and debt-free basis. Scandic currently has 28 hotels in Finland in operation or under development. This is an important step forward for Scandic Hotels and one that will give us a strong network in the Finnish market," said Frank Fiskers, president and chief executive officer of Scandic. "We look forward to operating and developing these hotels under the Scandic brand going forward and to welcome all of the Restel team members and customers to Scandic," he added. Seven of the hotels in the Restel portfolio are run under franchise agreements with InterContinental Hotels Group; most of the remaining properties are operated under the Cummulus chain and will be reflagged as Scandic hotels over time. This deal makes Scandic the largest hotel compancy in Finland.
AXA Investment Managers has acquired a 55% stake the Hilton Diagonal Mar Barcelona, in Spain, from Iberdrola Inmobiliaria for €80 million. The 433-room hotel, in Barcelona's business district, is just 400 metres from the beach. Iberdrola Inmobiliaria will retain ownership of the remaining 45% share in the hotel.
Australian property development firm Meteorite Group has purchased the recently opened Holiday Inn Express Manchester – TRAFFORDCITY, in northwest England, for £26 million (£118,200 per room) from Topland, Marick Capital and Mill Lane Estates, which created the 220-room hotel as a joint venture. Tower Hotel Management will continue to operate the property.
Hispania Activos Inmobiliarios has bought the Selomar Hotel in Benidorm, on Spain's Costa Blanca, for approximately €16 million (€65,300 per room). The group will invest €17 million to €19 million in refurbishing the 245-room hotel. Hispania now owns 38 hotels (11,021 rooms) across Spain.
Leonardo Hotels has announced its expansion plans for Italy. The group currently operates two hotels in the country (in Milan) and will open a new-build, 243-room property in Venice's Mestre area in summer 2019. "The expansion to Italy was a long-planned and important step for us," said Daniel Roger, managing director of Leonardo Hotels Europe. "Our hotels in Milan and Mestre/Venice are only the beginning: Our goal is to expand our portfolio with more than ten hotels in Italy and to offer our guests additional attractive locations such as Rome, Florence and Naples," he continued.
Hilton Worldwide has signed a franchise agreement with Castlebridge Hotels Birmingham Airport for a Hilton Garden Inn property at Birmingham Airport in England's Midlands region. The 178-room hotel is scheduled to open in summer 2018 and will be constructed using modular technology, which will see the hotel's components constructed in China and then transported to the UK to be assembled on-site. "Often cited as the best place to invest in the UK outside of London, demand in Birmingham is growing fast," said Patrick Fitzgibbon, Hilton's senior vice president, development, EMEA. Infrastructure projects will only boost that growth and Hilton Garden Inn Birmingham Airport is in a terrific location—we can't wait for it to open next year," he added.
Mövenpick Hotels & Resorts has signed an agreement for its sixth property in Switzerland and its first in the city of Basel, in the northwest of the country on the Rhine River. The 264-room Mövenpick Hotel Basel is due to open in 2019 as the group's flagship hotel in Europe. The 19-storey building will be adjacent to the SBB railway station in Basel city centre and the five-star hotel, designed by Matteo Tun, will have 1,800 square metres of meeting space and event space across 20 different rooms.
Mövenpick Hotels & Resorts has also signed an agreement with Galalah Co. For Touristic Investments S.A.E. for its second property in Egypt's El Sokhna coastal area, expanding its current portfolio in the country of eight hotels and eight Nile river cruisers. The 214-key Mövenpick Hotel El Ein Bay is scheduled to open in 2020 as an integrated beach and golf resort. El Sokhna is the closest seaside resort to the capital, Cairo.
Carlson Rezidor Hotel Group's Park Inn by Radisson brand has made its debut in the Saudi Arabian city of Mecca with the opening of the Park Inn by Radisson Makkah Al Naseem. The 459-room hotel is just 20 metres from the city's second largest mosque, Al Rajhi Mosque, and is close to the holy sites of Arafat, Mina and Mozdalifa. "We believe the Park Inn by Radisson brand is entering this important segment at a very opportune time to support the increase in pilgrim travellers seeking affordable accommodation and a hassle-free experience," commented Mark Willis, Carlson Rezidor's area senior vice president for the Middle East, Turkey and Africa. The group currently has 35 hotels (more than 9,000 rooms) in operation or under development across Saudi Arabia.
We wish all our readers observing Ramadan an Eid Mubarak.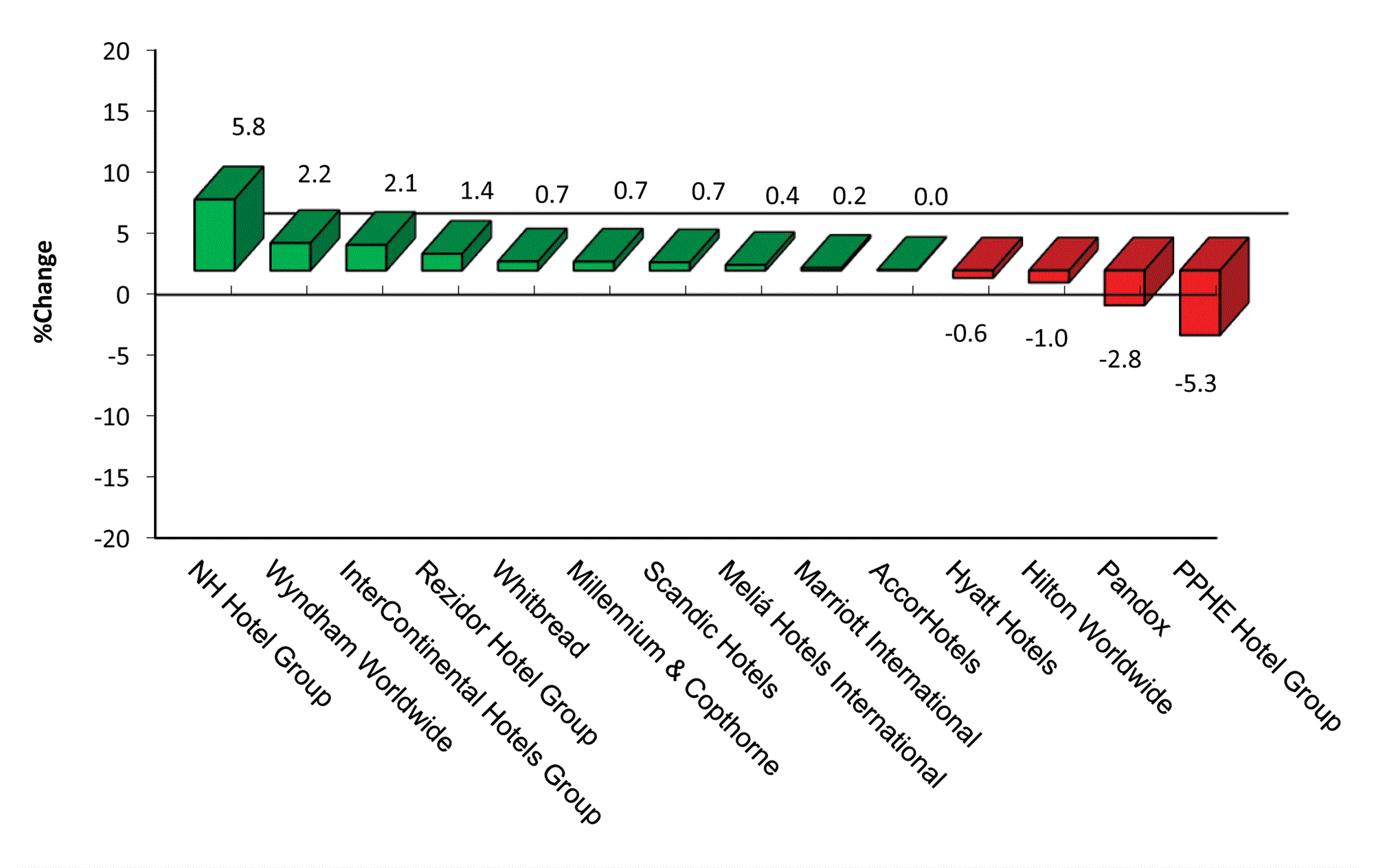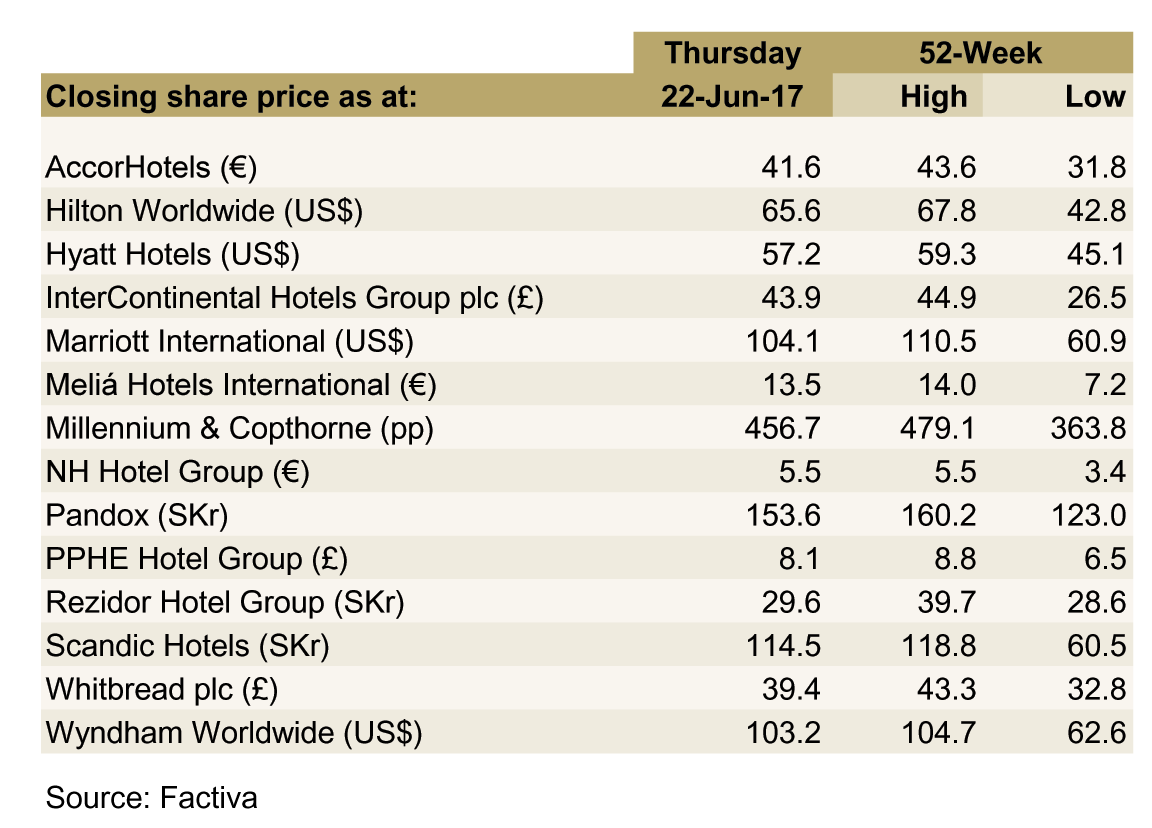 InterContinental Hotels Group – Credit Suisse downgraded the group to "neutral" from "outperform".

Wyndham Worldwide – Stifel raised the group's share price target to US$110 from US$108.
Disclaimer: Information provided above has been gathered from various market sources. HVS has not independently verified the accuracy of the information provided. Interested parties should not rely on the information as statement of facts and are advised to make their own independent checks to verify the information provided. For further information, please feel free to contact HVS London.
Superior Results through Unrivaled Hospitality Intelligence. Everywhere.
Stay current. Click here to receive free HVS newsletters
Looking for insights into the hospitality industry?
Discover unique hospitality intelligence at hvs.com/publications
Interested in a particular market?
Find hundreds of market overviews, all written by HVS experts, at hvs.com/marketresearch
Like to be in the know on hotel trends and predictions?
See our Hotel Valuation Index for dozens of cities at hvi.hvs.com