Best Western Hotels & Resorts has purchased the largest hotel group in Scandinavia, Sweden Hotels. Together, the pair will manage a portfolio of 135 hotels in Sweden and 180 properties across Scandinavia as a whole, under the Best Western och Sweden Hotels chain. Commenting on the merger, Best Western's chief executive officer in Scandinavia, Johan Kukacka, said, "The acquisition of Sweden Hotels is a strategically important deal and a logical development for us. As Sweden's largest hotel chain, we will be even better positioned to successfully develop the chain in the future, and to deliver even stronger results for our hotels."
Singapore-based CDL Hospitality Trusts has acquired the Lowry Hotel in Manchester, northwest England, for £52.5 million (£318,200 per room). The 165-room property, which opened in 2001 as the city's first five-star hotel, is one of only 11 hotels in England in the Leading Hotels of the World consortium.
Global investment firm KKR and asset manager Dunas Capital have signed an agreement to purchase Intertur Hotels for an undisclosed sum, and once the deal is finalised Spanish hotel group Alua Hotels & Resorts will manage the properties and market them under the Alua brand from 2018 onwards. The portfolio comprises 1,119 rooms (four hotels) on two of Spain's Balearic Islands, Mallorca and Ibizia.
HVS
is a Platinum Sponsor of the 2017
Boutique and Lifestyle Hotel Summit
, which is due to take place over 22-23 May at the Montcalm London Marble Arch. Highlights of this year's event include BoHo guest experience awards; venue tours, including two of the UK capital's new openings – the Ned London and the Royal London House by Montcalm; the results of an inaugural boutique and lifestyle hotelier sentiment report; investment speed briefings; a meet the owners panel; and much more! Additionally,
Harry Douglass
, an associate director with
HVS London
, will be moderating a panel called 'operators got talent'. Harry's panellists include
Andrew Shaw
, AVP hotel development,
InterContinental Hotels Group
;
Andy Townsend
, chief executive officer,
Legacy Hotels and Resorts
;
Nick Turner
, managing director,
Bespoke Hotels International
; and
Josh Littman
, VP hotel development – EMEA,
Hard Rock Hotels
. There are discounted tickets available for owners and investors. For more information or to book your place at the conference, visit
www.boutiquehotelsummit.com
.
Leonardo Hotels' NYX lifestyle brand will make its debut in Germany with the opening of the 225-room NYX Munich in March 2018, marking the brand's fourth appearance in Europe. There are currently two NYX hotels in operation across the continent (in Milan and Prague) and the NYX Madrid is due to open near the end of 2017 in Spain.
Federico González-Tejera has been appointed as president and chief executive officer of The Rezidor Hotel Group, effective immediately, following the resignation of Wolfgang Neumann, who commented, "As Rezidor enters a new era under new majority ownership, now is the ideal time for me to transition from a senior executive operational role to advisory Board mandates. I am grateful to have led Rezidor's fantastic team of 45,000 hoteliers across Europe, the Middle East & Africa over the past four years, and I am very proud of what we have achieved together." To take up his new role, Mr González-Tejera has resigned as global chief executive officer of Carlson Hotels Group; before this, he was the chief executive officer of NH Hotel Group and a senior executive at Disneyland Paris, most recently serving as deputy general manager.
InterContinental Hotels Group (IHG) has announced that its chief executive officer, Richard Solomons, has decided to retire from the role on 30 June and from the company on 30 August, after 25 years of service. His successor is Keith Barr, who has already spent 17 years with IHG, most recently as chief commercial officer. Mr Barr will resume his new role and will become a member of the group's Board on 1 July 2017. "It has been a pleasure to work with Richard, and on behalf of the Board and our colleagues I want to thank him for his successful leadership of IHG," said Patrick Cescau, IHG's chairman. "Richard has been an outstanding CEO and a driving force behind IHG becoming the leading global organisation it is today," he added.
Dominvs Group has received planning permission for a 132-room hotel on Ludgate Hill in the City of London, close to the UK Capital's iconic St Paul's Cathedral. The 82,500 ft² hotel, within the Cathedral's conservation area, is Dominvs second project underway in London. The group will develop and operate the hotel but the brand is undetermined at this time.
Four Seasons Hotels and Resorts has got together with retail franchise operator Alshaya to open the first Four Seasons property in Kuwait this July. The 284-room Four Seasons Hotel Kuwait at Burj Alshaya will be housed in the 22-storey Eastern Tower of the two-tower 140,000 m² Burj Alshaya mixed-use complex in Kuwait City. The 43-storey Western Tower is scheduled to open in 2018 and will the corporate headquarters of the Alshaya group of companies.
Corinthia Hotels International has reportedly entered into preliminary agreements to manage a luxury Corinthia hotel near Doha, in Qatar. The 70,000 m² hotel and residential tower is currently under construction close to the venue for the 2022 FIFA World Cup final. The 38-storey hotel will be shaped like a desert hyacinth, a flowering plant native to the Arabian Gulf region, and is expected to open in 2020.
Rotana has teamed up with UAE-based business group RSG International for the second time this year to sign a management agreement for a new hotel in Dubai. The group's latest signing for the emirate will be on Sheikh Zayed Road, next to UAE Exchange Metro Station. The 40-storey hotel will have 180 guest rooms and suites and 300 hotel apartments. "Rotana has a robust development pipeline in Dubai, with a clutch of new hotels scheduled to open in the city before the end of 2020. Hospitality demand in Dubai is expected to peak around Expo 2020, and Rotana is moving fast to fill the city's need for additional hotel room supply and meet the anticipated surge in demand," said Rotana's chairman, Nasser Al Nowais.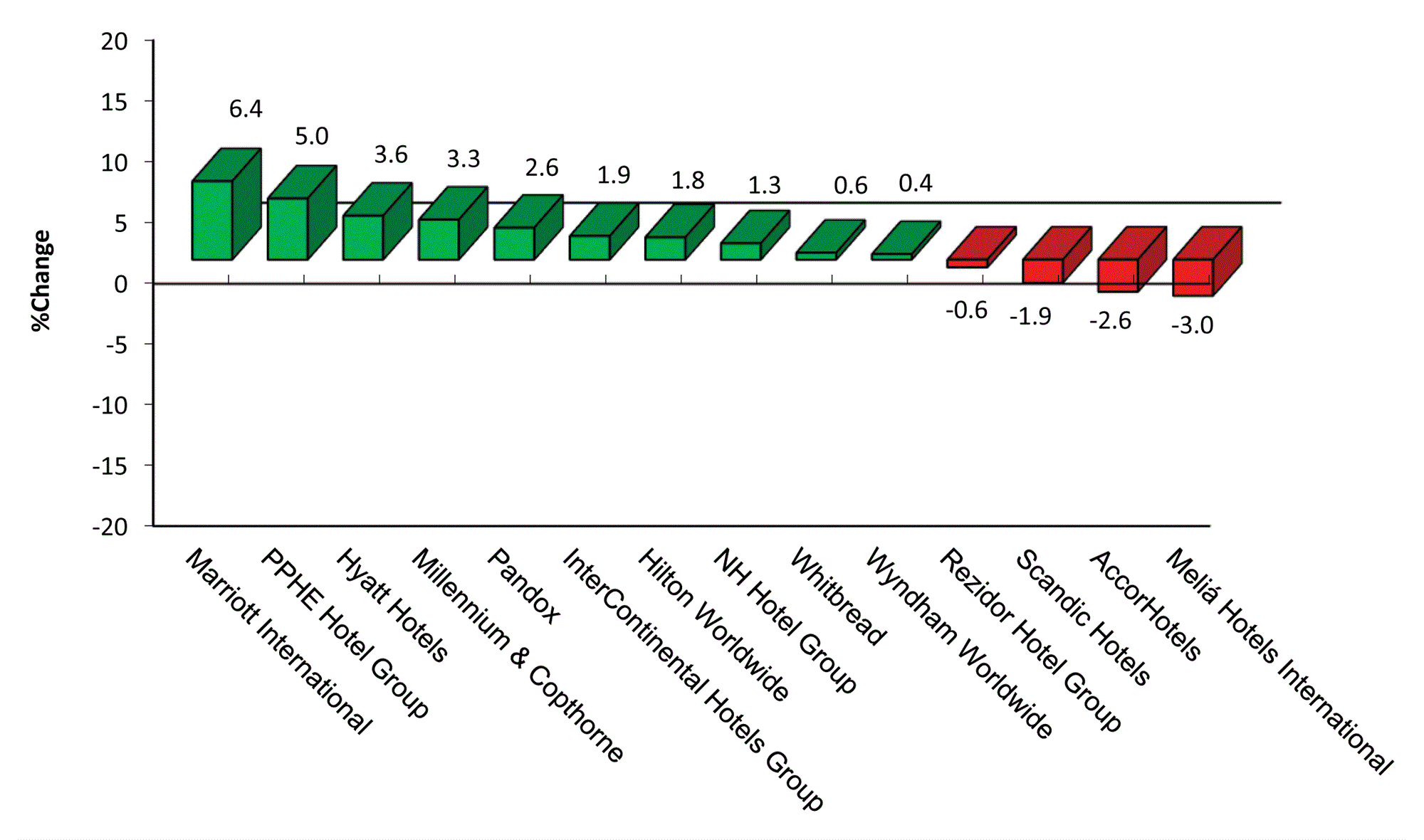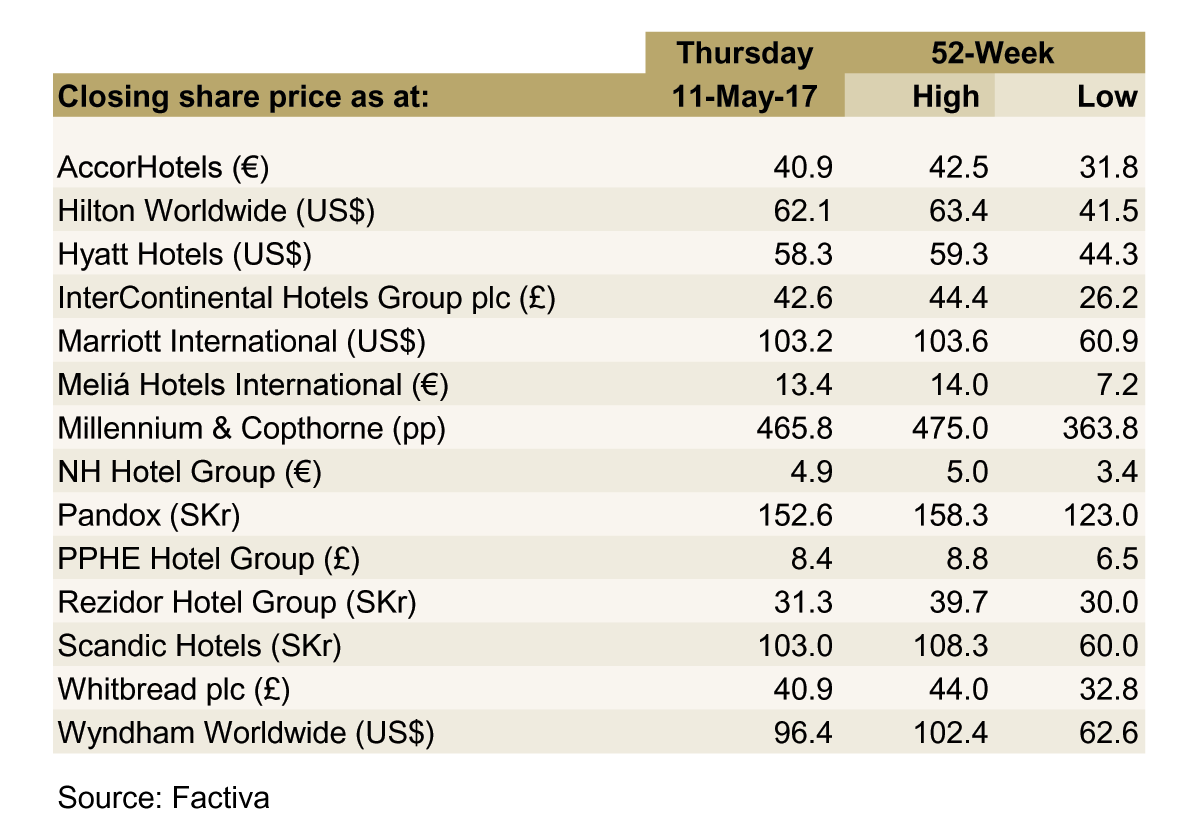 Marriott International – Reported a quarter-one 2017 net income of US$365 million, a 67% increase on 2016; RevPAR rose by 3.1% for the quarter.

Scandic Hotels – Adjusted EBITDA increased to SEK154 million for the first quarter of 2017.
Disclaimer: Information provided above has been gathered from various market sources. HVS has not independently verified the accuracy of the information provided. Interested parties should not rely on the information as statement of facts and are advised to make their own independent checks to verify the information provided. For further information, please feel free to contact HVS London.
For the latest in the hospitality industry, please visit: http://www.hvs.com/. You are also welcome to contact the following personnel.
| | |
| --- | --- |
| Russell Kett, Chairman – HVS London (@russellkett) | [email protected] |
| Charles Human, CEO – HVS London/HVS Hodges Ward Elliott | [email protected] |
| Simon Tucker Brown, Managing Director – HVS Executive Search Europe & Middle East | [email protected] |
| Chris Martin, Senior Director – HVS Hodges Ward Elliott | [email protected] |
| Arlett Hoff, Director – HVS London | [email protected] |
| Sophie Perret, Director – HVS London | [email protected] |
| Tim Smith, Managing Partner – HVS Cape Town | [email protected] |
| Demetris Spanos, Managing Director – HVS Athens | [email protected] |
| Hala Matar Choufany, Managing Director – HVS Dubai | [email protected] |
| Ezio Poinelli, Senior Director – HVS Milan | [email protected] |
| Louise Fury, Senior Editor and EMEA Hospitality Newsletter Author – HVS London | [email protected] |
Superior Results through Unrivaled Hospitality Intelligence. Everywhere.
Stay current. Click here to receive free HVS newsletters
Looking for insights into the hospitality industry?
Discover unique hospitality intelligence at hvs.com/publications
Interested in a particular market?
Find hundreds of market overviews, all written by HVS experts, at hvs.com/marketresearch
Like to be in the know on hotel trends and predictions?
See our Hotel Valuation Index for dozens of cities at hvi.hvs.com