The South Place Hotel in London has been sold to an international investor (rumoured to be Hong Kong-based holding company Tian An China Investments) by former owner Frogmore for a price reported to be around £67 million (£837,500 per room). D&D London are expected to continue to operate the 80-room boutique hotel, which is between Moorgate and Liverpool Street stations at the crossroads between the UK capital's Square Mile and the East End. Other London news this week includes the announcement from Arora Group that it has purchased an occupational lease for the Hilton London Gatwick Airport, directly connected to Gatwick Airport's South Terminal, for an undisclosed sum. Hilton Worldwide will continue to manage the 821-room hotel, the largest at the airport.
Dominvs Group has sold the 298-room Holiday Inn Manchester – City Centre in northwest England to a controlled affiliate of Starwood Capital Group from a guide price of £55 million (£184,600 per room) in an off-market transaction. The hotel will be managed under a franchise agreement by Kew Green Hotels and will keep its Holiday Inn branding. The deal marks Starwood Capital's third investment in Manchester. Dominvs acquired the freehold of the site in 2013 and the hotel opened in April 2016. "The decision to sell allows us to focus on our wider strategy, which is to grow our development pipeline in key gateway cities such as Bath, Cambridge and London," said Preet Ahluwalia, Dominvs' hospitality portfolio director.
Pandox is planning to purchase the four-star Silken Berlaymont Brussels in Belgium for €32.7 million (€154,200) from Hotel Berlaymont SA/Urvasco Hotel SA. The transaction is expected to close at the end of May 2017 and Pandox will then invest €3.5 million in a refurbishment of the hotel's rooms, corridors, public area and meeting space. The 212-room hotel is in Brussel's European Quarter.
Invesco Real Estate has purchased the new-build four-star Holiday Inn Düsseldorf City – Toulouser Allee in western Germany for an undisclosed sum from Cologne-based project developer Pandion, which planned and developed the 209-room hotel. The hotel, which opened in December 2016 in Düsseldorf's La Quartier Central district, is operated by Arcadia Hotelbetriebs GmbH under InterContinental Hotels Group's Holiday Inn brand. Invesco acquired the property for one of its German separate account mandates.
Singapore-based 7 Hospitality has acquired the DoubleTree by Hilton Hotel Dundee, on the coast of eastern Scotland, off a guide price of £5.5 million (£57,900 per room). The 95-room hotel, which is housed in an historic Scottish mansion built in 1870 and set in six acres of landscaped gardens, is 7 Hospitality's first hotel asset in the UK. The hotel was on the market as part of the three-property BDL Select Portfolio and the sales of the other two hotels are expected to be announced soon.
Marriott International's Moxy Hotels brand has made its first appearance in Austria with the launch of the Moxy Vienna Airport. The 405-room hotel is just a 15-minute train ride from Vienna city centre. Following its debut in September 2014 in Milan, the brand now has 11 hotels in operation worldwide.
NH Hotel Group has signed a management contract with Société Hôtelière du Palm Beach for its first nhow hotel in France. The Spanish group will take on the management of the 150-room Palm Beach Hotel in the port of Marseille, southern France, on 1 May 2017; the hotel will then close in October to undergo a full refurbishment and reopen under the nhow flag in the second quarter of 2018. NH currently has three nhow hotels in operation (Milan, Berlin and Rotterdam) and plans to double this figure with a further four hotels by 2019.
Carlson Rezidor has opened its fourth Park Inn by Radisson property in Moscow, bringing its portfolio in the Russian capital up to eight, with 36 hotels in the country overall. The 109-room Park Inn by Radisson Izmailovo is in northeast Moscow, close to one of the city's largest parks and Izmailovskaya Metro station. The group also announced this week that it has opened a new Radisson Blu property in Turkey. The 167-room Radisson Blu Hotel Diyarbakir is in Diyarbakir, on the banks of the Tigris River in southeastern Turkey. The hotel is in the city's Kayapınar business district.
Hilton Worldwide has signed a franchise agreement with Abingdon Lodge Hotel Ltd for a hotel under its Garden Inn brand in the market town of Abingdon, six miles south of Oxford, in southeast England. The existing Oxford Abingdon Hotel is to undergo a thorough redevelopment, which is scheduled to be completed in summer 2018, in order to transform it into the 150-room Hilton Garden Inn Abingdon Oxford. The hotel will remain open throughout the work, which will include an extension housing a new lounge bar, a restaurant, function rooms and a fitness centre.
Hilton Worldwide is opening its 43rd DoubleTree by Hilton hotel in the UK in the historic spa town of Cheltenham in England's Cotswolds district. Following a £5 million investment, the former 145-room Cheltenham Park Hotel, just three miles away from the town's famous horseracing course, will officially be relaunched as the DoubleTree by Hilton Cheltenham on 4 May 2017. The hotel, housed in a traditional Georgian manor house, is owned by Sir David Michels and operated by M & T Hotel Management.
Mövenpick Hotels & Resorts has signed a management agreement with Yobek Electrical Enterprise for its first property in Ethiopia. The Mövenpick Hotel Addis Ababa is expected to open in the fourth quarter of 2019 in the capital city's Bole district. The 252-room hotel will be developed adjacent to the Addis Ababa National Stadium and Ethiopian Elite Sports Centre, two and a half kilometres from the city's international airport. "Addis Ababa is set to enjoy strong economic growth and continued infrastructure improvements in the years ahead, and we are looking forward to bringing our signature upscale hotel experience to a new generation of corporate and leisure visitors to the city," said Alan O'Dea, Mövenpick's senior vice president for Africa. The Switzerland-based group currently operates 25 hotels across Africa.
Hilton Worldwide has opened its fourth Hilton Hotels & Resorts hotel in the Saudi Arabian city of Mecca: the Hilton Makkah Convention Hotel, which features the city's largest pillar-less ballroom and first convention centre and is Hilton's fifth hotel in Mecca overall. The 764-room hotel is close to and has views over the Masjid Al Haram, the largest mosque in the world.
Hilton Worldwide's DoubleTree brand is heading to Sharjah, UAE, following the signing of a management agreement with Al Marwan Group for the DoubleTree by Hilton Sharjah Waterfront Hotel and Suites. The US$43 million, 254-key hotel is expected to open in 2020 opposite Al Majaz Waterfront and will become Hilton's second hotel in the emirate, joining the 259-room Hilton Sharjah.
AccorHotels has signed an agreement with R Hotels that will see the French group launch its MGallery brand in the United Arab Emirates. A soft opening of the 255-room Retreat Palm Dubai, MGallery is scheduled for this summer. The 255-room beachfront resort is on the east crescent of Dubai's Palm Jumeirah and joins four other AccorHotels either in operation or under development on the emirate's iconic man-made structure. "As the UAE prepares to accommodate 20 million visitors by 2020, AccorHotels continues to see great potential in diversifying its broad mix of hotels across top tourist attractions in Dubai," commented Sami Nasser, Chief Operating Officer Luxury Brands, AccorHotels Middle East.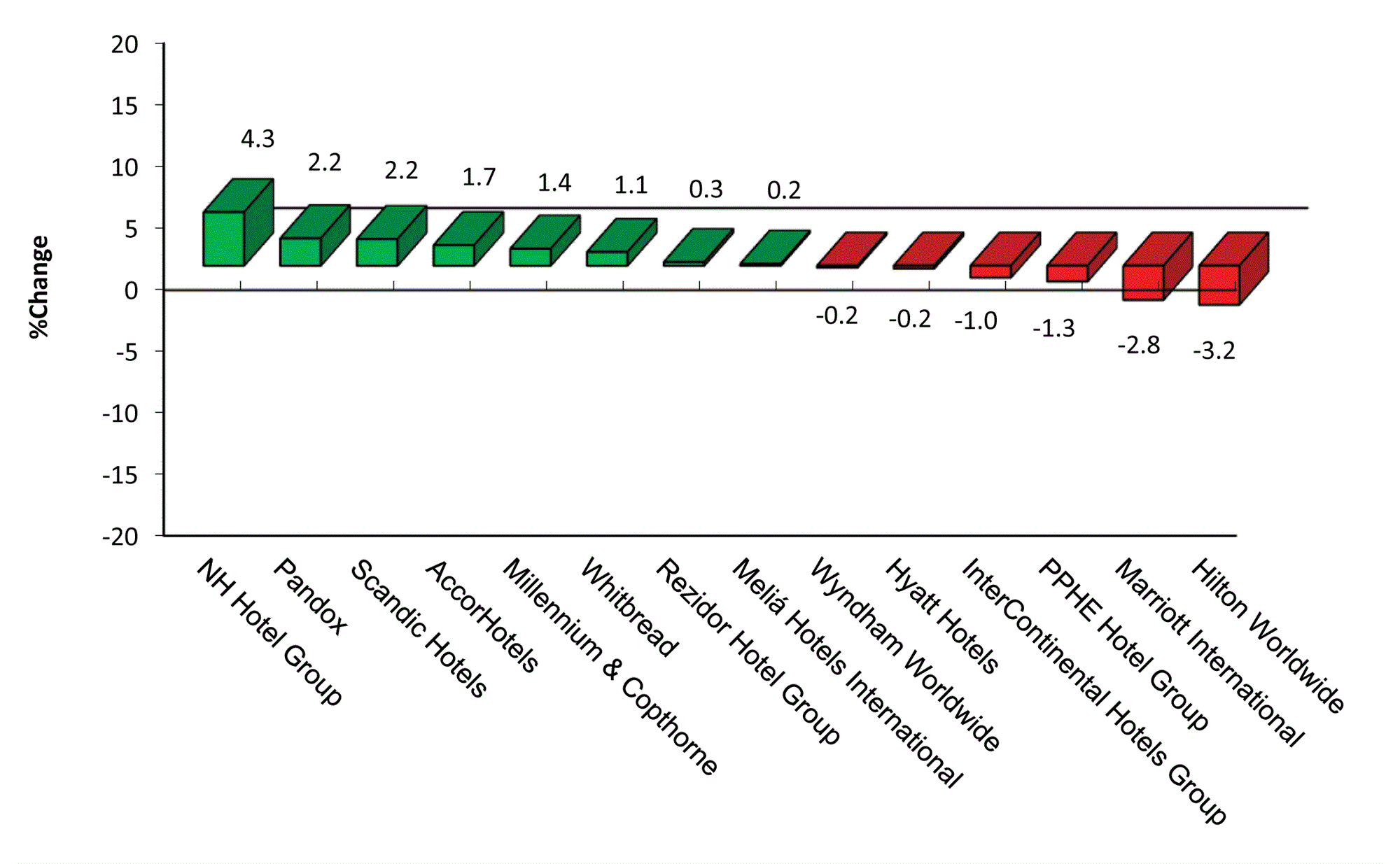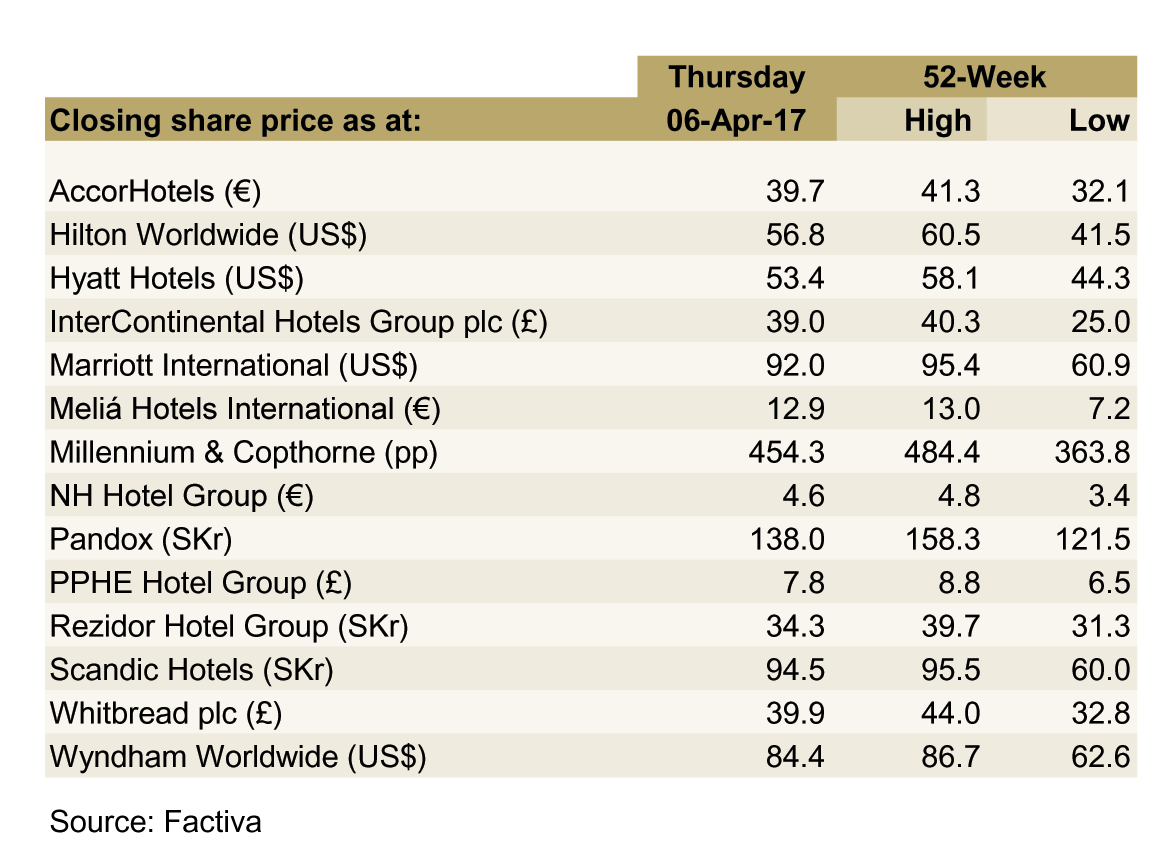 AccorHotels – Has acquired VeryChic, a digital distribution platform for the private sale of luxury hotel rooms and apartments, cruises, breaks and packages.

Marriott International – Will report first-quarter 2017 earnings results on Monday 8 May 2017.
Disclaimer: Information provided above has been gathered from various market sources. HVS has not independently verified the accuracy of the information provided. Interested parties should not rely on the information as statement of facts and are advised to make their own independent checks to verify the information provided. For further information, please feel free to contact HVS London.
For the latest in the hospitality industry, please visit: http://www.hvs.com/. You are also welcome to contact the following personnel.
| | |
| --- | --- |
| Russell Kett, Chairman – HVS London (@russellkett) | [email protected] |
| Charles Human, CEO – HVS London/HVS Hodges Ward Elliott | [email protected] |
| Simon Tucker Brown, Managing Director – HVS Executive Search Europe & Middle East | [email protected] |
| Chris Martin, Senior Director – HVS Hodges Ward Elliott | [email protected] |
| Arlett Hoff, Director – HVS London | [email protected] |
| Sophie Perret, Director – HVS London | [email protected] |
| Tim Smith, Managing Partner – HVS Cape Town | [email protected] |
| Demetris Spanos, Managing Director – HVS Athens | [email protected] |
| Hala Matar Choufany, Managing Director – HVS Dubai | [email protected] |
| Ezio Poinelli, Senior Director – HVS Milan | [email protected] |
| Louise Fury, Senior Editor and EMEA Hospitality Newsletter Author – HVS London | [email protected] |
Superior Results through Unrivaled Hospitality Intelligence. Everywhere.
Stay current. Click here to receive free HVS newsletters
Looking for insights into the hospitality industry?
Discover unique hospitality intelligence at hvs.com/publications
Interested in a particular market?
Find hundreds of market overviews, all written by HVS experts, at hvs.com/marketresearch
Like to be in the know on hotel trends and predictions?
See our Hotel Valuation Index for dozens of cities at hvi.hvs.com