AccorHotels has formed a strategic partnership with all-inclusive resort company Rixos Hotels that will see both parties manage and develop Rixos-branded properties worldwide; AccorHotels will own a 50% interest in the joint venture management company. Additionally, AccorHotels will incorporate 15 hotels in resort markets in Turkey, UAE, Egypt, Russia and Europe into its network and Rixos will rebrand five hotels to Accor brands. "This new partnership has many benefits for us. It enables us to become a leading resort operator in a growing market and to complement our offer with attractive leisure destinations to our guests and loyalty members," said Sébastien Bazin, AccorHotels' chief executive officer and chairman.
Invesco Real Estate has purchased the Sheraton Grand Krakow from European hotel investor and management company Algonquin for €70 million (€302,000 per room) on behalf of its UK pension fund separate account clients. The 232-room hotel is on the banks of the Wisla River, in Krakow's Old Town. The hotel was recently rebranded under the Sheraton Grand flag and underwent a full refurbishment to meet brand standards.
Marriott International's Moxy brand has made its debut in London with the opening of the Moxy London Excel, in the east of the city in the Docklands area, close the ExCel convention centre and London City Airport. The 164-room hotel is the second Moxy to open in the UK, joining the 200-room Moxy Aberdeen in Scotland. The hotel is owned and was developed by Vastint Hospitality and it brings Moxy's worldwide portfolio of hotels in operation up to eight.
An affiliate of Hyatt Hotels has signed a management agreement with Hospitality Management Chantilly for its fourth Hyatt Regency hotel in France, and its eighth hotel in the country overall. The 210-room Hyatt Regency Chantilly is due to open in the town of Chantilly in 2018, 50 km from Paris. Additionally, Hyatt has also entered into a management agreement with Exacorp One, S.L. for its first Hyatt Centric hotel in Spain. The 159-room Hyatt Centric Gran Via Madrid is scheduled to open in the fourth quarter of 2017 at the heart of the Spanish capital, housed in a historic building dating from the 1920s.
InterContinental Hotels Group (IHG) has signed eight new Holiday Inn and Holiday Inn Express hotels for Germany. "We have a tailored offer for the German market, and this has paid off, said Martin Bowen, vice president, development, Germany at IHG. "Several of these new hotels are all with long-standing MDA partners who have established relationships with IHG, and understand the returns both Holiday Inn and Holiday Inn Express deliver," he added. The latest additions to the group's German pipeline are the 156-room Holiday Inn Munich – North and 236-room Holiday Inn Express Munich – North (Ingolstaedter Strasse), which will be run as a dual-branded property and are part of a Primestar Hospitality multiple development agreement; the 177-room Holiday Inn Express Berlin – City Kurfuerstendamm, signed with partners Foremost Hospitality GmbH; the 168-room Holiday Inn Express Leipzig – City Hauptbahnhof (Brandenburgerstr), also signed with Foremost; the Holiday Inn Express Fürth, signed with tristar GmbH; the 163-room Holiday Inn Express Saarbrücken; the 186-room Holiday Inn Express Erlangen, which is part of a 20-hotel MDA with one of largest hotel groups in Germany, NOVUM Hotel Group; and the 86-room Holiday Inn Express Merzig, marking IHG's first partnership with IFA Immobilien.
InterContinental Hotels Group (IHG) has announced the signing of a franchise agreement with VHM Hotel Management for a hotel in Warsaw, Poland, at this year's International Hotel Investment Forum. The Holiday Inn Warsaw West Station is the first venture between IHG and VHM; the new-build hotel, which is expected to have 217 guest rooms, will be adjacent to Warsaw West railway station. IHG currently operates eight hotels across Poland, three of which are in Warsaw, the country's capital and largest city.
This annual conference for the aspiring leaders of our industry is being held next week at Ecole hôtelière de Lausanne (EHL) from 13-15 March. YHS is now in its eighth year and attracts students from some 40 hotel schools around the world, along with leading professionals who are keen to nurture some of the best talent available. Russell Kett, chairman of HVS London, will be making a keynote speech on Wednesday morning, as well as speaking to those interested in learning more about career opportunities at HVS. "Having met a number of EHL students at IHIF in Berlin this week, I am even more convinced there is a bright future in our sector for the leaders of tomorrow," he commented.
Nobu Hospitality has announced that the Nobu Hotel Ibiza Bay will open on 30 June 2017 on the Spanish Balearic island of Ibiza, bringing the group's worldwide portfolio up to ten properties. The 152-room Ibiza property is on shores of Talamanca Bay, two kilometres north of Ibiza Town. The hotel, which is a collaboration between London & Regional, MC Hotels and Nobu Hospitality, will bring the island its first Six Senses spa.
MEININGER Hotels has signed an agreement with Fondazione di S. Francesco D'Assisi ONLUS for a second property in Milan, Italy. An existing building on Strada Privata Calvino will be converted into the 80-room (268-bed) hotel. Cox & Kings' owned MEININGER already has one hotel under development in Italy's capital of fashion (at Pizza Monte Titano).
Wyndham Hotel Group has announced that it has expanded its development agreement for Super 8 properties with GS Star; the deal previously covered the expansion of the brand across Germany but will now also include the introduction of the brand to Austria, Switzerland and the Netherlands. "We have aggressive growth plans for the brand in this region, so we're delighted to have found an established and reliable partner in GS Star who will help us deliver on these ambitions," said Wyndham Hotel Group's president and managing director for EMEA, Dan Ruff.
Hotel Investment Conference – South Asia (HICSA) gains momentum for its 13th edition, once again bringing to fore the most relevant subject matter, key issues and latest industry trends that shape and transform the future of hospitality businesses in South Asia and around the world. HVS is proud to host yet another edition of this truly iconic industry event on 5 and 6 April at the Grand Hyatt Mumbai. One of the highlights of HICSA 2017 is the Global CEO Panel, which will bring together the frontrunners of four of the most respected global hotel companies: Christopher J Nassetta, president and CEO at Hilton; Mark Hoplamazian, president and CEO for Hyatt; Rakesh Sarna, managing director & CEO of Taj Group; and Vikram Oberoi, managing director and CEO of The Oberoi Group. The conference will also feature a series of powerful keynote addresses by eminent industry specialists, including Amitabh Kant, CEO, NITI Aayog; David Scowsill, president & CEO, WTTC; and Michael Issenberg, chairman and CEO – APAC, AccorHotels. Register now to benefit from a special discount of US$200. This is a limited-period offer for EMEA Hospitality Newsletter subscribers only. To register, please write to Swarn Jaitly ([email protected]). For more information visit www.hicsaconference.com.
An affiliate of Hyatt Hotels has signed a management agreement with Société d'Investissement Hôtelière EPE SPA for the first Hyatt-branded hotel in Algeria, North Africa. The Hyatt Regency Algiers Airport is expected to open near the end of 2018 at Algiers' Houari Boumediene Airport. The 326-room hotel, which is part of the airport's expansion project, will be opposite the terminal, becoming the only terminal-linked hotel at the airport. Commenting on the group's latest signing, Peter Norman, Hyatt's senior vice president, acquisitions and development for Europe, Africa and the Middle East, said that the hotel "...further demonstrates the company's commitment to growing its brand footprint in Algeria and throughout Africa."
Wyndham Hotel Group has opened the Ramada Addis, Addis Ababa in Ethiopia in the Horn of Africa. The 136-room hotel, close to Addis Ababa Bole International Airport, is owned by Ethiopian firm ADM Business and is Wyndham's first hotel in the country.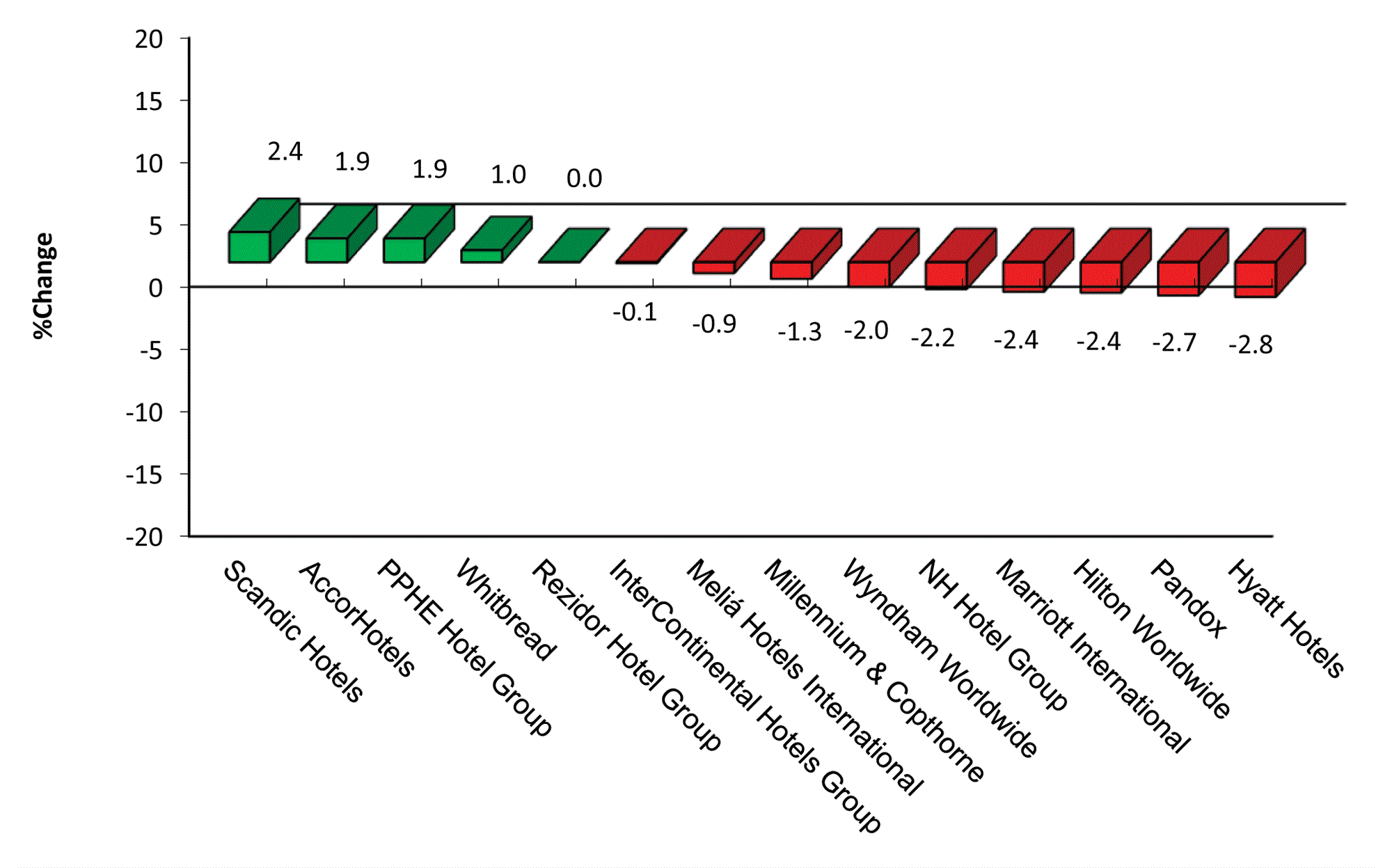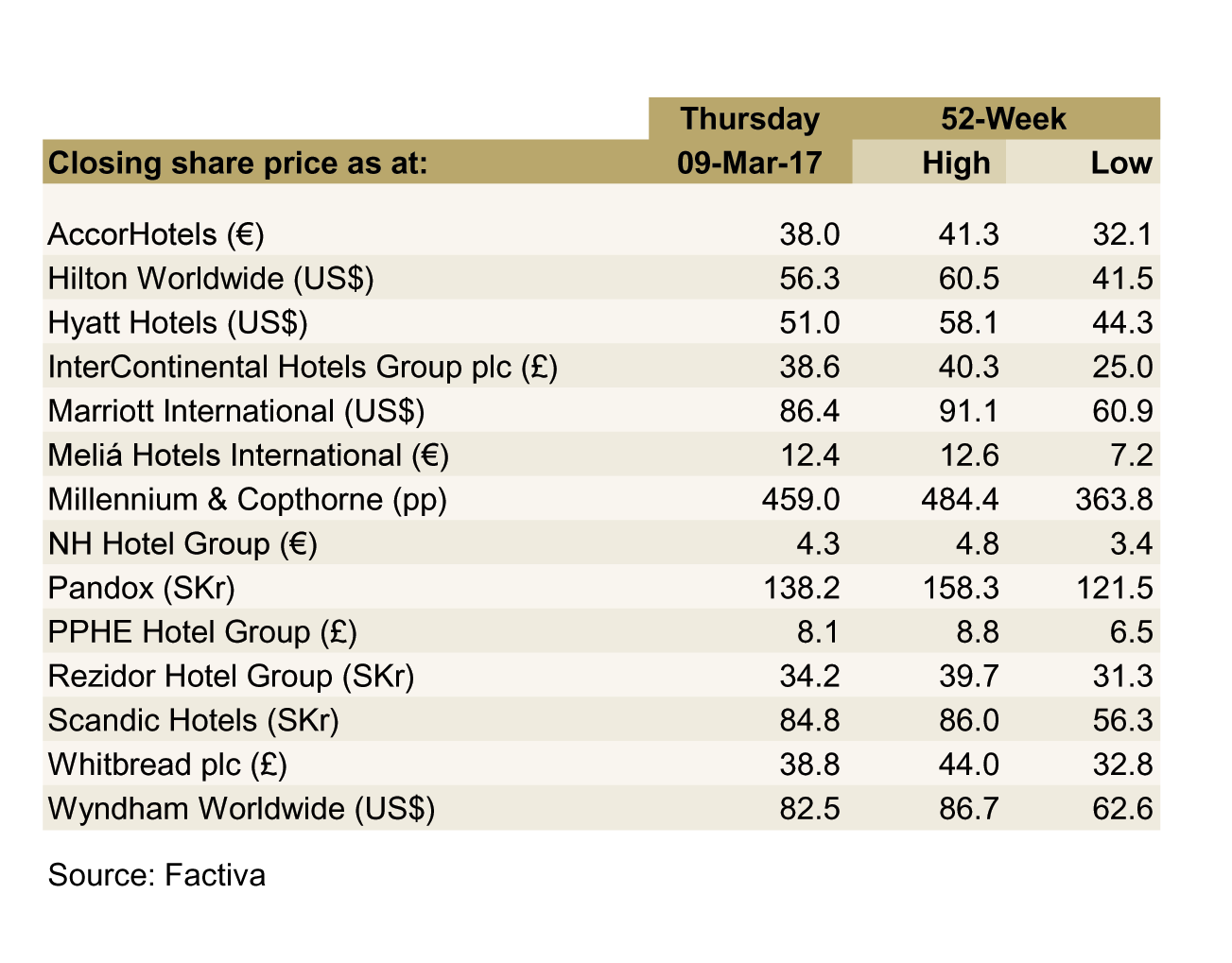 Pandox – Has published its annual report for 2016.

AccorHotels – Has announced a plan to speed up the development of its low-cost HotelF1 brand.
Disclaimer: Information provided above has been gathered from various market sources. HVS has not independently verified the accuracy of the information provided. Interested parties should not rely on the information as statement of facts and are advised to make their own independent checks to verify the information provided. For further information, please feel free to contact HVS London.
For the latest in the hospitality industry, please visit: http://www.hvs.com/. You are also welcome to contact the following personnel.
| | |
| --- | --- |
| Russell Kett, Chairman – HVS London (@russellkett) | [email protected] |
| Charles Human, CEO – HVS London/HVS Hodges Ward Elliott | [email protected] |
| Simon Tucker Brown, Managing Director – HVS Executive Search Europe & Middle East | [email protected] |
| Chris Martin, Senior Director – HVS Hodges Ward Elliott | [email protected] |
| Arlett Hoff, Director – HVS London | [email protected] |
| Sophie Perret, Director – HVS London | [email protected] |
| Tim Smith, Managing Partner – HVS Cape Town | [email protected] |
| Demetris Spanos, Managing Director – HVS Athens | [email protected] |
| Hala Matar Choufany, Managing Director – HVS Dubai | [email protected] |
| Ezio Poinelli, Senior Director – HVS Milan | [email protected] |
| Louise Fury, Senior Editor and EMEA Hospitality Newsletter Author – HVS London | [email protected] |
Superior Results through Unrivaled Hospitality Intelligence. Everywhere.
Stay current. Click here to receive free HVS newsletters
Looking for insights into the hospitality industry?
Discover unique hospitality intelligence at hvs.com/publications
Interested in a particular market?
Find hundreds of market overviews, all written by HVS experts, at hvs.com/marketresearch
Like to be in the know on hotel trends and predictions?
See our Hotel Valuation Index for dozens of cities at hvi.hvs.com