Avignon Capital has acquired two hotels in Germany let to MEININGER Hotels for €48.5 million (€105,000 per room) in an off-market transaction. The deal marks the European property investment firm's first foray into the hotel market, with the aim of diversifying its porfolio. The group's newest assets are the 296-room MEININGER Hotel Berlin Central Station and the 168-room MEININGER Hotel Frankfurt/Main Airport, which were built in 2010 and 2011, respectively. "The booming German hotel industry presented us with an opportunity to diversify our portfolio whilst sticking to our philosophy of investing in attractive locations with strong growth fundamentals," said Avignon's chief executive officer, Eric Mounier.
G1 Group has purchased the 69-room Scotsman Hotel in Edinburgh out of liquidation for an undisclosed sum, bringing its hotel portfolio in the Scottish capital up to five. The deal did not include the hotel's brasserie and spa facilities, as these entities are under separate ownership. The hotel opened in 2001 in the former Scotsman newspaper building.
Hilton Worldwide's Hampton by Hilton brand has recently landed at two UK airports. At just 250 metres from the main terminal, the Hampton by Hilton Bristol Airport is the only onsite hotel to open at Bristol Airport in southwest England. The 201-room hotel, on Northside Road, is eight miles from Bristol city centre. In Aberdeen, in northeastern Scotland, the 155-room Hampton by Hilton Aberdeen Airport has opened at the city's airport, close to the newly created D2 Business Park. The latest additions to the Hampton brand's portfolio in the UK are the first Hilton properties to be constructed using modular technology; the hotels were built in segments in a factory in China and assembled onsite in the UK.
Leonardo Hotels is expanding in Poland with the opening of a hotel in the capital, Warsaw, this month. On 15 March, the former JM Hotel Warsaw Center will become the group's first hotel in the country, the Leonardo Royal Hotel Warsaw. The 178-room hotel is housed in the JM Tower Building in the city centre, occupying floors 18 to 27. Leonardo, the European division of Israel-based Fattal Hotels, signed a lease for the hotel with JM Hotels Sp. z.o.o.
Carlson Rezidor has opened its first Radisson Blu Residence property in Turkey. The 171-unit Radisson Blu Residence, Istanbul Batışehir is part of the Batışehir mixed-use complex, close to Istanbul's Old City, which also contains offices, shops, residential properties, green space and entertainment/sports facilites. "We are delighted to open our first signature Radisson Blu residence in Turkey and expand the presence of our iconic hotel brand in an iconic destination like Istanbul where two worlds meet," commented Mark Willis, The Rezidor Hotel Group's area vice president for the Middle East and Turkey.
UAE-based Rotana has made its first appearance in Africa with the opening of the Kin Plaza Arjaan by Rotana in Kinshasa, the capital of the Democratic Republic of Congo, in Central Africa. Commenting on the opening of the 101-room hotel, Rotana's chief executive officer and president, Omer Kaddouri, said that the company, "…has been increasingly looking to markets in Africa to drive business growth and expansion, and today we mark a major milestone in our efforts to extend our geographical presence in the continent."
Mövenpick Hotels & Resorts has signed a management agreement with Karan Gulf Services for a hotel in the Wa'ad Al Shamal City development in northern Saudi Arabia. The 237-room Mövenpick Hotel Wa'ad Al Shamal is scheduled to open in the second half of 2018 and will be the first international upscale hotel in the country's northern region. The hotel will be the largest hotel project within Wa'ad Al Shamal City, which is being developed by Saudi mining company Ma'aden and will cover 450 km². Mövenpick currently has 11 hotels in operation across Saudi Arabia, with a further five hotels in the pipeline due to open in the next three years.
Dubai-based TIME Hotels has opened its first property in Ajman, UAE: the 16-unit Palm 1 Time Residence, which is the first of two projects TIME has planned for the emirate. As well as its Ajman addition, TIME operates five properties across the Middle East (four in Dubai and one in Sharjah).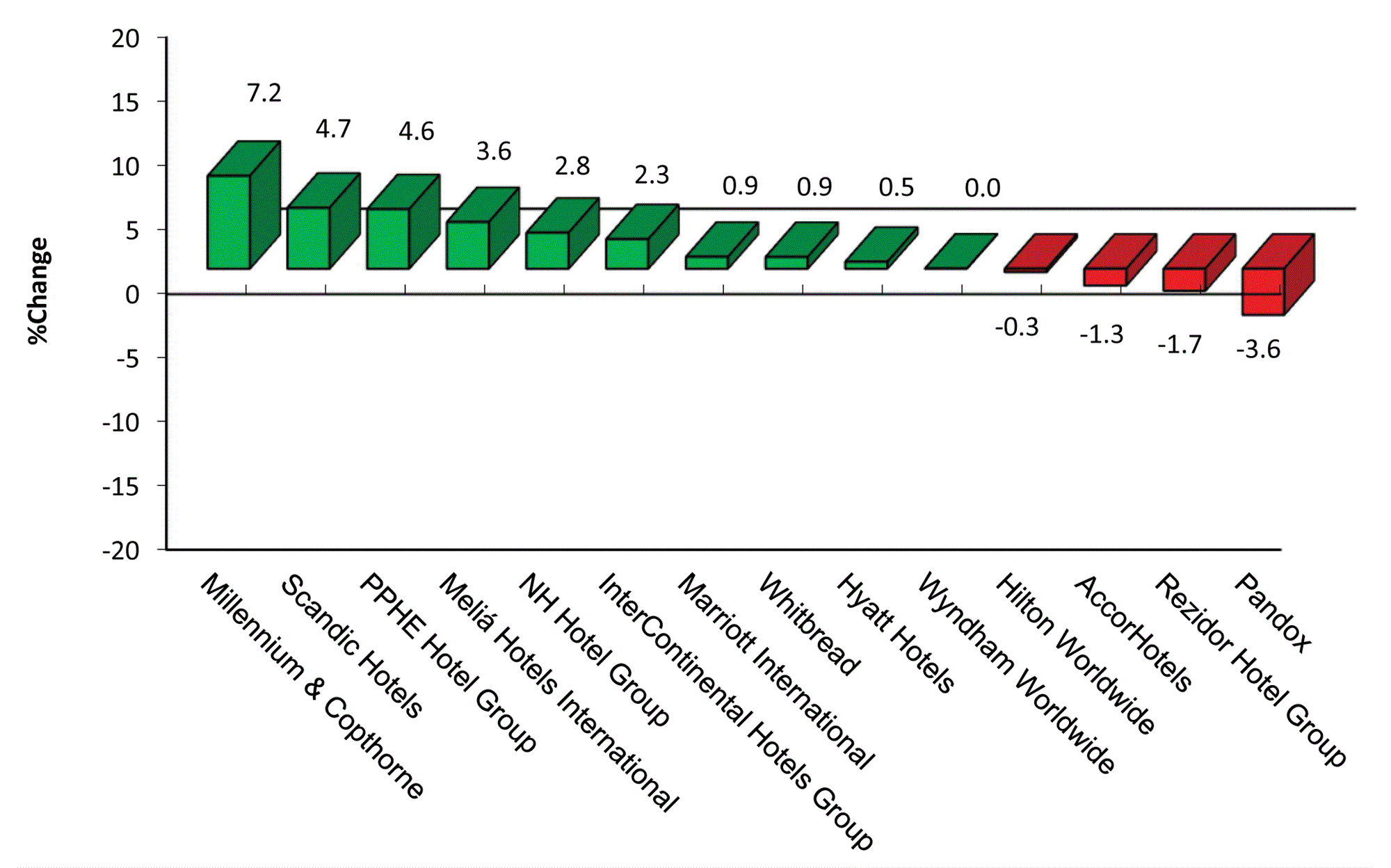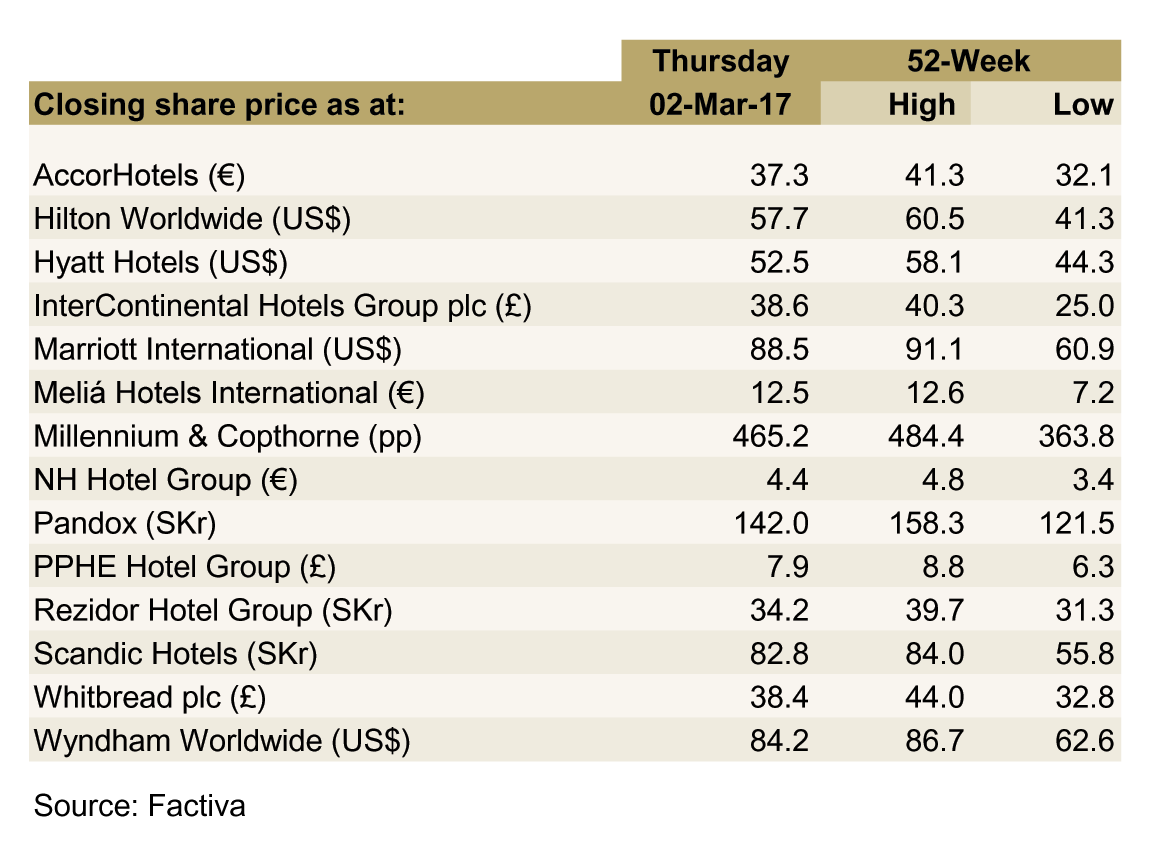 InterContinental Hotels Group – analysts at Morgan Stanley maintained shares as "equal Weight" in a research note issued to investors.

NH Hotel Group – earned €31 million in 2016 and delivered a net recurring profit for the first time in eight years.
Disclaimer: Information provided above has been gathered from various market sources. HVS has not independently verified the accuracy of the information provided. Interested parties should not rely on the information as statement of facts and are advised to make their own independent checks to verify the information provided. For further information, please feel free to contact HVS London.
For the latest in the hospitality industry, please visit: http://www.hvs.com/. You are also welcome to contact the following personnel.
| | |
| --- | --- |
| Russell Kett, Chairman – HVS London (@russellkett) | [email protected] |
| Charles Human, CEO – HVS London/HVS Hodges Ward Elliott | [email protected] |
| Simon Tucker Brown, Managing Director – HVS Executive Search Europe & Middle East | [email protected] |
| Chris Martin, Senior Director – HVS Hodges Ward Elliott | [email protected] |
| Arlett Hoff, Director – HVS London | [email protected] |
| Sophie Perret, Director – HVS London | [email protected] |
| Tim Smith, Managing Partner – HVS Cape Town | [email protected] |
| Demetris Spanos, Managing Director – HVS Athens | [email protected] |
| Hala Matar Choufany, Managing Director – HVS Dubai | [email protected] |
| Ezio Poinelli, Senior Director – HVS Milan | [email protected] |
| Louise Fury, Senior Editor and EMEA Hospitality Newsletter Author – HVS London | [email protected] |
Superior Results through Unrivaled Hospitality Intelligence. Everywhere.
Stay current. Click here to receive free HVS newsletters
Looking for insights into the hospitality industry?
Discover unique hospitality intelligence at hvs.com/publications
Interested in a particular market?
Find hundreds of market overviews, all written by HVS experts, at hvs.com/marketresearch
Like to be in the know on hotel trends and predictions?
See our Hotel Valuation Index for dozens of cities at hvi.hvs.com