Spanish firm Hispania has purchased the NH Malaga in Spain for €41 million from NH Hotel Group. Hispania now plans to extend the 133-room hotel, in Malaga city centre, by a further 112 rooms by June 2019. NH will continue to manage the hotel.
Starboard Hotels has purchased two Holiday Inn Express hotels in the UK. The 120-room Holiday Inn Express Tamworth, in Staffordshire, and the 105-room Holiday Inn Ramsgate Minster, on England's southeast coast, were put on the market for offers in excess of £11.5 million. The acquisition brings Starboard's portfolio to 13 properties across the UK.
The former Grand Europa Hotel in Prague, Czech Republic, is to undergo a renovation that will transform the early 20th-century art nouveau building into Marriott International's first W hotel in the city. The 154-room W Prague, owned by PPH Evropa, is expected to open in 2020 on Wenceslas Square. There are currently seven W hotels in operation in Europe, and the brand is on track to have a portfolio of 75 properties across the continent by 2020.
Carlson Rezidor's Radisson RED brand is to make its debut in Central Europe with a hotel in Poland's second largest city, Krakow. The new-build 230-room Radisson RED Krakow is scheduled to open by autumn 2019, within walking distance of the city's central railway station. The hotel, which will be an important part of the development of the largest high-rise building in Krakow's Unity Centre business district, will be developed by Treimorfa Project, a joint venture between Eurozone Equity Company and GD&K Group.
One week after the opening of its first 7 Days Premium hotel in Vienna, Austria, Plateno International Europe has announced its second project for the city: the 152-room 7 Days Premium Vienna South Gate, which is expected to open in 2019 on the top floors of a newly built tower. "18 months after Plateno entered the European market, we have three operating hotels and five projects under development in Germany, Austria, and Italy," commented Roland Paar, president of Plateno Europe, CIS & Middle East.
Budget brand Travelodge has announced that Craig Bonnar is to become its chief operating officer. Mr Bonnar joins the company after a long career with Asda Wal-Mart, during which he held a range of senior positions. "Travelodge is now benefiting from our multi-million pound modernisation and we are well underway with our ambitious expansion programme," commented Peter Gowers, Travelodge's chief executive. "Craig's extensive experience in leading large multi-site operational teams to deliver great customer service at low-cost will be invaluable to the further development of the business," he added.
It is still only February and already Deutsche Hospitality has reached a milestone this year. A recent opening in Egypt means that the German group now has 100 hotels in operation. The Steigenberger Hotel El Tahir is in Cairo city centre, on Tahir Square, close to the Egyptian Museum. The 300-room hotel is owned by HOTAC. "The opening of our 100th hotel is a real highlight in a company history that stretches back almost 87 years," said Puneet Chhatwal, chief executive officer of Deutsche Hospitality. "...we are filling in a blank spot on the map in terms of our presence in Egypt, the second largest location of our hotel company after our home market of Germany," he added.
Carlson Rezidor's Park Inn by Radisson chain has opened its fourth hotel in South Africa. The Park Inn by Radisson Polokwane is the group's first hotel in the city of Polokwane at the centre of the country. The 160-room hotel, three kilometres from the city centre and nine kilometres from Polokwane International Airport, is Rezidor's ninth hotel in South Africa overall.
AccorHotels has signed deals to open three hotels in Ethiopia by 2021, marking its first appearance in the northeast African country. The properties will all be in the capital, Addis Ababa, and combined will have more than 520 guest rooms. The French group currently has a presence in 21 African countries with 94 hotels.
African group BON Hotels has opened its tenth property in Nigeria, in West Africa: the BON Hotel Grand Pela, which is in Abuja city centre, just 15 minutes from the airport. The hotel has 87 guest rooms, a spa and beauty salon, a gym, a conference centre, swimming pools and several food and beverage outlets.
Marriott International has opened its second property in the emirate of Abu Dhabi, UAE. The 400-room Marriott Hotel Al Forsan is within Khalifa City, at the heart of the Al Forsan International Sports Resort. The hotel has extensive meeting and event space and six food and beverage outlets, among other facilities.
Carlson Rezidor's Radisson Blu brand has opened its first residences in Dhahran, Saudi Arabia, and its second property in the city overall. The Radisson Blu Residence, Dhahran is opposite the Mall of Dhahran and just one kilometre from the city centre. The 92 branded residences join sister property the 82-room Radisson Blu Hotel, Dhahran. The group is already planning to turn this duo into a trio with the 216-room Radisson Blu Hotel, Dhahran Square, which is scheduled to open in the first quarter of 2019. "Demand in the city of Dhahran is largely driven by corporate travelers within the oil industry, however, many leisure guests from Riyadh and neighboring cities in the Eastern Province also enjoy visiting the city, " said Fadi Mheisen, general manager of the Radisson Blu Residence, Dhahran.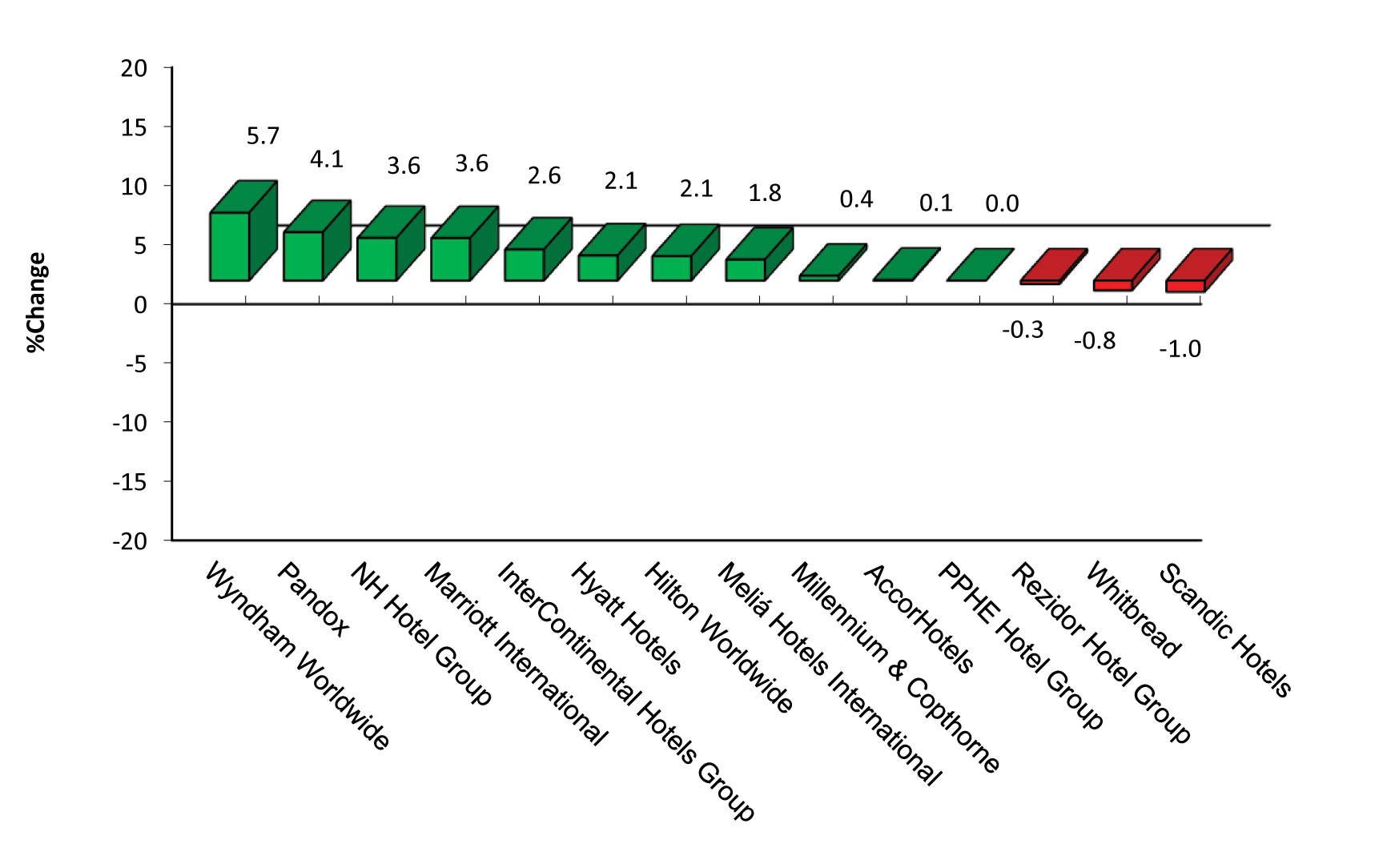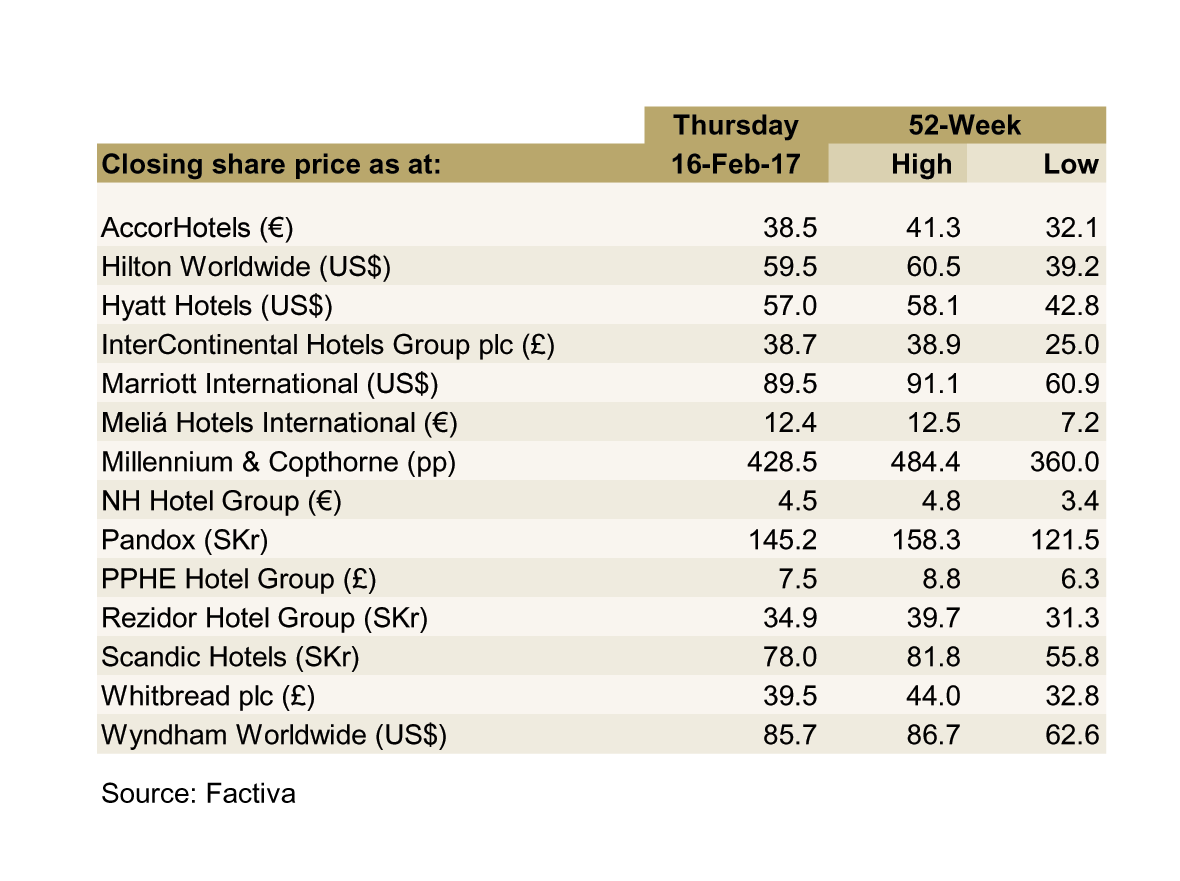 Marriott International – Announced that its board of directors declared a quarterly cash dividend
of US$0.30 per share of common stock.

Scandic Hotels – Will present its year-end results for 2016 on Thursday 23 February.
Disclaimer: Information provided above has been gathered from various market sources. HVS has not independently verified the accuracy of the information provided. Interested parties should not rely on the information as statement of facts and are advised to make their own independent checks to verify the information provided. For further information, please feel free to contact HVS London.
For the latest in the hospitality industry, please visit: http://www.hvs.com/. You are also welcome to contact the following personnel.
| | |
| --- | --- |
| Russell Kett, Chairman – HVS London (@russellkett) | [email protected] |
| Charles Human, CEO – HVS London/HVS Hodges Ward Elliott | [email protected] |
| Simon Tucker Brown, Managing Director – HVS Executive Search Europe & Middle East | [email protected] |
| Chris Martin, Senior Director – HVS Hodges Ward Elliott | [email protected] |
| Arlett Hoff, Director – HVS London | [email protected] |
| Sophie Perret, Director – HVS London | [email protected] |
| Tim Smith, Managing Partner – HVS Cape Town | [email protected] |
| Demetris Spanos, Managing Director – HVS Athens | [email protected] |
| Hala Matar Choufany, Managing Director – HVS Dubai | [email protected] |
| Ezio Poinelli, Senior Director – HVS Milan | [email protected] |
| Louise Fury, Senior Editor and EMEA Hospitality Newsletter Author – HVS London | [email protected] |
Superior Results through Unrivaled Hospitality Intelligence. Everywhere.
Stay current. Click here to receive free HVS newsletters
Looking for insights into the hospitality industry?
Discover unique hospitality intelligence at hvs.com/publications
Interested in a particular market?
Find hundreds of market overviews, all written by HVS experts, at hvs.com/marketresearch
Like to be in the know on hotel trends and predictions?
See our Hotel Valuation Index for dozens of cities at hvi.hvs.com