Malaysian firm YTL has purchased the 74-room Threadneedles, an Autograph Collection Hotel, within London's Square Mile, increasing YTL's portfolio of Autograph Collection properties to four (two in the UK and two in Kuala Lumpur). HVS Hodges Ward Elliott acted as exclusive agent for the seller. The Grade II-listed Victorian building formerly housed the head offices of City and Midland Bank and became a hotel in 2002, becoming one of Marriott International's first UK additions to its Autograph Collection in 2013.
Internos Global Investors has completed its acquisition of the Exe Danube Budapest from Hungarian real estate firm Sunbelt for €14.75 million (€146,000 per room). The 101-room hotel is in central Budapest, adjacent to Deak Ferenc Square. Internos purchased the property when it was still being developed; it is now open and is operated by Spain's Hotusa Group under its Exe Hotels chain.
Hilton Worldwide has signed a franchise agreement with Demarsh for its second Hampton by Hilton hotel in Belarus. The Hampton by Hilton Brest is due to open in late 2018 and will mark Hilton's debut in the city of Brest, in the southwest of the country on the border with Poland. Construction has already started on the 120-room hotel and a total of US$7.3 million is expected to be invested in the project. Hilton currently operates two hotels Belarus (in Minsk). Also this week, Hilton has signed a franchise agreement with Create Developments (Blackpool) Ltd that will see the group's Hampton by Hilton chain make its first appearance in the seaside resort of Blackpool, in northwest England, with the 130-room Hampton by Hilton Blackpool. "Blackpool is seeing major investment," said Patrick Fitzgibbon, senior vice president, development, EMEA, Hilton. "There is no better time, then, to introduce one of our fastest-growing brands in the UK, to one of Britain's best known destinations," he added. There are currently 18 Hampton by Hiltons in operation across the UK with a further 16 under development. Additionally, Hilton's DoubleTree brand opened its latest branch in London this week: the DoubleTree by Hilton London – Greenwich. Formerly a Mercure property, the 147-room hotel is the first Hilton-branded hotel to open in Greenwich, in the southeast of the city.
AccorHotels announced this week that it has entered into exclusive negotiations for the acquisition of 100% of US-based elite travel broker Travel Keys. The deal, which is expected to close in the second quarter of 2017, will provide AccorHotels with approximately 8,500 luxury private rentals. Commenting on the news, Sébastien Bazin, AccorHotels' chief executive officer and chairman, said that the purchase will be "…instrumental in our strategy to create the number one luxury private rental player in the world." Additionally, AccorHotels has signed a franchise agreement with Arora Group for a Novotel property at Stansted Airport in London. An existing 239-room hotel is to undergo a major renovation and will be rebranded as the Novotel London Stansted this summer. The hotel is owned and will be run by Arora Hotels, a division of Arora Group. This is Arora's third partnership with Accor, as it already operates the 518-room Sofitel London Gatwick and the 605-room Sofitel London Heathrow. AccorHotels' Novotel chain currently has 33 properties in operation across the UK, and this figure is set to rise to 36 over the coming summer.
AVANI Hotels and Resorts (a Minor Hotels brand) is to make its debut in Europe with a hotel in Portugal's capital, Lisbon. The former Tivoli Jardim Lisboa Hotel is undergoing an extensive €1.5 million refurbishment, from which it will emerge on 1 April 2017 as the 119-room AVANI Avenida Liberdade Lisbon Hotel.
South African company Leeu Collection has made its second foray into Europe with the acquisition of a property in Florence, Italy. Leeu has taken on the Collegio Alla Querce, a former boarding school and hotel, and plans to transform the 19th-century building into a luxury hotel, which is scheduled to open in 2021 with more than 70 guest rooms. The group opened its first hotel in Europe in the UK in January 2016, the 30-room Linthwaite House near in Windermere in the Lake District, and it owns and operates three properties in Franschhoek in South Africa.
Even Frydenberg is to take on the role of president and chief executive officer for Scandic Hotels as of 31 July 2017. The group's current leader, Frank Fiskers, will step down this summer but will continued to be involved as an advisor to Scandic's Board of Directors and Executive Committee. "I am proud to have been on this journey together with our team members and customers. It's been a fantastic eight years and my heart beats for Scandic," said Mr Fiskers. "This decision is something that has evolved over time. I have been working in the hotel industry since I was 19 and after 35 years, I have decided not to work operationally anymore," he added. His successor, Mr Frydenberg, most recently worked at Starwood Hotels & Resorts and has had a career in the hotel industry since 1993. "I am convinced that he is the right person to continue developing Scandic in the next years," commented Vagn Sørensen, chairman of Scandic's Board.
Deutsche Hospitality is extending its portfolio in Egypt with a further two properties. The German group has signed management agreements with Taba Tourism Development Company for the 304-room Cairo Pyramids Hotel in Giza and with Tourism Urbanization Company S.A.E. for the 401-room Taba Hotel & Nelson Village at the northern end of the Sinai Peninsula. Both hotels will undergo full renovations until the end of the year and will then be rebranded as Steigenberger Hotels and Resorts properties. The new signings bring Deutsche Hospitality's portfolio of hotels in operation across Egypt to 99.
In partnership with Bin Haider Group, Carlson Rezidor is to open two new Radisson Blu hotels in Dubai, UAE. Part of the group's expansion plan to have 100 hotels (20,000 rooms) in operation across the Middle East by 2020, the hotels are to be developed in two upcoming media zones in the emirate: International Media Production Zone (IMPZ) and Dubai Studio City. The 356-room Radisson Blu Hotel, International Media Production Zone (IMPZ), Dubai is expected to open in the first quarter of 2019 and the 290-room Radisson Blu Hotel, Dubai Studio City will also welcome its first guests during 2019.
Abu Dhabi-based Jannah Hotels & Resorts has made its first appearance in the emirate of Ral Al Khaimah with the opening of the Jannah Resort & Villas Ras Al Khaimah. The beachfront resort, in Mina Al Arab, has 100 suites and 24 villas. Jannah's chief executive officer, Nehme Imad Darwiche, noted that the group's latest offering "is another milestone for us as we increase our commitment in being the leading luxury hotels, hotel apartments and resorts brand in the region and the GCC." Jannah currently has four other hotels in operation across Abu Dhabi and Dubai, and its Dubai Creek hotel is due to open in 2018.
Smartotels Hospitality International has launched its flagship FORM brand with the announcement that its first hotel is due to open in Dubai in the first quarter of 2018. The 143-room hotel is currently being developed by Dubai Contracting Company. Smartotels plans to increase its portfolio of purpose-built assets to 25 hotels by 2026 and already has several projects under development in Morocco, Kenya, Turkey and Saudi Arabia.
Rezidor Hotel Group reported a like-for-like increase in revenue for the full-year 2016 of 3.8%. Like-for-like RevPAR at leased and managed hotels rose by 3.2% and EBITDA amounted to €79.3 million. The group recorded a profit for 2016 of €26.4 million. In the fourth quarter of 2016, Rezidor signed 12 new properties (1,800 rooms) and over the year the group opened a total 18 hotels (3,600 rooms), expanding into new markets ( Morocco, Ivory Coast, Togo and Rwanda). "During 2016, we continued to pursue our long-term asset management strategy," said Wolfgang Neumann, Rezidor's president and chief executive officer. "In Q4, we announced the exit from six unprofitable lease agreements in the UK in 2017. The terminations brought the number of successfully closed asset management transactions in 2016 to 15," he added.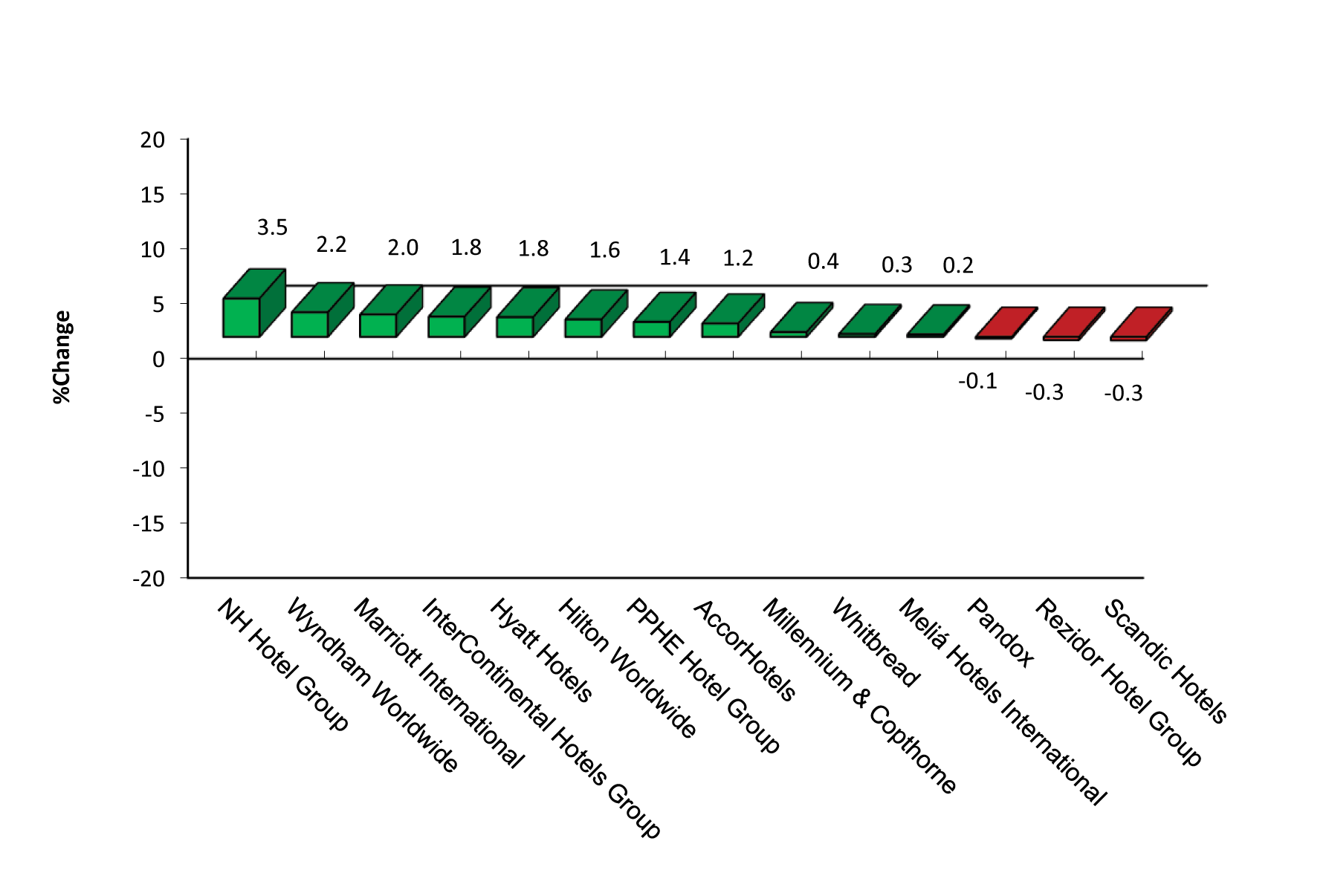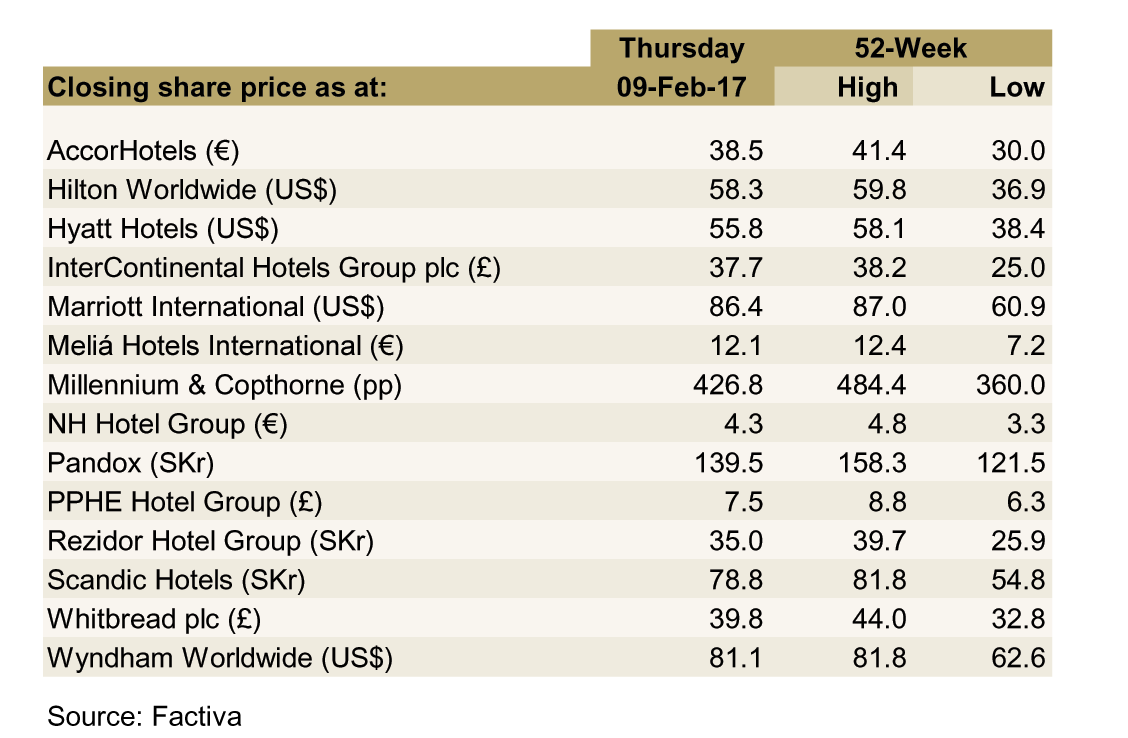 Whitbread – JP Morgan Cazenove reaffirmed its "neutral" rating and raised the share price target to 3,945p from 3,930p.

AccorHotels – Colony Capital has sold its 4.9% stake in the group.
Disclaimer: Information provided above has been gathered from various market sources. HVS has not independently verified the accuracy of the information provided. Interested parties should not rely on the information as statement of facts and are advised to make their own independent checks to verify the information provided. For further information, please feel free to contact HVS London.
For the latest in the hospitality industry, please visit: http://www.hvs.com/. You are also welcome to contact the following personnel.
| | |
| --- | --- |
| Russell Kett, Chairman – HVS London (@russellkett) | [email protected] |
| Charles Human, CEO – HVS London/HVS Hodges Ward Elliott | [email protected] |
| Simon Tucker Brown, Managing Director – HVS Executive Search Europe & Middle East | [email protected] |
| Chris Martin, Senior Director – HVS Hodges Ward Elliott | [email protected] |
| Arlett Hoff, Director – HVS London | [email protected] |
| Sophie Perret, Director – HVS London | [email protected] |
| Tim Smith, Managing Partner – HVS Cape Town | [email protected] |
| Demetris Spanos, Managing Director – HVS Athens | [email protected] |
| Hala Matar Choufany, Managing Director – HVS Dubai | [email protected] |
| Ezio Poinelli, Senior Director – HVS Milan | [email protected] |
| Louise Fury, Senior Editor and EMEA Hospitality Newsletter Author – HVS London | [email protected] |
Superior Results through Unrivaled Hospitality Intelligence. Everywhere.
Stay current. Click here to receive free HVS newsletters
Looking for insights into the hospitality industry?
Discover unique hospitality intelligence at hvs.com/publications
Interested in a particular market?
Find hundreds of market overviews, all written by HVS experts, at hvs.com/marketresearch
Like to be in the know on hotel trends and predictions?
See our Hotel Valuation Index for dozens of cities at hvi.hvs.com