Warwick Hotels and Resorts has purchased two hotels in London, UK, from the Capital Group for an undisclosed sum, marking the US-based group's first hotel investment in the city. The newest additions to Warwick's portfolio are the 49-room Capital and the neighbouring 12-room Levin hotel; the deal also included the London Bakery business (also part of the Capital Group). David Levin founded the Capital in 1970, and his daughter, Kate Levin, will continue to be general manager of the hotel. "Being a family business ourselves, we are proud to be able to conclude this transaction with the Levin family and to maintain the family spirit that characterizes the two groups," said Warwick's president, Richard Chiu.
Four Seasons Hotels and Resorts has opened its second hotel in London and its third in the UK overall. The Four Seasons Hotel London at Ten Trinity Square is housed in the Grade II-listed former headquarters of the Port of London Authority, along with 41 private residences and a private members club. The hotel, which is close to the city's historic Tower of London and Tower Bridge, has 100 rooms and joins sister properties the 193-room Four Seasons Hotel London at Park Lane and the 133-room Four Seasons Hotel Hampshire.
Whitbread's Premier Inn chain has completed deals for two new hotels in Germany. The group has purchased the freeholds of sites in the cities of Essen and Freiburg for the development of 90-room hotel and a 180-room hotel, respectively. Both properties are scheduled to open in 2019 and bring Premier Inn's development pipeline in the country up to 930 rooms. The group currently has one hotel in operation in Germany, the 201-room Premier Inn Frankfurt Messe, and aims to have around eight hotels trading in the country by 2020.
Raag Hotels is planning to launch new budget brand in the UK: Point A Hotels. Raag, which is a joint venture between affiliates of the Queensway Group (a former franchisee of Tune Hotels), the Wellcome Trust and Fifty Seven 7, will have seven Point A Hotels in operation by the end of March 2017, five of which are already open across London and currently flagged as Tune Hotels; two new-build properties in London and Glasgow, with 181 and 122 rooms, respectively, will complete the portfolio, which will total 1,100 guest rooms. "Point A Hotels represents a change in strategic direction for Queensway," said Naushad Jivraj, chief executive of Queensway Group. "Through owning and managing our own hotel brand we plan to deliver a greater return on investment for shareholders. We intend to grow Point A Hotels significantly over the next few years. Our aspiration is to become a well-loved affordable hotel brand with quality and reliability at our core," he added.
Deutsche Hospitality's IntercityHotel chain plans to make its debut in Eastern Europe with a hotel in Budapest, Hungary. The 300-room hotel is scheduled to open by 2019 in a modern building in front of the city's Keleti (eastern) railway station. "Budapest is a city with a great past and lots of potential," commented Joachim Marusczyk, the group's managing director. The hotel's building is owned by B&L Group, which is also working with IntercityHotel to develop three new hotels across Germany.
Hilton Worldwide's Garden Inn brand has reportedly signed a franchise agreement with Accent Hotel Management for a hotel in Budapest Hungary. The new-build, nine-storey, 214-room Hilton Garden Inn Budapest City Centre will become Hilton's third hotel in the city when it opens on the eastern side of the Daube River, close to Budapest's main shopping district.
Pod-style hotel group YOTEL has announced plans to open its third UK hotel in central London. The 212-cabin hotel is scheduled to open in the city's Clerkenwell creative quarter near the end of 2018 as part of a mixed-use development being developed by Medina Investments. The property will join the two existing YOTELAIR hotels at Gatwick and Heathrow airports. "We are more than ready to bring the YOTEL city-centre concept home. Since the opening of our flagship in New York, we have been looking for the right opportunity and we finally found it in Clerkenwell," said YOTEL's chief executive officer and HVS alumnus, Hubert Viriot.
Liverpool-based hotel and serviced apartment group Signature Living has acquired the Alma De Cuba bar in restaurant in Liverpool city centre, northwest England, for £3.1 million and plans to extend the property to include a hotel. The Latin American carnival themed Alma De Cuba is housed in a Grade II-listed building that was formerly a Catholic church; the 200-cover restaurant and bar will undergo a refresh and a 75-room hotel will be created next door. As part of the deal, Signature Living has also acquired the rights to the Alma De Cuba brand and aims to extend it to other cities across the UK.
Scandic Hotels has signed a long-term lease agreement with property firm Vasakronan for the operation of a new hotel in Gothenburg, Sweden. The 362-room hotel, which is expected to be ready by the end of 2020, will be part of the Platinan block, a new urban development in the city centre. The group already has five hotels in central Gothenburg and two other properties across the region. "Gothenburg is a growing area and a strategically important market for us," said Frank Fiskers, Scandic's president and chief executive officer.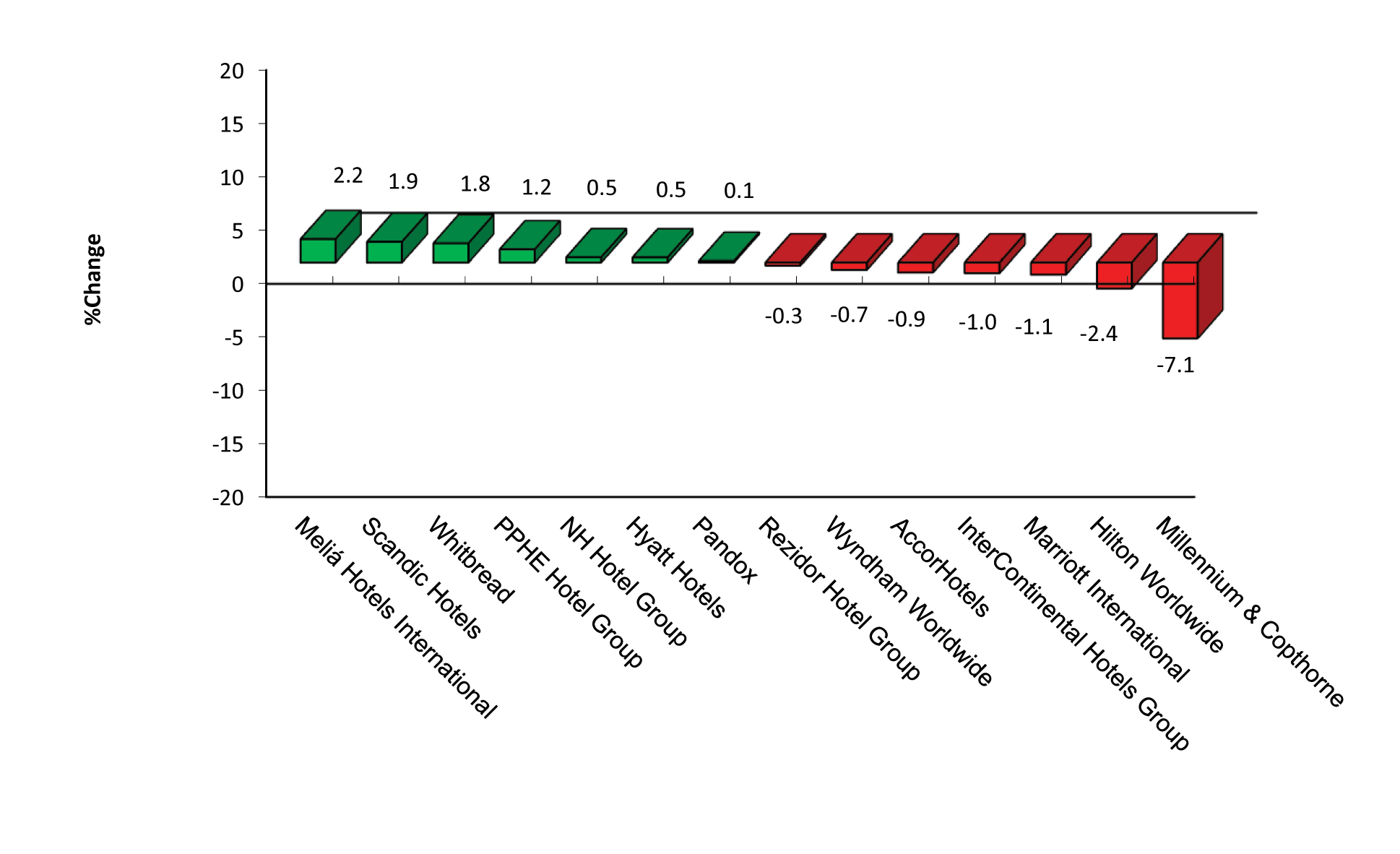 Whitbread – Reported a total sales growth for the third quarter of 2016 of 8.6%.

AccorHotels – Has formed a partnership with Qatar Airlines to offer benefits to members across both of their loyalty programmes.
Disclaimer: Information provided above has been gathered from various market sources. HVS has not independently verified the accuracy of the information provided. Interested parties should not rely on the information as statement of facts and are advised to make their own independent checks to verify the information provided. For further information, please feel free to contact HVS London.
For the latest in the hospitality industry, please visit: http://www.hvs.com/. You are also welcome to contact the following personnel.
| | |
| --- | --- |
| Russell Kett, Chairman – HVS London (@russellkett) | [email protected] |
| Charles Human, CEO – HVS London/HVS Hodges Ward Elliott | [email protected] |
| Simon Tucker Brown, Managing Director – HVS Executive Search Europe & Middle East | [email protected] |
| Chris Martin, Senior Director – HVS Hodges Ward Elliott | [email protected] |
| Arlett Hoff, Director – HVS London | [email protected] |
| Sophie Perret, Director – HVS London | [email protected] |
| Tim Smith, Managing Partner – HVS Cape Town | [email protected] |
| Demetris Spanos, Managing Director – HVS Athens | [email protected] |
| Hala Matar Choufany, Managing Director – HVS Dubai | [email protected] |
| Ezio Poinelli, Senior Director – HVS Milan | [email protected] |
| Louise Fury, Senior Editor and EMEA Hospitality Newsletter Author – HVS London | [email protected] |
Superior Results through Unrivaled Hospitality Intelligence. Everywhere.
Stay current. Click here to receive free HVS newsletters
Looking for insights into the hospitality industry?
Discover unique hospitality intelligence at hvs.com/publications
Interested in a particular market?
Find hundreds of market overviews, all written by HVS experts, at hvs.com/marketresearch
Like to be in the know on hotel trends and predictions?
See our Hotel Valuation Index for dozens of cities at hvi.hvs.com