Singapore-based M&L Hospitality has recently expanded its presence in Europe with the purchase of two new hotels for an undisclosed sum, bringing its global portfolio up to 18 properties. The investment group's new purchases are the 303-room Hilton Prague Old Town, along with an adjacent 6,900 m² mixed-use commercial building, at the heart of Prague's Old Town in the Czech Republic, and the 150-room Park Inn by Radisson Amsterdam Airport, in the Schiphol-Rijk Business Park in the Netherlands. "These new acquisitions in Europe are a testament to our confidence in the region and we look forward to expanding our European portfolio further," said Neil Maxwell, M&L's chief executive officer.
A UK subsidiary of Singapore-based Fragrance Group Ltd has signed an agreement to purchase the 180-room Imperial Hotel Blackpool, in the seaside resort of Blackpool in northwest England, for £12.8 million (approximately £71,000 per room) from the Hotel Collection. The Victorian four-star hotel, which was built in 1867, is set on around 9,388 m² of land and overlooks the Irish Sea.
Carlson Rezidor has signed an agreement for a new Radisson Blu property in Switzerland. The 250-room Radisson Blu Hotel, Geneva is expected to open in 2021 between Geneva city centre and the airport. The hotel will be developed by HRS Real Estate. "As headquarters of United Nations and the Red Cross, Geneva is a global hub for diplomacy and banking," said HVS alumnus and executive vice president and chief development officer for the Rezidor Hotel Group, Elie Younes. "This project fills one of the strategic geographic white spots in Europe and will further strengthen our leading presence in Europe with our upper upscale brand, Radisson Blu," he added. Rezidor currently has four Radisson Blu hotels in operation across Switzerland.
Following the opening of its flagship London hotel last year, Dutch hotel group citizenM plans to open four more properties worldwide during 2017, two of which will be in Paris, France: the citizenM Paris La Defense and the citizenM Gare de Lyon, which will welcome their first guests in spring and summer, respectively. Additionally, the citizenM Taipei is due to open in the Taiwanese capital in April, as the group's first property in Asia, and in the USA a second citizenM property will open in New York by the end of the year. The group, which aims to double its portfolio over the next five years, currently operates nine hotels across Europe and America in Amsterdam (two), Glasgow (one), London (three), New York (one), Paris (one) and Rotterdam (one).
Hyatt Hotels has signed a franchise agreement with La Rosière Gestion for its first Hyatt Centric-branded property in France. The 71-room Hyatt Centric La Rosière is scheduled to open in time for the 2017-18 winter season in the ski resort of La Rosière in the French Alps. The hotel will be managed by Sophos Hotels. "The deal marks the expansion of the Hyatt Centric brand into a new continent, as well as our first ski resort in the region, which we regard as a remarkable milestone," commented Peter Norman, Hyatt's senior vice president of acquisition and development for Europe, Africa, the Middle East and South West Asia. Hyatt currently operates 13 Hyatt Centric hotels across the globe.
Hilton Worldwide has signed a management agreement with Bandstand Square Developments Ltd that will see the group introduce its flagship Hilton Hotels & Resorts brand to the town of Woking, southwest of London, in the UK. The high-rise, 196-room Hilton Woking is expected to open in early 2021 as part of the town's mixed-use Victoria Square retail and residential development, which is an important part of the regeneration of Woking town centre. The new hotel, accessible from central London in 30 minutes, will be the second Hilton-branded property in Woking, joining the 160-room DoubleTree by Hilton Woking, which opened last year.
Scandic Hotels has agreed long-term variable revenue-based lease agreements with Pandox and Eiendomsspar that will see it take over the operation of eight hotels across Norway, Sweden and Denmark (a total of 1,708 guest rooms, 1,136 of which are in Norway, 357 in Stockholm and 215 in Copenhagen). Pandox owns seven of the properties (and currently operates them all) and Eiendomsspar, one.
Additionally, Scandic Hotels has signed a long-term rental agreement with LAK Real Esate Oyj for a new hotel at Helsinki Airport in Finland. Work on the Scandic Helsinki Airport is expected to start this month and the 148-room hotel is due to open during the first half of 2018 as the group's eighth airport hotel in the Nordics region. The property, which is owned by LAK, is 100 metres from the airport's terminal 2 and currently contains offices.
It was reported this week that the Hotel Telegraaf in Tallinn, Estonia is to become part of Marriott International's Autograph Collection this summer, marking the group's entry into the country. The five-star hotel is in the Estonian capital's medieval Old Town. The hotel's building dates from 1878, when it opened as a bank and later became an exchange station for the Estonian Telegraph company. The 84-room hotel opened in 2007.
Ramón Aragonés has been appointed as the new chief executive officer of NH Hotel Group. Ramón has worked at NH for the past eight years, serving as executive director of business and operations, managing director of operations and director of operations for the Spain, Portugal and Andorra Business Unit. Prior to joining the group, Ramón worked for Hesperia. "NH Hotel Group is embarking on a new phase of its business plan, a plan I embrace with a sense of determination and responsibility, fully committing to the Company, its shareholders and its employees. My priority, and that of all our teams, during this new phase is to consolidate the Group's transformation project with the objective on maximising value creation for our shareholders and other stakeholders," said Ramón, commenting on his new role.
The Pearl of Africa Hotel Kampala in landlocked Uganda, East Africa, is to become part of Carlson Rezidor's Quorvus Collection when it opens in March 2017, as the second Quorvus Collection property in Africa. The 24-storey hotel, on Nakasero Hill in Kampala city centre, will be the tallest building in Uganda. As well as 296 guest rooms, the hotel will have extensive meeting and event facilities, several food and beverage outlets, a spa and many more leisure facilities.
Marriott International's Renaissance brand has opened its first hotel in Sub-Saharan Africa: the Renaissance Lagos Ikeja Hotel, in Nigeria's largest city. The hotel has 155 guest rooms, an outdoor swimming pool, a fitness centre, eight meeting rooms and two restaurants. "This is not just a landmark signing for Renaissance Hotels but also for Marriott International as it marks our fourth debut in an African nation, following the opening of Marriott International properties across a number of its brands in Ethiopia, Rwanda and Morocco," said Mark Satterfield, Marriott's chief operating officer for the Middle East and Africa.
Hyatt Hotels has opened its first Hyatt Regency hotel in the Saudi Arabian capital, Riyadh. The 261-room Hyatt Regency Riyadh Olaya, in the up-and-coming business district of Olaya, was developed by Mohammed A. Al-Swailem Co. for Commercial Investment. The 261-room hotel is the third Hyatt-branded hotel to open in Saudi Arabia.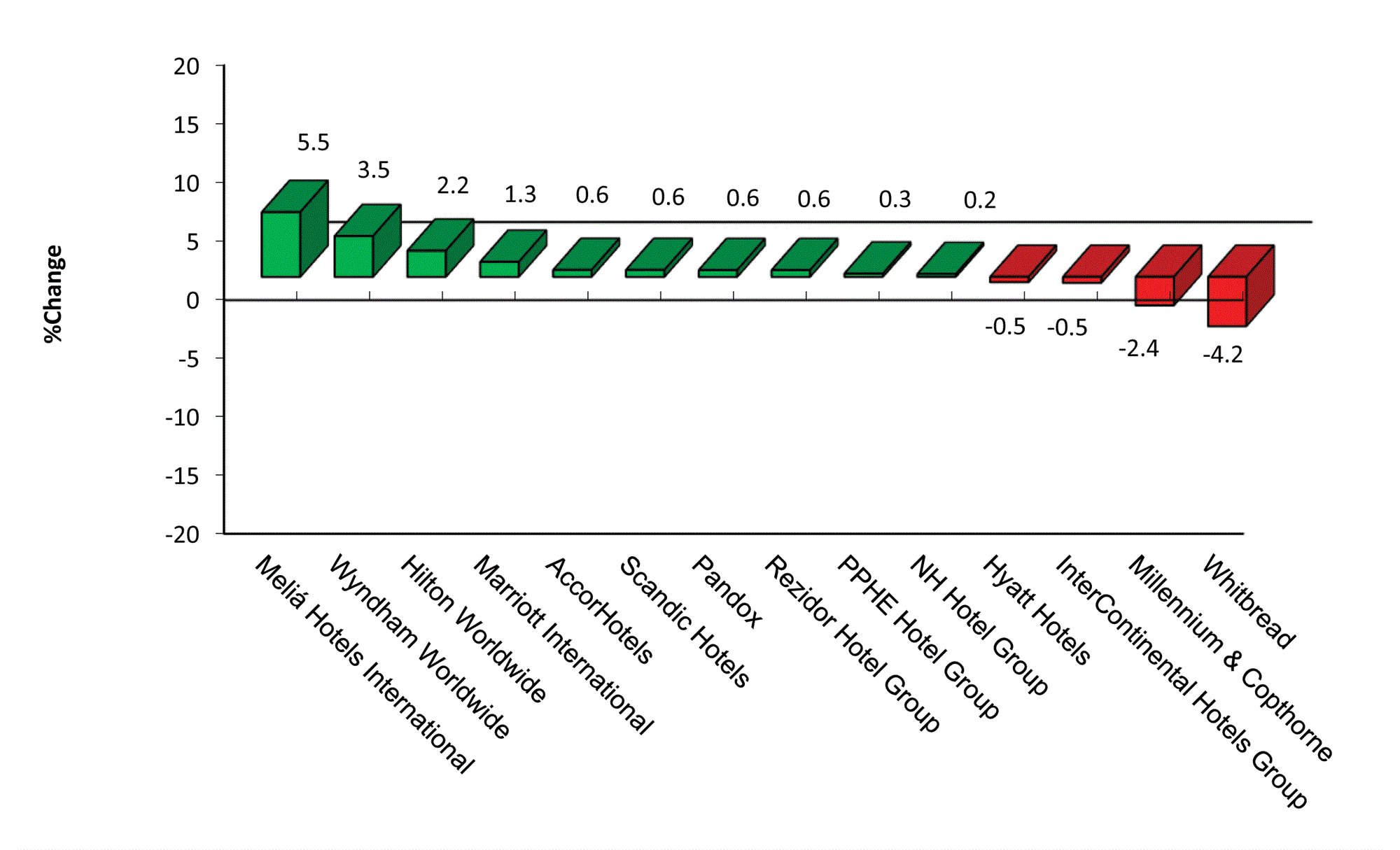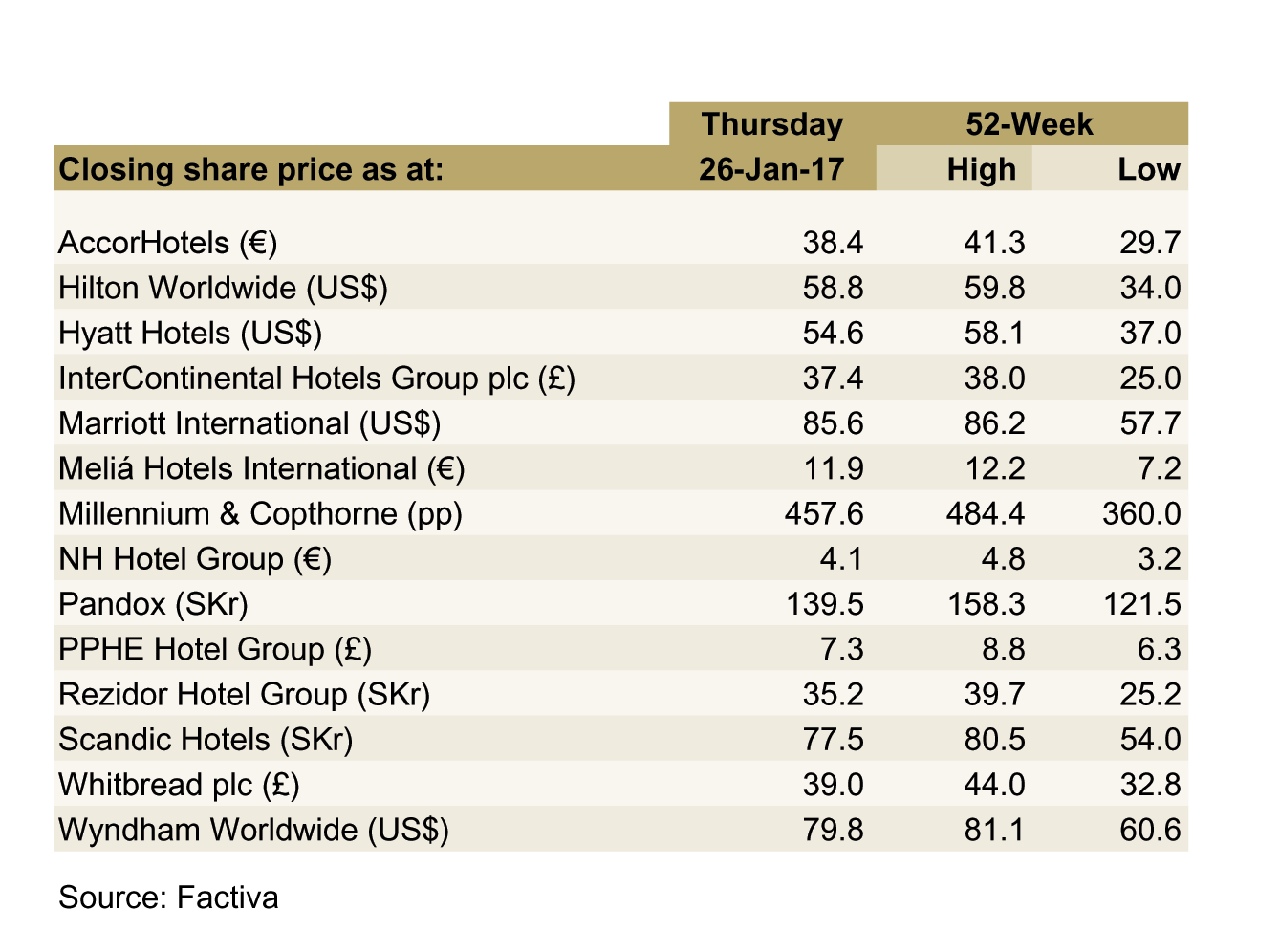 Accor – Has purchased a 5% stake in Banyan Tree.

Pandox – Will publish its year-end report for 2016 on 16 February 2017.
Disclaimer: Information provided above has been gathered from various market sources. HVS has not independently verified the accuracy of the information provided. Interested parties should not rely on the information as statement of facts and are advised to make their own independent checks to verify the information provided. For further information, please feel free to contact HVS London.
For the latest in the hospitality industry, please visit: http://www.hvs.com/. You are also welcome to contact the following personnel.
| | |
| --- | --- |
| Russell Kett, Chairman – HVS London (@russellkett) | [email protected] |
| Charles Human, CEO – HVS London/HVS Hodges Ward Elliott | [email protected] |
| Simon Tucker Brown, Managing Director – HVS Executive Search Europe & Middle East | [email protected] |
| Chris Martin, Senior Director – HVS Hodges Ward Elliott | [email protected] |
| Arlett Hoff, Director – HVS London | [email protected] |
| Sophie Perret, Director – HVS London | [email protected] |
| Tim Smith, Managing Partner – HVS Cape Town | [email protected] |
| Demetris Spanos, Managing Director – HVS Athens | [email protected] |
| Hala Matar Choufany, Managing Director – HVS Dubai | [email protected] |
| Ezio Poinelli, Senior Director – HVS Milan | [email protected] |
| Louise Fury, Senior Editor and EMEA Hospitality Newsletter Author – HVS London | [email protected] |
Superior Results through Unrivaled Hospitality Intelligence. Everywhere.
Stay current. Click here to receive free HVS newsletters
Looking for insights into the hospitality industry?
Discover unique hospitality intelligence at hvs.com/publications
Interested in a particular market?
Find hundreds of market overviews, all written by HVS experts, at hvs.com/marketresearch
Like to be in the know on hotel trends and predictions?
See our Hotel Valuation Index for dozens of cities at hvi.hvs.com