International Hotel Properties Ltd (IHL) has purchased the Holiday Inn Express Edinburgh City Centre in Scotland out of administration for £17.7 million (£110,000 per room). The 161-room hotel will continue to operate under a franchise agreement with InterContinental Hotels Group and Redefine BDL Hotels will take over the property's management. IHL now has a portfolio of nine hotels (1,135 guest rooms) across the UK. The hotel's previous owner, the European Development Company (EDC), fell into administration in November last year, and EDC's two other assets (a Holiday Inn and a Holiday Inn Express in Aberdeen, northeast Scotland) will be coming to the market soon.

Invesco Real Estate has acquired the Adina Apartment Hotel in Nuremberg, southeast Germany, from FREO Group for an undisclosed sum. The recently opened 138-unit, extended-stay hotel was developed in a former Commerzbank branch office building in the city's Old Town. "The demand from institutional investors for pan-European hotel real estate has increased significantly over the past few years due to their attractive income return component, and we are pleased to add exposure to this developing segment to our client's existing portfolio," said Chris Brassington, Director – Fund Management at Invesco Real Estate.

Marriott International's W brand has signed an agreement with QPR Properties Kft (part of Luxembourg-based Constellation Hotels Holding Limited) for the first W property in Hungary. The 162-room W Budapest will be housed in the Dreschler Palace on the city's Andrassy Avenue, which, known as Budapest's Champs-Élysées, is a UNESCO World Heritage Site. The Palace, opposite the State Opera House, will undergo a full renovation and the hotel is expected to open in 2020. "Budapest has secured a spot as epicenter of European travel with the convergence of creative communities combined with a thriving economy, making this city the perfect fit for the innovative edge of W Hotels," said the global brand leader of W Hotels Worldwide, Anthony Ingham. The brand currently has a global portfolio of 50 properties, and is on track to reach its target of 75 hotels by 2020.

Marriott International has signed a franchise agreement with Blackpitts Hospitality Ltd for its first Aloft hotel in Ireland. The 202-room Aloft Dublin City is scheduled to open in spring 2018 in the Irish capital's Liberties quarter, an historic area of the city centre currently undergoing a rejuvenation. The eight-storey hotel will be operated by Pembroke Hospitality Ltd. "With its mid-market price point, great design and accessible technology, the Aloft Hotels brand is the perfect choice for this prime development," commented Niall Geoghegan, co-founder and director of Pembroke Hospitality. Marriott currently operates four hotels across Ireland under its Autograph Collection, Renaissance, Sheraton and Westin brands.

Hilton Worldwide has signed a franchise agreement with Cavusoglu Group for the 121-room Hilton Garden Inn Yalova, which is due to open in 2018 in the seaside city Yalova in northwest Turkey. Hilton now has more than 20 Hilton Garden Inn hotels either in operation or under development across Turkey. Hilton also opened a new DoubleTree hotel in Greater London this week in the UK: the 146-room DoubleTree by Hilton Kingston upon Thames in southwest London, which is managed by Interstate Europe Hotels & Resorts and is the first Hilton-branded hotel in Kingston. The new addition to the DoubleTree family has increased the brand's portfolio in Europe to 73 properties.

In February, Plateno Group Europe will open its third 7 Days Premium property in Austria. The hotel, with 95 guest rooms and 20 apartments, is in south Vienna, just a 15-minute subway journey from the city centre, and joins the 7 Days Premium hotels already operating in Linz and Salzburg.

Thailand-based Anantara Hotels Resorts & Spas is to open a resort on the Tanzanian archipelago of Zanzibar, off the coast of East Africa. The Anantara Zanzibar Resort is expected to open in 2020 as part of the mixed-use Zanzibar Amber Resort, which is currently under construction on the island's northeast coast. The Anantara Zanzibar Resort will have 100 guest rooms and 50 one- and two-bedroom villas. The resort will be the first Anantara-branded property in Tanzania for the group's parent company, Minor Hotels, which currently has six Elewana Collection safari camps, lodges and hotels in operation across the country.

Delhi-based hotel company the Oberoi Group will be making its first appearance in Morocco in 2017 with the opening of a resort in Marrakech. Set within 25 acres of citrus orchards and olive groves, with views of the Atlas Mountains, the Oberoi Marrakech, Morocco will have 77 villas, each with a private pool and landscaped garden. Additionally, the main hotel building will contain six guest rooms and a presidential suite. A private island on a lake within the resort's grounds will house a 2,000 m² Oberoi Spa.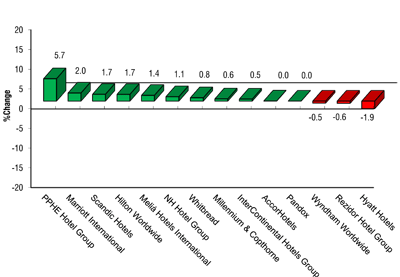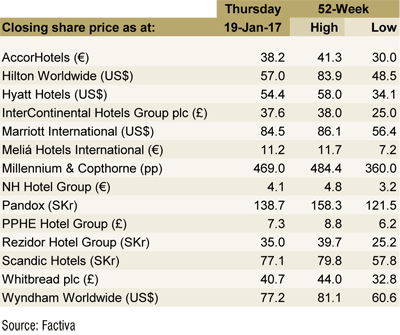 InterContinental Hotels Group – CEO, Richard Solomons, remains positive on longer-term outlook of hotel industry.
For the latest in the hospitality industry, please visit: http://www.hvs.com/. You are also welcome to contact the following personnel.
| | |
| --- | --- |
| Russell Kett, Chairman – HVS London (@russellkett) | [email protected] |
| Charles Human, CEO – HVS London/HVS Hodges Ward Elliott | [email protected] |
| Simon Tucker Brown, Managing Director – HVS Executive Search Europe & Middle East | [email protected] |
| Chris Martin, Senior Director – HVS Hodges Ward Elliott | [email protected] |
| Arlett Hoff, Director – HVS London | [email protected] |
| Sophie Perret, Director – HVS London | [email protected] |
| Tim Smith, Managing Partner – HVS Cape Town | [email protected] |
| Demetris Spanos, Managing Director – HVS Athens | [email protected] |
| Hala Matar Choufany, Managing Director – HVS Dubai | [email protected] |
| Ezio Poinelli, Senior Director – HVS Milan | [email protected] |
| Louise Fury, Senior Editor and EMEA Hospitality Newsletter Author – HVS London | [email protected] |
Disclaimer: Information provided above has been gathered from various market sources. HVS has not independently verified the accuracy of the information provided. Interested parties should not rely on the information as statement of facts and are advised to make their own independent checks to verify the information provided. For further information, please feel free to contact HVS London.
Superior Results through Unrivaled Hospitality Intelligence. Everywhere.
Stay current. Click here to receive free HVS newsletters
Looking for insights into the hospitality industry?
Discover unique hospitality intelligence at hvs.com/publications
Interested in a particular market?
Find hundreds of market overviews, all written by HVS experts, at hvs.com/marketresearch
Like to be in the know on hotel trends and predictions?
See our Hotel Valuation Index for dozens of cities at hvi.hvs.com