Host Hotels & Resorts carried out three hotel transactions this week: it acquired a hotel in Miami and sold one in Tampa, in Florida in the USA, and purchased a 90% stake in a property in Berlin, Germany. Host's joint venture in Europe acquired a 90% interest in the owning company of the Grand Hotel Esplanade for €81 million from Event Hotel Group. An affiliate of Event will continue to manage the 394-room hotel and another affiliate still retains the remaining 10% interest in the property. Plans are afoot to reflag the hotel under a franchise agreement with an international brand.
InterContinental Hotels Group (IHG) has signed an agreement for its third hotel in Stuttgart, the sixth-largest city in Germany. The 140-room Holiday Inn Express Stuttgart, which will operate under a franchise agreement with one of its owning partners, Foremost Hospitality, is expected to open in 2016. The new-build hotel is property number 14 of a multiple development agreement for 20 hotels IHG signed with Foremost in 2007; nine of these hotels are now already open.
Carlson Rezidor Hotel Group has opened its first hotel in the Turkish city of Kayseri, in the country's Central Anatolia Region. The 224-room Radisson Blu Hotel, Kayseri, in the city centre, has an 808 m² ballroom, a further eight meeting rooms, spa facilities and a rooftop restaurant and bar with views over the city and the Erciyes Mountains.
Scandic is expanding its new HTL chain to Norway. The group announced the launch of HTL in 2013 and the brand made its debut in Sweden earlier this year with the 274-room HTL Kungsgatan in Stockholm. Now two hotels in Olso, the 108-room Rica Travel and the 96-room Rica G20, will undergo a refurbishment and will open at the beginning of 2015 as HTL properties. "We are creating something new in the hotel industry that attracts modern travellers coming to Oslo," said HTL's managing director, Joachim Högefjord. Scandic plans to have at least 20 HTL hotels across the Nordic region within five years.
Accor already has a presence in Romania with seven hotels across the country under its ibis, Novotel and Pullman brands, and at the beginning of November the group's Mercure chain is due to make its first appearance in the country. The four-star Merucre Bucharest City Centre, on George Enescu Street, will have 114 rooms and will be the group's sixth hotel in the Romanian capital.
Accor also continued its expansion in the Middle East this week with the launch of its Adagio Premium brand, an aparthotel concept designed specifically for the region. Emerging from a renovation, the former Dunes Hotel West Bay in Doha, Qatar, has opened as the 21-storey, 83-unit Adagio Premium West Bay Doha. "As a high-growth destination for conferences and global events, Doha is an important, booming market for Accor," commented Olivier Hick, vice president of the group's operations in the Middle East.
Best Western International announced the launch of two new brands this week. Vib (short for vibrant and pronounced vibe) is a new "urban boutique hotel concept". The brand is expected to be attractive to owners and developers on account of its high-density concept, which will be "cost-effective to build and operate". Additionally, the US-based group also released details of its first soft brand, BW Premier Collection, which will comprise "carefully selected high-quality hotels in primary markets". The Premier Collection properties will not become part of Best Western's official membership but will be listed and can be booked on the group's website.
South African group Protea Hotels (now part of Marriott International) has signed an agreement for its second hotel project in Rwanda, in central Africa. The five-star, 76-room Protea Kivu Marina Resort is under construction in the Rusizi district of the country's Western Province and is due to open in 2016. The public-private partnership deal is worth US$22 million.
Thailand-based Minor Hotel Group has announced further expansion in Mozambique with a hotel investment in the capital, Maputo. In a joint venture with Rani Investment, furthering its existing partnership with the hospitality owner/operator, Minor has acquired a 49% stake in a hotel and mixed-use development in Maputo for around US$101 million. The acquisition includes the existing 154-room Radisson Blu Hotel Maputo, as well as a 187-unit residential tower and a 21-storey office block, both of which are currently under construction and due to be completed by the end of 2015. Minor's previous joint venture with Rani saw it invest US$17.5 million to rebrand three existing hotels in Mozambique under its Anantara and Avani brands by the end of the year.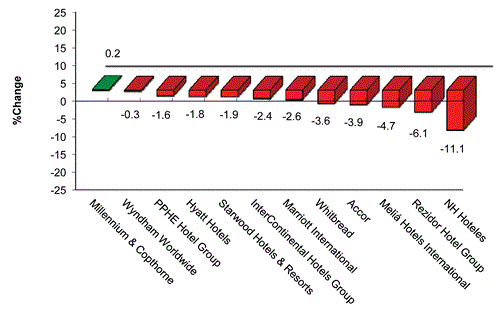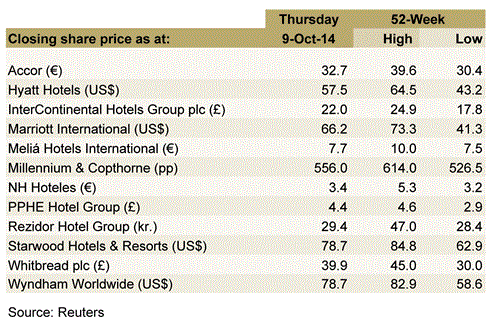 InterContinental Hotels Group – Share prices continue to fall amid fears about the spread of Ebola.
Accor – Share prices rose 2.5% over the past week but were down by close of business on Thursday 9 October.
Millennium & Copthorne – Completed (through a subsidiary) the acquisition of the freehold interest in the five-star hotel trading as the Boscolo Palace Roma and its related business.
For the latest in the hospitality industry, please visit: http://www.hvs.com/. You are also welcome to contact the following personnel.
| | |
| --- | --- |
| Russell Kett, Chairman – HVS London (@russellkett) | [email protected] |
| Charles Human, CEO – HVS London/HVS Hodges Ward Elliott | [email protected] |
| Chris Martin, Director – HVS Hodges Ward Elliott | [email protected] |
| Tim Smith, Director – HVS London | [email protected] |
| Arlett Oehmichen, Director – HVS London | [email protected] |
| Sophie Perret, Director – HVS London | [email protected] |
| Peter Malone, CEO – HVS Executive Search, EMEA & Asia | [email protected] |
| Demetris Spanos, Managing Director – HVS Athens | [email protected] |
| Hala Matar Choufany, Managing Director – HVS Dubai | [email protected] |
| Ezio Poinelli, Director – HVS Milan | [email protected] |
| Louise Fury, Senior Editor and EMEA Hospitality Newsletter Author – HVS London | [email protected] |
Disclaimer: Information provided above has been gathered from various market sources. HVS has not independently verified the accuracy of the information provided. Interested parties should not rely on the information as statement of facts and are advised to make their own independent checks to verify the information provided. For further information, please feel free to contact HVS London.
Superior Results through Unrivaled Hospitality Intelligence. Everywhere.
Stay current. Click here to receive free HVS newsletters
Looking for insights into the hospitality industry?
Discover unique hospitality intelligence at hvs.com/publications
Interested in a particular market?
Find hundreds of market overviews, all written by HVS experts, at hvs.com/marketresearch
Like to be in the know on hotel trends and predictions?
See our Hotel Valuation Index for dozens of cities at hvi.hvs.com