Chinese conglomerate HNA Group is to acquire an equity interest in Hilton Worldwide of approximately 25% from affiliates of American group Blackstone. The transaction, which is reported to have a cash value of around US$6.5 billion (US$26.25 per share), is expected to close during the first quarter of 2017 and will see Blackstone's share in Hilton drop to 21%. We are pleased to welcome HNA Group as a long-term investor and strategic partner," said Christopher J Nassetta, Hilton's president and chief executive officer. "HNA Group has a broad portfolio of successful travel and hospitality businesses and a proven track record of creating value in this industry. We believe this mutually beneficial relationship will open new opportunities for our brands and guests around the world, particularly in light of HNA's strong position in the fast-growing Chinese travel and tourism market, the largest outbound travel and tourism market in the world," he continued.
Dublin-based Dalata Hotel Group is to purchase the freehold of the four-star Clayton Hotel Cardiff, on the south coast of Wales, for €27 million (€125,000 per room). Dalata already operates the four-star, 216-room hotel, which opened in 2011. "This transaction is consistent with our stated strategy of buying out the freehold interests of those leased properties with future unpredictable rent reviews," commented Dalata's deputy chief executive, business development and finance, Dermot Crowley.
Leonardo Hotels has announced a new project for Amsterdam. The Leonardo Royal Hotel Amsterdam is to be housed in a newly constructed 19-floor building a five-minute tram journey from the city centre. The 493-room hotel is expected to open in autumn 2018 and will be developed by Adriaan Van Erk Groep and Slavenburg Bouw BV. The hotel will become Leonardo's second property in the Netherlands, joining the 89-room Leonardo Hotel Amsterdam City Center, which opened earlier this year in April.
Europe Hotels Private Collection's Max Brown Hotels brand has expanded into Germany with the opening of a hotel in Düsseldorf. The 65-room Max Brown Midtown, Düsseldorf is at the heart of the west German city, just 500 m from the Königsallee shopping boulevard. The chain currently has two hotels in operation in Amsterdam, in the Netherlands, and a further property for Germany due to open soon in Berlin.
Millennium & Copthorne has signed a management agreement with Altin Istanbul A.Ş for its first hotel in Turkey. The Millennium Golden Horn Hotel, Istanbul is due to open in 2017, on Istanbul's European side, in the historic Golden Horn area as part of a wider 11,000 m² urban regeneration project. The 125-room hotel will have a restaurant and bar, two terraces, one meeting room and a wellness and spa area.
Deutsche Hospitality has opened its second hotel in Turkey just five kilometres from Istanbul Atatürk Airport. The 209-room Steigenberger Airport Hotel Istanbul is operated under a franchise agreement by Korcan Turizm Petrol Ürünleri Ticaret Sanayi A.S and joins the 292-room Steigenberger Hotel Maslak in central Istanbul.
Hotel management company Cycas Hospitality and Slough Urban Renewal have agreed heads of terms for a dual-branded Marriott development in the town of Slough, 21 miles west of London, in the UK. A 144-room Moxy property and a 92-unit Residence Inn will be housed in the same building and operated by Cycas under one single lease. The two hotels are expected to open before the completion of the Crossrail project in 2019. "This is an exciting time to be investing in the heart of Slough. The town is undergoing a huge transformation and will after the opening of Crossrail become a real hub between Heathrow and Central London," said Eduard Elias, managing partner at Cycas Hospitality. "After the success of our dual branded hotels in London Stratford (Holiday Inn and Staybridge Suites), we are now implementing similar dual branded projects in Slough, Manchester and Amsterdam," he added.
Marriott International's Westin Hotels and Resorts chain has opened its second hotel in Egypt. The Westin Cairo Golf Resort & Spa Katameya Dunes is within New Cairo's Katameya Dunes residential community and has a 27-hole championship golf course, three food and beverage outlets and a 3,000 m² spa amongst other facilities. The 135-room property is owned by New Cairo for Real Estate Investment Company and joins sister hotel the 166-room Westin Soma Bay Golf Resort & Spa, which is in the Red Sea resort of Hurghada.
Marriott International's luxury Ritz-Carlton chain has signed a management agreement with RAK National Hotels for two hotels in Ras Al Khaimah, UAE, marking the brand's first appearance in the emirate. Two properties formerly managed by Banyan Tree will be reflagged in 2017 as the Ritz-Carlton Ras Al Khaimah Al Hamra Beach and the Ritz-Carlton Ras Al Khaimah Al Wadi Desert. Both hotels are to undergo renovations; the 32-villa Al Hamra Beach property will close during its makeover but the 101-villa Al Wadi Desert will remain open and will operate as a partner hotel until its full rebrand. The deal will see Ritz-Carlton increase its presence in the UAE to five hotels by 2017.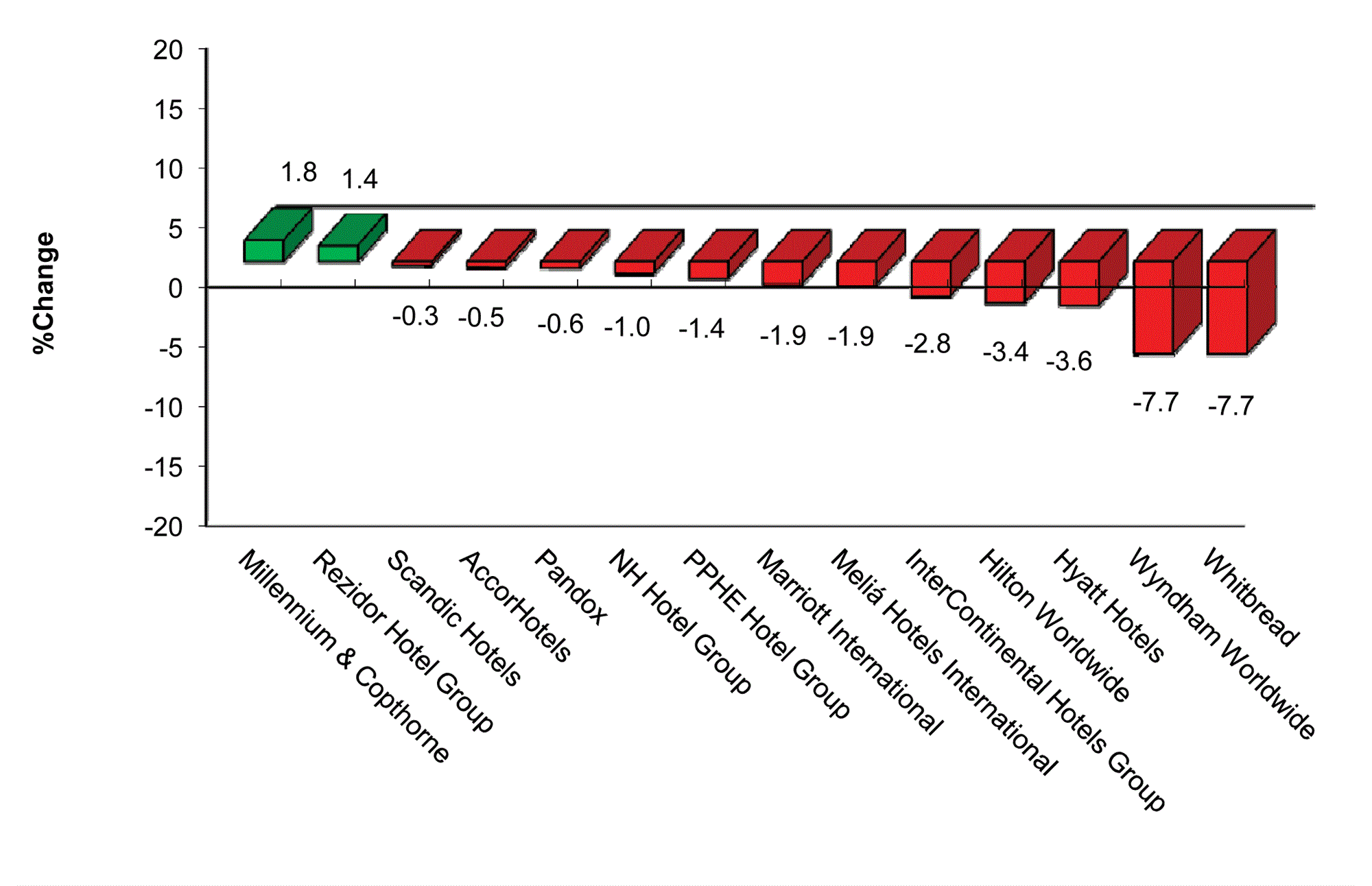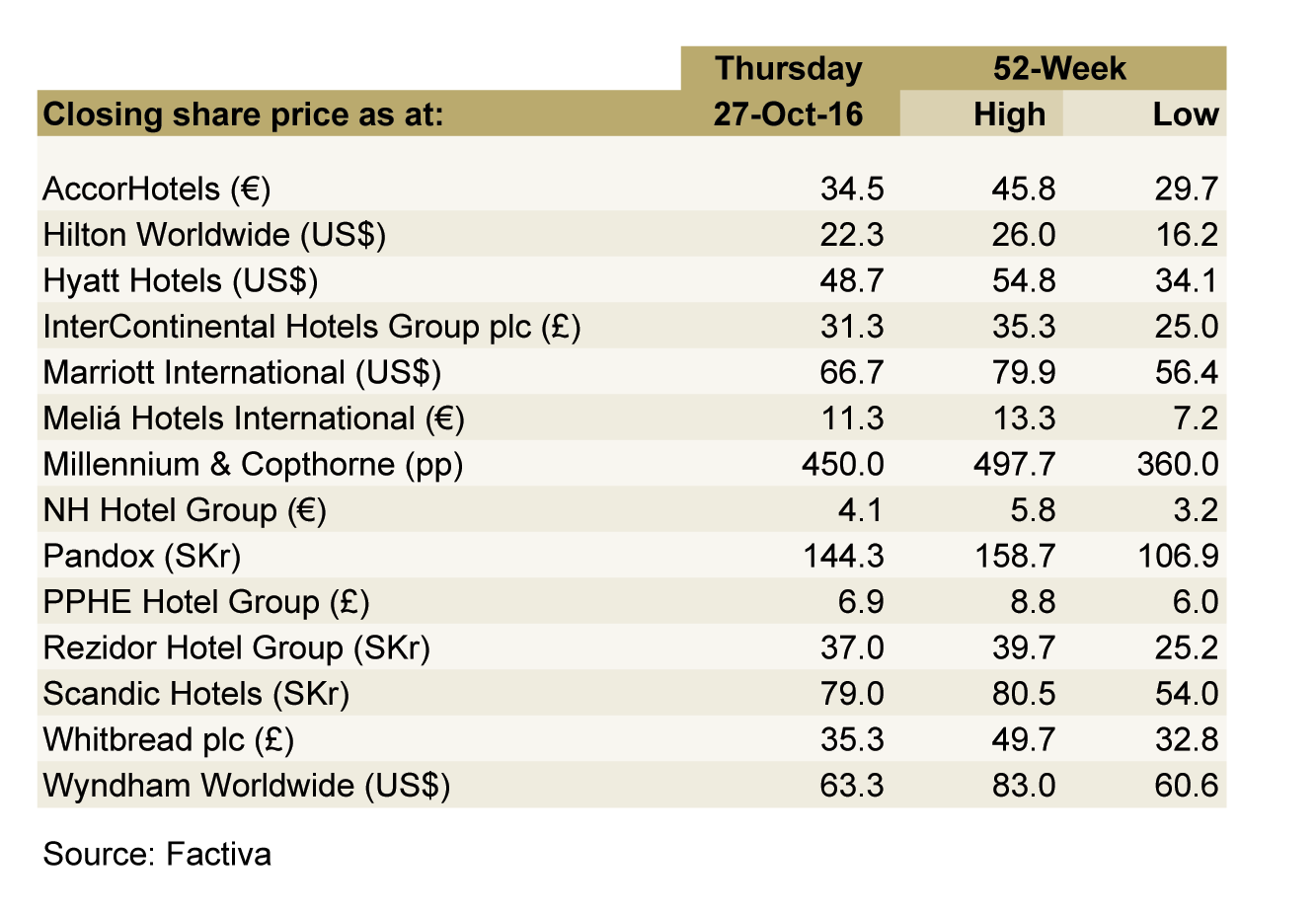 Rezidor Hotel Group – For the third quarter of 2016 EBITDA was €29 million and the EBITDA margin decreased by 11.5%.

Whitbread – Kepler downgraded from "hold" to "reduce".
Disclaimer: Information provided above has been gathered from various market sources. HVS has not independently verified the accuracy of the information provided. Interested parties should not rely on the information as statement of facts and are advised to make their own independent checks to verify the information provided. For further information, please feel free to contact HVS London.
For the latest in the hospitality industry, please visit: http://www.hvs.com/. You are also welcome to contact the following personnel.
| | |
| --- | --- |
| Russell Kett, Chairman – HVS London (@russellkett) | [email protected] |
| Charles Human, CEO – HVS London/HVS Hodges Ward Elliott | [email protected] |
| Simon Tucker Brown, Managing Director – HVS Executive Search Europe & Middle East | [email protected] |
| Chris Martin, Senior Director – HVS Hodges Ward Elliott | [email protected] |
| Puneet Kanuga, Director – HVS Hodges Ward Elliott | [email protected] |
| Arlett Hoff, Director – HVS London | [email protected] |
| Sophie Perret, Director – HVS London | [email protected] |
| Tim Smith, Managing Partner – HVS Cape Town | [email protected] |
| Demetris Spanos, Managing Director – HVS Athens | [email protected] |
| Hala Matar Choufany, Managing Director – HVS Dubai | [email protected] |
| Ezio Poinelli, Director – HVS Milan | [email protected] |
| Louise Fury, Senior Editor and EMEA Hospitality Newsletter Author – HVS London | [email protected] |
Superior Results through Unrivaled Hospitality Intelligence. Everywhere.
Stay current. Click here to receive free HVS newsletters
Looking for insights into the hospitality industry?
Discover unique hospitality intelligence at hvs.com/publications
Interested in a particular market?
Find hundreds of market overviews, all written by HVS experts, at hvs.com/marketresearch
Like to be in the know on hotel trends and predictions?
See our Hotel Valuation Index for dozens of cities at hvi.hvs.com