Aina Hospitality has purchased the five-star Sofitel Brussels Le Louise in Belgium from the Maranatha Group for an undisclosed sum. The 169-room hotel is at the heart of the Belgian capital, Brussels, on Avenue de la Toison d'Or. Aina now owns three hotels that are operated under AccorHotels' luxury brands. "We are happy to strengthen our co-operation with Aina Hospitality on the basis of a long-term partnership with the luxury brands of the group in European capital cities, "commented John Ozinga, chief operating officer of HotelInvest-Accor.
Hotel owner and developer Nine Group has acquired the 110-room Mercure St Albans Noke Hotel in St Albans, north of London, for £9 million. Included in the deal was a ten-acre plot of land behind the Grade II-listed hotel, and the group intends to invest £10 million in a full refurbishment and 90-bed extension of the four-star property. The hotel will continue to operate under AccorHotels' Mercure brand. Nine Group now has a portfolio of 13 hotels across the UK under various brands. Also in the UK this week, the Barnett Hill Hotel, near to the town of Guildford in southeast England, was acquired by Utopia Leisure for an undisclosed sum. Originally built as a private residence by the grandson of famous travel agent Thomas Cook, the 58-room hotel will now undergo a thorough renovation, which will reduce the room count and the number of conference rooms (currently 19) in order to create some suites and turn the property into a country house hotel. The hotel will remain open throughout its transformation.
This year's Investment and Development in the UK & Continental Europe briefing is due to take place at Le Méridien, Piccadilly in London on Wednesday 23 November. Don't forget to say hello to HVS London director Sophie Perret, who will start the event with a keynote speech entitled, "Who is investing and what are the values in the different market segments". Amongst other topics, Sophie will cover performance and supply trends in the UK and across Europe, the investment market and Brexit. For more information or to book a place visit www.henrystewartconferences.com. HVS newsletter readers can get a 10% discount on the ticket price by entering the code HVS10.
Starwood Capital Group has chosen Amsterdam-based Cycas Hospitality to manage its four extended‐stay properties across London. Starwood purchased the 640-unit portfolio in 2015. The hotels (in Earls Court/Kensington, London Bridge, Bermondsey and Tower Bridge) are currently undergoing refurbishment and will be ready by mid-2017. The partnership means that Cycas is now the second largest operator of serviced apartment/apart‐hotels in London. "Starwood Capital Group has established itself as a leader in the London extended‐stay hotel/serviced apartment market through ownership of this portfolio," said Nick Chadwick, vice president at Starwood Capital. "This is one of the most promising and under‐supplied real estate sectors in London today. Cycas Hospitality should help ensure that we realise the full potential of these assets," he added.
Hilton Worldwide has signed a management agreement with Quality Inspection & Testing Services Ltd (Quits) for the Hilton Lagos Airport in Nigeria. The 350-room hotel is expected to open in 2023 close to the passenger terminals at Lagos' Murtala Muhammed International Airport. "With a population of more than 16 million, Lagos is the seventh-fastest growing city in the world and the second largest in Africa, with much of the nation's wealth and economic activity concentrated here," said Patrick Fitzgibbon, senior vice president, development, EMEA at Hilton . This isn't the group's first collaboration with Quits, as the pair plan to open Africa's first Curio collection hotel (the 130-room Legend Hotel) at Murtala Muhammed International Airport next year. Hilton plans to more than double its portfolio across Africa over the coming three to five years to more than 80 properties.
Carlson Rezidor will be making its first appearance in Angola, in southern Africa, with not one but five Park Inn Radisson hotels in five major cities across the country. The group has signed an agreement with Instituto de Fomento Turistico de Angola (InfoTur) for the five hotels, which are already under development and scheduled to open within the next 18 months with more than 650 guest rooms in total. Four of the hotels are new-build properties in Luanda, Cabinda, Benguela and Lubango and are already in the latter stages of construction; an existing hotel in Namibe will be reflagged but will first undergo an extensive transformation in order to match Park Inn by Radisson global standards. HVS alumnus, Elie Younes, executive vice president & chief development officer for Carlson Rezidor, commented, "InfoTur is a strong local partner, who understands that infrastructure development can have a transformative impact on the local economy. We are confident that this partnership will unlock value for all stakeholders. Our timely openings will make meaningful economic contributions and create local employment opportunities. We are looking forward to growing our business and making a real contribution to Angola's travel and tourism."
Best Western International is growing its portfolio in East Africa with the debut of its BW Premier Collection on the continent. The BW Premier Collection The Alba will be a new-build hotel in central Nairobi in Kenya; the 83-room property is scheduled to open in the third quarter of 2017 with state-of-the-art conference facilities, a health club and three food and beverage outlets, including a rooftop bar.
Hotel management group Rotana has officially opened the Amman Rotana in Jordan – its second hotel in the country. The 50-storey, 412-room property in downtown Amman is the first tower hotel in Jordan and joins sister property the 391-unit Boulevard Arjaan by Rotana.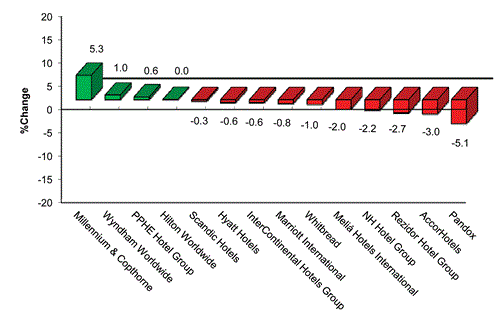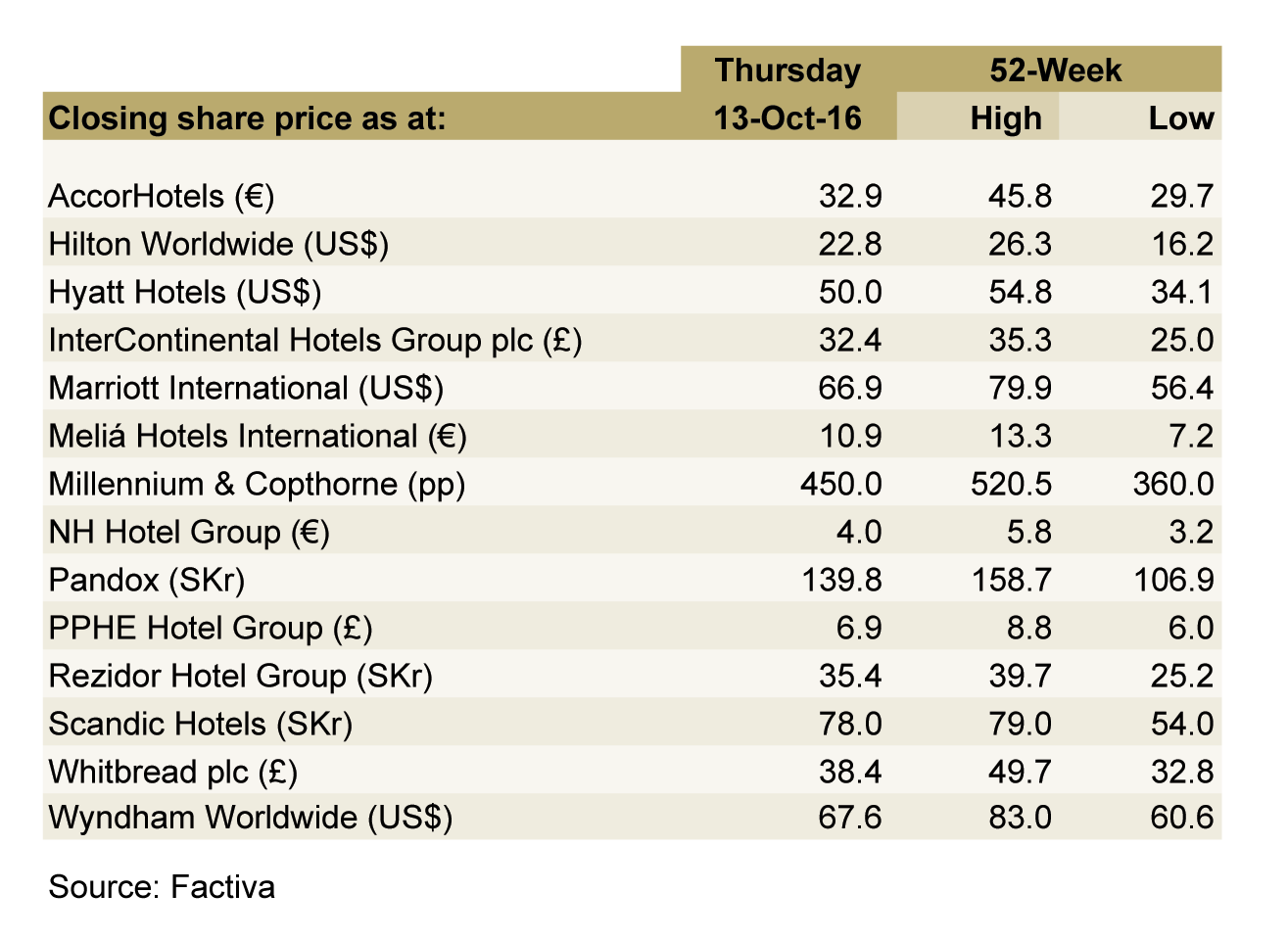 Rezidor Hotel Group – Will release its financial report for the third quarter of 2016 on 25 October 2016.

AccorHotels – Cut to "sell" from "hold" by Berenberg.
Disclaimer: Information provided above has been gathered from various market sources. HVS has not independently verified the accuracy of the information provided. Interested parties should not rely on the information as statement of facts and are advised to make their own independent checks to verify the information provided. For further information, please feel free to contact HVS London.
For the latest in the hospitality industry, please visit: http://www.hvs.com/. You are also welcome to contact the following personnel.
| | |
| --- | --- |
| Russell Kett, Chairman – HVS London (@russellkett) | [email protected] |
| Charles Human, CEO – HVS London/HVS Hodges Ward Elliott | [email protected] |
| Simon Tucker Brown, Managing Director – HVS Executive Search Europe & Middle East | [email protected] |
| Chris Martin, Senior Director – HVS Hodges Ward Elliott | [email protected] |
| Puneet Kanuga, Director – HVS Hodges Ward Elliott | [email protected] |
| Arlett Hoff, Director – HVS London | [email protected] |
| Sophie Perret, Director – HVS London | [email protected] |
| Tim Smith, Managing Partner – HVS Cape Town | [email protected] |
| Demetris Spanos, Managing Director – HVS Athens | [email protected] |
| Hala Matar Choufany, Managing Director – HVS Dubai | [email protected] |
| Ezio Poinelli, Director – HVS Milan | [email protected] |
| Louise Fury, Senior Editor and EMEA Hospitality Newsletter Author – HVS London | [email protected] |
Superior Results through Unrivaled Hospitality Intelligence. Everywhere.
Stay current. Click here to receive free HVS newsletters
Looking for insights into the hospitality industry?
Discover unique hospitality intelligence at hvs.com/publications
Interested in a particular market?
Find hundreds of market overviews, all written by HVS experts, at hvs.com/marketresearch
Like to be in the know on hotel trends and predictions?
See our Hotel Valuation Index for dozens of cities at hvi.hvs.com