Morgans Hotel Group's Mondrian brand made its debut outside of the USA this week with the opening of the Mondrian London at Sea Containers, in London's riverside South Bank area. The 359-room hotel is the group's third hotel in the UK capital overall. Formerly office space, the hotel's building, Sea Containers House, takes its name from one of its previous tenants, Sea Containers Ltd, which occupied the site from 1986 to 2007. The east and west wings of the building still contain office space and the west wing was redeveloped into the Mondrian hotel.
Other new properties entering the London market this week include Ennismore Capital's second Hoxton hotel, the 174-room Hoxton Holborn, which was developed in former BT offices; Whitbread's 266-room Premier Inn London St Pancras, the result of a conversion of Clifton House on Euston Road and Whitbread's 55th hotel in the city; and the luxury, five-star Beaumont in the city's upmarket Mayfair area, which, with 50 rooms, 13 studios and ten suites was developed by London restaurateurs Jeremy King and Chris Corbin, their first hotel. Additionally, Z Hotels opened the 104-room Z Glasgow, its first hotel in Scotland but its fifth in the UK overall (including three in London and one in Liverpool).
Private equity investment firm Osprey Equity Partners has forward sold a Hub by Premier Inn development in London to an unnamed UK-based institutional fund for £34.7 million (£183,600 per room). The 189-room hotel is expected to open on Brick Lane, in East London, next year. The sale is due to complete when construction of the building has finished, and the deal represents an initial yield of around 4.25%. The development has been pre-let to Whitbread for 30 years.
Hotelier Joe Scally has acquired the freehold of the four-star Malton Hotel in Killarney, southwestern Ireland, from the National Asset Management Agency for more than the guide price of €15 million (circa €87,200 per room). Sold as a going concern free of any management agreement, the 172-room hotel, which is 160 years old, was put on the market earlier this year as part of a three-property portfolio that also included the three-star, 112-room Gresham Metropole Hotel, in Cork, and the four-star 118-room Ormonde Hotel, in Kilkenny. It was reported that deals were agreed at the beginning of the week by unnamed buyers for the Metropole and Ormonde hotels for above the asking prices of €4 million (€35,700 per room) and €11.5 million (€97,500 per room), respectively.
Algonquin has sold the buildings and the businesses of two hotels in the city of Reims, northeastern France, for an undisclosed sum. The 82-room Holiday Inn Reims Centre was acquired by a private French buyer in a sale-and-manageback deal and the 66-room ibis Styles Reims Canal was purchased by a Paris-based investor.
The 17th International Trade Fair for Property and Investment is taking place next week on 6-8 October at Messe München International. HVS London's chairman, Russell Kett, will be delivering the keynote speech (Hot deals in 2014 = 2008 reloaded?) at the Special Real Estate Forum. Arlett Oehmichen, director with HVS's London office, will also be attending the conference. If you haven't already booked your place click here to purchase a ticket. Additionally, Arlett and Veronica Waldthausen, an HVS senior associate at London, published a report on Germany's hotel market this week. The report notes that the market is going from strength to strength, with year-to-July 2014 data showing hotel investment volumes have risen more than 100% to a record level of over €1.5 billion, compared with approximately €800 million over the same period last year. Click here to download Germany – The Investor's Darling?
Fairmont Hotels & Resorts has signed an agreement with Barcelona Projects to manage the Hotel Rey Juan Carlos I in Barcelona, Spain. The 432-room hotel will be rebranded this autumn as the Fairmont Rey Juan Carlos I, Barcelona. The hotel is to undergo a thorough renovation in 2015 but the property will remain open throughout. "Barcelona is one of the most popular destinations in Europe and a key hub for the cruise market, as well as for MICE travel, a segment in which Fairmont has established itself as an industry leader," said Jennifer Fox, president for FRHI International and its Fairmont brand.
Rotana has teamed up with Istanbul-based developer Mar Yapi for a new project in Turkey. Tri G is to be constructed in Güneşli in Istanbul. With a buildable area of 38,500 m² on a 7,000 m² site, the project comprises a 30-storey tower that will house an eight-storey, 152-room Centro by Rotana hotel, 153 serviced residences spread over 17 floors, 2,500 m² of commercial space and other ancillary facilities. Rotana and its partners will own 40% of Tri G and the remaining 60% will be held by Mar Yapi. The development is expected to be completed in the last quarter of 2016.
German-based group Maritim Hotels has signed an agreement for its first hotel in the Netherlands. The 579-room Maritim Hotel Amsterdam is due to open in 2018. With 34 storeys, the four-star hotel will be the highest in Amsterdam and, with extensive meeting facilities, is also expected to be the largest conference hotel in the country.
In case you missed the news earlier this week, HVS London director Tim Smith will be moving to Cape Town in the near future in order to establish a new HVS office in southern Africa. In the meantime, he and fellow London director Sophie Perret attended the African Hotel Investment Conference in Addis Ababa, Ethiopia, during which a number of exciting new deals were announced.
Wyndham Worldwide has signed a management agreement with ADM Business plc that will see the US-based group make its first appearance in Ethiopia, northeast Africa. The 136-room Ramada Addis is scheduled to open in the Ethiopian capital, Addis Ababa, during the first half of 2015. Once open, the hotel will increase Wyndham's presence on the continent to seven markets across four countries. With a strong pipeline, of more than 940 rooms, Wyndham plans to double its footprint in Africa over the next three years.
Best Western has also announced its Ethiopian debut with two new hotels in the capital. The 11-storey, 168-room Best Western Plus Abyssinia Hotel is due to open next year, close to Medhane Alem Mall, and the 121-room Best Western Noah is expected to open in 2016, also in the city's Bole Medhane Alem district.
Hilton Worldwide has announced two new Hilton Garden Inn hotels for Nigeria. The group signed a management agreement with Oneplus Holdings Nigeria Ltd for the Hilton Garden Inn Abuja Airport. The 220-room hotel is expected to open in the second quarter of 2017, 1.5 kilometres from Abuja Airport (36 km from Abuja city centre), and will be the first hotel at the airport. A management agreement was also signed with a private investor for the 150-room Hilton Garden Inn Owerri, which is expected to open in the fourth quarter of 2017 in southeastern Nigeria, in the city of Owerri. Hilton now has nine Garden Inn properties under development across Africa.
Steigenberger Hotel Group has signed management agreements for two new properties in Egypt, bringing its portfolio in the country to seven hotels and three Nile cruise ships. The Cecil Hotel, on Saad Zagloul Square, in Alexandria is to be rebranded immediately as the Steigenberger Cecil Hotel. This 86-room property is owned by Egyptian General Company for Tourism and Hotels. As of July 2016, the Hotel Tahrir Square in Cairo, owned by Holding Company for Tourism, Hotels and Cinema, will operate as the 295-room Steigenberger Hotel Tahrir Square.
Carlson Rezidor Hotel Group announced two new hotels this week that will see it enter two new markets in Africa: Uganda and Ghana. The 195-room Radisson Blu Hotel, Kampala is scheduled to open in the Ugandan capital's main business district. The 207-room Radisson Blu Hotel Accra Airport, The Exchange will open in 2017 in Ghana. "Our arrival in Ghana supports our strategic growth in West Africa – a resource-rich and fast growing region with considerable potential for our core brand Radisson Blu," commented Rezidor's president and chief executive officer, Wolfgang Neumann.
Starwood Hotels & Resorts is taking its W brand to Morocco. The brand will make its first appearance in the country in 2017, with the opening of the W Marrakech. The 148-room hotel, owned by Menatlas 14 SA, is to be developed in Marrakech's Hivernage district. Starwood has also signed an agreement for a new hotel in Nigeria. The Four Points by Sheraton Ikot Expene is expected to open in 2015. The new-build, 146-room hotel is owned by the Akwa Ibon State Government and is Starwood's second hotel in Akwa Ibon state, alongside the 163-room Le Méridien Ibon Hotel & Golf Resort. Starwood currently operates five hotels in Nigeria and now has a further five in the pipeline.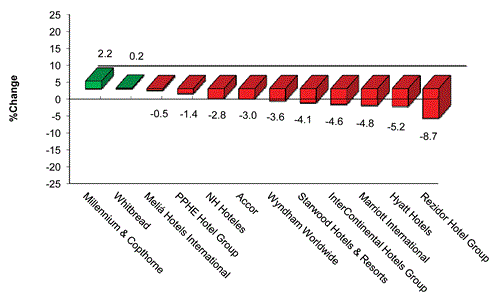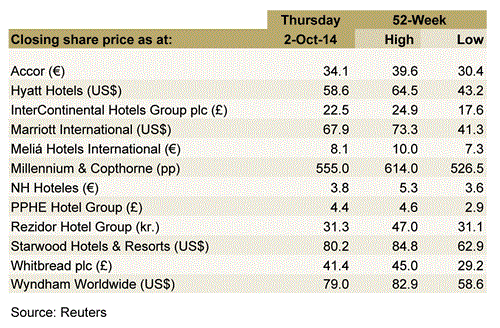 Starwood Hotels & Resorts – Ebola fears drove down travel-related stocks, including Starwood, which fell 3.3%.
Hyatt Hotels – Interval Leisure Group completed the acquisition of Hyatt Residential Group.
Meliá Hotels International – The Spanish chain is among the top 25 hotel groups in the world, according to the ranking drafted by US magazine Hotels.
For the latest in the hospitality industry, please visit: http://www.hvs.com/. You are also welcome to contact the following personnel.
| | |
| --- | --- |
| Russell Kett, Chairman – HVS London (@russellkett) | [email protected] |
| Charles Human, CEO – HVS London/HVS Hodges Ward Elliott | [email protected] |
| Chris Martin, Director – HVS Hodges Ward Elliott | [email protected] |
| Tim Smith, Director – HVS London | [email protected] |
| Arlett Oehmichen, Director – HVS London | [email protected] |
| Sophie Perret, Director – HVS London | [email protected] |
| Peter Malone, CEO – HVS Executive Search, EMEA & Asia | [email protected] |
| Demetris Spanos, Managing Director – HVS Athens | [email protected] |
| Hala Matar Choufany, Managing Director – HVS Dubai | [email protected] |
| Ezio Poinelli, Director – HVS Milan | [email protected] |
| Louise Fury, Senior Editor and EMEA Hospitality Newsletter Author – HVS London | [email protected] |
Disclaimer: Information provided above has been gathered from various market sources. HVS has not independently verified the accuracy of the information provided. Interested parties should not rely on the information as statement of facts and are advised to make their own independent checks to verify the information provided. For further information, please feel free to contact HVS London.
Superior Results through Unrivaled Hospitality Intelligence. Everywhere.
Stay current. Click here to receive free HVS newsletters
Looking for insights into the hospitality industry?
Discover unique hospitality intelligence at hvs.com/publications
Interested in a particular market?
Find hundreds of market overviews, all written by HVS experts, at hvs.com/marketresearch
Like to be in the know on hotel trends and predictions?
See our Hotel Valuation Index for dozens of cities at hvi.hvs.com