Grosvenor Britain & Ireland has sold its 50% stake in the joint venture it created with Hongkong and Shanghai Hotels (HSH) for the development of the first Peninsula-branded hotel in London for £107.5 million, giving HSH full ownership of the project, which received planning permission at the end of 2015. The development, on Hyde Park Corner, will replace the site's existing 1960s' office blocks and will include the 190-room hotel and spa, 24-28 residential apartments and retail and food and beverage outlets. Construction is due to start in 2017 and the hotel is scheduled to open in 2021. Grosvenor will retain the freehold of the site and as landlord will receive a fixed rent from the hotel.
Steigenberger Hotel Group has revealed that it now has a new name. The Frankfurt-based group has chosen Deutsche Hospitality to be its new umbrella brand, under which it will consolidate its three other chains: the luxury Steigenberger Hotels and Resorts; the urban, trendy Jazz in the City; and the midrange IntercityHotel. Commenting on the new moniker, Puneet Chhatwal, chief executive of Steigenberger Hotels AG, said, "These two words combine our German roots and our international vision. The new umbrella brand is a vital lever that will unleash dynamism, help us to expand internationally, and drive innovation." Deutsche Hospitality currently has 116 hotels in 12 countries across three continents, of which 20 are under construction or in the planning stage.
HVS is a sponsor at this year's Mediterranean Resort and Hotel Real Estate Forum, which is due to take place from 30 November to 2 December at the Fairmont Rey Juan Carlos I in Barcelona, Spain. Look out for Sophie Perret, a director at HVS London, who will be moderating a session on day three titled, 'Turkey, North Africa, Egypt: Building back troubled markets'. Additionally, Ezio Poinelli, a director with HVS Milan and HVS Athens , will be moderator of the 'Italy: Understanding investment opportunities' session. To book visit, www.eventbooking.uk.com.
Carlson Rezidor has signed two new hotels for Lithuania and will introduce a second Radisson Blu to the Trysil ski resort in Norway. The Radisson RED Vilnius will be the first of its brand in the Baltics, Russia and CIS region when it opens at the beginning of 2020. The hotel, in Vilnius city centre close to the historic Old Town, is expected to have around 200 rooms. The new-build Radisson Blu Hotel & Spa, Nida Marina will be the first five-star hotel on Lithuania's UNESCO World Heritage-listed Curonian Spit peninsula. The 93-room waterfront property, owned by UAB Marina Nida, is scheduled to open in 2019 as the second Radisson Blu in Lithuania and the group's fifth hotel in the country overall. In Norway, this December the Park Inn by Radisson Trysil Mountain Resort will be reflagged as the Radisson Blu Mountain Resort & Residences, with 369 rooms and suites and 166 apartments. The hotel will join sister property the 210-room Radisson Blu Resort, Trysil.
Marriott International has opened its first Courtyard-branded hotel in Scotland's largest city, Glasgow. The former Ramada Glasgow Airport Hotel underwent a multimillion pound refurbishment before reopening this week as the 114-room Courtyard Glasgow Airport. A further 56 guest rooms are scheduled to be added to the hotel's inventory by the middle of next year. The hotel is owned by Newcastle-based Cairn Group, who invested heavily in the project. The Courtyard brand made its first appearance in Scotland in 2013 with the 194-room Courtyard Aberdeen Airport and it has another hotel under development due to open in Edinburgh before the end of the year.
Plateno Group is continuing its European expansion at a rapid pace. After the recent announcement of its second hotel for Germany, the group's 7 Days Premium brand will now make its debut in Italy. The 7 Days Premium Venice Mestre will be adjacent to the railway station in Mestre, the most populated area of mainland Venice, from which the city's historic centre can be reached in around 12 minutes by train. Vienna-based MTK Gruppe is the owner of the land and is investing in and will develop the 208-room hotel as part of a wider €70 million project. And that's not all – the group announced the launch of another brand in Europe this week: PAI Hotels. Roland Paar, RVP Plateno Europe, commented on PAI Hotels' European launch, "Since its launch in China in May 2015, there were already opened more than 120 hotels, and 200 deals were signed. Now it's time for international expansion towards new markets, where Chinese outbound travel plays significant role, and Europe is definitely one of them." Plateno Group was founded in China in 2013 and has been part of Shanghai-based Jin Jiang International since September 2015.
InterContinental Hotels Group's Kimpton Hotels & Restaurants chain will open its first property in France in the capital, Paris. The 149-room Kimpton Paris marks the chain's second project in Europe, following the announcement at the beginning of 2016 that Kimpton would make its first appearance outside of the Americas in Amsterdam in 2017. The Kimpton Paris will be developed in an existing building close to the Paris Opéra and is scheduled to open in 2020.
Cox & Kings' owned hybrid hostel/hotel group MEININGER Hotels has signed an agreement with Hirotani Projektgesellschaft mbH for its first property in the southwest German university town of Heidelberg. The five-storey hotel is due to open under a 20-year lease at the beginning of 2019 with 336 beds across 100 rooms. MEININGER currently has 16 hotels in operation in ten cities across Europe.
Following the completion of a full refurbishment and renovation (from January 2014 to September 2016), Carlson Rezidor's Radisson Blu hotel in Lyon reopened this week. A total of €40 million was invested in the 245-room Radisson Blu Hotel, Lyon, in France's Auvergne-Rhône-Alpes region. This hotel is housed in the top ten floors of Lyon's iconic 52-storey, 165-metre-high Part-Dieu tower, in the city's business district. Rezidor currently has 12 Radisson Blu hotels in operation across France.
Marriott International has signed six new developments across Africa. In Cape Town, South Africa, the group has teamed up with its long-term partner the Amdec Group for the AC Hotel Cape Town Waterfront, the 200-room Cape Town Marriott Hotel Foreshore and the 150-room Residence Inn by Marriott Cape Town Foreshore, marking the entry of the AC by Marriott brand in Africa. Over on the Indian Ocean island of Mauritius, the Sheraton Mauritius St Felix Resort and The Residences at Sheraton Mauritius St Felix Resort will open in 2020 as part of a mixed-use development. The resort, which will have 152 guest rooms and suites and 37 branded apartments and villas, is owned by Clear Ocean Hotels Resorts Ltd and will become the first Sheraton-branded property on the island. The Element Cairo is the first Element hotel to be signed for Egypt, and will become the biggest Element property across the Middle East and Africa when it opens in 2019. This 344-room project is owned by Middle Eat Real Estate for Development. Lastly, the Four Points by Sheraton Nairobi, Hurlingham is expected to open in 2017 as the second of its brand in Kenya's capital. Owen by Kamcan Properties Ltd, the 96-room development will be a conversion from an existing hotel and will operate under a franchise agreement.
Marriott International has officially opened its first Marriott-branded property in landlocked Rwanda, East Africa. The 254-room Marriott Kigali is close to the Rwandan capital's financial district, embassies, government ministries and Kigali City Hall. "I have the privilege of being able to open hotels in one of the most fascinating and fastest-growing parts of the world," said Alex Kyriakidis, Marriott's president and managing director for the Middle East and Africa. "But there is something about this project that is particularly fulfilling. Every time we open a hotel, we know there is an enormous positive impact on a community. But here, in Rwanda, that impact is magnified by the sustainable approach we have taken to both staffing and supplying the hotel," he added. The group has partnered with many local community organisations in order to staff its Kigali hotel, including a partnership with the Akilah Institute for Women to recruit and train Rwandan women for supervisory positions at the property.
Hilton Worldwide has announced two new hotels and an extension to an existing project in Africa. The Hilton Garden Inn Accra Liberation Road will be constructed in Ghana's capital city as the first of its brand in the country and the continent's first modular-built hotel – all sections of the property, including the guest rooms and corridors, will be constructed in China and shipped to the site to be fitted together. Hilton signed a management agreement with Independence Properties Ltd for the 280-room hotel, which is expected to open in 2018. Additionally, the group signed a management agreement with Jabavu Village Ltd and White Lotus Projects for the 255-room Hilton Nairobi Upper Hill, which is scheduled to open in the Kenyan capital in 2020. This mixed-use project, also containing residential, retail and entertainment space alongside an adjacent office tower, will become Africa's tallest building at 330 metres high. Lastly, Hilton is expanding the room count of the Curio, The Legend, Lagos Airport in Nigeria. Due to open in next year, this property will now have 130 keys.
Four Seasons Hotels and Resorts has officially opened its first hotel in Abu Dhabi. The Four Seasons Hotel Abu Dhabi at Al Maryah Island is the product of a partnership between Four Seasons and Mubadala Development Company. The 200-room hotel is on Al Maryah Island, a man-made 114 hectare mixed-use development and the emirate's international financial centre.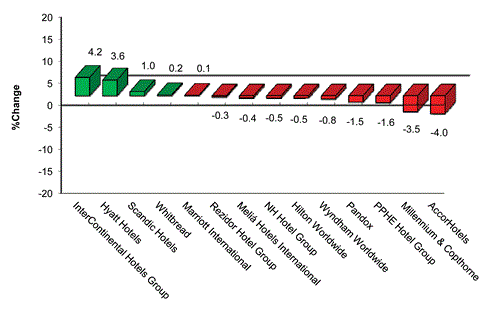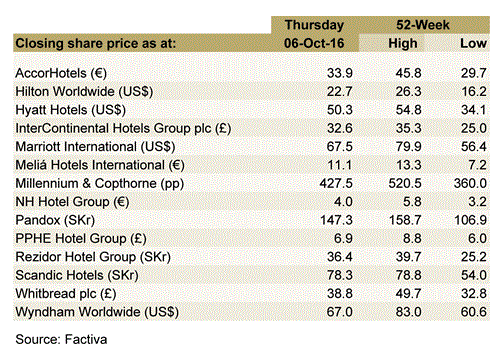 Marriott International – Will report its third-quarter 2016 earnings on Monday 7 Novermber 2016.

NH Hotel Group – Fitch upgraded to "B" from "B-".
For the latest in the hospitality industry, please visit: http://www.hvs.com/. You are also welcome to contact the following personnel.
| | |
| --- | --- |
| Russell Kett, Chairman – HVS London (@russellkett) | [email protected] |
| Charles Human, CEO – HVS London/HVS Hodges Ward Elliott | [email protected] |
| Simon Tucker Brown, Managing Director – HVS Executive Search Europe & Middle East | [email protected] |
| Chris Martin, Senior Director – HVS Hodges Ward Elliott | [email protected] |
| Puneet Kanuga, Director – HVS Hodges Ward Elliott | [email protected] |
| Arlett Hoff, Director – HVS London | [email protected] |
| Sophie Perret, Director – HVS London | [email protected] |
| Tim Smith, Managing Partner – HVS Cape Town | [email protected] |
| Demetris Spanos, Managing Director – HVS Athens | [email protected] |
| Hala Matar Choufany, Managing Director – HVS Dubai | [email protected] |
| Ezio Poinelli, Director – HVS Milan | [email protected] |
| Louise Fury, Senior Editor and EMEA Hospitality Newsletter Author – HVS London | [email protected] |
Disclaimer: Information provided above has been gathered from various market sources. HVS has not independently verified the accuracy of the information provided. Interested parties should not rely on the information as statement of facts and are advised to make their own independent checks to verify the information provided. For further information, please feel free to contact HVS London.
Superior Results through Unrivaled Hospitality Intelligence. Everywhere.
Stay current. Click here to receive free HVS newsletters
Looking for insights into the hospitality industry?
Discover unique hospitality intelligence at hvs.com/publications
Interested in a particular market?
Find hundreds of market overviews, all written by HVS experts, at hvs.com/marketresearch
Like to be in the know on hotel trends and predictions?
See our Hotel Valuation Index for dozens of cities at hvi.hvs.com