We reported at the beginning of August that Spanish chain Riu Hotels and Resorts had emerged as the leader of the pack in the bidding for The Gresham Hotel in Dublin, Ireland, with a bid of €92 million (€307,000 per room). It was revealed this week that Riu's bid was indeed successful and the sale has now closed. The 300-room hotel will be rebranded as the Riu Plaza the Gresham Dublin. Ireland's National Asset Management Agency put the four-star hotel, housed in a landmark 200-year-old Georgian building on O'Connell Street, up for sale earlier this year.
Hilton Worldwide has signed a management agreement with Agricola Merse Srl that will see the La Bagnaia Golf & Spa Resort Siena, in Tuscany, become the first Italian property to join the group's Curio Collection. The 101-room resort, once a medieval village, is 12 km from the city of Siena and, as well as its golf, spa and food and beverage facilities, includes two hotels: the five-star Borgo la Bagnaia (72 rooms) and the four-star Borgo la Filetta (29 rooms).
Having recently emerged from an extensive five-year €10 million renovation, the 166-room Sheraton Salzburg Hotel, at the heart of Austria's fourth largest city, has been designated as a Sheraton Grand property, marking the brand's debut in Austria. The top to bottom refurbishment of the Sheraton Grand Salzburg included the careful restoration of the entire sixth floor. Starwood now has 34 Sheraton Grand hotels in operation across the globe.
Philippe Bijaoui has been appointed as chief development officer for Europe, the Middle East, Eurasia and Africa region (EMEA) for Wyndham Hotel Group. Bijaoui, an HVS alumnus who once headed the HVS Madrid office, most recently held the post of vice president of development for Europe with InterContinental Hotels Group, and previously worked with Rezidor and Club Med amongst others in his more than 20 years of service in the industry. "Philippe has a stellar reputation in the EMEA development community, and I am confident he is the best person to lead our aggressive expansion plans for the region," said Wyndham's managing director for the EMEA region, Daniel Ruff.
Australian hotel management firm StayWell Hospitality Group has formed a Master Licensing Agreement with UK-based company Fiveways Hospitality in order to expand its Park Regis and Leisure Inn brands in the UK. An additional four hotels will be secured for the UK within 48 months, and this growth is part of StayWell's aim to reach 100 hotels worldwide over the next three years. StayWell currently has one hotel in operation in the UK (the 253-room Park Regis Birmingham) and one under development (the 125-room Park Regis Shoreditch in London). "The United Kingdom and Europe as a whole, presents a great opportunity for our Park Regis and Leisure Inn brands, especially after the successful opening of Park Regis Birmingham in March 2016," commented Simon Wan, chief executive officer of StayWell.
Mövenpick Hotels & Resorts has signed a deal for its second hotel at Stuttgart Airport in southwest Germany. The 262-room new-build hotel will be constructed on the site of a former airport administration building, adjacent to the S-Bahn and the upcoming ICE airport station and tram terminal stop. As well as food and beverage facilities, the new Mövenpick property will have a 740 m² ballroom and several meeting rooms. Additionally, it will be just 150 metres away from the existing Mövenpick Hotel Stuttgart Airport & Messe, which opened nine years ago; combined, the two Mövenpick hotels will provide the biggest meeting and event facilities in southern Germany, with almost 3,000 m² of space. The Swiss hotel management company currently has eight hotels across Germany.
The Maritim Hotel Stuttgart, the city's largest hotel, has revealed a new look after the recent completion of a several million euro renovation that started in March 2015. The hotel, which started life as a 19th-century riding hall, underwent partial renovations of all of its 555 rooms and suites, conference and event space and the public areas, and even the hotel's underground car park was given a makeover.
Hilton Worldwide has signed a franchise licence agreement with Aberdeen City Council for a 200-room hotel at the new Aberdeen Exhibition and Conference Centre (AECC), which is being developed in the Bucksburn area in northwest Aberdeen, Scotland. The Hilton Aberdeen Exhibition & Conference Centre, which will provide direct access to the AECC, is scheduled to open in 2019 and will be managed by Glasgow-based independent hotel management company Redefine|BDL Hotels. The hotel will become Hilton's fourth property in Aberdeen. "Our established reputation in corporate and events hospitality will draw visitors and further events activity to the area," commented Patrick Fitzgibbon, Hilton's senior vice president of development for the EMEA region. "Aberdeen City Council's strategy of broadening the local economy across a number of sectors – including tourism – and this project further demonstrates that Aberdeen is a robust market with a bright future," he added.
Banyan Tree, a Singapore-based operator and developer of luxury resorts, hotels, spas and residences, has formed a partnership with Turkish developer Nef for its first property in Turkey. The Banyan Tree Bodrum is due to open in spring 2017, in the seaside resort of Bodrum in western Turkey, with 40 guest rooms and 44 suites. The project marks Banyan Tree's first move into Europe.
Paris-based Louvre Hotels Group has expanded its presence in the United Arab Emirates with the opening of a new Tulip Inn hotel in Ras Al Khaimah. The 104-room Tulip Inn Ras Al Khaimah is close to the city's central business district and the beachfront. "There is a considerable demand for quality hotel accommodation in Ras Al Khaimah within the midscale sector," noted Paul Diab, Louvre Hotels Group's vice president of operations for the Middle East and North Africa region. Louvre now has two properties in operation in the emirate (it made its debut in Ras Al Khaimah with the 130-room Golden Tulip Khatt Springs Resort and Spa, at the foot of the Hajjar Mountains).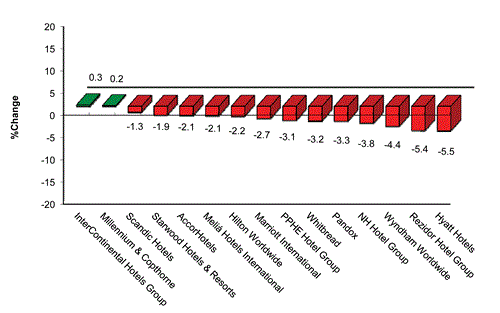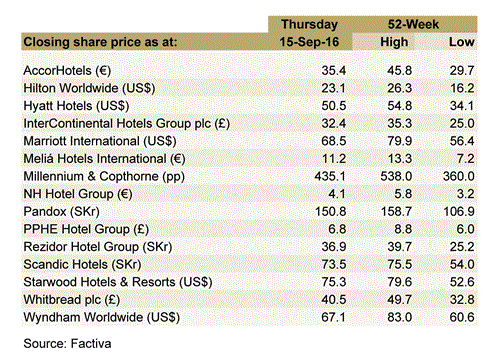 Marriott International – The group has signed 14 new properties for the Middle East and Africa so far in 2016.

InterContinental Hotels Group – Credit Suisse raised the target share price to 3550p from 3500p.
For the latest in the hospitality industry, please visit: http://www.hvs.com/. You are also welcome to contact the following personnel.
| | |
| --- | --- |
| Russell Kett, Chairman – HVS London (@russellkett) | [email protected] |
| Charles Human, CEO – HVS London/HVS Hodges Ward Elliott | [email protected] |
| Simon Tucker Brown, Managing Director – HVS Executive Search Europe & Middle East | [email protected] |
| Chris Martin, Senior Director – HVS Hodges Ward Elliott | [email protected] |
| Puneet Kanuga, Director – HVS Hodges Ward Elliott | [email protected] |
| Arlett Hoff, Director – HVS London | [email protected] |
| Sophie Perret, Director – HVS London | [email protected] |
| Tim Smith, Managing Partner – HVS Cape Town | [email protected] |
| Demetris Spanos, Managing Director – HVS Athens | [email protected] |
| Hala Matar Choufany, Managing Director – HVS Dubai | [email protected] |
| Ezio Poinelli, Director – HVS Milan | [email protected] |
| Louise Fury, Senior Editor and EMEA Hospitality Newsletter Author – HVS London | [email protected] |
Disclaimer: Information provided above has been gathered from various market sources. HVS has not independently verified the accuracy of the information provided. Interested parties should not rely on the information as statement of facts and are advised to make their own independent checks to verify the information provided. For further information, please feel free to contact HVS London.
Superior Results through Unrivaled Hospitality Intelligence. Everywhere.
Stay current. Click here to receive free HVS newsletters
Looking for insights into the hospitality industry?
Discover unique hospitality intelligence at hvs.com/publications
Interested in a particular market?
Find hundreds of market overviews, all written by HVS experts, at hvs.com/marketresearch
Like to be in the know on hotel trends and predictions?
See our Hotel Valuation Index for dozens of cities at hvi.hvs.com