Marriott International is to make its debut in Northern Ireland with a hotel planned for the capital, Belfast. The188-room AC by Marriott Belfast is to be constructed at the city's waterfront, with views of the Titanic Belfast museum, and will be operated under a franchise agreement with Interstate Europe Hotels & Resorts. The €25 million project is expected to open in early 2018.
Forging on with its asset-light strategy, Starwood Hotels & Resorts has completed the sale of the Hotel Goldner Hirsch, A Luxury Collection Hotel in Salzburg, Austria, to companies of the WILD Group for €20 million (€285,700 per room). Designated a UNESCO World Heritage site in 1997, the 70-room hotel in Salzburg's Old Town dates from 1407. Starwood will continue to operate the property under a long-term management agreement.
Andrew Brownsword Hotels has purchased the Imperial Hotel in the seaside resort of Torquay in Devon, southwest England, for an undisclosed sum. The 152-room hotel is the first property to be sold out of a ten-property portfolio of regional Hotel Collection hotels, put on the market earlier this year by Lone Star Funds for a combined £130 million. The Imperial Hotel's new owner plans to carry out a refurbishment of the property and restore it to its former glory. The sale brings Brownsword's portfolio of privately owned country house and city centre hotels across the UK up to 14, three of which are in the county of Devon.
InterContinental Hotels Group (IHG) announced this week that it has signed five new Holiday Inn and Holiday Inn Express properties for Germany with its long-term multiple development agreement partners. The new-build, 140-room Holiday Inn Express Pforzheim is slated to open in late 2019 in the southwest German town of Pforzheim and will operate under a franchise agreement with the hotel's owner, TriStar. Two of the hotels are to be developed in Mannheim: the Holiday Inn Mannheim City – Hauptbahnhof is the result of an agreement with Primestar and expected to open in 2018, and the new-build, 160-room Holiday Inn Express Mannheim will be owned and franchised by Foremost Hospitality. Over in the UNESCO World Heritage Site of Regensburg in southeast Germany, IHG signed a franchise agreement with Success Hotel Management GmbH for the 182-room Holiday Inn Express Regensburg, which is due to open in late 2017. Lastly, under a franchise agreement with TriStar, the 140-room Holiday Inn Express Oberhausen is scheduled to open in early 2018 in the city of Oberhausen. IHG currently operates 53 Holiday Inn-branded hotels across Germany, and has a further 32 in its development pipeline.
Hilton Worldwide's Garden Inn brand has made its first appearance in Ireland with the official opening of the Hilton Garden Inn Dublin Custom House. A former Jurys Inn hotel, the 239-room property is on the banks of the River Liffey in Dublin's Irish Financial Services Centre. The hotel is owned and operated by Amaris Hospitality, which invested £3.1 million in the property to convert it to a Garden Inn hotel. The global head of Hilton Garden Inn, John Greenleaf, commented that the, "Hilton Garden Inn Dublin Custom House joins more than 45 Hilton Garden Inns across Europe and offers guests a convenient and enjoyable place to stay in Ireland's capital city."
Pretoria-based property fund Mara Delta has entered into a non-binding heads of terms with Nereide (a fully owned subsidiary of Mauritian hotel chain Lux Island Resorts) to acquire the Tamassa Resort on the island of Mauritius, 2,000 km off the southeast coast of the Africa, for US$40 million (€35.5 million). Under the terms of the deal, the resort is to be leased back to Nereide following the completion of the sale. The all-inclusive, 214-room resort is at Bel Ombre in the southwest of the island.
Hilton Worldwide has announced plans to open two new hotels in Kuwait in partnership with Al-Rai Real Estate Co. The 158-room Conrad Kuwait and the 430-room Hilton Garden Inn Kuwait will both be developed as part of the almost US$1 billion fourth expansion phrase of The Avenues Mall in Kuwait City and will mark the first appearance of both brands in Kuwait. The hotels, on opposite sides of the mall, will both be managed by Hilton and are due to open at the beginning of 2019. Once in operation, the Hilton Garden Inn Kuwait will become the largest Garden Inn property across the EMEA region. Hilton currently has one property in operation in Kuwait, the 350-room Hilton Kuwait Resort.
Rezidor has signed three new properties for the UAE. Two of the latest additions to the group's pipeline are to be developed in Dubai, on Dubai Water Canal in the emirate's Business Bay area. The 432-room Radisson Blu Hotel, Dubai Waterfront and the 188-room Radisson Blu Hotel, Dubai Canal View, both owned by Nash' at Farhan Awad Sahawneh, are scheduled to open in the second quarter of 2017 and the first quarter of 2018, respectively. Over in Ras Al Khaimah, the 408-room Park Inn by Radisson Resort on Ras Al Khaimah Marjan Island, which is owned by Stallion Properties FZ LLC, is due to open in mid-2017 on the emirate's man-made Marjan Island archipelago as the first of its brand in Ras Al Khaimah. With these three new signings, we are adding over 1,000 rooms to our portfolio in the UAE and further improving our brand awareness in the country, whilst expanding our offering to our guests and further improving the business efficiencies to our investment partners,'' commented Elie Younes, executive vice president and chief development officer for The Rezidor Hotel Group and HVS alumnus.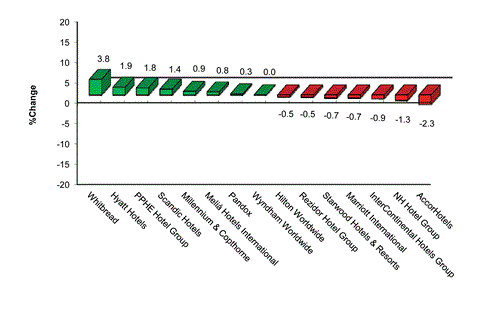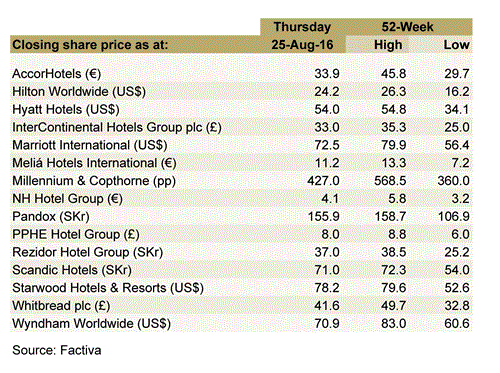 Hyatt Hotels – the group's Hyatt Place and Hyatt House brands continue to expand with the opening of ten hotels across the globe in the second quarter of 2016.

Millennium & Copthorne – The group's chief executive, Aloysius Lee, is to retire on 31 January 2017.

For the latest in the hospitality industry, please visit: http://www.hvs.com/. You are also welcome to contact the following personnel.
| | |
| --- | --- |
| Russell Kett, Chairman – HVS London (@russellkett) | [email protected] |
| Charles Human, CEO – HVS London/HVS Hodges Ward Elliott | [email protected] |
| Simon Tucker Brown, Managing Director – HVS Executive Search Europe & Middle East | [email protected] |
| Chris Martin, Senior Director – HVS Hodges Ward Elliott | [email protected] |
| Puneet Kanuga, Director – HVS Hodges Ward Elliott | [email protected] |
| Arlett Hoff, Director – HVS London | [email protected] |
| Sophie Perret, Director – HVS London | [email protected] |
| Tim Smith, Managing Partner – HVS Cape Town | [email protected] |
| Demetris Spanos, Managing Director – HVS Athens | [email protected] |
| Hala Matar Choufany, Managing Director – HVS Dubai | [email protected] |
| Ezio Poinelli, Director – HVS Milan | [email protected] |
| Louise Fury, Senior Editor and EMEA Hospitality Newsletter Author – HVS London | [email protected] |
Disclaimer: Information provided above has been gathered from various market sources. HVS has not independently verified the accuracy of the information provided. Interested parties should not rely on the information as statement of facts and are advised to make their own independent checks to verify the information provided. For further information, please feel free to contact HVS London.
Superior Results through Unrivaled Hospitality Intelligence. Everywhere.
Stay current. Click here to receive free HVS newsletters
Looking for insights into the hospitality industry?
Discover unique hospitality intelligence at hvs.com/publications
Interested in a particular market?
Find hundreds of market overviews, all written by HVS experts, at hvs.com/marketresearch
Like to be in the know on hotel trends and predictions?
See our Hotel Valuation Index for dozens of cities at hvi.hvs.com