Starwood Hotels & Resorts has formed a partnership with Tsupani CJSC that will see the group make its debut in Armenia with the opening of a Luxury Collection hotel in the capital, Yerevan. The new-build 114-room The Alexander, a Luxury Collection Hotel, Yerevan is expected to open in summer 2017 as the first international luxury hotel in Armenia. The hotel will be close to Yerevan's Republic Square and will have up-market meeting and events space and a spa, amongst other facilities. "In addition to being the first Starwood hotel in Armenia, the signing of The Alexander showcases our commitment to the burgeoning CIS travel market," commented Anatoly Kondratenko, Starwood's senior director for Starwood Development in the EMEA region.
This year's Hotel Investment Conference Europe (Hot.E) is due to take place over 26-27 September at the Hilton London Bankside in London. This will be the first time industry leaders in hotel investment have gathered post-Brexit so there will be plenty to discuss! The event should be in the diaries of anyone looking to invest in Europe. Delegates from more than 30 countries attended last year's Hot.E and more than one-third of the companies represented were leading debt, equity, and development firms. HVS and HVS Hodges Ward Elliott (HVS HWE) will be at Hot.E this September. From HVS HWE Charles Human, managing director, will be moderating a panel titled Opportunities in the UK; Chris Martin, senior director, will be speaking at the Navigating Hotel Management Agreements session; and Puneet Kanuga, director, will be moderating a panel called The Money Hall – a Focus on Private Equity. For more information or to book your place visit www.europehotelconference.com.
InterContinental Hotels Group (IHG) has signed a management agreement with UBM Development AG for the Holiday Inn Gdansk City Centre, which is due to open in 2019. The new-build 236-room hotel is to be developed within walking distance of the main railway station in the port of Gdansk, on Poland's Baltic coast. "Poland is fast becoming a hub for business and leisure travel due to its economic growth in the last few years," said IHG's director of development for Poland, Miguel Martins. "We always look to put the right brands in the areas in which guests want them and we are thrilled to have signed a Holiday Inn brand with our long-standing partners UBM adding to IHG's portfolio in the Polish market," he added. IHG currently has six hotels in operation in Poland and a further six in its pipeline for the market.
The Ropewalks district in the city centre of Liverpool, northwest England, is to benefit from the development of a 42-unit (116 rooms) aparthotel, which will also result in the expansion of Paul Adams' Vincent brand to three properties across the county of Merseyside. The brand currently comprises the 59-room Vincent Hotel in the seaside resort of Southport and the Vincent Café & Cocktail Bar (which he co-owns with former Liverpool Football Club captain, Stephen Gerrard) in Liverpool city centre. Business man Adams has signed an agreement with Liverpool-based developer Elliot Group to create his newest venture, the £20 million, seven-storey Times Aparthotel by Vincent on Seel Street, which is scheduled to open in December 2017.
easyHotel has announced its expansion in Amsterdam, the Netherlands, with a third franchise property in the city with its Benelux franchisee. Construction of the 96-room easyHotel Amsterdam-Zaandam is due to start soon and the hotel is expected to open in early 2017. The hotel is to be developed across the ninth to 11th floors of the Saentower building. The hotel will join the existing easyHotel Amsterdam City Centre South and a second Amsterdam easyHotel that was announced in February 2016. The budget group currently has three hotels in operation across the country overall.
Dublin-based PREM Group has signed an agreement with Sax Vastoed for a Premier Suites Plus serviced apartment property in Amsterdam's Hourglass building in the Netherlands. The 115-unit development is expected to open at the end of 2019 and will become PREM Group's second property in the country, as the group currently has an aparthotel in its pipeline for Rotterdam, due to open in April 2017.
Kempinski has signed a strategic partnership with Dubai-based Gemstone Real Estate Development to manage and operate Gemstone's latest project, the Kempinski Residences Business Bay in Dubai, UAE. The development is scheduled to be completed by quarter four 2019. Kempinski currently has four properties in operation in the UAE, two of which are in Dubai.
Starwood Hotels & Resorts is continuing its expansion into Saudi Arabia with the signing of a new Sheraton hotel in the city of Mecca. The Sheraton Makkah Jabal Al Kaaba, which is owned by Altayyar Travel Group Holding Company, is due to open by the end of 2017 as the first of its brand in the city and will be followed by the Sheraton Makkah Hotel in April 2017. Starwood currently has four Sheraton properties in operation in Saudi Arabia and 11 hotels in the country overall.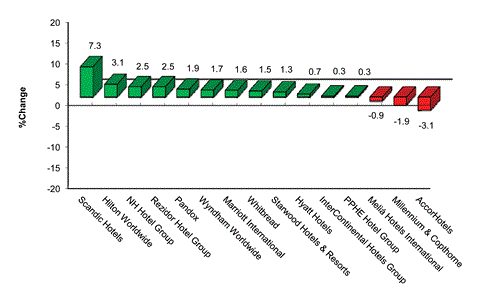 Scandic Hotels – Adjusted EBITDA grew by 31.3% on the second quarter of 2016.

Starwood Hotels & Resorts – Swiss National Bank increased its shares in the company by 7.9% in the second quarter of the year.

Pandox – Recorded a second-quarter profit of Skr474 million.

For the latest in the hospitality industry, please visit: http://www.hvs.com/. You are also welcome to contact the following personnel.
| | |
| --- | --- |
| Russell Kett, Chairman – HVS London (@russellkett) | [email protected] |
| Charles Human, CEO – HVS London/HVS Hodges Ward Elliott | [email protected] |
| Simon Tucker Brown, Managing Director – HVS Executive Search Europe & Middle East | [email protected] |
| Chris Martin, Senior Director – HVS Hodges Ward Elliott | [email protected] |
| Puneet Kanuga, Director – HVS Hodges Ward Elliott | [email protected] |
| Arlett Hoff, Director – HVS London | [email protected] |
| Sophie Perret, Director – HVS London | [email protected] |
| Tim Smith, Managing Partner – HVS Cape Town | [email protected] |
| Demetris Spanos, Managing Director – HVS Athens | [email protected] |
| Hala Matar Choufany, Managing Director – HVS Dubai | [email protected] |
| Ezio Poinelli, Director – HVS Milan | [email protected] |
| Louise Fury, Senior Editor and EMEA Hospitality Newsletter Author – HVS London | [email protected] |
Disclaimer: Information provided above has been gathered from various market sources. HVS has not independently verified the accuracy of the information provided. Interested parties should not rely on the information as statement of facts and are advised to make their own independent checks to verify the information provided. For further information, please feel free to contact HVS London.
Superior Results through Unrivaled Hospitality Intelligence. Everywhere.
Stay current. Click here to receive free HVS newsletters
Looking for insights into the hospitality industry?
Discover unique hospitality intelligence at hvs.com/publications
Interested in a particular market?
Find hundreds of market overviews, all written by HVS experts, at hvs.com/marketresearch
Like to be in the know on hotel trends and predictions?
See our Hotel Valuation Index for dozens of cities at hvi.hvs.com