UK hotel owner, management and development firm Vine Hotels has purchased the four-star Kenwood Hall hotel in the city of Sheffield, northern England, from hotel and conference venue operator Principal Hayley off a guide price of £6.5 million. Vine Hotels now plans to carry out a multimillion pound refurbishment at the 114-room hotel, which is set in 12 acres of parkland one mile from the city centre. The group's latest deal brings its portfolio of owned hotels up to six (with five properties in Sheffield and one in Southampton).
Scottish hotel group Crieff Hydro has acquired two hotels on the west coast of Scotland, bringing its portfolio of owned hotels in the country up to six. The group purchased the 59-room Isles of Glencoe Hotel & Leisure Centre on the shores of Loch Leven and the 53-room Ballachulish Hotel overlooking Loch Linnhe from Freedom Hotels for a seven-figure sum and now plans to carry out improvements at both properties.
Following the news last month that Hilton Worldwide has signed its first hotel for Lithuania (the 150-room Hilton Garden Inn Vilnius City Centre, which is expected to open by the end of 2018), the group has now announced the forthcoming entry of its DoubleTree by Hilton brand in the country. A product of a franchise agreement between Hilton and Vičiūnai Group, the DoubleTree by Hilton Vilnius City Center is due to open in 2019. The 175-room hotel will be part of a €20 million mixed-use project being developed by Vičiūnai Group at the heart of the Lithuanian capital. "International upscale brands account for less than 6% of hotel rooms in Vilnius so introducing DoubleTree by Hilton to the city will help the city cater for the growing number of business and leisure travellers seeking higher quality accommodation," said Patrick Fitzgibbon, Hilton Worldwide's senior vice president of development for the EMEA region.
Hilton Worldwide has opened its fourth DoubleTree by Hilton hotel in Poland in the country's fourth largest city, Wroclaw. The 189-room Hilton Wroclaw was developed in the mixed-use OVO Wroclaw complex, which also contains apartments, offices and retail space, within walking distance of the city's Old Town. The DoubleTree by Hilton Wroclaw marks Hilton's entry into the city, on the River Oder in western Poland, and it is the group's 14th hotel overall in the country.
Marriott International has opened its second Moxy hotel in Germany and its third Moxy-branded property in Europe overall. The Moxy Frankfurt Eschborn is in the town of Eschborn in Germany's Frankfurt am Main urban area, just 15 minutes from Frankfurt International Airport. The 176-room hotel joins the 252-room Moxy Munich Airport, and the dynamic duo will soon become a triumphant trio when the 210-room Moxy Berlin Ostbahnhof opens later this year. Marriott is also planning to open a Moxy hotel at Aberdeen Airport in Scotland later this year and in 2017 a further five Moxy properties are scheduled to open across Europe in London, Frankfurt, Oslo and Vienna. "Moxy Hotels is on a mission to reinvent the select-service hotel experience and accentuate the services that millennials want most," commented Moxy Hotels' global brand director, Vicki Poulos. "Friendly welcomes, thoughtful touches and inviting social spaces are the marks of Moxy hospitality as we aim to give guests everything they need and nothing they don't," she added.
Hilton Worldwide has opened its eighth Hilton Hotels & Resorts-branded hotel in Scotland, UK, and its 16th hotel in the country overall. The former Carlton Hotel, at the centre of the Scottish capital, has emerged from a £17 million extensive refurbishment programme to be rebranded as the Hilton Edinburgh Carlton. The 211-room hotel, half a mile from Edinburgh Castle, is owned and operated by Amaris Hospitality.
Last Week we reported that Olivier Chavy would be taking over the role of chief executive officer of Mövenpick Hotels & Resorts from Jean-Gabriel Pérès as of September 2016. This week it was announced that Pérès is joining Kerzner International Holdings as the group's new president and chief executive officer. Pérès has been in the hospitality industry for more than 30, of which 17 were spent with Mövenpick. No start date has been announced yet for Pérès. "Jean-Gabriel joins us at a very opportune moment in our journey as we embark on an accelerated growth and expansion plan to take Kerzner to new places around the world, from China to Mexico and beyond," commented Kerzner International's chairman and the chief executive officer and executive director of the Investment Corporation of Dubai, Mohammed Al Shaibani. "Throughout his career, Jean-Gabriel has carved his expertise in building exemplary corporate cultures, achieving customer satisfaction, and driving superior returns for the companies he worked at. I look forward to seeing Kerzner International Holdings prosper and grow its global footprint under his stewardship," he added.
Rezidor Hotel Group has started a €110 million refurbishment and renovation programme of several of its flagship hotels in the Nordic region. The first hotels to benefit from this makeover are in the city of Stavanger in western Norway, where an upgrade of the 215-room Radisson Blu Royal Hotel has already been completed and next on the list is a full renovation of the 364-room Radisson Blu Atlantic Hotel. "Rezidor is the leading international hotel operator in the Nordics, and Norway is one of our core home markets. We are committed to drive our performance to the optimum level and to constantly add value for our guests, employees, owners and shareholders. Through these significant investments, we are re-affirming our pole position and will offer the best upper-upscale hotel experience in the area", said Wolfgang M Neumann, Rezidor's president and chief executive officer.
Warwick Hotels and Resorts recently opened its fourth property in Lebanon: the Mist Hotel & Spa by Warwick, which is in the mountain town of Ehden in northern Lebanon, on the southwestern slopes of Mount Makmal. With 71 guest rooms and chalets, the hotel joins the three other Lebanese hotels in Warwick's collection in hotels in Beirut and Jiyeh. Warwick's collection of distinct, upscale hotels and resorts now comprises more than 55 hotels across five continents.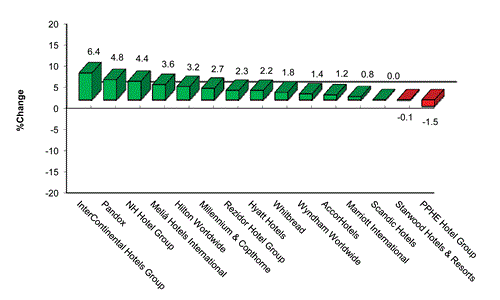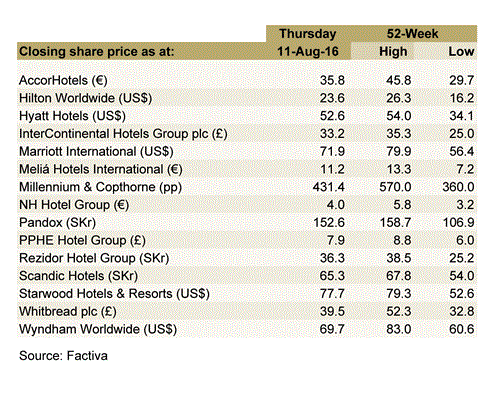 PPHE Hotel Group – Will announce its interim results for the six months to 30 June 2016 on Wednesday 31 August 2016.

InterContinental Hotels Group – Jumped 22.1% in the trailing 12 months to 5 August 2016, outperforming 81% of the market.

For the latest in the hospitality industry, please visit: http://www.hvs.com/. You are also welcome to contact the following personnel.
Russell Kett, Chairman – HVS London (@russellkett)

[email protected]

Charles Human, CEO – HVS London/HVS Hodges Ward Elliott

[email protected]

Simon Tucker Brown, Managing Director – HVS Executive Search Europe & Middle East
stuck

[email protected]

Chris Martin, Senior Director – HVS Hodges Ward Elliott

[email protected]

Puneet Kanuga, Director – HVS Hodges Ward Elliott

[email protected]

Arlett Hoff, Director – HVS London

[email protected]

Sophie Perret, Director – HVS London

[email protected]

Tim Smith, Managing Partner – HVS Cape Town

[email protected]

Demetris Spanos, Managing Director – HVS Athens

[email protected]

Hala Matar Choufany, Managing Director – HVS Dubai

[email protected]

Ezio Poinelli, Director – HVS Milan

[email protected]

Louise Fury, Senior Editor and EMEA Hospitality Newsletter Author – HVS London

[email protected]
Disclaimer: Information provided above has been gathered from various market sources. HVS has not independently verified the accuracy of the information provided. Interested parties should not rely on the information as statement of facts and are advised to make their own independent checks to verify the information provided. For further information, please feel free to contact HVS London.
Superior Results through Unrivaled Hospitality Intelligence. Everywhere.
Stay current. Click here to receive free HVS newsletters
Looking for insights into the hospitality industry?
Discover unique hospitality intelligence at hvs.com/publications
Interested in a particular market?
Find hundreds of market overviews, all written by HVS experts, at hvs.com/marketresearch
Like to be in the know on hotel trends and predictions?
See our Hotel Valuation Index for dozens of cities at hvi.hvs.com