INTERNOS Global Investors has completed its acquisition of the NH Turin Ambasciatori, in the northern Italian city of Turin, from NH Hotel Group for €20 million in a sale-and-leaseback deal. INTERNOS, which purchased the 199-room, four-star property on behalf of the INTERNOS Hotel Real Estate Fund I, will now invest €8.6 million in refurbishing the hotel, which is just one kilometre from Turin city centre. This follows INTERNOS's acquisition last year of the NH Santo Stefano in the city centre of Turin, in a deal that was brokered by HVS Hodges Ward Elliott.
InterContinental Hotels Group (IHG) has got together with AXA IM – Real Assets to bring its Kimpton brand to Paris, France, for the first time. The luxury, 176-room (including 27 suites) hotel is expected to open in 2020 in the city's high-end Opéra district. The hotel will also have a luxury spa, fitness facilities and state‐of‐the‐art meeting space. The Paris Kimpton is the second of its brand to be signed in Europe – a Crowne Plaza property in Amsterdam city centre is to be rebranded as a 270-room Kimpton in 2017 following an extensive renovation, and will become the first Kimpton hotel to open outside of the Americas. IHG purchased Kimpton Hotels & Restaurants in January 2015.
Aviva France and Algonquin have purchased the Hyatt Regency Düsseldorf, in western Germany, for an undislcosed sum for their Primotel Europe investment vehicle. The 303-room hotel, which opened in 2012, is in Düsseldorf's Media Harbour district, overlooking the River Rhine and the city centre. The deal marks Primotel Europe's first investment in Germany and it is its second aquisition overall, following the purchase of the 262-room Renaissance Brussels and the 57-unit Marriott Executive Apartment Brussels in Belgium in December 2015.
Privately owned UK hotel firm Splendid Hospitality Group has expanded its portfolio in the medieval city of York in the UK to four properties with the purchase of the ibis York Centre Hotel for an undisclosed sum. The 91-room hotel, which is situated at the gates of the historic walled city in northeast England, will continue to operate as an ibis property. Splendid will invest £1.5 million in the hotel over the next two years in order to upgrade the facilities.
Hilton Worldwide has announced plans to take its Hilton Garden Inn brand to Lithuania and Latvia. The Hilton Garden Inn Vilnius City Centre, in Lithuania, is the result of a franchise agreement between Hilton and real estate developer EIKA and is expected to open by the end of 2018. With up to 150 guest rooms, the hotel will be part of an 18,000 m² mixed-use development on Gediminas Avenue, also containing business, commercial, food and beverage and residential space. The Hilton Garden Inn Riga Old Town in Latvia is scheduled to be completed by the end of 2017. The 100-room hotel will operate under a franchise agreement with Apex Alliance and will be managed by UAB Apex Alliance Hotel Management.
Leonardo Hotels made its debut in Spain last year when it opened two hotels in Barcelona, and this week the group, which is the European division of Israel-based Fattal Hotels Group, has announced the expansion of its Spanish portfolio with two new properties in Madrid. Two former NH hotels are to undergo extensive renovations and will operate as the 153-room Leonardo Hotel Madrid City Center and the 75-room Leonardo Boutique Hotel Madrid as of November 2016. "Madrid is a major economic centre and a very popular holiday destination for tourists. I am very pleased that we will now also be able to offer our guests two Leonardo Hotels here," said Daniel Roger, Leonardo Hotel's managing director.
InterContinental Hotels Group (IHG) has signed a franchise agreement with Kensington Close Hotel Ltd for the Holiday Inn Kensington in London. The 694-room Kensington Close Hotel is due to start operating under the Holiday Inn flag in December 2016. IHG has also announced the development of its first Holiday Inn Express hotel in Kazakhstan: the 224-room Holiday Inn Express Astana, which is the result of a franchise agreement with Fido Estate LLP. The 224-room hotel is scheduled to open in the capital's Yesil district in 2018, and will be IHG's fourth hotel in the country overall.
InterContinental Hotels Group (IHG) has signed a management agreement with Hotel SR LLC for its first Crowne Plaza hotel in Armenia. The Crowne Plaza Yerevan is scheduled to open in the Armenian capital in 2018. The 98-room hotel will be on Mesrop Mashots Avenue, close to the city's business districts and historic centre. IHG currently operates five Crowne Plaza hotels across Russia, the CIS and Georgia. Additionally, IHG signed a franchise agreement with Hotel Filipa 18 Ltd and SAO Investments for its first Hotel Indigo property in Poland. The 56-room Hotel Indigo Krakow – Florian Gate is expected to open later this year in a 100-year-old former residential building, close to Krakow's main railway station. IHG currently has 19 Hotel Indigo properties in operation across Europe and a further 11 in the pipeline.
Room Mate Hotels has reached a quartet in Barcelona with the opening of its fourth hotel in the Catalan capital: the 81-room Room Mate Anna on Passeig de Gràcia. "Barcelona represents one of our key business areas and the city is a global tourism destination, which is why we are firmly committed to opening two further hotels by 2017," commented the group's president and one of its founders, Kike Sarasola. Room Mate currently has 23 properties in operation across Europe and the America and has eight hotels in its pipeline due to open in 2016 and 2017.
Budget group easyHotel has signed a master development agreement with Turkish company Kolay for the expansion of easyHotel into Turkey. Some 50 easyHotel rooms are expected to open in Istanbul by the end of 2017; a further 150 rooms are scheduled to open by the end of 2018 and a total of 300 rooms will be in operation by the end of 2019. Additionally, a new franchise easyHotel is also under development in Lisbon, Portugal. The 101-room property is being developed by Sedprop investments in a former office building in Lisbon city centre and is due to open in December 2017.
Marriott International has signed an agreement with Al Forsan Holding for a new hotel in Abu Dhabi, UAE. The 400-room Marriott Al Forsan Hotel is expected to open later this year adjacent to the Al Forsan International Sports Resort, at the heart of Khalifa City and a ten-minute drive from Abu Dhabi International Airport and the Abu Dhabi National Exhibition Centre. Marriott currently has two Marriott Hotels & Resorts properties in operation in the UAE, in Dubai; the Marriott Hotel Downtown, Abu Dhabi is due to open in September 2016, marking the brand's debut in Abu Dhabi.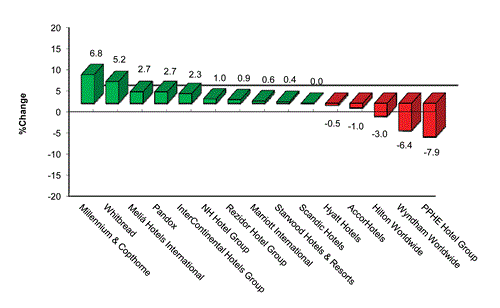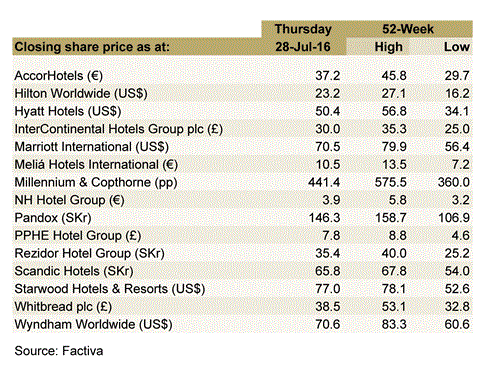 NH Hotel Group – Moody's Investors Service assigned the group a first time corporate family rating of B2.

AccorHotels – To purchase about 80% of concierge group, John Paul.

Wyndham Worldwide – Recorded a second-quarter revenue of US$1.4 billion and a net income of US$156 million.

For the latest in the hospitality industry, please visit: http://www.hvs.com/. You are also welcome to contact the following personnel.
| | |
| --- | --- |
| Russell Kett, Chairman – HVS London (@russellkett) | [email protected] |
| Charles Human, CEO – HVS London/HVS Hodges Ward Elliott | [email protected] |
| Simon Tucker Brown, Managing Director – HVS Executive Search Europe & Middle East | [email protected] |
| Chris Martin, Senior Director – HVS Hodges Ward Elliott | [email protected] |
| Puneet Kanuga, Director – HVS Hodges Ward Elliott | [email protected] |
| Arlett Hoff, Director – HVS London | [email protected] |
| Sophie Perret, Director – HVS London | [email protected] |
| Tim Smith, Managing Partner – HVS Cape Town | [email protected] |
| Demetris Spanos, Managing Director – HVS Athens | [email protected] |
| Hala Matar Choufany, Managing Director – HVS Dubai | [email protected] |
| Ezio Poinelli, Director – HVS Milan | [email protected] |
| Louise Fury, Senior Editor and EMEA Hospitality Newsletter Author – HVS London | [email protected] |
Disclaimer: Information provided above has been gathered from various market sources. HVS has not independently verified the accuracy of the information provided. Interested parties should not rely on the information as statement of facts and are advised to make their own independent checks to verify the information provided. For further information, please feel free to contact HVS London.
Superior Results through Unrivaled Hospitality Intelligence. Everywhere.
Stay current. Click here to receive free HVS newsletters
Looking for insights into the hospitality industry?
Discover unique hospitality intelligence at hvs.com/publications
Interested in a particular market?
Find hundreds of market overviews, all written by HVS experts, at hvs.com/marketresearch
Like to be in the know on hotel trends and predictions?
See our Hotel Valuation Index for dozens of cities at hvi.hvs.com