French real estate group Foncière des Régions has acquired the purchase options for a portfolio of five NH hotels (900 guest rooms) across Germany for €125 million (approximately €139,000 per room) from Spanish chain NH Hotel Group. The deal is expected to close in 2017 and the hotels, in Düsseldorf, Frankfurt, Nuremberg, Oberhausen and Stuttgart, will continue to be operated by NH Hotel Group under new 20-year leases.
In a sale-and-leaseback agreement, Barcelona-based hotel investment firm HI Partners has recently purchased the IFA Caterina Hotel, on Gran Canaria in Spain's Canary Islands, for €42.4 million (€105,500 per room) from Lopesan Hotel Group. The 402-room hotel is in the island's capital, Las Palmas, and its new owner will now invest €7 million in refurbishing the property. Lopesan will continue to manage the four-star hotel.
Starwood Hotels & Resorts' W brand is to make its debut in Scotland. The W Edinburgh is expected to open in 2021 and will become the second of its brand in the UK, joining the 192-room W London, which opened in 2011. The 214-room, 12-storey hotel development has caused controversy in the past – nicknamed the ribbon hotel, owing to a steel band that will wind around the building, it received opposition from planning officials and the local population; however, plans for the hotel were approved last year and it is part of an £850 million, 1.7 million ft² scheme to regenerate Edinburgh's St James shopping centre. "We are confident that there will be a huge appetite for our innovative lifestyle brand in the Scottish capital," said Michael Wale, president of the EMEA region at Starwood Hotels & Resorts.
The four-star Ten Hill Place Hotel in Edinburgh, Scotland, has joined Best Western International's BW Premier Collection, becoming the collection's first hotel in Scotland and tenth property overall. The 77-room hotel, at the centre of the Scottish capital, is owned and operated by the Royal College of Surgeons of Edinburgh Commercial Enterprises.
On 1 September 2016 Banyan Tree will make its first appearance in Morocco with the opening of the Banyan Tree Tamouda Bay, the Thailand-based group's first venture in the Mediterranean and Africa. The resort is on Morocco's northwestern coast, between the Rif Mountains and the Mediterranean Sea, 15 km away from the city of Tetouan. The development is Banyan Tree's first all-inclusive pool villa resort, and alongside its 92 villas (some with direct beach access) it will also include four restaurants, a spa, a gym, a library and a swimming pool amongst other facilities.
Hilton Worldwide has signed a management agreement with Société d'Aménagement et de Promotion de la Station de Taghazout for a hotel in the Taghazout Bay resort development on Morocco's southern Atlantic coast, ten miles north of Agadir, bringing Hilton's Moroccan portfolio up to four properties in operation or under development. The US$33 million, 170-room Hilton Taghazout Bay Beach Resort & Spa is due to open in 2018 and it will join the recently opened Hilton Garden Inn Tanger City Centre and the Hilton Tanger City Centre Hotel & Residences and Hilton Tangier Al Houara Resort & Spa, which are both scheduled to open in 2017. Commenting on the latest signing, Patrick Fitzgibbon, senior vice president, development, EMEA, Hilton Worldwide, said, "Tourist arrivals in Morocco have more than doubled since 2000, and as the market continues to mature there is opportunity for Hilton to grow in locations across the country."
Steigenberger Hotel Group has opened its first InterCityHotel outside of Europe: the 70-room, eight-storey InterCityHotel Salalah in Oman. The hotel, which is owned by Al Sedra Real Estate LLC of Oman, is in Salalah's business district, just four kilometres away from Salalah International Airport.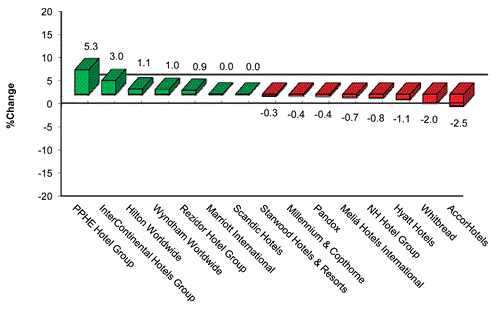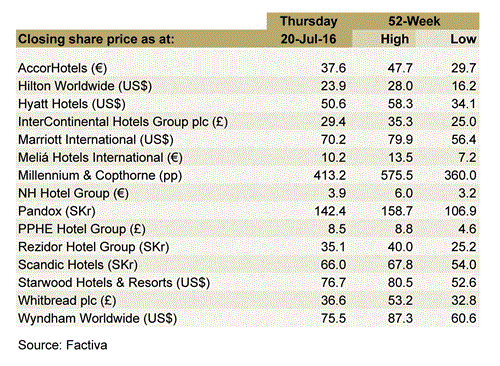 InterContinental Hotels Group – Will announce its interim results to 30 June 2016 on 2 August 2016.

Accor – Standard & Poor's ratings and outlook for Accor remain unchanged following Accor's announcement that it plans to turn its real estate arm, HotelInvest, into a dedicated subsidiary.

For the latest in the hospitality industry, please visit: http://www.hvs.com/. You are also welcome to contact the following personnel.
| | |
| --- | --- |
| Russell Kett, Chairman – HVS London (@russellkett) | [email protected] |
| Charles Human, CEO – HVS London/HVS Hodges Ward Elliott | [email protected] |
| Simon Tucker Brown, Managing Director – HVS Executive Search Europe & Middle East | [email protected] |
| Chris Martin, Senior Director – HVS Hodges Ward Elliott | [email protected] |
| Puneet Kanuga, Director – HVS Hodges Ward Elliott | [email protected] |
| Arlett Hoff, Director – HVS London | [email protected] |
| Sophie Perret, Director – HVS London | [email protected] |
| Tim Smith, Managing Partner – HVS Cape Town | [email protected] |
| Demetris Spanos, Managing Director – HVS Athens | [email protected] |
| Hala Matar Choufany, Managing Director – HVS Dubai | [email protected] |
| Ezio Poinelli, Director – HVS Milan | [email protected] |
| Louise Fury, Senior Editor and EMEA Hospitality Newsletter Author – HVS London | [email protected] |
Disclaimer: Information provided above has been gathered from various market sources. HVS has not independently verified the accuracy of the information provided. Interested parties should not rely on the information as statement of facts and are advised to make their own independent checks to verify the information provided. For further information, please feel free to contact HVS London.
Superior Results through Unrivaled Hospitality Intelligence. Everywhere.
Stay current. Click here to receive free HVS newsletters
Looking for insights into the hospitality industry?
Discover unique hospitality intelligence at hvs.com/publications
Interested in a particular market?
Find hundreds of market overviews, all written by HVS experts, at hvs.com/marketresearch
Like to be in the know on hotel trends and predictions?
See our Hotel Valuation Index for dozens of cities at hvi.hvs.com