Following the results of last week's referendum, which revealed that the UK had voted to leave the EU, many hotel companies have reported a rise in bookings from overseas visitors, with the weakening of the pound making the country a cheaper destination. Best Western has reported an increase in bookings from US and Chinese visitors and has even had to recruit additional staff in its head office in York to cope with the demand. "We know it is early days but we are seeing a double bounce to business as a result of Brexit," said Rob Payne, chief executive of Best Western Great Britain. "We've seen an increase in international bookings to some of our hotels in great British locations. Interestingly, we are also seeing an increase in enquiries from hotel owners wanting to join the Best Western brand since the referendum," he added. However, not all hotel firms have recorded an increase in business since the referendum. Carlson Rezidor and AccorHotels both commented that they had not seen any significant increases in demand from the USA or China for their UK properties. "There are suggestions that Brexit could see an increase in visitors from China but there are no stats to support that as yet," said Sean Philby, area director of sales for Carlson Rezidor.
AccorHotels has finalised a deal to dispose of a portfolio of 85 hotels in the economy and midscale sectors across France (61 hotels), Spain, Italy, Portugal, Germany, Austria, Belgium and the Netherlands to a new franchised operator for a total consideration of €504 million. The portfolio (19 Novotels, 13 Mercures, 35 ibis, three ibis Styles and 14 ibis budgets) have been transferred to Grape Hospitality, a newly created dedicated hotel platform, which is owned by Eurazeo and AccorHotels with shares of 70% and 30%, respectively. All of the hotels in the portfolio will still operate under their current brands via franchise contracts and will undergo renovation in the coming months. John Ozinga, chief executive officer of HotelInvest, commented, "This operation substantially accelerates the repositioning of HotelInvest assets and appreciably boosts their profitability. We are very happy to contribute to the emergence of a sizeable new hotel investor in the European market, which will be a strategic partner for the Group's future."
Hotel management firm Interstate Hotels & Resorts has expanded its portfolio in Europe with the addition of two hotels in the Netherlands and one currently under construction in Germany, marking its entry into the German market. The 40-room Glow Hotel in Eindhoven, the 95-room Hotel Nassau Brede, Autograph Collection and the 58-room AC Hotel Mainz, which is due to open this August, will be managed by Interstate and its development and lease partner Netherlands-based Odyssey Hotel Group.
A new AC Hotel by Marriott is to be developed in the UK, in the city of Manchester in northwest England. Manchester City Council has granted planning permission to Axel Hospitality for a 172-room property on Cable Street in the city's New Cross area, which is the focus of a major regeneration scheme. The design-led lifestyle brand recently made its debut in the UK with the rebranding of two former Ramada hotels in Birmingham and Salford.
French group Louvre Hotels has opened three new properties in Italy: the 320-room Plaza Caserta Golden Tulip, in the city of Caserta in Italy's Campania region, and the 270-room Marina di Castello Golden Tulip Resort, which is located on a marina between pine forests and the Mediterranean and easily reachable from both Caserta and Naples, have both been rebranded from existing properties. The 124-room Naples Airport Tulip Inn is a new-build hotel close the Gricignano NATO base, and is expected to attract mainly US visitors.
Meliá Hotels International has opened a new hotel in Madrid, Spain. An historic building at the heart of the city that formerly housed the Hotel Ambassador and was also once the residence of the Dukes of Granada de Ega y Villahermosa has been renovated and transformed into the 180-room Gran Meliá Palacio de Los Duques. Meliá currently operates 160 hotels across Spain.
The Hilton London Hyde Park is due to complete its £5.4 million refurbishment later this month. Once the work is finished the hotel will benefit from an increase in its inventory to 132 guest rooms and a redesign of its food and beverage space, amongst other changes. The hotel is at the centre of the UK capital, adjacent to two London Underground stations. "We have always listened to our loyal guests and what they loved about staying with us and we learned that Hilton London Hyde Park is a top choice for visitors to London because of its iconic location, breath-taking views of Britain's most famous park and its historic charm," said the hotel's manager, Harun Dagli. "We have delivered an intimate hotel which oozes boutique charm and elegance, keeping the modern traveller in mind, giving them the technology, flexibility, personalisation and convenience of their stay that they need," he added.
Grupo Hotusa's hotel division, Eurostars Hotel Company, has made its first appearance in Africa with the opening of a 115-room hotel in Morocco. The Eurostars Sidi Maarouf is a new-build property, developed in Casablanca's La Colline district. Eurostars also has another project in the pipeline in Casablanca and the group currently has 158 hotels in operation across 16 countries under the Eurostars and Exe brands.
Swissôtel Hotels & Resorts has signed an agreement with Sarah Towers for Real Estate Investment Company for its second hotel in Mecca and in Saudi Arabia overall. The group will take on the management of the Swissôtel Al Maqam, which is part of the Abraj Al Bait complex, in September 2016 and the 1,624-room hotel will join its sister property in the city, the existing 1,487-room Swissôtel Makkah. Swissôtel's parent company, FRHI Hotels & Resorts, now has nine projects in Saudi Arabia (including the 350-room Swissôtel Jeddah, which is due to open in 2018) and currently operates 19 hotels (more than 7,000 guest rooms) across the Middle East.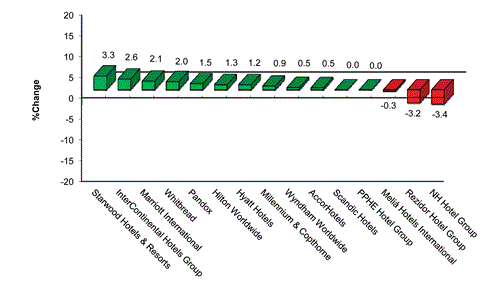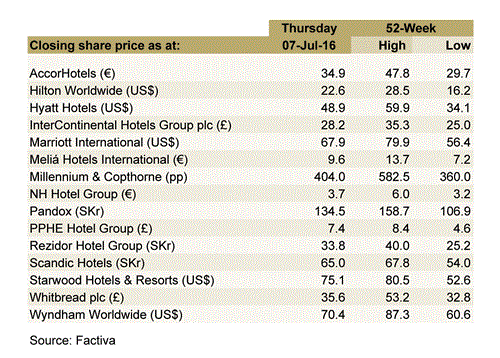 Starwood Hotels & Resorts – Marriott International's acquisition of the group has antitrust authorisation from Saudi Arabia and Mexico.

InterContinenal Hotels Group – First Holiday Inn Express hotel opens in Mexico City's airport area.

For the latest in the hospitality industry, please visit: http://www.hvs.com/. You are also welcome to contact the following personnel.
| | |
| --- | --- |
| Russell Kett, Chairman – HVS London (@russellkett) | [email protected] |
| Charles Human, CEO – HVS London/HVS Hodges Ward Elliott | [email protected] |
| Simon Tucker Brown, Managing Director – HVS Executive Search Europe & Middle East | [email protected] |
| Chris Martin, Senior Director – HVS Hodges Ward Elliott | [email protected] |
| Puneet Kanuga, Director – HVS Hodges Ward Elliott | [email protected] |
| Arlett Hoff, Director – HVS London | [email protected] |
| Sophie Perret, Director – HVS London | [email protected] |
| Tim Smith, Managing Partner – HVS Cape Town | [email protected] |
| Demetris Spanos, Managing Director – HVS Athens | [email protected] |
| Hala Matar Choufany, Managing Director – HVS Dubai | [email protected] |
| Ezio Poinelli, Director – HVS Milan | [email protected] |
| Louise Fury, Senior Editor and EMEA Hospitality Newsletter Author – HVS London | [email protected] |
Disclaimer: Information provided above has been gathered from various market sources. HVS has not independently verified the accuracy of the information provided. Interested parties should not rely on the information as statement of facts and are advised to make their own independent checks to verify the information provided. For further information, please feel free to contact HVS London.
Superior Results through Unrivaled Hospitality Intelligence. Everywhere.
Stay current. Click here to receive free HVS newsletters
Looking for insights into the hospitality industry?
Discover unique hospitality intelligence at hvs.com/publications
Interested in a particular market?
Find hundreds of market overviews, all written by HVS experts, at hvs.com/marketresearch
Like to be in the know on hotel trends and predictions?
See our Hotel Valuation Index for dozens of cities at hvi.hvs.com