A word from HVS London's chairman, Russell Kett, on the UK's momentous decision to leave the EU: "With the dust starting to settle following last week's historic EU referendum vote, with 52% of the UK voting to withdraw from the EU, a number of issues and opportunities are beginning to emerge.

From a political perspective, the UK government is slowly organising itself to initiate the formal process, commencing with the invocation of Article 50 of the Lisbon Treaty, but this is complicated by the Conservative Leadership elections, for which nominations closed yesterday. The new leader – and Prime Minister – will however not be known until 9 September leaving a summer of uncertainty whilst political manoeuvring will doubtless continue, not least by those who would really prefer the UK to remain within a somewhat watered-down version of the EU. For the moment, the leaders of the other 27 countries and the EU President himself are indicating that the UK cannot cherry-pick which 'freedoms' it wishes to retain, so it will be interesting to see if this position moderates over the coming two months – some adjustment to the freedom of movement being the one aspect which could cause the UK to find a way to avoid exiting, as this would enable the freedom of trade and investment to remain as at present. Whatever the ultimate outcome, there is clearly more advantage in a dignified separation rather than an acrimonious divorce, and slowing down the speed of change is understandable. It may also help to weaken the impact of a reduction in the UK's GDP over the coming year or two and help restore the rating agencies' views on the country's prospects. This could be destabilised, however, if the elections for a new Conservative leader and/or the internal wranglings within the Labour party precipitate an early general election this autumn, some 3+ years ahead of expectation.

So we are now experiencing an unprecedented level of uncertainty. And uncertainty fuels indecision. Indecision causes deals to slow down or even stop. We can expect there to be a softening of demand for hotel accommodation in many locations within Europe, so long as this uncertainty prevails, to a greater or lesser extent depending on the location. Probably more so when this is coupled with new hotel openings which are already in the pipeline. On the other hand, visitation to the UK is likely to be stimulated in the short term as the exchange rate suddenly makes the country more affordable, particularly for those from the US and the Eurozone. London hotels should be a particular beneficiary, so leisure tourism ought to balance out some of the losses from business visitors, at least in the summer period.

Each hotel will need to be viewed on its own merits in terms of its anticipated future trading and investment potential. We remain cautiously optimistic that the European hotel sector will remain an attractive source of investment from those global investors who are interested in the medium- to long-term growth perspective as well as knowledgeable intra-regional investors who are seeking to consolidate their ownership position in markets that they know well."
Hotel group Worldhotels has added the Courthouse Hotel London to its portfolio. The Grade-II listed building was once home to Marlborough Street Magistrates Court until it became a hotel in 1981. The five-star hotel has 116 rooms and suites as well as several restaurants and bars, a spa and a private cinema. Worldhotels currently has a portfolio of 450 properties spanning 250 destinations in 65 countries. Other European hotels that the group has added to its portfolio this year include the 128-room Courthouse Hotel Shoreditch, London (another converted magistrates court); the 181-room Elite World Business Hotel and 401-room Elite World Europe Hotel, Istanbul; the 49-room Hotel Prealpina in Chexbres, Switzerland; the 39-room Hotel de la Rose in Fribourg, Switzerland; the 102-room Hotel Christiania Teater, Oslo, Norway; and the 102-room Bohinj ECO Hotel in Bohinjska Bistrica, Slovenia.
HVS is delighted to be a platinum sponsors at this year's Serviced Apartment Summit Europe, which is co-located with Short Term Rentalz at the Park Plaza Victoria on 12-13 July. Join us at the conference which promises to attract hotel, serviced apartment, aparthotel/extended stay and short-term rental CEOs, owners, operators, investors and lenders, asset managers, marketers, 'game changers' and more from around the world, offering knowledge, business and networking opportunities. HVS London's chairman, Russell Kett, will be speaking at the conference and several other HVSers are attending. As a sponsor, we have access to a limited amount of discounted tickets. Simply enter discount code SAS16 when booking to receive a £100 discount – but don't delay, this discount only applies until 5 July or when tickets sell out, whichever comes sooner. Book your delegate tickets here: www.servicedapartmentsummit.com/buy-tickets and we'll see you there!
Two fund hotels, reported to be the Motel One Berlin-Tiergarten in Berlin and the Motel One Nürnberg-City in Nuremberg, have been sold by Lloyd Fonds to the Motel One Group. Real estate fund Moderne Großstadthotels, initiated by Lloyd Fonds in 2008, held the hotels that were leased to Motel One on a long-term basis. Dr Torsten Teichert, CEO of Lloyd Fonds AG, commented, "German real estate, particularly also hotel buildings, are currently attracting very strong interest. The current sales price, which is around 42 percent up on the original purchase price, testifies impressively to the quality of our funds and our professional asset management. We have been able to achieve an outstanding result for investors. We are very pleased about this. As Lloyd Fonds participates in the fund's performance via a contractual arrangement, we have also been able to secure a substantial contribution to our earnings from this transaction."
InterContinental Hotels Group has opened its sixth Holiday Inn in the Russian capital of Moscow. The 201-room Iris Congress Hotel has been rebranded as the Holiday Inn Moscow – Seligerskaya. It joins the 301-room Holiday Inn Moscow – Lesnaya, the 220-room Holiday Inn Moscow – Simonovsky, the 523-room Holiday Inn Moscow – Sokolniki, the 312-room Holiday Inn Moscow – Suschevsky and the 154-room Holiday Inn Moscow – Vinogradovo.
Starwood Hotels & Resorts Worldwide has announced that it will debut its Four Points by Sheraton brand in Tanzania with the rebranding of two independent hotels. The 108-room Arusha Hotel, owned by Union Trust Limited, is currently undergoing renovation and will be rebranded as Four Points by Sheraton Arusha once this is complete. The other hotel, owned by New African Hotel Limited, will become the 126-room Four Points by Sheraton Dar es Salaam. Neil George, senior vice president acquisitions & development, said, "The Four Points brand has the largest global pipeline within Starwood's portfolio of brands. With two Four Points by Sheraton hotels currently operating in Africa and eight more in the pipeline, the brand is enjoying great interest from developers across the continent."
The Saudi-Egyptian Construction Company (SECON) has signed a contract with Hilton Worldwide to operate a four-star hotel on the Egyptian beach of New Damietta as part of the tourism residential project SECON Resort New Damietta. In addition to the hotel, which is expected to have around 130 rooms and suites and open in mid-2018, the project will include various villas, chalets and apartments on an area of 17.7 acres.
The hospitality arm of Nepalese Chaudhary Group, CG Hotels & Resorts, has begun construction on the 200-room luxury hotel Vivanta by Taj in Jumeirah Lake Towers, Dubai. This will be the first Vivanta by Taj hotel in the Middle East – there are currently 35 in operation around the globe. This announcement comes alongside the news that CG Hotels & Resorts is soon to open the luxury Zinc & Zinc Living hotel in Rwanda. The group's president, Binod Chaudhary, said "CG Hotels and Resorts has a strategic expansion plan across the Middle East and Africa, having identified key markets such as Muscat, Abu Dhabi, Dubai, Doha, Saudi Arabia and Iran in Middle East as well as Kigali, Nairobi, Dar E Salaam, Kampala, Burundi and Mozambique in Africa. This is a part of its larger global development strategy, with a target to more than double the number of hotels to 200 by 2020, which would make CG Hotels and Resorts a dominant player in the hospitality sector."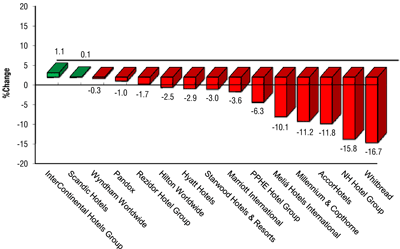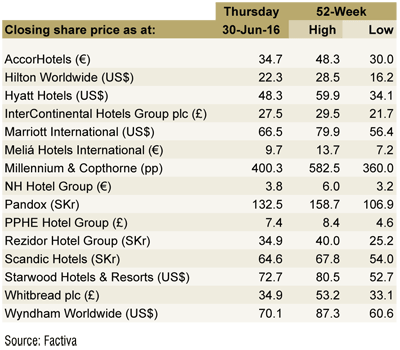 Melia Hotels International – Held a general shareholders meeting to discuss 2016 accomplishments and future strategic priorities.

General – The UK voted to leave the EU following a referendum.

For the latest in the hospitality industry, please visit: http://www.hvs.com/. You are also welcome to contact the following personnel.
| | |
| --- | --- |
| Russell Kett, Chairman – HVS London (@russellkett) | [email protected] |
| Charles Human, CEO – HVS London/HVS Hodges Ward Elliott | [email protected] |
| Simon Tucker Brown, Managing Director – HVS Executive Search Europe & Middle East | [email protected] |
| Chris Martin, Senior Director – HVS Hodges Ward Elliott | [email protected] |
| Puneet Kanuga, Director – HVS Hodges Ward Elliott | [email protected] |
| Arlett Hoff, Director – HVS London | [email protected] |
| Sophie Perret, Director – HVS London | [email protected] |
| Tim Smith, Managing Partner – HVS Cape Town | [email protected] |
| Demetris Spanos, Managing Director – HVS Athens | [email protected] |
| Hala Matar Choufany, Managing Director – HVS Dubai | [email protected] |
| Ezio Poinelli, Director – HVS Milan | [email protected] |
| Lesley Whitehead, Editor and EMEA Hospitality Newsletter Author – HVS London | [email protected] |
Disclaimer: Information provided above has been gathered from various market sources. HVS has not independently verified the accuracy of the information provided. Interested parties should not rely on the information as statement of facts and are advised to make their own independent checks to verify the information provided. For further information, please feel free to contact HVS London.
Superior Results through Unrivaled Hospitality Intelligence. Everywhere.
Stay current. Click here to receive free HVS newsletters
Looking for insights into the hospitality industry?
Discover unique hospitality intelligence at hvs.com/publications
Interested in a particular market?
Find hundreds of market overviews, all written by HVS experts, at hvs.com/marketresearch
Like to be in the know on hotel trends and predictions?
See our Hotel Valuation Index for dozens of cities at hvi.hvs.com