Luxury hospitality chain Bulgari Hotels & Resorts (a Marriott International brand) has signed an agreement with Russian investor Alexey Bogachev that will see the brand make its debut in Russia. The Bulgari Hotel Moscow is expected to open in 2019, just 300 m from Moscow's Red Square and the Kremlin. The 65-room hotel is being developed by Storm Properties and will become the world's seventh Bulgari-branded hotel – there are currently three hotels in operation in Milan (Italy), Bali, and London (UK) and three properties are due to open in Shanghai and Beijing (China) and Dubai (UAE) in 2017. "We are extremely proud to be able to announce the Bulgari Hotel in Moscow, as it will be another important step for the Bulgari Hotels & Resorts project," said Bulgari's chief executive officer, Jean-Christophe Babin. "Of course, it also is a precious occasion of visibility in such a strategic market for luxury goods, and follows the opening of the Bulgari flagship store in Petrovka. There is a reason these two industry areas (jewellery and hotels) combine perfectly: Bulgari's clients expect a high level of service they can get not only in the brand stores, but also when staying in an extraordinary location with luxury services, in an environment that reflects the Bulgari spirit," he added.
The Hotel Investment Conference Europe (Hot.E) is Europe's most focused hotel investment conference, with specific sessions on the capital markets and investment opportunities in Europe. Taking place at the Hilton London Bankside on 26-27 September 2016, the event attracts delegates from more than 30 countries. With chairmans, chief executive officers, presidents and owners making up almost 40% of the 2015 attendees, and more than one in three of the companies represented being leading debt, equity and development firms, Hot.E is the place to meet with leaders in the hospitality investment community. HVS Hodges Ward Elliott (HVS HWE) is a platinum sponsor of the conference and several members of our team will be in attendance. Additonally, HVS HWE's Charles Human, managing director; Puneet Kanuga, director; and Chris Martin, senior director, will also be speaking at the event. Visit the Hot.E website (www.EuropeHotelConference.com) for additional information and to register.
Hilton Worldwide opened its first hotel in Estonia this week. The Hilton Tallinn Park, which is owned by Fortuna Travel OU, is close to the Estonian capital's UNESCO World Heritage listed historic Old Town. The 202-room hotel is on the eastern side of Politseiaed Park, with views of Tallinn Harbour and the Baltic Sea. Also this week, Hilton's Garden Inn brand made its debut in Ireland with the official opening of the Hilton Garden Inn Dublin Custom House. The 239-room hotel, which is owned and operated by Amaris Hospitality, is the conversion of a former Jurys Inn property on the banks of the River Liffey in the city's International Financial Services Centre, in Dublin's North Wall area. Additonally, Hilton has opened its third Hampton by Hilton hotel in the Netherlands, and its 48th in Europe overall. The 75-room Hampton by Hilton Amsterdam Centre East is close to the city centre and 15 miles from Amsterdam Schiphol Airport. The hotel is managed by WIN Hotels.
Netherlands-based Hotel development and management company Europe Hotels Private Collection (EHPC) has acquired an iconic building in downtown Milan, Italy, from BNP Paribas Reim Sgr (which was acting on behalf of Fondo Immobiliare Comune di Milano, a real estate fund owned by the Milan Municipality) for an undisclosed sum. The 11,000 m² building will be converted in a luxury lifestyle hotel. "This acquisition is an important step towards the growth of the company's luxury hotels portfolio in Europe," said Liran Wizman, the founder of EHPC, which operates a portfolio of contemporary, design-led lifestyle brands in strategic locations in the city of Amsterdam and in a selection of cities across Europe. HVS Milan was pleased to advise EHPC in the evaluation of the investment and the conversion project.
The Tulfarris Hotel & Golf Resort in Wicklow, to the south of Dublin on Ireland's east coast, has been acquired by Prem Group for a price thought to be in excess of €8 million (around €108,100 per room). The Dublin-based firm has managed the 74-room hotel for the past seven years. The purchase is part of the group's plan to own 50 properties across key markets by 2017; it is reportedly already in advanced talks to acquire two more hotels (one in the UK and one in Ireland). Prem Group currently owns, leases or manages 43 (3,500 rooms) properties across Ireland, the UK, Belgium, France and the Netherlands.
The Spanish island of Mallorca has become home to Europe's first Park Hyatt resort. The 142-room Park Hyatt Mallorca is part of the 49-acre Cap Vermell Estate mixed-use development on the island's northeast coast, which also includes residential units, a beach club and a country club (due to be completed in July). "The opening of our first Park Hyatt European resort marks a significant milestone for Hyatt and underlines our commitment to meaningful and strategic growth in this region where we know our guests are traveling," said Peter Fulton, Hyatt's group president for Europe, the Middle East, Africa and Southwest Asia.
Abu Dhabi-based Rotana has signed an agreement to manage its first hotel in Morocco. The 140-key Arjaan Hotel Apartments by Rotana is scheduled to open before the end of 2018 at M Avenue, a new mixed-use, high-end development in Marrakech. M Avenue, developed by Downtown Hotel Corporation, comprises hotel, retail, office, entertainment, food and beverage and residential space spread across a 500-metre-long promenade.
Hilton Worldwide has signed a management agreement with United Tower Real Estate for its second DoubleTree property in Bahrain. The 237-unit DoubleTree Suites by Hilton Bahrain Dilmunia Island will be part of the US$1.6 billion, 125-hectare Dilmunia Island mixed-use health- and wellness-focused project, which is currently being developed off the coast of Bahrain. The Dilmunia DoubleTree is expected to open in 2019 and joins a pipeline of two other Hilton-branded hotels bound for Bahrain.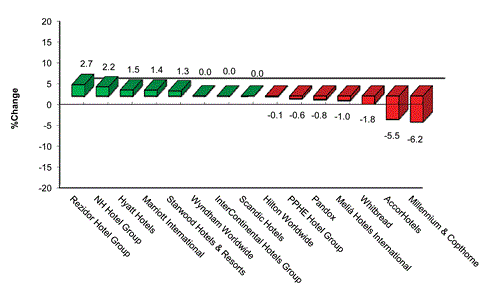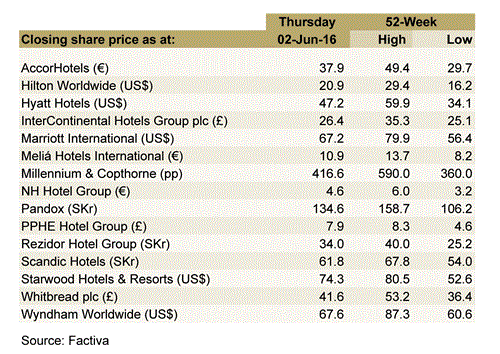 Starwood Hotels & Resorts – Chesapeake Partners Management Co Incmd purchased 293,454 additional shares in Starwood.

Rezidor Hotel Group – Has targeted Africa as its key global investment region and will open three new hotels in South Africa by next year.

Hyatt Hotels – Will work together with Be Well by Dr Frank Lipman to suport guests' health and well-being on and off the road.
For the latest in the hospitality industry, please visit: http://www.hvs.com/. You are also welcome to contact the following personnel.
| | |
| --- | --- |
| Russell Kett, Chairman – HVS London (@russellkett) | [email protected] |
| Charles Human, CEO – HVS London/HVS Hodges Ward Elliott | [email protected] |
| Simon Tucker Brown, Managing Director – HVS Executive Search Europe & Middle East | [email protected] |
| Chris Martin, Senior Director – HVS Hodges Ward Elliott | [email protected] |
| Puneet Kanuga, Director – HVS Hodges Ward Elliott | [email protected] |
| Arlett Hoff, Director – HVS London | [email protected] |
| Sophie Perret, Director – HVS London | [email protected] |
| Tim Smith, Managing Partner – HVS Cape Town | [email protected] |
| Demetris Spanos, Managing Director – HVS Athens | [email protected] |
| Hala Matar Choufany, Managing Director – HVS Dubai | [email protected] |
| Ezio Poinelli, Director – HVS Milan | [email protected] |
| Louise Fury, Senior Editor and EMEA Hospitality Newsletter Author – HVS London | [email protected] |
Disclaimer: Information provided above has been gathered from various market sources. HVS has not independently verified the accuracy of the information provided. Interested parties should not rely on the information as statement of facts and are advised to make their own independent checks to verify the information provided. For further information, please feel free to contact HVS London.
Superior Results through Unrivaled Hospitality Intelligence. Everywhere.
Stay current. Click here to receive free HVS newsletters
Looking for insights into the hospitality industry?
Discover unique hospitality intelligence at hvs.com/publications
Interested in a particular market?
Find hundreds of market overviews, all written by HVS experts, at hvs.com/marketresearch
Like to be in the know on hotel trends and predictions?
See our Hotel Valuation Index for dozens of cities at hvi.hvs.com