Hotel investment vehicle FDM Management (which was created by Foncière des Régions) has acquired two portfolios comprising 18 properties across Germany, France and Belgium for €936 million. FDM has signed a preliminary purchase agreement for nine hotels in city centre locations in Berlin, Dresden and Leipzig in Germany. This portfolio comprises 4,131 guest rooms and the hotels are operated under the Park Inn, Radisson Blu, Westin, Pullman, Mercure and ibis brands. The deal is expected to close this summer and Event Hotels will continue to manage the portfolio. The second transaction includes nine hotels in historic city centres in France and Belgium. With a total of 650 rooms, the hotels are affiliated with the Autograph Collection, Best Western, Crowne Plaza and Holiday Inn chains. These properties are run by FDM Management. "With these two major transactions, we are entering high-growth markets in partnership with the main international operators: Marriott, Starwood Hotels and Resort, IHG, AccorHotels, Best Western and Carlson Rezidor. As such, we are securing our position as a major player in hotel investments, and our aim to continue our development in Europe," said Dominique Ozanne, chairman of FDM Management and chief executive officer for Hotels & Hospitality Management at Foncière des Régions.
Maltese group Corinthia Hotels has purchased the Hotel Astoria on Rue Royale in Brussels, Belgium, for an undisclosed sum. The hotel, which dates from 1909, has stood vacant for the past ten years. Corinthia will now carry out an extensive refurbishment of the property; work is due to start following the completion of the new designs for the hotel, which will emerge from its transformation as the 121-room Corinthia Grand Hotel Astoria. "We have earned an unparalleled reputation for restoring buildings of historical value and turning them into luxury hotels. The Corinthia Grand Hotel Astoria will be no exception," said Corinthia's chairman, Alfred Pisani. "We aim to make this hotel the best in Brussels – committing the same passion and attention to detail as we have done with our hotel redevelopments in London, Budapest, St Petersburg and other major cities. We have full confidence in the city and are proud to have acquired such a gem in the heart of Europe," he added.
Hyatt Hotels' Hyatt Place brand has made its first appearance in the UK this week with the opening of the Hyatt Place London Heathrow Hayes. The 170-room hotel is in the town of Hayes in west London, just less than seven miles from Heathrow Airport. Hyatt now has three hotels in operation in the London area overall.
Marriott International will double its Autograph Collection portfolio in Germany with the addition of two Roomers hotels to the chain, joining the 97-room Gewandhous Dresden and the 87-room Hotel Am Steinplatz in Berlin. The 130-room Roomers Baden-Baden is due to join the collection when it opens in August 2016 in the spa town of Baden-Baden, in southwest Germany's Black Forest. The 281-room Roomers Munich is expected to open as an Autograph Collection property in December 2016; the hotel will be close to Theresienwiese, the site of Munich's famous Oktoberfest. The Roomers chain is part of Frankfurt-based Gekko Group, which currently has four hotels in operation in and around Frankfurt.
Marriott International is due to make its debut in the city of Bonn in northwest Germany at the end of the month, with the opening of the Marriott Bonn World Conference Hotel. The 17-storey, 336-room hotel, on the banks of the River Rhine close to the city's famous Museum Mile, will offer guests a 1,500 m² spa, built around authentic Roman remains, and 662 m² of conference and banqueting space.
Renowned American actor Robert De Niro plans to open a hotel in the UK in London, in partnership with BD Hotels and the owner of the site, Capital & Counties Properties. Planning permission has been submitted for an 83-room boutique hotel to be developed across six adjacent buildings in Covent Garden. Pending planning consent, work on the project will start next year and the hotel could open in 2019. De Niro isn't new to the hotel game as he co-owns the 88-room Greenwich Hotel in New York with BD Hotels.
Carlson Rezidor has opened a Radisson Blu-branded hotel in Marrakech, Morocco, its first hotel in the country. The 198-room Radisson Blu Hotel, Marrakech Carré Eden is in the city's Guélic district, at the heart of modern Marrakech. Rezidor now has 34 hotels in operation across Africa, with a further 32 in the development pipeline.
Millennium & Copthorne has opened its first property in Riyadh, Saudi Arabia, bringing its presence in the country up to four hotels (with one hotel in Hail and two in Medina). The 143-room Copthorne Hotel Riyadh, on King Fahd Road, less than a 30-minutre drive from King Khalid International Airport, is the first Copthorne-branded hotel to open in the Kingdom. Francois Kassab, chief operating officer for Millennium & Copthorne Middle East and Africa, commented that the group's latest opening is just the start of its extensive expansion across Saudi Arabia. "We successfully launched Millennium Hotel Hail last month and are pleased to be forging ahead with rapid expansion in Saudi Arabia," he said.
Starwood Hotels & Resorts has signed an agreement with Hamarain Real Estate for its first hotel in the emirate of Ras Al Khaimah. The Four Points by Sheraton Ras Al Khaimah will have 300 rooms and serviced apartments, and will be part of a mixed-use development also containing office and residential space and a shopping centre. The hotel is scheduled to open in the first quarter of 2019 and will become Starwood's fourth Four Points property in the UAE.
AccorHotels is taking its ibis Styles brand to Bahrain for the first time. The French group has signed a management agreement with Dubai-based Action Hotels for an ibis Styles hotel in the capital, Manama; this is the eighth time the duo have collaborated on a project in the Middle East, and the property will be the 11th hotel overall that AccorHotels manages for Action. The hotel is due to open in the fourth quarter of 2016 in the city's diplomatic area, and it will become AccorHotel's fourth property in Bahrain, alongside a Sofitel, a Novotel, a Mercure and an ibis.
Other news from Bahrain is the official launch of the country's first floating hotel: the US$5 million C-Hotel, which was built on the base of an old boat house. The five-star, 14-room hotel, which is owned by Seven Leisure Group, is docked at Manama's Coral Bay and took three years to complete.
Earlier this month One to One Hotels took over the management of the 26-room Zenotel Wellness Retreat in Bhersaf, Lebanon. This is One to One's second property in Lebanon, alongside the 40-room One to One – Dhour Choueir.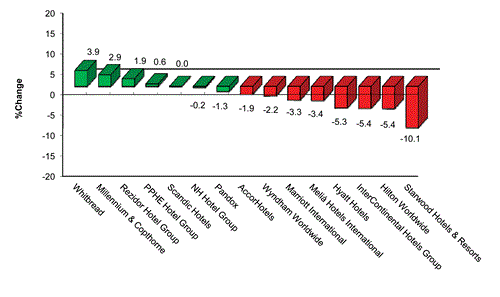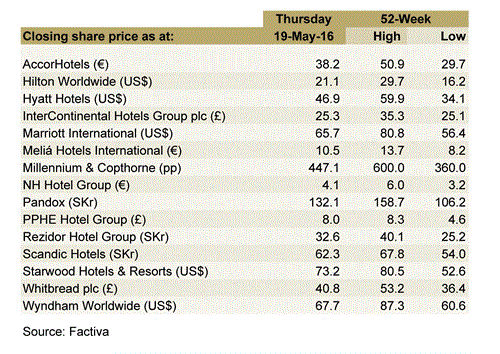 Rezidor Hotel Group – Carlson Rezidor has bought out Indian partner Chanakya Hotels' stake in their joint venture Country Development and Management Services for an undisclosed sum.

Scandic Hotels – Has appointed Jan Johansson as its new chief financial officer.

AccorHotels – Has launched a new online group booking tool, Leisure Online, for partners in the tourism industry, including travel agents, tour operators, event organisers and professional meeting planners.

For the latest in the hospitality industry, please visit: http://www.hvs.com/. You are also welcome to contact the following personnel.
| | |
| --- | --- |
| Russell Kett, Chairman – HVS London (@russellkett) | [email protected] |
| Charles Human, CEO – HVS London/HVS Hodges Ward Elliott | [email protected] |
| Simon Tucker Brown, Managing Director – HVS Executive Search Europe & Middle East | [email protected] |
| Chris Martin, Senior Director – HVS Hodges Ward Elliott | [email protected] |
| Puneet Kanuga, Director – HVS Hodges Ward Elliott | [email protected] |
| Arlett Hoff, Director – HVS London | [email protected] |
| Sophie Perret, Director – HVS London | [email protected] |
| Tim Smith, Managing Partner – HVS Cape Town | [email protected] |
| Demetris Spanos, Managing Director – HVS Athens | [email protected] |
| Hala Matar Choufany, Managing Director – HVS Dubai | [email protected] |
| Ezio Poinelli, Director – HVS Milan | [email protected] |
| Louise Fury, Senior Editor and EMEA Hospitality Newsletter Author – HVS London | [email protected] |
Disclaimer: Information provided above has been gathered from various market sources. HVS has not independently verified the accuracy of the information provided. Interested parties should not rely on the information as statement of facts and are advised to make their own independent checks to verify the information provided. For further information, please feel free to contact HVS London.
Superior Results through Unrivaled Hospitality Intelligence. Everywhere.
Stay current. Click here to receive free HVS newsletters
Looking for insights into the hospitality industry?
Discover unique hospitality intelligence at hvs.com/publications
Interested in a particular market?
Find hundreds of market overviews, all written by HVS experts, at hvs.com/marketresearch
Like to be in the know on hotel trends and predictions?
See our Hotel Valuation Index for dozens of cities at hvi.hvs.com