London & Regional (L&R) is reportedly expanding its hotel operation with the purchase of Atlas Hotels' portoflio of 47 properties across the UK for £575 million from private equity firm Lone Star. L&R currently has 15 hotels (6,600 rooms) throughout Europe and the Caribbean; its acquisition of Atlas brings it 46 Holiday Inn Express hotels and the Hampton by Hilton Liverpool City Centre.
Starboard Hotels has purchased the Holiday Inn Express Leeds Armouries for more than £8 million from Stellar Leeds. The 130-room purpose-built hotel brings Starboard's portfolio up to ten hotels across the UK. Starboard will continue to operate the hotel under the Holiday Inn Express brand via a franchise agreement with InterContinental Hotels Group.
US-based private equity group Kohlberg & Company has acquired global third-party management firm Interstate Hotels & Resorts from Thayer Lodging and Jin Jiang International Hotels for an undisclosed sum. As well as running 425 hotels across 40 US states, Interstate also has operations in nine countries outside the USA. "This transaction is validation of Interstate Hotels & Resorts' strategy, strength and leadership over the past five years," commented Interstate's chief executive officer, Jim Abrahamson. "The partnership with Kohlberg will enhance the Company's current management processes, with Interstate continuing to lead from a solid position, remaining focused on providing intuitive service to guests, and developing the best talent to deliver exceptional returns for owners," he added.
NH Hotel Group has opened its latest NH Collection property in Rome. The NH Collection Palazzo Cinquecento is the third of its brand in the city and the tenth NH Collection hotel in Italy overall. The 177-room hotel is housed in the former headquarters of the railway and postal service, on Piazza dei Cinquecento in Rome city centre. NH currently operates 58 NH Collection properties and this number is scheduled to increase to 68 by the end of 2016.
Whitbread's Premier Inn chain has announced further expansion in Germany. The group has sourced two city centre sites in Leipzig and Hamburg and both are scheduled to open in 2018 with around 180 rooms each. "Our two most recent German acquisitions mark another important chapter in our Premier Inn Germany growth story. Since announcing our expansion into the German hotel market in 2014 we have secured 760 bedrooms, using our proven Premier Inn formula to focus on the best, connected city locations," said Mark Anderson, Managing Director Commercial, Property & Premier Inn Germany.
At last week's Arab Hotel Investment Conference held in Dubai, Meliá Hotels International announced three new signings including the development of a new hotel in Tanzania, East Africa. The Meliá Serengeti Lodge is expected to open in June 2017 on the southern slopes of the Nyamuma range in the Serengeti National Park. The 50-room hotel will be the group's first 100% environmentally friendly and sustainable hotel, as it will operate entirely "off the grid". The hotel will become the group's second property in Tanzania, joining the 124-room Meliá Zanzibar.
Two former RIU Hotels properties in Tunisia, North Africa, are to be operated by another Spanish group, Vincci Hoteles, bringing Vincci's portfolio in Tunisia up to six hotels. The four-star, 352-room Vincci Marillia in the resort of Yasmine Hammamet is scheduled to open on 20 May 2016 and the four-star, 307-room Vincci El Mansour in Mahdia will welcome its first guests on 1 June 2016.
Emaar Hospitality Group has unveiled its mixed-use hotel and residences complex at Jeddah Gate in Saudi Arabia, marking the group's expansion into the country. The project includes a 14-storey tower housing the 202-room Vida Jeddah Gate hotel and a 22-floor tower which is home to the Vida Residences Jeddah Gate. The complex also includes several food and beverage outlets and a spa and fitness centre. Emaar currently has two other hotels in operation under its Vida Hotels and Resorts brand in Dubai. Additionally, Emaar inaugurated its Rove brand recently with a hotel in Dubai. The 420-room Rove Downtown Dubai is housed in a 14-storey building close to the Dubai International Financial Centre and Dubai International Convention Centre. Rove, which is a joint venture between Emaar and Dubai-based holding company Meraas, is aimed at the new generation of travellers who recognise value, stay connected through technology and gravitate towards culturally-inspired surroundings. The brand plans to open ten properties across Dubai city by 2020.
Dubai-based independent luxury operator Shaza Hotels has announced plans to debut its four-star Mysk by Shaza brand in Oman, with the opening of the flagship Mysk by Shaza Al Mouj in Muscat in March 2017. "The development will be a very good example of what the brand is going to represent. We saw a lot of opportunities in markets like Saudi Arabia and Dubai, where we don't feel like the four-star market is being properly serviced and we did not want to dilute the Shaza brand, so we created one underneath it from the ground up," said Simon Coombs, Shaza Hotels' chief executive officer. Shaza currently has one hotel in operation in Saudi Arabia (the five-star Shaza Al Madina), with a further eight properties in its pipeline for the region.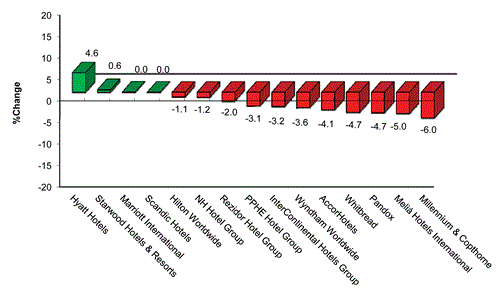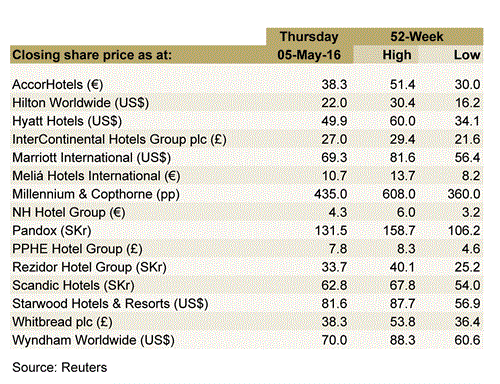 Whitbread – Has purchased a 49% stake in a London grab and go business called Healthy Retail, trading as Pure.

Starwood Hotels & Resorts – Said its financial results for quarter one 2016 exceeded expectations, despite a fall in net income of 9.1%. The group signed 44 hotel management and franchise contracts (approximately 7,000 rooms) during the first quarter.

Hyatt Hotels – Reported a first-quarter net income of US$34 million (US$0.25 per share). Adjusted EBITDA rose by 4.9% to US$194 million and systemwide RevPAR increased by 2.2%.


For the latest in the hospitality industry, please visit: http://www.hvs.com/. You are also welcome to contact the following personnel.
| | |
| --- | --- |
| Russell Kett, Chairman – HVS London (@russellkett) | [email protected] |
| Charles Human, CEO – HVS London/HVS Hodges Ward Elliott | [email protected] |
| Simon Tucker Brown, Managing Director – HVS Executive Search Europe & Middle East | [email protected] |
| Chris Martin, Senior Director – HVS Hodges Ward Elliott | [email protected] |
| Puneet Kanuga, Director – HVS Hodges Ward Elliott | [email protected] |
| Arlett Hoff, Director – HVS London | [email protected] |
| Sophie Perret, Director – HVS London | [email protected] |
| Tim Smith, Managing Partner – HVS Cape Town | [email protected] |
| Demetris Spanos, Managing Director – HVS Athens | [email protected] |
| Hala Matar Choufany, Managing Director – HVS Dubai | [email protected] |
| Ezio Poinelli, Director – HVS Milan | [email protected] |
| Louise Fury, Senior Editor and EMEA Hospitality Newsletter Author – HVS London | [email protected] |
Disclaimer: Information provided above has been gathered from various market sources. HVS has not independently verified the accuracy of the information provided. Interested parties should not rely on the information as statement of facts and are advised to make their own independent checks to verify the information provided. For further information, please feel free to contact HVS London.
Superior Results through Unrivaled Hospitality Intelligence. Everywhere.
Stay current. Click here to receive free HVS newsletters
Looking for insights into the hospitality industry?
Discover unique hospitality intelligence at hvs.com/publications
Interested in a particular market?
Find hundreds of market overviews, all written by HVS experts, at hvs.com/marketresearch
Like to be in the know on hotel trends and predictions?
See our Hotel Valuation Index for dozens of cities at hvi.hvs.com