HNA Tourism Group has forged an agreement with Carlson Hospitality Group that will see the Beijing-based firm purchase Carlson's hotel division, Carlson Hotels, for an undisclosed sum, subject to receipt of applicable regulatory approvals. Carlson Hotels owns the Quorvus Collection, Radisson Blu, Radisson RED, Park Plaza, Park Inn by Radisson and Country Inns & Suites by Carlson brands, and the acquisition by HNA also includes Carlson's majority stake (approximately 51.3%) in Rezidor Hotel Group. "Carlson Hotels own a powerful set of global brands and this historic agreement provides tremendous opportunities for growth," commented David P Berg, Carlson Hospitality Group's chief executive officer. A statement released by Rezidor regarding the deal said that the Brussels-based group "notes that Carlson has agreed to divest its hotel operations. Rezidor has no further information regarding the transaction or HNA's intentions with its holding in Rezidor following completion of the transaction or a possible offer to Rezidor's other shareholders. Rezidor assumes that this will be clarified in the near future and welcomes HNA as the new majority shareholder".
Hilton Dunkeld House, set in 280 acres on the banks of the River Tay in Perthshire, Scotland, has been acquired for an undisclosed sum by Dunkeld House Hotel LLP, a partnership between Arnold Schnegg and James Hawksworth (who both founded Hallmark Hotels) and funds managed by Downing LLP. The new owners will take over the 98-room hotel on 5 May 2016 and Arnold Schnegg commented, "We look forward to making a significant capital investment to further improve the quality of the hotel facilities, with a view to re-launching as an independent country house hotel." Other sales in the UK this week include the purchase of the 30-room Linthwaite House Hotel, overlooking Lake Windermere in northern England's Lake District National Park, by South African group Leeu Collection from Mike and Jean Bevans for an undisclosed sum. This is Leeu Collection's first hotel outside of South Africa. The Bevans acquired the property, which was originally constructed in 1901 as a country house, in 1990 and transformed it from an 11-room bed and breakfast into a four-AA-star hotel.
Scandic has signed a long-term lease agreement with Airaksinen Capital for its first hotel in Vasa, on Finland's west coast. The former 68-room Kantarelis Hotel will undergo an expansion to add new conference space and bring its room count up to 140; the expansion work is expected to be completed at the end of 2017 and the hotel will be reflagged as the Scandic Vasa.
Viceroy Hotel Group is to make its debut in Turkey this summer with the opening of the Viceroy Princes' Islands Istanbul. The hotel is being developed on the island of Büyükanda, the largest of nine islands in the Mamara Sea close to Istanbul (known as Princes' Islands), by Akdag Tourism and Construction Ltd. The 77-room resort will have its own private pier on the island and will also include an ESPA spa and wellness centre with an indoor pool, 1,340 m² of indoor and outdoor event space, rooftop terraces, gardens, indoor and outdoor swimming areas and food and beverage outlets.
Swiss-Belhotel International has signed an agreement with Marseilia Group for its first hotel in Egypt. The Swiss-Belhotel Marseilia will be part of a mixed-use complex overlooking the Mediterranean Sea in Alexandria. The hotel is due to open in 2018 with 200 guest rooms and apartments. The mixed-use complex will also include 500 residential units.
At this week's Arabian Hotel Investment Conference in Dubai, Wyndham Hotel Group announced several new deals that will see it continue its expansion across the Middle East and Africa region. The latest signings include the 200-room Ramada Encore Muscat Al Ghubra and the Ramada Hotel & Suites Muscat Al Ghubra, which are owned by Oman's Al Khaleel Group and due to open at the same location (connected by a foot bridge) at the end of 2018 in Muscat; the TRYP by Wyndham Addis Ababa Bole Road, the Wyndham Addis Ababa Bole Road and the Wyndham Garden Langano, which are all scheduled to open in Ethiopia, East Africa, over the next few years and are owned by Santa Maria Real Estate & Hotels; and a dual development owned by Bukhamseen Group For Real Estate, Tourism, General Trading & Contracting Company comprising the Ramada Plaza Najaf and the Ramada Hotel & Suites Najaf in the city of Najaf, Iraq, approximately 160 km south of Baghdad.
As of 1 May 2016, Mövenpick Hotels & Resorts will take over the operation of its third property in Qatar, increasing its presence in the country in preparation for the 2022 Football World Cup. The Grand Heritage Hotel Doha will become the 139-room Mövenpick Hotel Al Aziziyah Doha, which is owned by E'EMAR Development & Real Estate Investment. The hotel will be in the Doha Sports City area and will join the 154-room Mövenpick Hotel Doha and the 347-room Mövenpick Hotel West Bay Doha in the Qatari capital, bringing the group's inventory in Qatar to 640 keys.
Mövenpick Hotels & Resorts has signed a management agreement with Richreit Real Estate Development LLC for a new project in Dubai. The 40-floor, 299-room Mövenpick Hotel Apartments Al Burj Business Bay is scheduled to open in 2017 on Burj Khalifa Boulevard. Work has already started on the project and it is 55% complete. The new opening will bring Mövenpick's portfolio in Dubai up to seven hotels, and there are a further two properties in the pipeline for the emirate.
Marriott International has signed an agreement for the 300-unit Doha Marriott Executive Apartments in Qatar, expected to open in 2019. It was also reported this week that Marriott has signed a master franchise agreement with Dur Hospitality for a Courtyard by Marriott and a Residence Inn by Marriott in Saudi Arabia, marking the first appearance of these brands in the country. A total of SAR87 million (€20.5 million) will be invested in the hotels, which will be developed in the Red Sea port of Yanbu, in western Saudi Arabia.
Choice Hotels International has signed a master development agreement with Equinox Ventures Ltd (a joint venture between Equinox Group Ltd and Al Tayyar Travel Group) that will see Choice enter the Middle East market. Approximately 25 hotels (8,000 guest rooms) operating under three choice brands (Clarion, Comfort and Quality) will be developed across the UAE and Saudi Arabia by 2021. "We are delighted to sign this agreement with Equinox Group and Al Tayyar Travel Group that will help Choice establish a presence in the UAE and Saudi Arabia, and also offer a platform for rapid expansion," said Mark Pearce, senior vice president, international division, for Choice Hotels.
Steigenberger Hotel Group is planning to open its first InterCityHotel outside of Europe in July this year in the city of Salalah, Oman. The eight-storey, 70-room InterCityHotel Salalah is currently under development in the city's business district, four kilometres away from Salalah International Airport. The hotel is owned by Sedra Real Estate LLC of Oman.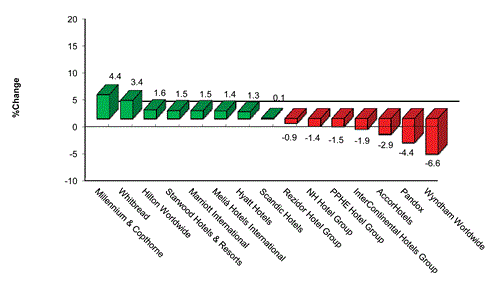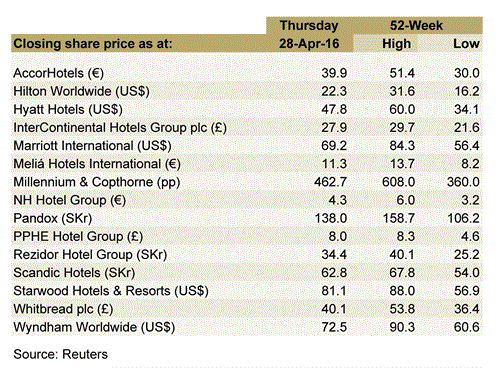 Hilton Worldwide – Has announced the appointment of Thomas Baltimore, Jr. as president and CEO and Sean Dell'Orto as CFO of the planned real estate investment trust, or REIT, that is expected to form following its separation from Hilton Worldwide later in 2016.

Marriott International – Reported a 2016 first-quarter adjusted net income of US$226 million, a 9% increase on the same period in 2015 .
For the latest in the hospitality industry, please visit: http://www.hvs.com/. You are also welcome to contact the following personnel.
| | |
| --- | --- |
| Russell Kett, Chairman – HVS London (@russellkett) | [email protected] |
| Charles Human, CEO – HVS London/HVS Hodges Ward Elliott | [email protected] |
| Simon Tucker Brown, Managing Director – HVS Executive Search Europe & Middle East | [email protected] |
| Chris Martin, Senior Director – HVS Hodges Ward Elliott | [email protected] |
| Puneet Kanuga, Director – HVS Hodges Ward Elliott | [email protected] |
| Arlett Hoff, Director – HVS London | [email protected] |
| Sophie Perret, Director – HVS London | [email protected] |
| Tim Smith, Managing Partner – HVS Cape Town | [email protected] |
| Demetris Spanos, Managing Director – HVS Athens | [email protected] |
| Hala Matar Choufany, Managing Director – HVS Dubai | [email protected] |
| Ezio Poinelli, Director – HVS Milan | [email protected] |
| Louise Fury, Senior Editor and EMEA Hospitality Newsletter Author – HVS London | [email protected] |
Disclaimer: Information provided above has been gathered from various market sources. HVS has not independently verified the accuracy of the information provided. Interested parties should not rely on the information as statement of facts and are advised to make their own independent checks to verify the information provided. For further information, please feel free to contact HVS London.
Superior Results through Unrivaled Hospitality Intelligence. Everywhere.
Stay current. Click here to receive free HVS newsletters
Looking for insights into the hospitality industry?
Discover unique hospitality intelligence at hvs.com/publications
Interested in a particular market?
Find hundreds of market overviews, all written by HVS experts, at hvs.com/marketresearch
Like to be in the know on hotel trends and predictions?
See our Hotel Valuation Index for dozens of cities at hvi.hvs.com