Six regional Hilton-managed hotels (813 rooms) across the UK have been sold to individual buyers for approximately £40 million (£49,200 per room). The hotels are located in: Basingstoke, Bromsgrove, Dunkeld, Newbury, Newport and Swindon. Apart from the Swindon property, all of the hotels have been acquired free and clear of Hilton branding following the termination of the management agreements after the required notice period.
Carlson Rezidor's Radisson RED brand has made its worldwide debut this week with the opening of a hotel in Brussels, Belgium. The Radisson RED Brussels has 149 studio apartments and is at the centre of the city, within walking distance of the European Parliament. The lifestyle select brand also has a further 14 hotels in its global pipeline. Commenting on the group's latest offering, Wolfgang M Neumann, Rezidor Hotel Group's president and chief executive officer, said that the brand, "boasts a forward-thinking design and offers a new guest experience fuelled by personal interaction and personal choice. It is a true recognition of the increasingly important role that technology plays in facilitating the best of everyday life – home or away."
Starwood Hotels & Resorts has opened its first Element property in the Netherlands. The Element Amsterdam is the group's fifth hotel overall in the country. With 160 studios and suites, the extended-stay property is housed in a former office building at the Gelderlandplein shopping centre, in Amsterdam's Zuidas business district; it is the second hotel to open in Europe under Starwood's eco-focused Element brand, joining the Element Frankfurt Hotel in Germany. "We are thrilled to introduce Element to the vibrant and forward-looking city of Amsterdam – an ideal fit for the brand," commented Brian McGuinness, Global Brand Leader, Starwood's Specialty Select Brands. "On track to more than double its global portfolio in the next three years, Element fills a much-needed niche in the market and caters to travellers who seek a smart and sustainable experience when they are on the move," he added.
Hilton Worldwide has signed a management agreement with Belaga Management Company for its first hotel in Serbia. The Hilton Belgrade is scheduled to open in 2018 in the Serbian capital's Old Town. The 242-room property, approximately 15 km from Belgrade Nikola Tesla Airport, will have almost 1,000 m² of conference and event space, as well as spa, food and beverage and retail facilities.
Hilton Worldwide has opened its fifth DoubleTree by Hilton hotel in Russia. The DoubleTree by Hilton Tyumen is in the city of Tyumen, which was the first Russian settlement in Siberia. The 195-room hotel is in the old part of the city, close to the River Tura. Hilton now has 19 hotels in operation across Russia overall, and a further 32 in its development pipeline for the country.
Jumeirah Group has been appointed, by Turkish firm Kuzu Group, to operate a hotel and private residences property within an urban resort in Istanbul, Turkey. A 202-room Jumeirah hotel and 62 Jumeirah-branded and managed private residences are scheduled to open in 2019 as part of the US$40 million Sea Pearl Ataköy mixed-use development, in Istanbul's Ataköy district. The hotel will become Jumeirah's second property in Istanbul and its third in Turkey overall, joining the 115-room Pera Palace Hotel Jumeirah and the 134-room Jumeirah Bodrum, on the country's Aegean coast.
Dublin-based Dalata Hotel Group has signed an agreement with McAleer & Rushe that will see it deliver a 206-room Maldron property in Belfast city centre, Northern Ireland. McAleer & Rushe purchased the site on Brunswick Street, which houses the former Belfast Metropolitan College, in summer 2014. The site is already being cleared and construction on the hotel will start in June this year, with completion scheduled for the first half of 2018. Dalata currently has two hotels in Belfast, a Maldron property and a Clayton hotel.
Hilton Worldwide has signed a management agreement with Ward Holdings for its second Waldorf Astoria-branded hotel in Dubai. The Waldorf Astoria DIFC is scheduled to open in autumn 2017 on Al Saada Street in the Dubai International Finance Centre, a federal financial free zone. The 247-room hotel will be part of a mixed-use development also containing residential, retail and office space. The hotel will be the third of its brand in the UAE overall, joining the 346-room Waldorf Astoria Ras Al Khaimah and the 319-room Waldorf Astoria Dubai Palm Jumeirah.
Hospitality Management Holdings (HMH) has signed a management agreement with real estate company Muzn Oman Commercial (S.A.O.C.) for its first Corp-branded hotel in Oman. The Corp Muscat Al Muzn Hotel is expected to open in the first quarter of 2018 in Muwaleh, close to Muscat International Airport. The 132-room hotel will be part of the mixed-use Al Muzn project, which is currently under development and will offer a wealth of facilities including a shopping mall and a luxury wellness centre. The addition of Corp Muscat Al Muzn Hotel complements a growing portfolio of HMH hotels in the Middle East and North Africa and reinforces the group's commitment to the destination of Oman. Laurent A Voivenel, chief executive officer of HMH, commented, "Oman is a key development market for HMH and we are very proud to debut the Corp brand in the country with Corp Muscat Al Muzn Hotel. The hospitality Industry in Oman is witnessing remarkable growth at the moment and we are truly grateful to Muzn Oman Commercial (S.A.O.C.) for having given us this opportunity at these exciting times." He continued, "The scale of opportunity in the region for hotels especially in the budget segment is unprecedented. By 2020 our aim to have six hotels in Oman while multiplying by four our total inventory of keys." HMH currently operates one property in Oman, the 88-unit Coral Muscat Hotel & Apartments.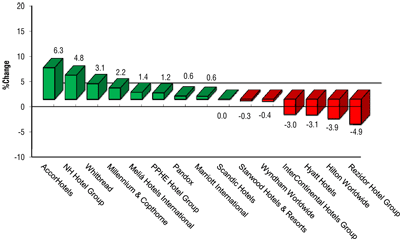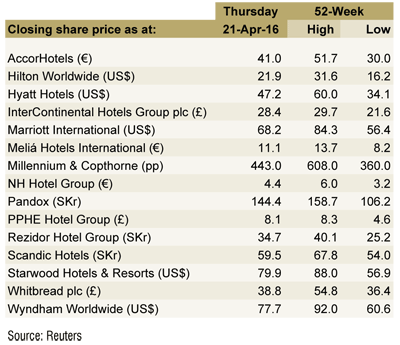 Starwood Hotels & Resorts – Marriott International and Starwood announced that at separate special stockholder meetings the stockholders of both companies approved proposals relating to Marriott's acquisition of Starwood.

NH Hotel Group – Plans to enter the Chinese market with the aim of opening 120 to 150 hotels by 2020, via a joint venture with HNA Group.
For the latest in the hospitality industry, please visit: http://www.hvs.com/. You are also welcome to contact the following personnel.
| | |
| --- | --- |
| Russell Kett, Chairman – HVS London (@russellkett) | [email protected] |
| Charles Human, CEO – HVS London/HVS Hodges Ward Elliott | [email protected] |
| Simon Tucker Brown, Managing Director – HVS Executive Search Europe & Middle East | [email protected] |
| Chris Martin, Senior Director – HVS Hodges Ward Elliott | [email protected] |
| Puneet Kanuga, Director – HVS Hodges Ward Elliott | [email protected] |
| Arlett Hoff, Director – HVS London | [email protected] |
| Sophie Perret, Director – HVS London | [email protected] |
| Tim Smith, Managing Partner – HVS Cape Town | [email protected] |
| Demetris Spanos, Managing Director – HVS Athens | [email protected] |
| Hala Matar Choufany, Managing Director – HVS Dubai | [email protected] |
| Ezio Poinelli, Director – HVS Milan | [email protected] |
| Louise Fury, Senior Editor and EMEA Hospitality Newsletter Author – HVS London | [email protected] |
Disclaimer: Information provided above has been gathered from various market sources. HVS has not independently verified the accuracy of the information provided. Interested parties should not rely on the information as statement of facts and are advised to make their own independent checks to verify the information provided. For further information, please feel free to contact HVS London.
Superior Results through Unrivaled Hospitality Intelligence. Everywhere.
Stay current. Click here to receive free HVS newsletters
Looking for insights into the hospitality industry?
Discover unique hospitality intelligence at hvs.com/publications
Interested in a particular market?
Find hundreds of market overviews, all written by HVS experts, at hvs.com/marketresearch
Like to be in the know on hotel trends and predictions?
See our Hotel Valuation Index for dozens of cities at hvi.hvs.com