It was reported this week that Kingdom Hotel Investments (KHI), a fully owned subsidiary of Saudi Arabian conglomerate Kingdom Holding Company (KHC), has sold its 100% interest in the InterContinental Hotel Lusaka in Zambia, Southern Africa, to Mauritian-based fund QG Africa Hotel LP for a gross consideration of US$35.9 million (approximately US$160,000 per room). The 224-room hotel is located in the diplomatic district of Zambia's capital and largest city. Commenting on the transaction, HVS alumnus Sarmad Zok, chairman and chief executive officer of KHI and a member of KHC's board of directors, said that the sale of the hotel "is part of KHI's ongoing value realization mandate and speaks to the quality of our assets and our team execution."
The Ritz-Carlton Hotel Company opened its first property in Hungary this week. The Ritz-Carlton Budapest is at the centre of Budapest's shopping and cultural district on Elizabeth Square. The 200-room hotel is housed in a building that dates from 1914, when it was constructed as headquarters for an Italian insurance firm. "The Ritz-Carlton service standards are globally recognised and we're delighted to bring them to a new market. Budapest is an extraordinary city and perfectly placed to welcome the newest property in our portfolio", said Herve Humler, Ritz-Carlton's president and chief operations officer.
NH Hotel Group has inaugurated its upper-upscale NH Collection brand in the Netherlands with the opening of three of the group's properties in the country following refurbishments and rebrands. The three flagship hotels, which are all in Amsterdam, are the 451-room NH Collection Grand Hotel Krasnapolsky, a 150-year-old property on Dam Square consisting of 55 adjacent buildings; the 80-room NH Collection Doelen, on the banks of the Amstel River, which dates from the 15th century; and the 274-room NH Collection Barbizon Palace, opposite Amsterdam Central Station, which is housed in a 17th-century building.
Hilton Worldwide introduced its Garden Inn brand to Austria this week. The Hilton Garden Inn Vienna South opened in the Austrian capital's Wienerberg district, 25 km from Vienna International Airport and a short train journey from the city centre. The 173-room hotel is owned by Immofinanz. Vienna-headquartered RIMC Austria Hotel Resort is operating the hotel under a franchise agreement with Hilton.
Hilton Worldwide has signed a franchise agreement with Grupo Aventia for its first Curio Collection hotel in Spain. Following restoration work, the 33-room Gran Hotel Montesol Ibiza will open as part of the collection this summer. The hotel, in the historic centre of Ibiza town, was the first purpose-built hotel on the island when it opened in 1933. The building, which has been recognised as a site of heritage and cultural interest by the Spanish Ministry of Culture, has served different purposes over the years, including housing a military barracks during the Spanish Civil War. Hilton currently has one Curio property in operation in Europe, in Hamburg, Germany, and the Curio Collection pipeline currently counts more than 80 hotels in various stages of development across the globe.
London-based Bespoke Hotels has acquired a minority stake in boutique serviced apartment operator, Staying Cool for an undisclosed sum. Staying Cool currently operates a 30-unit property in the city of Birmingham, but Bespoke's investment is expected to result in the joint development of further sites across the UK. "At Bespoke we see the rapid growth of the serviced apartment sector as a significant market opportunity rather than a threat to established hotels," commented Bespoke's co-founder and chairman, Robin Sheppard (who has also been appointed as chairman of Staying Cool). "With its focus on design, innovation and customer service, Staying Cool is one of the most exciting apartment brands we could hope to partner with. We believe they offer something unique and rather special in the serviced apartment space," he added.
Scandic has announced plans to expand its signature collection pipeline with the addition of two new properties in Bergen and Helsinki. The collection will comprise new and existing hotels in the Nordic region and the properties will be marketed under their own names with the "by Scandic" extension. The collection will make its debut at the beginning of May 2016 with the opening of the eight-storey, 405-room Haymarket by Scandic in Stockholm city centre; hotel number two, the existing seven-storey, 391-room Scandic Grand Central, also in the Swedish capital, will sign up to the signature collection in autumn this year. Joining these two trailblazers will be the nine-storey, 289-room Scandic Marski in Helsinki, Finland, which will be rebranded by spring 2018, and the Hotel Norge in Bergen, Norway, which will become a signature collection hotel in mid-2018 following an extensive renovation.
Pod-style hotel chain YOTEL is planning to open an air-side property at Paris Charles de Gaulle Airport on 1 July 2016, marking the London-based group's first appearance in France. The 80 YOTEL cabins will be in Terminal 2E and will become the first in-terminal hotel at the airport. "Just last year, the number of connecting passengers in Aéroports de Paris increased by 5.7% now representing 24% of all passengers. Like YOTEL, ADP and the SkyTeam Alliance are committed to making the transfer and flying experience at Charles de Gaulle one of the best in the world. YOTEL is redefining this experience by providing a seamless, intuitive service and comfortable stay before, after and between flights," commented HVS alumnus Hubert Viriot, YOTEL's chief executive officer.
Louvre Hotels Group has opened its first hotel in Kenya, East Africa. The four-star, 94-room Golden Tulip Westlands Nairobi is situated in the Kenyan capital's affluent Westlands neighbourhood. Louvre currently operates 13 properties (2,020 rooms) across Sub-Saharan Africa, and the group has some 15 hotels planned for 2016, more than doubling its presence in the region. Commenting on the group's Kenyan debut, Alain Sebah, president of Golden Tulip for French-speaking Africa and East Africa, said, "The tourism sector, especially business tourism, is experiencing strong growth in this region. Our goal is to be there for our clients, namely key accounts, wherever their business takes them in Africa, with quality hotels offering facilities and services to support growth and upgrade quality of leisure and business tourism."
Hilton Worldwide's luxury Conrad Hotels & Resorts chain has signed a management agreement with Assets Real Estate Development Company for its first hotel in Qatar. The 325-room Conrad Doha is scheduled to open in early 2019 in the Qatari capital. Hilton currently has two Conrad properties in the Middle East – the Conrad Dubai in the UAE and the Conrad Makkah in Saudi Arabia.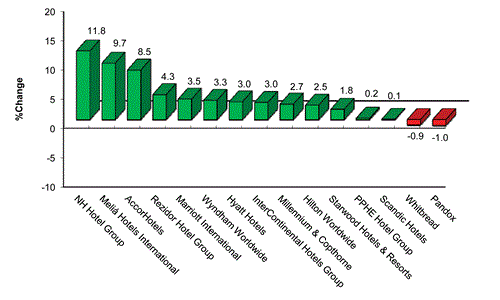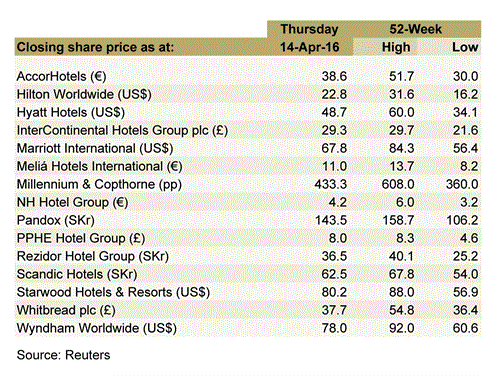 Starwood Hotels & Resorts – Marriott International and Starwood announced that at separate special stockholder meetings the stockholders of both companies approved proposals relating to Marriott's acquisition of Starwood.

NH Hotel Group – Plans to enter the Chinese market with the aim of opening 120 to 150 hotels by 2020, via a joint venture with HNA Group.
For the latest in the hospitality industry, please visit: http://www.hvs.com/. You are also welcome to contact the following personnel.
| | |
| --- | --- |
| Russell Kett, Chairman – HVS London (@russellkett) | [email protected] |
| Charles Human, CEO – HVS London/HVS Hodges Ward Elliott | [email protected] |
| Simon Tucker Brown, Managing Director – HVS Executive Search Europe & Middle East | [email protected] |
| Chris Martin, Senior Director – HVS Hodges Ward Elliott | [email protected] |
| Puneet Kanuga, Director – HVS Hodges Ward Elliott | [email protected] |
| Arlett Hoff, Director – HVS London | [email protected] |
| Sophie Perret, Director – HVS London | [email protected] |
| Tim Smith, Managing Partner – HVS Cape Town | [email protected] |
| Demetris Spanos, Managing Director – HVS Athens | [email protected] |
| Hala Matar Choufany, Managing Director – HVS Dubai | [email protected] |
| Ezio Poinelli, Director – HVS Milan | [email protected] |
| Lesley Whitehead, Editor and EMEA Hospitality Newsletter Author – HVS London | [email protected] |
Disclaimer: Information provided above has been gathered from various market sources. HVS has not independently verified the accuracy of the information provided. Interested parties should not rely on the information as statement of facts and are advised to make their own independent checks to verify the information provided. For further information, please feel free to contact HVS London.
Superior Results through Unrivaled Hospitality Intelligence. Everywhere.
Stay current. Click here to receive free HVS newsletters
Looking for insights into the hospitality industry?
Discover unique hospitality intelligence at hvs.com/publications
Interested in a particular market?
Find hundreds of market overviews, all written by HVS experts, at hvs.com/marketresearch
Like to be in the know on hotel trends and predictions?
See our Hotel Valuation Index for dozens of cities at hvi.hvs.com