Starwood Hotels & Resorts has closed the sale of the 138-room Hotel Imperial, a Luxury Collection Hotel in Vienna to UAE-based conglomorate Al Habtoor Group for US$78.8 million (US$571,000 per room). The hotel's building dates back to 1863, when it was built as a residence for Prince Philipp of Württenberg, and it was converted into a hotel in 1863. As part of the deal, the hotel will undergo a rooms renovation over the next four years, and it will continue to be flagged as a Luxury Collection property under a new long-term management agreement.
Pandox has signed an agreement with Midstar AB that will see the Stockholm-based group divest a portfolio of eight hotels in regional cities across Sweden. The portfolio totals 965 guest rooms and the acquisition price is SKr850 million/SKr880,800 per room (approximately €90 million/€93,000 per room), after deferred tax – Midstar will acquire the shares in each hotels' property owning company. The deal is expected to close on 31 March 2016, and the agreement includes a rental guarantee from Pandox in favour of the buyer for three years.
Hilton Worldwide has opened its first hotel in Armenia: the 176-room DoubleTree by Hilton Yerevan City Centre, which is located in the Armenian capital's business district. "As one of the world's oldest continuously inhabited cities, Yerevan has a rich history and culture, and is a vibrant destination for leisure and business travellers," commented Luciano Casagrande, the hotel's general manager. Hilton Worldwide now has 11 DoubleTree by Hilton hotels in operation in the Caucasus region, which inclues Armenia, Azerbaijan, Georgia, Iran, Turkey and Russia.
Hampton by Hilton is to make its debut in the Scottish capital, Edinburgh. Queensgate Hotels has purchased a site (with planning permission in place) in the Fountainbridge area of Edinburgh, close to the city centre, from Grosvenor Group, and the plot will be home to a 228-room Hampton by Hilton. The hotel, which is expected to open in summer 2017, will be part of the Springside mixed-use project. Hilton Worldwide currently has 16 Hampton by Hilton properties in operation across the UK and Ireland and a further 17 in the pipeline.
Dalata has acquired a prime site in Dublin, Ireland, for €11.9 million in a cash deal from developer U+I. Planning permission was granted for the 0.9 acre Charlemont Clinic site ealier this year for transformation into a 181-room hotel with a restaurant and a café/bar, alongside three residential units and underground parking space. Dalata plans to construct a Clayton hotel on the site and expects the work to be finished in the first half of 2018. Dalata's total investment in the project, including the plot purchase price, is estimated to be more than €40 million.
Carlson Rezidor has signed an agreement that will see the group introduce its Park Inn by Radisson brand to Latvia with two new hotels in the capital, Riga; additionally, the deal will also see Rezidor take on the management of the existing 60-room Astor Riga Hotel, in the city's historic Old Town. The 88-room Park Inn Residences Riga is expected to open before the end of March 2016 in Riga city centre and the 180-room Park Inn Valdemara Riga is due to open in the third quarter of 2016 on a road that leads directly to the city's international airport. Rezidor's portfolio in Latvia currently comprises four Radisson Blu properties in Riga.
Mövenpick Hotels & Resorts' chief executive officer, Jean-Gabriel Pérès, has announced that he will step down from his post with the company after 17 years of service. Mövenpick's Board has started the search for the group's new chief executive officer, and Pérès will continue in the role until a successor is found.
Spanish chain RIU Hotels & Resorts has formed a joint venture with Dubai-based developer Nakheel, resulting in the first RIU hotel in the Middle East. A 750-room RIU hotel is to be developed, with an investment of US$170 million, at Dubai's Deira Islands project, which will also include retail and entertainment space and a marina, amongst other facilities. The hotel is scheduled to open in 2019.
Hong Kong-based Swiss-Belhotel International plans to open its first hotel in the city of Al Khobar, in Saudia Arabia's Eastern Province. The 100-room Swiss-Belhotel Al Khobar, which is owned by Mr Mohamed Al Malki, is expected to open in the fourth quarter of 2016. The group currently operates one hotel in Saudi Arabia, the 43-room Swiss-Belcourt Granada Riyadh, and has another hotel due to open in Riyadh later this year.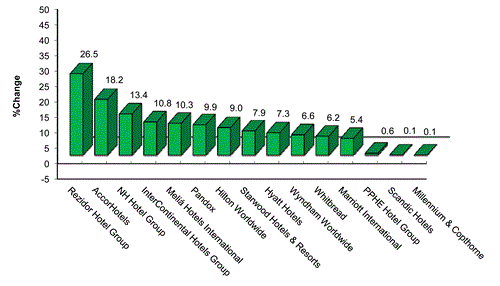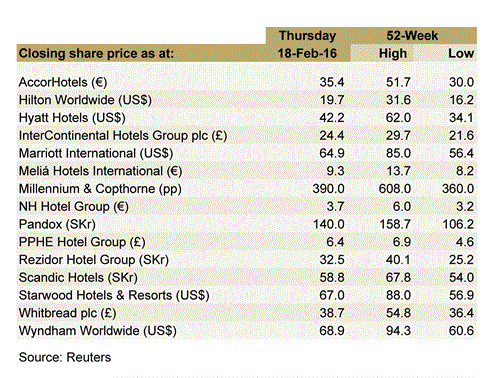 Marriott International – Fourth-quarter 2015 net income was US$202 million, a 3% rise on the same period in 2014.

InterContinental Hotels Group – Numis Securities maintained its "hold" rating and cut the target price from 2,600p to 2,500p.

Rezidor Hotel Group – Fourth-quarter 2015 revenue increased by 7.3% on the same period last year, to €255.4 million.
For the latest in the hospitality industry, please visit: http://www.hvs.com/. You are also welcome to contact the following personnel.
Russell Kett, Chairman – HVS London (@russellkett)

[email protected]

Charles Human, CEO – HVS London/HVS Hodges Ward Elliott

[email protected]

Simon Tucker Brown, Managing Director – HVS Executive Search Europe & Middle East

[email protected]

Chris Martin, Senior Director – HVS Hodges Ward Elliott

[email protected]

Puneet Kanuga, Director – HVS Hodges Ward Elliott

[email protected]

Arlett Oehmichen, Director – HVS London

[email protected]

m
Sophie Perret, Director – HVS London

[email protected]

Tim Smith, Managing Partner – HVS Cape Town

[email protected]

Demetris Spanos, Managing Director – HVS Athens

[email protected]

Hala Matar Choufany, Managing Director – HVS Dubai

[email protected]

Ezio Poinelli, Director – HVS Milan

[email protected]

Louise Fury, Senior Editor and EMEA Hospitality Newsletter Author – HVS London

[email protected]
Disclaimer: Information provided above has been gathered from various market sources. HVS has not independently verified the accuracy of the information provided. Interested parties should not rely on the information as statement of facts and are advised to make their own independent checks to verify the information provided. For further information, please feel free to contact HVS London.
Superior Results through Unrivaled Hospitality Intelligence. Everywhere.
Stay current. Click here to receive free HVS newsletters
Looking for insights into the hospitality industry?
Discover unique hospitality intelligence at hvs.com/publications
Interested in a particular market?
Find hundreds of market overviews, all written by HVS experts, at hvs.com/marketresearch
Like to be in the know on hotel trends and predictions?
See our Hotel Valuation Index for dozens of cities at hvi.hvs.com